I love baking bread these days compared to everyday cooking :-)) The humidity here the past weeks is unbearable, but so conducive to baking breads – they rise like a breeze.
As my family likes savoury breads compared to sweet ones, I adapted the sesame and onion Pull apart bread and divided the dough into two parts with different stuffings : one with sauteed spinach and garlic and the other with chillies and indian spices (like cumin, chilli flakes). we loved them a lot, and they vanished quickly.
The humidity is also due to the clouds that set in pretty early in the day making it impossible to take decent daylight pictures. However, these were two super delicious flavours that I loved to make and for us to eat. Goes well with any warm soup for supper / brunch.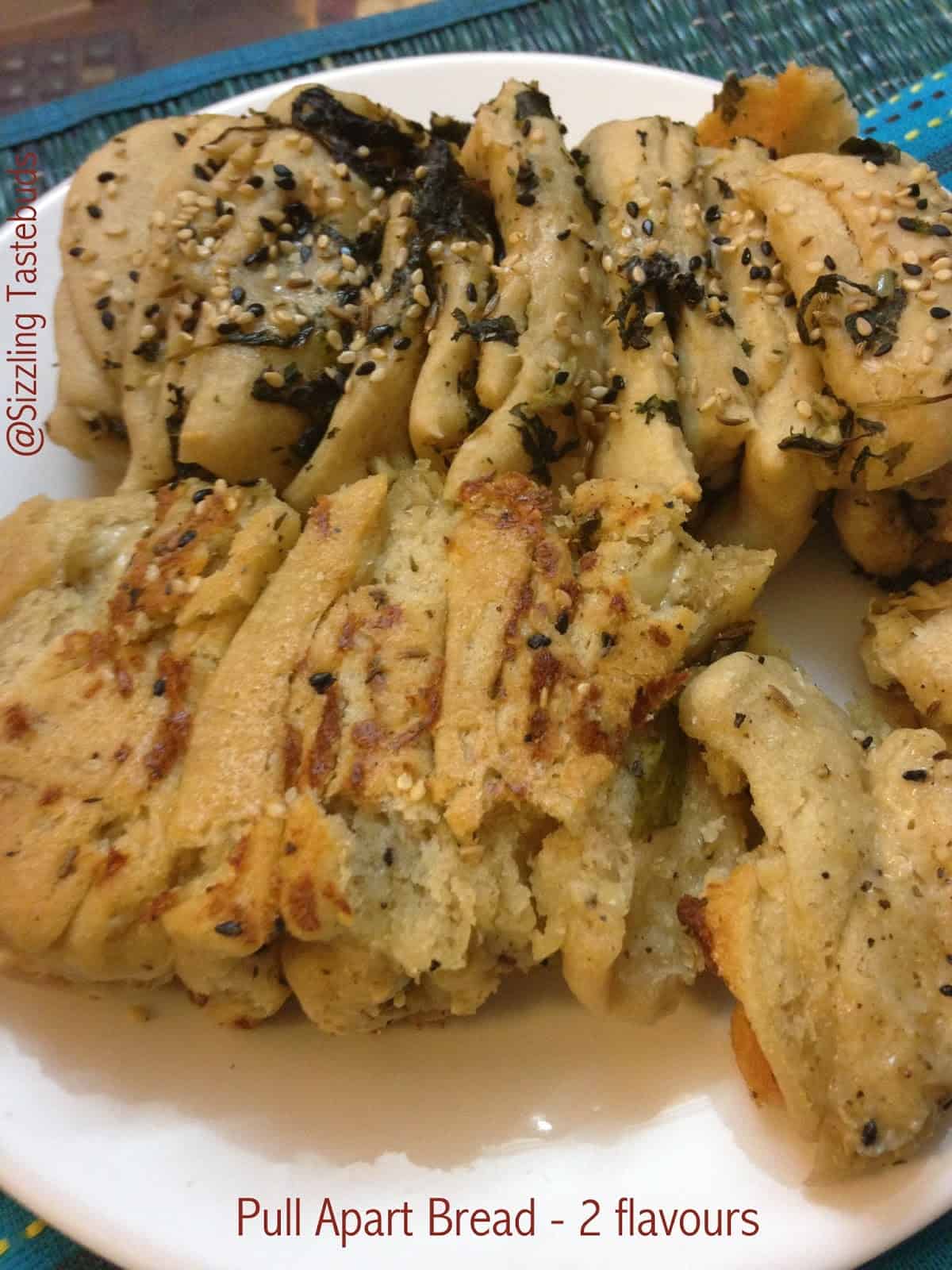 Pin

Prep time : 15 mins, Rising time : 1 hours + 45 mins ; Bake time : 30/35 mins

Spice : Low – Medium

Ingredients:

Basic calzone dough / Bundt Bread / Sesame Onion Pull apart bread – approx 400 gm

Stuffing 1:
Spinach – fresh – 1/2 cup (can use frozen too)
Garlic – 8-10 pods
Cheese – 3 TBSP (opt.)
Olive oil – 3 TBSP (divided use)
Sea salt – to taste
Butter – 1 TBSP (can use vegan version if preferred)
Black n sesame seeds – for topping
Stuffing 2:
Hot spicy Indian chillies – 2 or 3
Curry leaves – few (about 6-7 leaves)
Cumin seeds – 1/2 TBSP
Red Chilli flakes – 1/2 TBSP
Sesame seeds – 2 tsp
Kalonji Seeds (onion seeds) – few
Sea Salt – to taste
Olive oil – 1 TBSP
Grated Cheese – 3 TBSP
Method: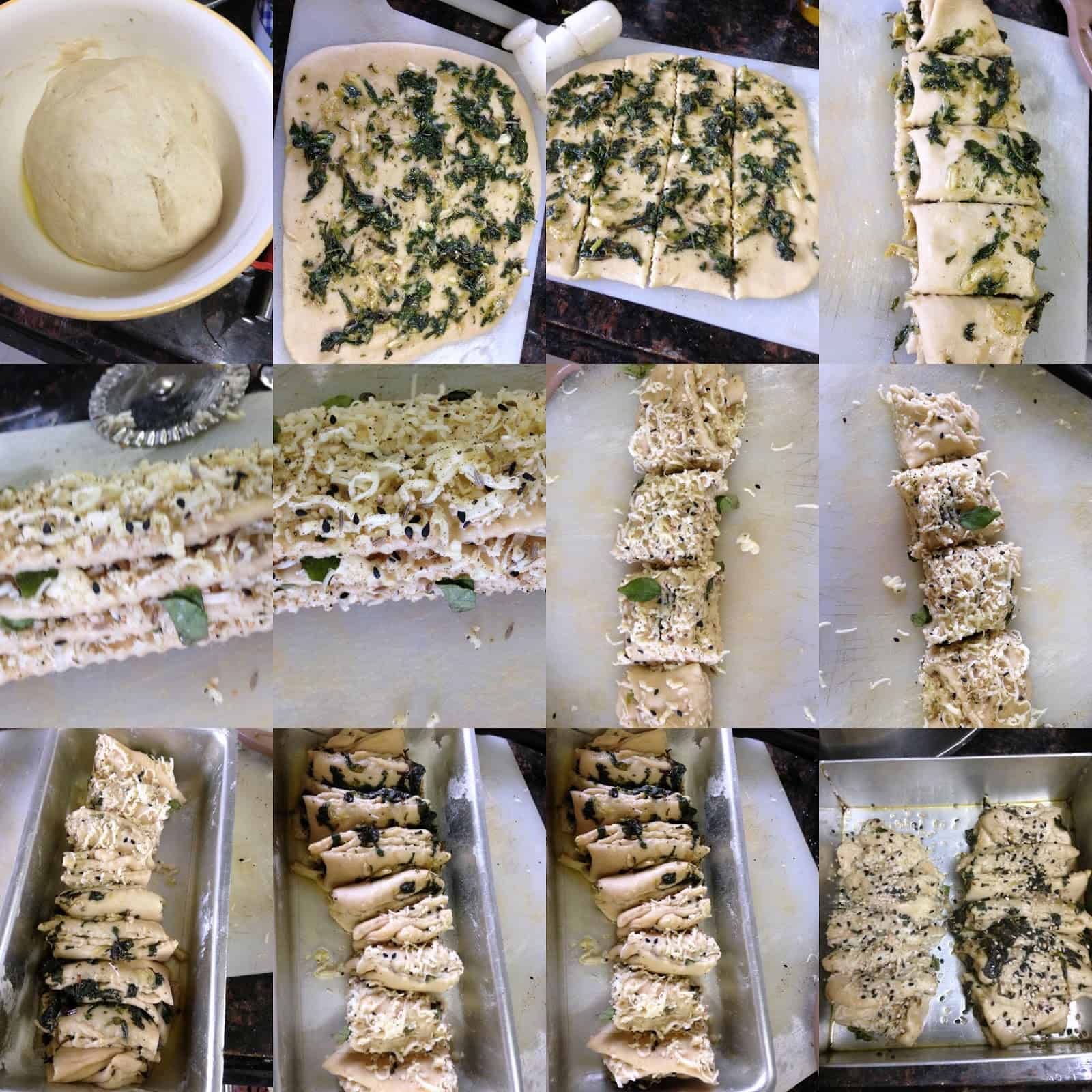 Pin



Preps:

While the bread rises, keep the stuffing no. 1 ready:

In a pan, heat 2 TBSP of olive oil and butter. Add chopped garlic, saute for 2 mins. Turn the heat to medium low and add spinach, saute for further 3-4 mins till the spinach wilts a bit. Turn off, add salt (caution – spinach is quite salty, so add with caution). Cool to room temp.

Once the dough rises, punch down and knead gently for 2 mins. Divide the dough into two and keep them covered till you roll out.

Bread 1 :

Grease a loaf pan and line if necessary

Take one portion and roll into a rough 8 * 10 rectangle on a floured surface into a slightly thin . Apply a layer of olive oil and brush it evenly. Then add the garlic- spinach mixture all over again.

With a pizza cutter, make longish rectangular strips (about 2 inch broad).

Stack the strips on top of each other and again cut them into squares.

Gently place the squares along the length of the pan. Cover and let it rise for 30-45 minutes.

Bread 2:

Roll the other portion of the dough into a smaller rectangle. Spread olive oil, spread the chopped curry leaves, cumin seeds, sesame seeds, chilli flakes, sea salt, Grated Cheese. and cut into squares as above. Cover and let rise.

Meanwhile pre-heat oven to 180 C / 375 F. Bake the breads for 20-25 mins till the tops are golden brown and spring back. Cool on wire racks and serve warm as is or with a bowl of Soup or pasta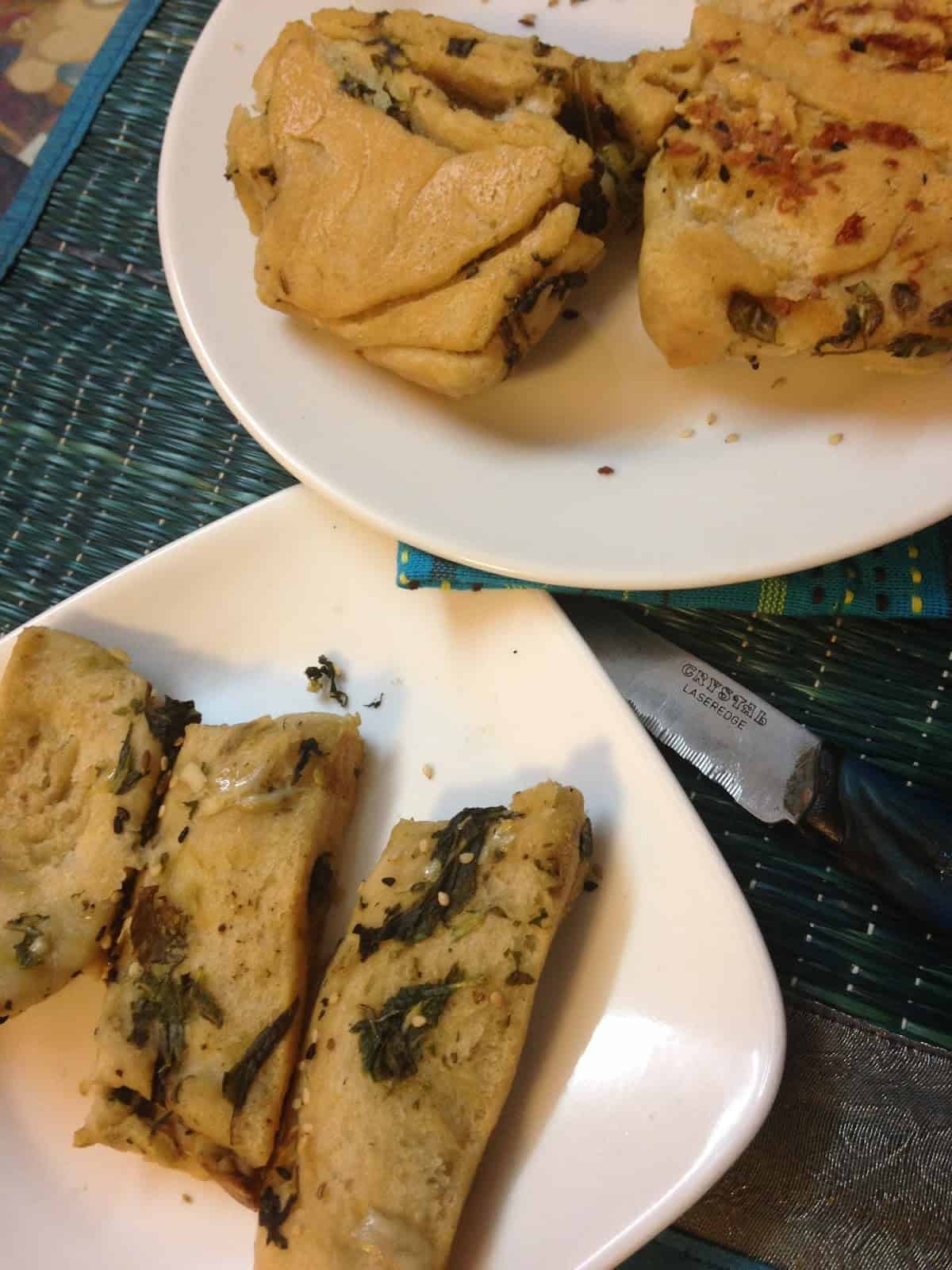 Pin
Sending this toBM #64 under Pull Apart Breads Theme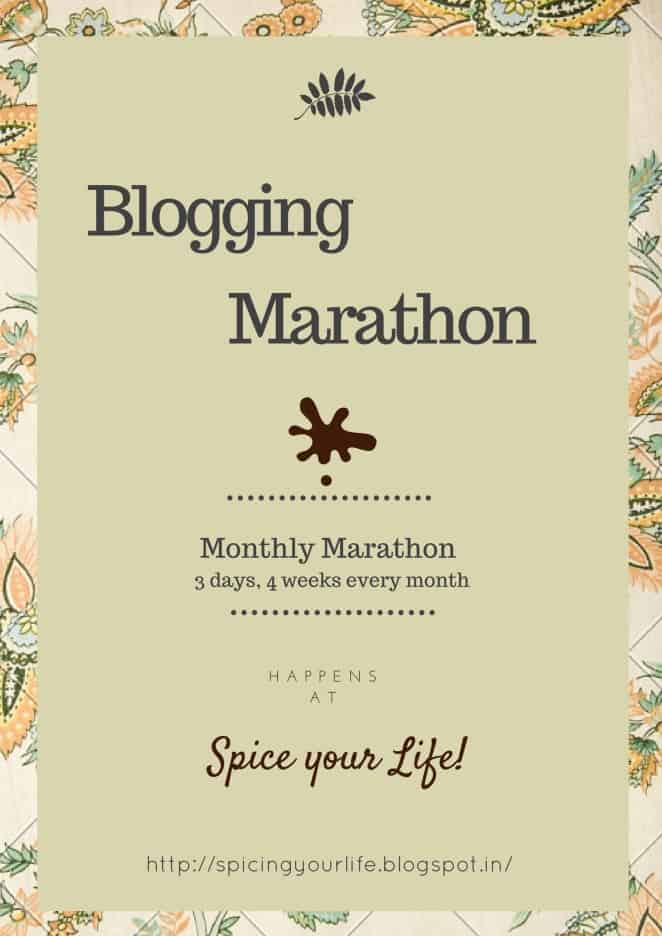 Pin
Check out the Blogging Marathon page for the other Blogging Marathoners doing this BM#65