Adai for a South Indian is a protein packed Crepe (thick dosa it can be called), can be made easily and requires little or no fermentation. I make Adai very often with mixed lentils – and mostly add brown rice in place of the white rice.
The funny part is no two Adai recipes are identical, its mostly a mix n match of whole lentils and ingredients I have at hand. To that effect, many adai varieties that you can find on the blog are:
– Navadhanya Adai (9 lentils adai)
– Drumstick Leaves Adai (Moringa leaves adai)
– Quinoa adai (with rice)
Today's recipe is a no-rice Adai with Tri-coloured Quinoa, whole grains and some spices. Adai by itself needs no accompaniment, although we like it with jaggery and some molgapudi on the side. I had some Kothamalli Thengai Chutney (Coriander Coconut chutney) from last evening, so that was served here as well. You can also check out 20+ varieties of chutney (dip) that goes with Idli / Dosa/ Pongal here.
Quinoa – an ancient grain – is relatively new to India, but has been lapped up extensively as it can lead to replacing the traditional rice (including in this recipe).
Although pricey, I do buy it occasionally. For this recipe, I had a pack of tri coloured quinoa that needed to be used up. If you dont have quinoa, you can substitute it with brown rice of equal measure.
According to the article here, Quinoa has a majestic history among one of the most powerful civilisations on the American continent. It originated with the Incas in the mountains of Bolivia, Chile and Peru. It's been at the forefront in these regions for 5,000 years. It was a staple for the Incas and is still a prominent food source for their indigenous descendants, the Quechua and Aymara people. It was a sacred crop to the Incas who called it the mother of all grains or chisaya mama. The legend states that the Incan emperor would ceremoniously plant the first quinoa seeds every year.
Quinoa has made a comeback to kitchens worldwide, just like millets has in India. For the adai batter, I ferment it for about 90-120 minutes before making the adai, but many prefer to make it immediately too.
Sending this to this month's edition of A-Z Challenge where we explore any ingredient of our choice alphabetically
Let's get to the recipe now:
Prep time – 5 mins. Soaking time – 6 to 8 hours, Grinding time – 25 to 30 mins (In a stone grinder, might take longer in a mixer grinder),
Makes – about 20 servings
Left over Adai batter can be refrigerated for upto 2 days and made into delicious paniyarams the next day or the following day.
PIN FOR LATER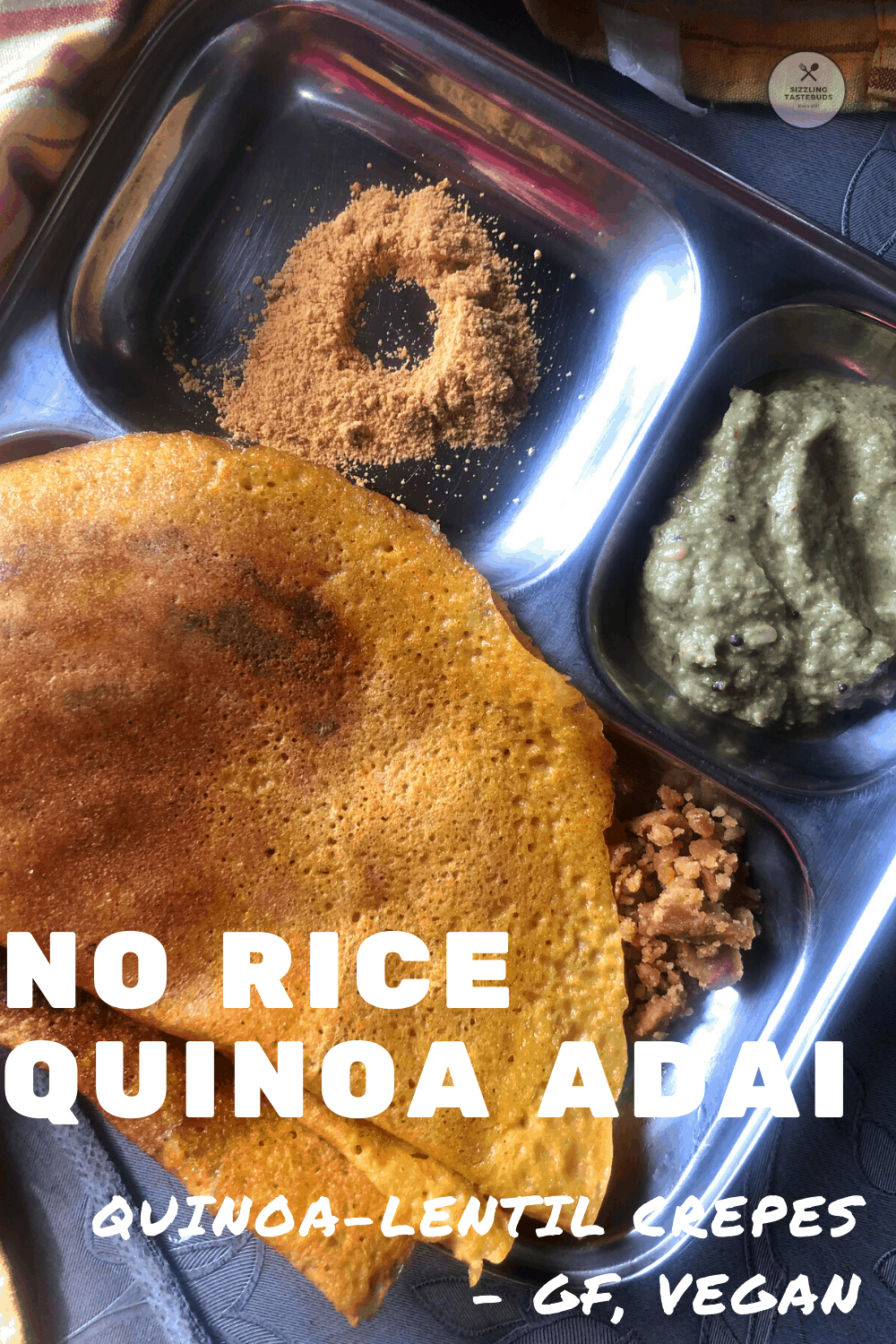 1 cup = 200 ml
What you need:
Whole Moong dal (green) – 1/2 cup
Whole masoor dal – 1/2 cup
Channa dal (split Bengal gram) – 1/2 cup
Quinoa – 1.25 cups
Millet flakes – 1/4 cup ( you can buy it online or in a neighbourhood store) or simply sub with white / brown rice flakes
Dry Red chillies – 6 to 8 (adjust spice)
Salt – to taste
Sesame Oil – to make the Adai (approx. 1/2 tsp per dosa)
Add-ons (recommended) – turmeric 1/2 tsp,

homemade Moringa powder

– 2 TBSP, Chopped coriander leaves – 4 TBSP
How to:
Wash the quinoa thrice over and soak in water along with the dry red chillies for 6 hours . In a separate bowl, wash all dals and soak it too for 6 hours.

Half an hour before grinding, wash the millet flakes several times and soak it for just 10 mins.

Grind all 3 components together in batches to a smooth paste.

Add salt + add ons listed above. Mix well.

Ferment for about 1-2 hours.
Mix the batter well.
Pour out 1-2 ladle full of batter to a hot skillet. Spread it out evenly like a thick dosa.
Drizzle sesame oil around it generously, turn the flame to medium
Let it turn golden brown, flip and cook on the other side for 1/2 min more
Serve hot with any chutney of your choice