Kababs (or Kebabs as they are already known) entice me to no end : I was introduced to the same by S. Truth be told: Till about a decade ago I always thought kababs were only non-vegetarian, and didnt care for them too much,being a vegetarian myself. But on one of my trips to Lucknow, I had what was my first Vegetarian Seekh Kebab,and I was hooked. I love it even more because most kebabs can be made in Tandoor and like today's dish – Moong Dal Seekh Kabab– without a drop of oil. The only grease I used was for basting (considering it is really negligible). I was wanting to make seekh kebabs at home, for a long time now and Blogging Marathon gave me just than chance.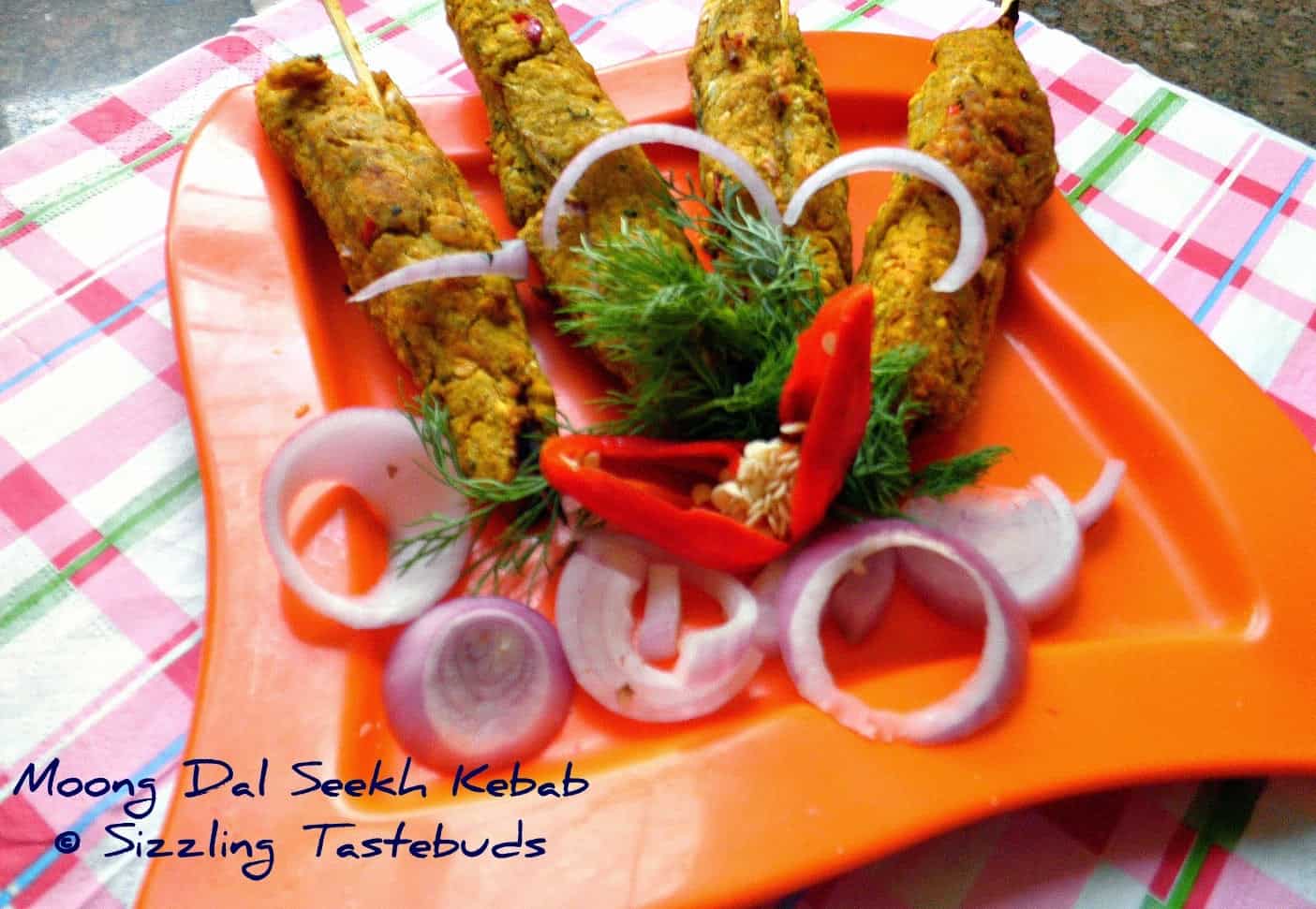 Pin
Extremely rich in protein, this recipe came to me from a book by Tarla Dalal (one of my favourite authors), and I was successful in getting even my fussy daughter to eat this (which is quite a rarity for any new dish) . Its a wonderful appetiser for parties too. See notes for more details on spicing this up. You can parboil the Moong Dal ahead of time for guests you are expecting, and while you are making cups of tea and having light conversation, I promise you the kebabs would be ready 🙂 So, lets get on to the recipe !
Wikipedia tells me – The origin of kebab may lie in the short supply of cooking fuel in the Near East, which made the cooking of large foods difficult, while urban economies made it easy to obtain small cuts of meat at a butcher's shop.[4] The phrase is essentially Persian in origin and Arabic tradition has it that the dish was invented by medieval persian soldiers who used their swords to grill meat over open-field fires.[5]According to Ibn Battuta, a Moroccan traveller, in India, kebab was served in the royal houses during the Delhi Sultanate period(1206-1526 AD), and even commoners would enjoy it for breakfast withnaan.[6] The dish has been native to the Near East[4] and ancient Greece since antiquity; an early variant of kebab (Ancient Greek: ὀβελίσκος – obeliskos[7]) is attested in Greece since 8th century BCE (archaic period) in Homer's Iliad[8] and Odyssey[5] and in classical Greece, amongst others in the works of Aristophanes,[9] Xenophon[10] and Aristotle.[11] Excavations held in Akrotiri on the Greek island of Santorini by professor Christos G. Doumas, unearthed stone sets of barbecue for skewers (Ancient Greek: κρατευταί – krateutai[12]) used before the 17th century BCE. In each pair of the supports, the receptions for the spits are found in absolute equivalence, while the line of small openings in the base constitutes mechanism of supplying the coals with oxygen so that they are maintained light up during its use.[13][14][15]One of the more delicate kebabs from South Asia, made of minced goat / buffalo meat. It was supposedly made for a Nawab in Lucknow who could not eat the regular Kebabs due to weak teeth. The Galouti Kebab is part of the "Awadhi Cuisine". Along with the Lucknowi biryani and Kakori Kebab, this is one of the outstanding highlights of the great food tradition from the Awadh region in Uttar Pradesh, India. Many leading Indian hotel chains have taken to popularising the Awadhi food tradition, with the Galouti Kebab being a Pièce de résistance.The home of this kebab is Lucknow. It is most famously had at the almost iconic eatery "Tundey Miyan" at Old Lucknow.
Check out more Party idea snacks here and for more baked and healthy options, appetisers, click on..Sending this to: Suma's MLLA , event by Susan, Blogging Marathon Day 6, Manjula's appetiser event, my own event – Global Food Festival & Priya's event that she is hosting: Healthy Cooking Challenge – Healthy Bakes.
Check out my fellow marathoners here.
Prep time : 30 mins. Baking time : 12 – 14 mins. Makes : 6 kebabs (fairly large sized)
Notes:
1) Instead of using Moong Dal, you can use an assortment of fresh veggies (finely minced and blanched). Be sure to add required quantity of besan to bind them, though. Moong dal needs to be pressure cooked with very little water. If you have any water in the pulse after cooking, drain completely before use.
2) This version of Kebabs does not have any added oil and is mildly spiced. However, you can still bast them with melted butter / ghee and add more chillies and ginger to spice them up.
3) Ensure the oven is piping hot (pre-heat). I pre-heated on broil for 250 deg C for 8 – 9 mins, and once the kebabs were in, I turned down to 220 deg C to bake for 12 – 14 mins, then switched again to broil for further 8 -9 mins once the kebabs were basted. Time and temperature would vary from oven to oven. Please check yours for more settings.
4) If using wooden skewers (like me), ensure they are long enough and that you soak them in cold water for atleast 15 mins, while your kebab mixture gets going.
5) Browned or roasted kebabs is a product of how much oil you bast them with – please adjust according to palates. You can make Palak ke kebab (spinach kebab) in a similar way, on skewers.
Ingredients:
Moong Dal (split green gram) – 1/2 to 3/4 cup
Potato – 1/2 boiled and grated
Onion – 1 no. (grated)
Kasuri methi – 1/2 TBSP
Salt – to taste
Ginger garlic paste – 1/2 TBSP
Dhaniya Powder (Coriander powder) – 1 tsp
Turmeric powder – a dash
Jeera Powder (cumin powder) – 1 tsp
Red chilli powder , Kitchen king masala, Garam Masala pwd – 1 tsp each
Green chillies – 2 nos (minced)
cornflour / corn meal – 2 TBSP – for binding
Oil- for basting (I used olive oil)
Method:
1) Mix all the ingredients for the kebabs (barring oil) to a smooth mixture.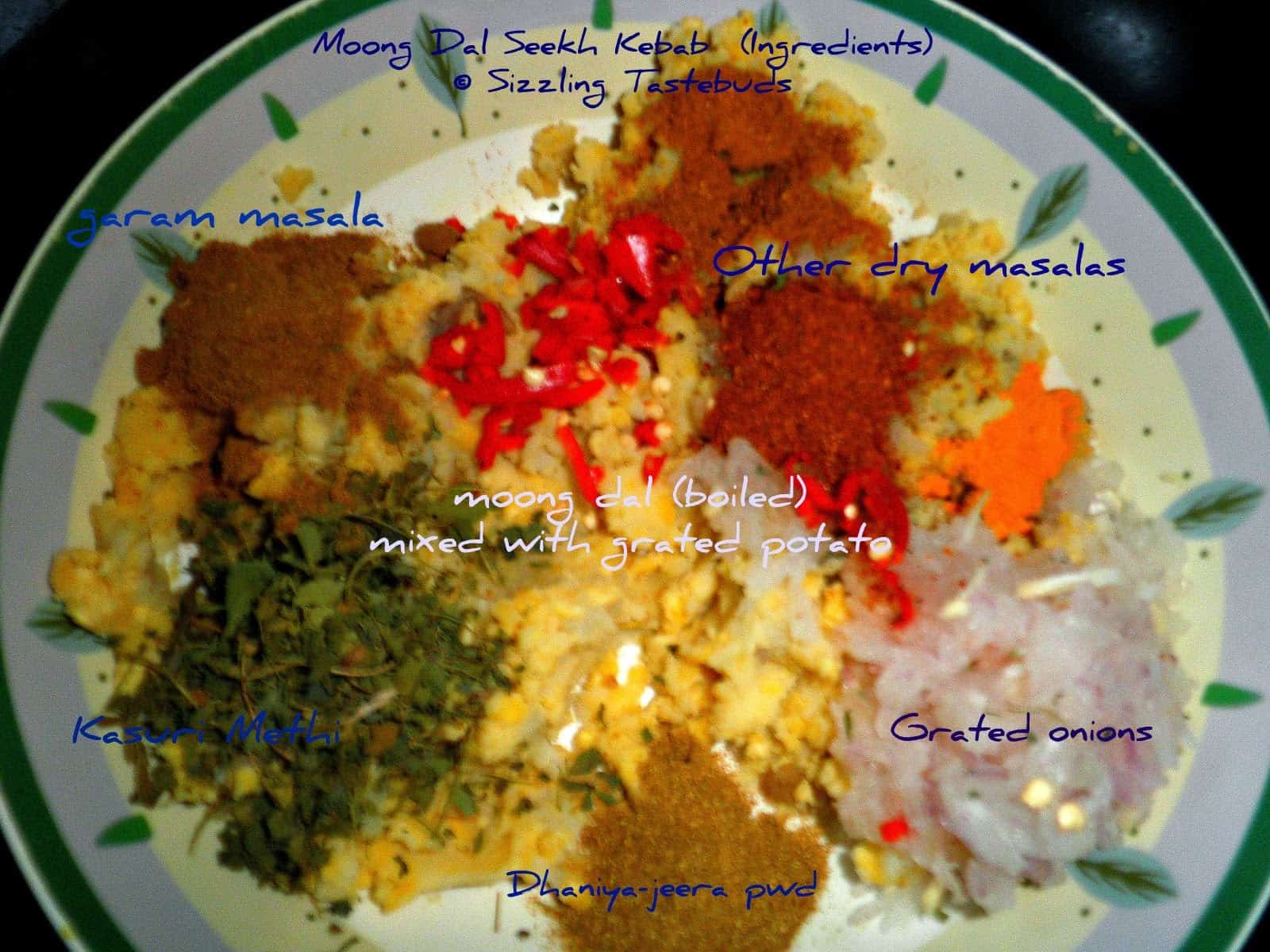 Pin
2) Meanwhile soak the wooden skewers (if using) in a glass of water (place them vertically so the entire skewer gets soaked & pre-heat oven to 250 deg C (broil mode)
3) Adjust the mixture to the required consistency – you may need a little more cornmeal than indicated t make this a completely dry mixture : it should barely stick to your hands. 4) One tip here though : you may oil your hands if required at this stage while mixing and making them into equal sized portions.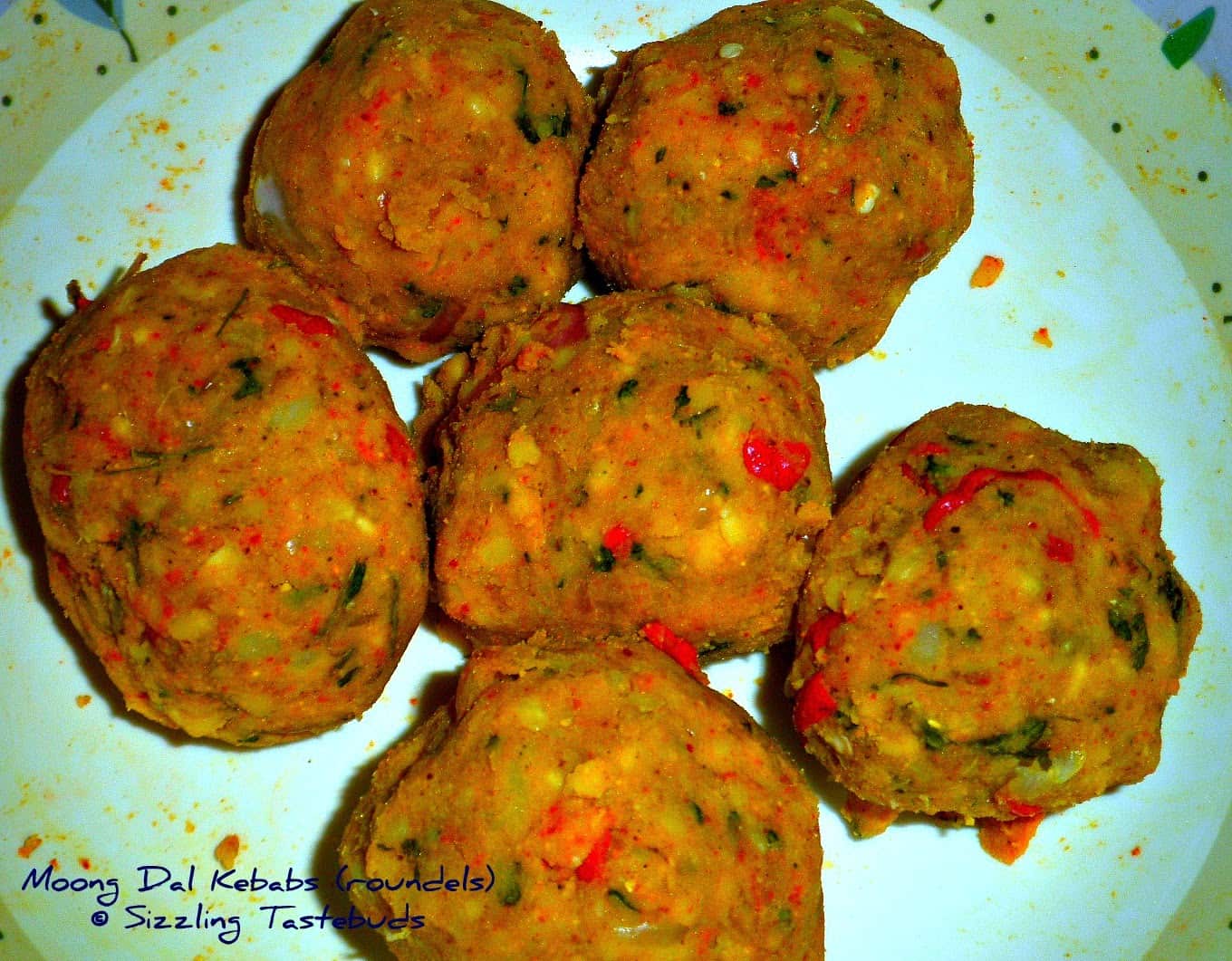 Pin
5) Once the balls are made, take the skewers out of water, and start pressing them onto the mould starting at the base of your palm and extending it towards the fingertips. If it breaks, dismantle the kebab and start all over – it is extremely painful to work around a hot oven if the kebabs break while baking. Work with the rest of the roundels till the dough is completed.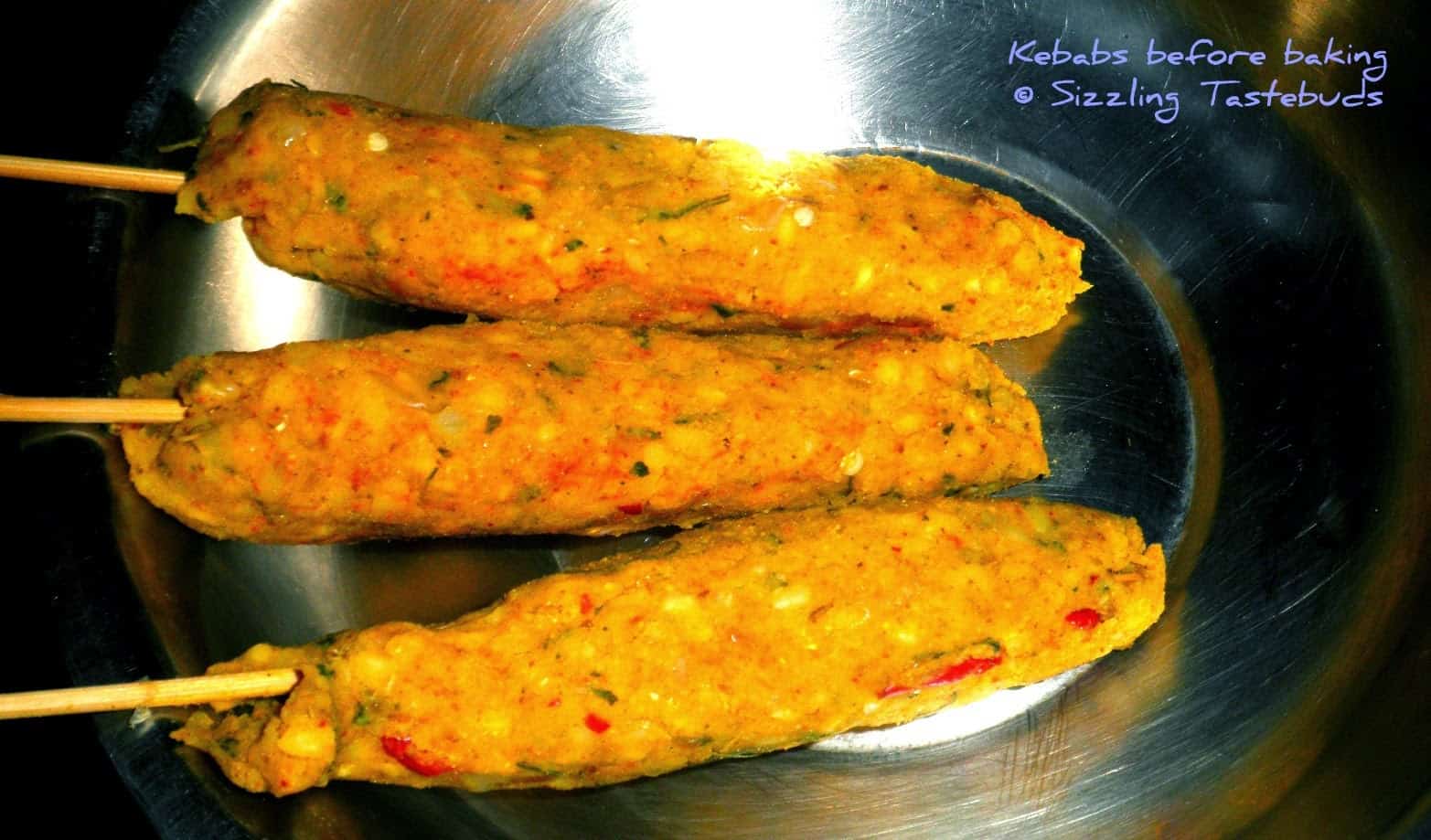 Pin
6) Once all the roundels are done, give it a resting time of 4 – 5 mins to check for any further breakages, if any.
7) Once the oven is pre-heated, place on a baking tray with the skewers stickign out so you can bast them easily later and set to bake for 220 deg C. Bast with olive oil / ghee according to your preference after 12 – 14 mins. Check notes above for more details.
8) Once the kebabs are done, let them rest in the oven for further 2 -4 mins to absorb the heat.
9) De-skewer them gently onto a plate, and serve hot with onion rings, green chutney, a dash of lime and tomato ketchup !
It aint get more royal than this 🙂 Enjoy with steaming cups of tea, and endless gossip with friends over 😀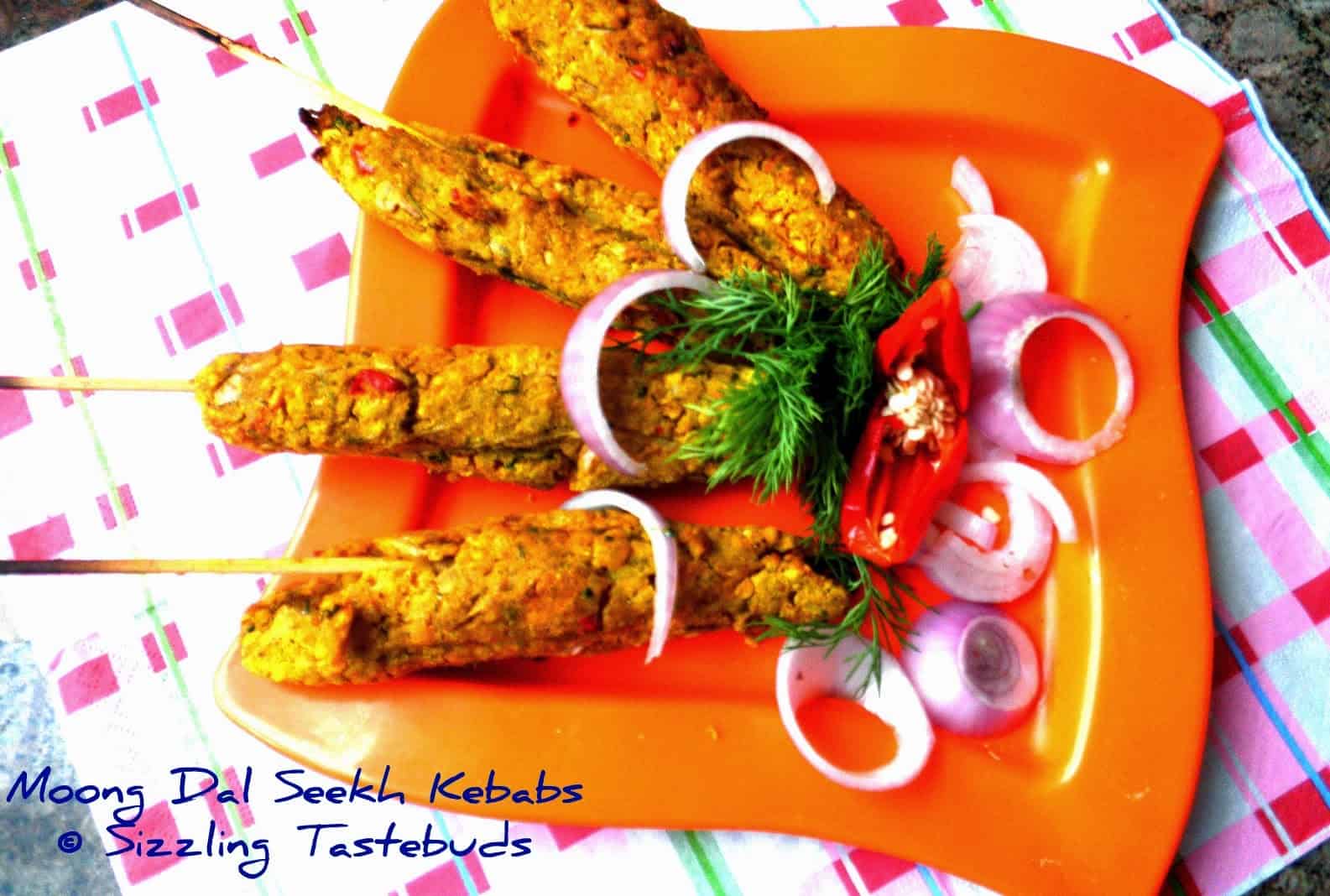 Pin