Some dishes pep you up.
Others wake you up ! In the case of Indori Poha, literally so.
It was to be a lazy Sunday
morning, but life with a toddler is even more unpredictable. She was up at 4:45
am with no intention to go back to sleep. Not wanting to wake up the household,
the smartphone came to the rescue while the kid played with her toys.
After the usual narcissism
trips on FB, and checking the email, a post
by Sukanya just popped out – Indori
Poha.
Now, having been to Bhopal
several times and pigged out several times at the Khau Galli (eat –street)
laden with Poha and Jalebi and other delicacies, Indori Poha was simply calling
out to me.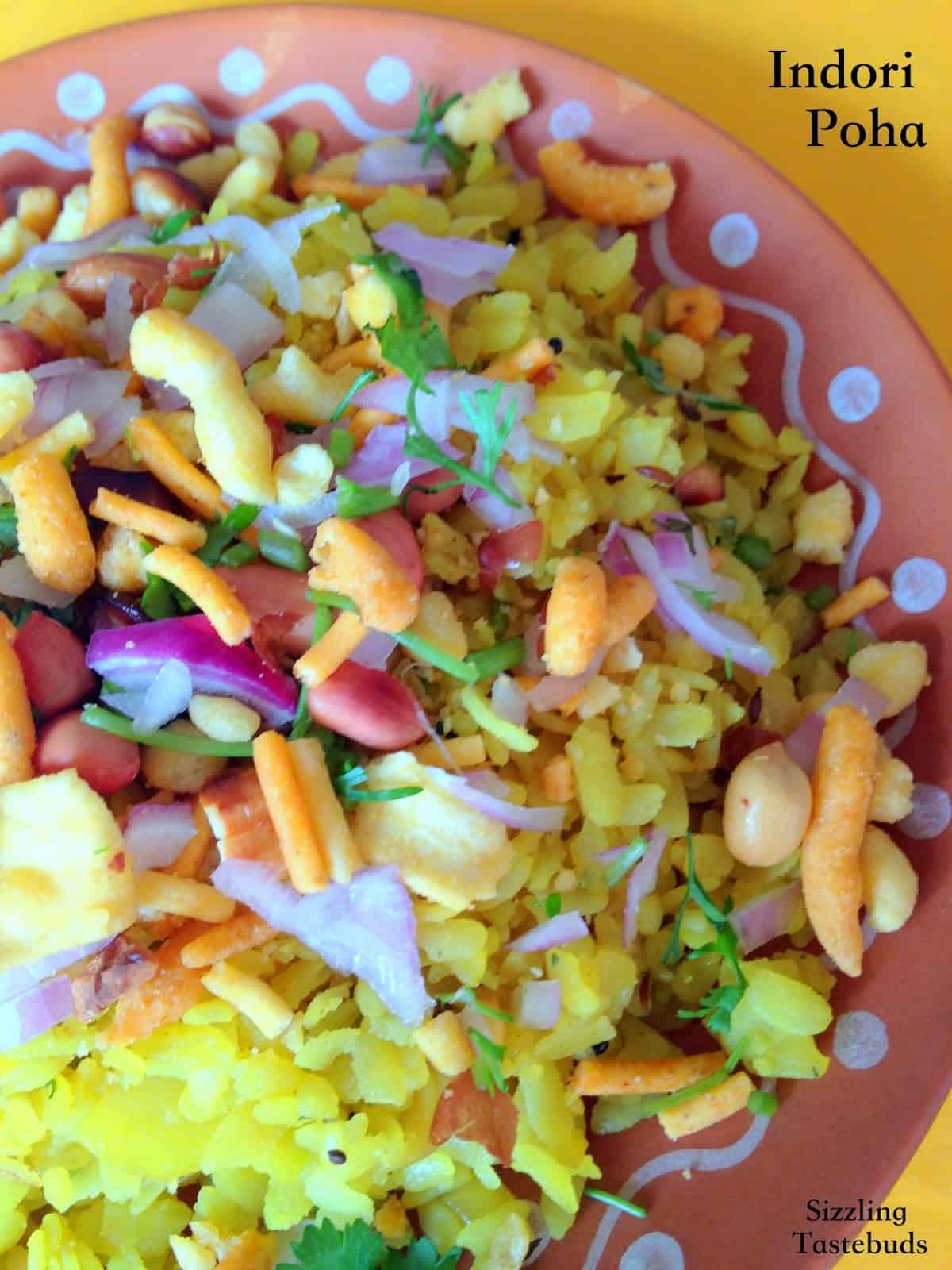 PinPin

I couldn't wait till the
husband got up and prepared his Filter Coffee to try out this – this must have
been the shortest time in which a bookmarked recipe had been tried out. Even
mom and S who are not great fans of Poha gave it a thumbs up, and it has
featured since regularly on our breakfast menu – Sunday or no Sunday.

How is it different from
the normal Poha ? Well, read on to find out as we travel to Madhya Pradesh (MP)
today on our Indian Odyssey Blogging Marathon.

MP is a state in central
India. Its capital is Bhopal, and
the largest city is Indore.
Nicknamed the "heart of India" due to its geographical location in
India, Madhya Pradesh is the second largest state in the country by area. With
over 75 million inhabitants, it is the sixth largest state in India by
population. It borders the states of Uttar Pradesh to the northeast, Chhattisgarh to the southeast, Maharashtra to the south, Gujarat to the west, and Rajasthan to the northwest.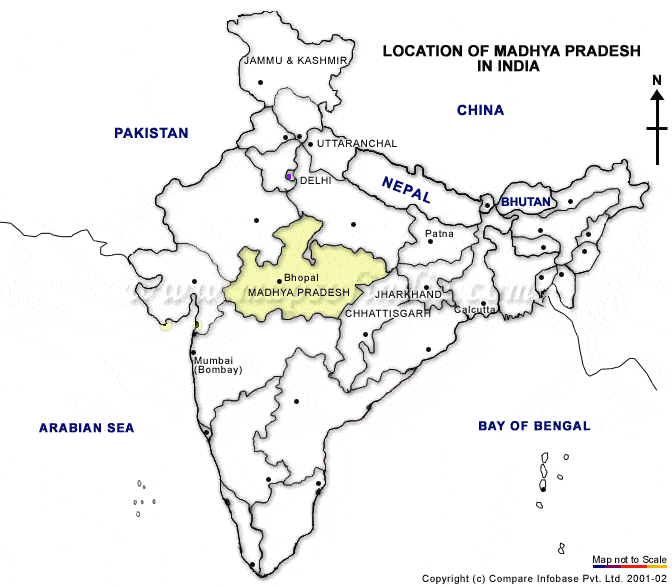 Pin

Indore traces its roots to
its 16th century founding as a trading hub between the Deccan and Delhi. The
city and its surroundings came under Maratha Empire on 18 May 1724 after Maratha Peshwa assumed the full control of Malwa.
During the days of the British Raj it was a 19 Gun Salute (21 locally) princely state (a rare high rank) ruled by the Maratha Holkar dynasty, until they acceded to the Union of India. Indore
served as the capital of the Madhya Bharat from 1950 until 1956. (source : Wiki)

———————————————————-

BM : 39 ~ Indian State : Madhya Pradesh

Recipe : Indori Poha (savoury flattened rice snack)

Dish type : Breakfast or evening Snack

Served with : Plain Curd

Spice Level : Medium to
spicy

———————————————————-

Prep Time :15-20 mins, Cooking time
: 15 mins ; Serves : 3

Recipe Source : Sukanya

Ingredients:
Flattened Rice – 2 cups (Thick variety)
Potato – diced – 1 no
Onion – finely chopped – 1 large
Fennel Seeds – 1 tsp
Cashewnuts– a handful
Sugar – 2 TBSP
Coconut – freshly grated – 2 TBSP
Salt – to taste
Seasoning : Mustard seeds, cumin (jeera), curry leaves
Finely chopped chillies – 4 to 5 (adjust spice)
Turmeric Powder – a pinch
Roasted peanuts (deskinned) – ¼ cup
Chopped coriander – 2 TBSP
Oil – 2 TBSP
Lemon juice – 2 TBSP
Pomogranate pearls – for garnish (I skipped this)
Sev / Ompodi – to top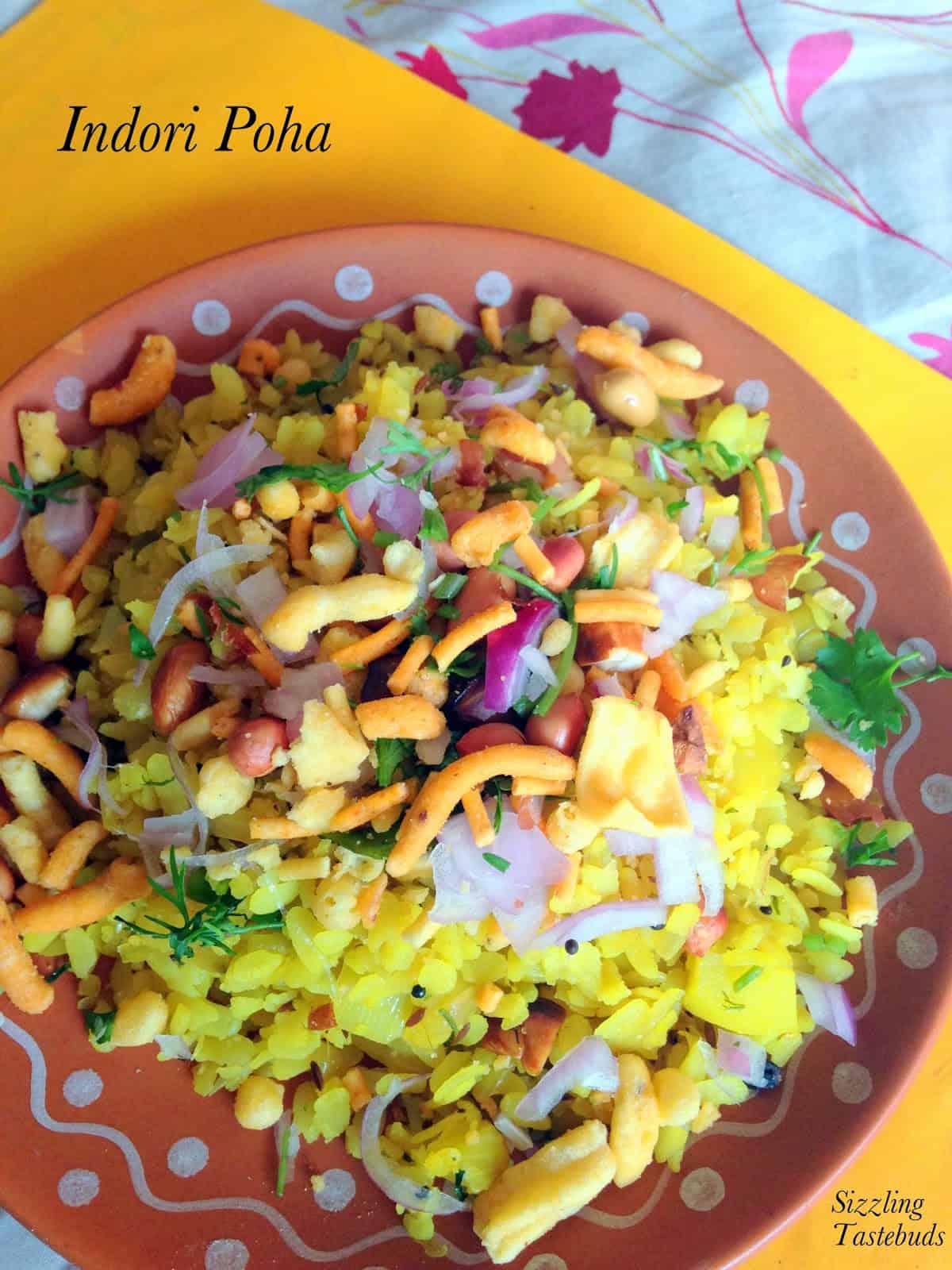 Pin
Method:
Wash
and soak the poha in a colander for 5 – 6 mins
Meanwhile,
crush the peanuts coarsely and keep aside.
In
a pan, heat oil, and prepare the tempering, add the turmeric, curry leaves, fennel
seeds and cashewnuts and chillies as well.
Once
the cashews brown a bit, add the chopped onions and potatoes and fry for 8-10
mins till potatoes turn soft.
Add
salt and sugar and sprinkle some water and cook the potato for 3-4 mins till
almost done but has a bite.
Now
add the drained poha, coconut , crushed peanuts, chopped coriander and mix well
Adjust
spice, switch off from the flame and add popmogranate pearls and lemon juice.
Top
with Sev / Ghatia / Ompodi and serve immediately
Notes:
I
topped it with raw onions as well to give it a crunch.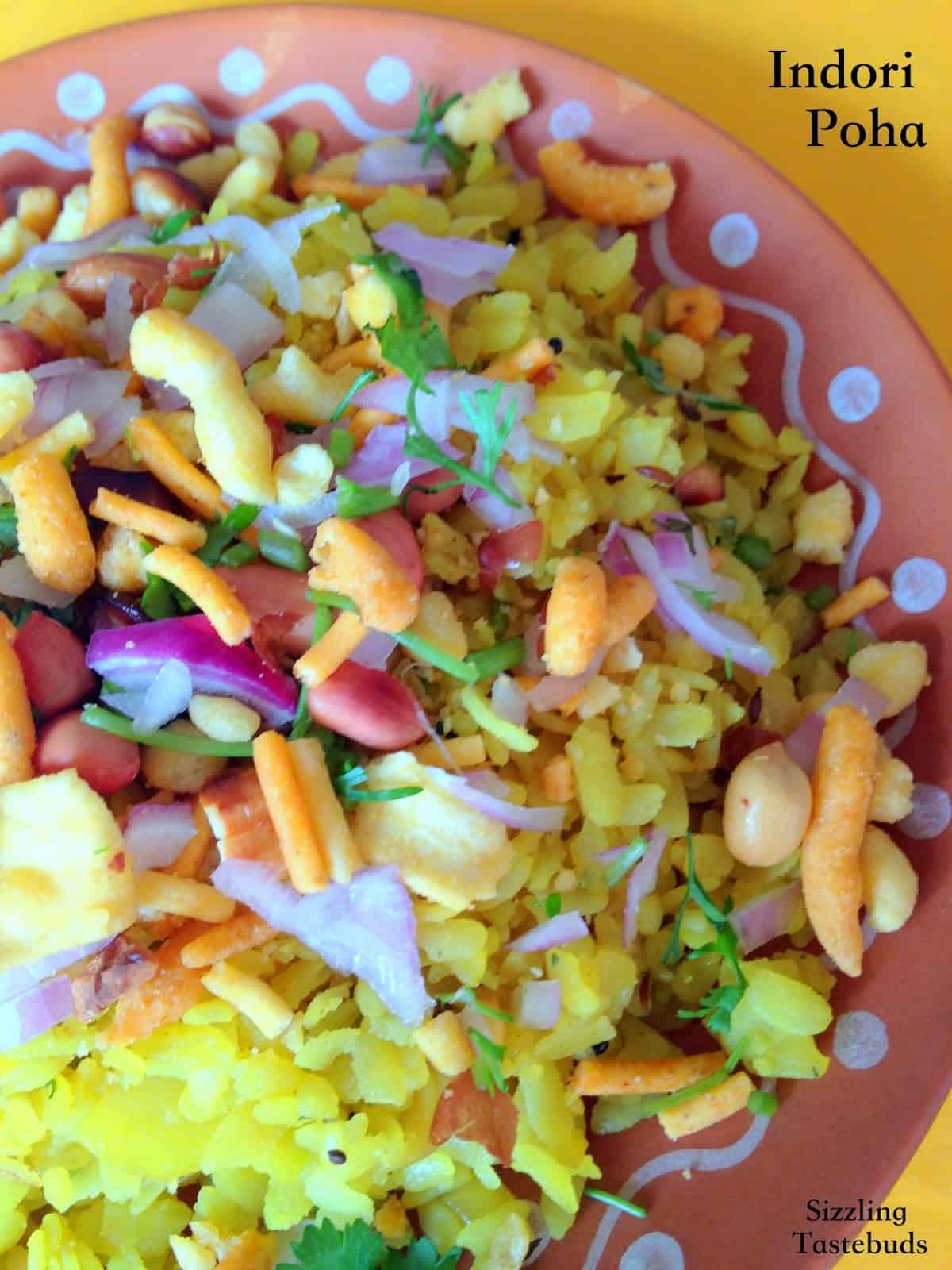 PinPin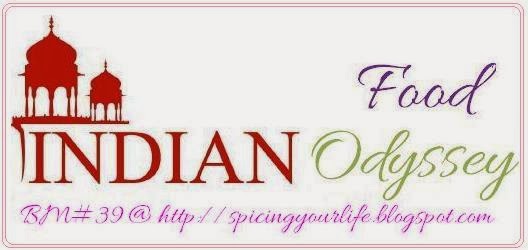 Pin
Check out the Blogging Marathon page for the other Blogging Marathoners doing BM# 39