What tempted me in
this recipe was the unusual combo – Raw mango and cilantro… During summer
days, can it get any better than that – two of my favourite ingredients coming
together in a yummy tangy chutney .. Although I generally make this Instant mango pickle with
raw green mangoes, I was inspired by Suma's recipe that I had bookmarked here. So, attempted
this combo and loved it to bits.. I am always on the lookout for fun filled
ways of introducing greens and veggies, and this was a power packed one for
breakfast. Served it with Kanjivaram Idli, it was a
total sellout with S giving it a 5/5 rating and kiddo lapping up her button
idlis (which she likes only with Molagapudi) 🙂 Wonderful way to
start the morning, wouldnt you say ?
Thanks Suma for
the recipe, which I modified a bit (sans peanuts and added carrots)… Am sure
it would add to the growing list of yummy chutneys that my
family loves so much. Now off to the recipe..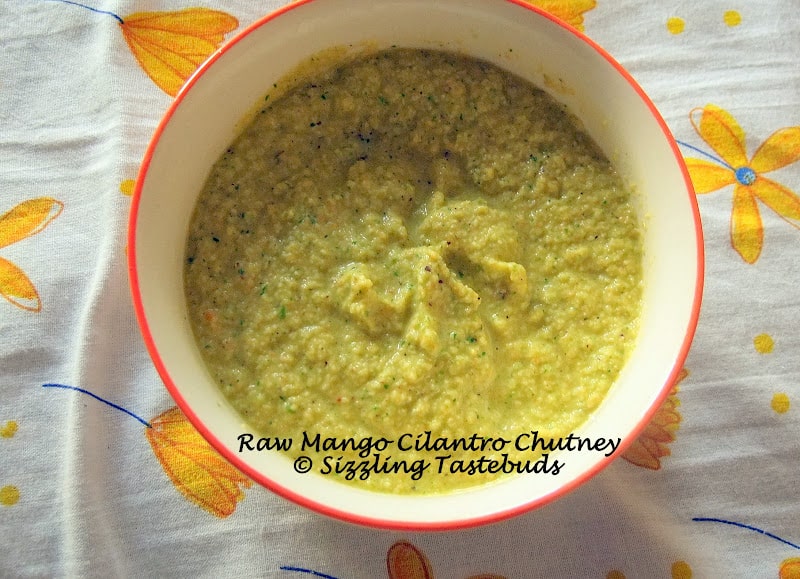 Pin
————————————————————————————-
Prep time – 10 mins
Cook time – 05 mins
Serves – 3
Difficulty level – Easy
Serving suggestions – Idli / Dosa or Uttapams /
Chapati
————————————————————————————-
Ingredients:
Raw
Mango grated – 1/4 cup
Dalia /
Roasted Gram (aka Chutney dal) / Pottukadalai – 2 handfuls
Carrots
grated – 1/4 cup
Cilantro
/ Coriander leaves – a handful
Grated
coconut – 3 TBSP
Salt –
to taste
Jaggery
– 1 tsp (grated)
Oil – 1
TBSP
Tempering
: Mustard seeds, Asafoetida (Hing)
Pin
Method:
1) Wash and grate
mango and carrots separately.
2) Wash and
roughly chop coriander leaves.
3) In a pan, heat
oil. Lightly saute the grated carrots, cilantro and grated mango for 1-2 mins
till the cilantro wilts a bit and the raw smell of the carrots diminishes.
Switch off the flame, and add the roasted gram and coconut and saute once
more.
4) Cool the
mixture thoroughly, and grind it to a smooth chutney with salt and jaggery.
5) Transfer to a
serving bowl. Prepare tempering and add to the chutney.
6) Serve
with Idli / Dosa or Uttapams.