Politically speaking, this dish
shouldnt be posted now. Given the price of Onions in India, its probably
cheaper to buy Gold !.. And with the elections looming hard, it isnt hard to
figure out how and why the humble onions has been cartelised and made out of
reach for the common man. Everyday we hear stories from maids and labourers who
are working in our building about how this veggie has reached never before
prices of 70-80 rs per kg. Even the Onion Parathas or Onion Pakoras or Onion Uttapams have been out of reach in every day kitchens, not to mention the Salads. 
Well, things being that, why not some spread some cheer to spread the versatility of Onions with this simple to make and yummy
tasting Gojju. Traditionally in Karnataka cuisine, Gojju is basically a
tamarind based thickish stew with or without veggies, but which have a longer
shelf life due to the addition of Tamarind like the Orange Peel Gojju,Pineapple Gojjuor even the super popular Bendekaayi Gojju (with Okra)..
Today's post – Eerulli Gojju
(Eerulli in Kannada means onions) – is something you can pack for long rail
journeys (do they still happen in this age of quick vacations and flight
hopping ??) or even something you can rustle up when you are lazy to cook
anything else. With refrigeration, this stays for 2-3 days and tastes heavenly
with Curd Rice (well, I am a rice lover, so any curry / stew tastes great with
rice-  its my ultimate comfort food, and I am not apologetic about it)…
So, to cut things short, do try out
this yummy lipsmacking gojju. You can eat it with Chapatis (flat Indian bread),
Idlis or even Dosa.  If you are planning to take it for a picnic or long
trip, cut out the coconut and increase the tamarind and use no water at all, it
will keep for atleast 2 days – and goes well with Theplasif you wish :-))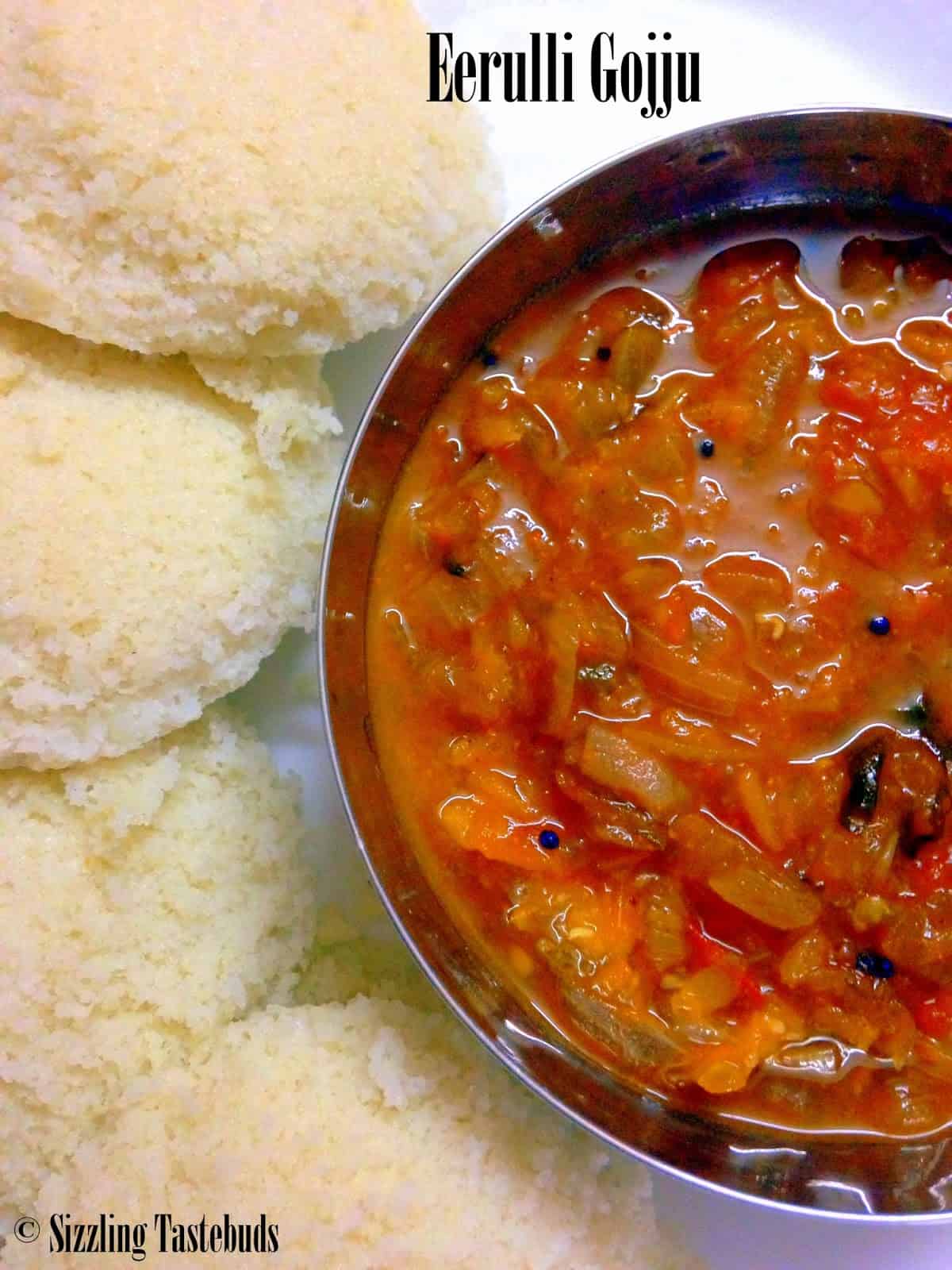 Pin

Prep time : 10 mins | cook time : 15
mins | Serves : 2

Ingredients:
Onions – 3 large
Oil – 2 TBSP
Tamarind Extract  – 1/4 cup (or 3
TBSP Thick tamarind paste)
Salt – to taste
Jaggery – 4 TBSP
To grind:
Fenugreek seeds / Methi – 1/2 tsp
Red chillies – 2 to 3
Dry coriander seeds / dhaniya – 1/2 tsp
Channa Dal / split Bengal gram – 2 tsp
Jeera / Cumin – 1/2 tsp
Coconut grated – 1/4 cup
Tempering:
Oil – 2 TBSP
Curry leaves, coriander leaves – few
Hing / Asafoetida – a pinch
Mustard seeds – 1 tsp
Method:
1) Mince onions fine. Soak tamarind in
warm water for 5-10 mins and derive a thick extract. 
2) Roast all the ingredients (under
grind list) one by one, incl coconut till they turn slightly brown. Grind them
to a smooth paste using very little water.
3) In a pan, add 2 TBSP oil. Splutter
mustard seeds, curry leaves and hing. Add the onions and saute them till they
turn slightly brownish (about 8-9 mins). Now add the ground paste, salt, jaggery and
saute again for 4-6 mins, and now add the tamarind extract. Do not add any more
additional water, and let it simmer for 8-10 mins on a low flame till the raw
smell disappears and it comes to a thickish curry kind of consistency. If you need to thicken it, mix 1 tsp of rice flour in water and add till it thickens and an oil glaze appears on the top.
4) Transfer to a serving bowl and dip
hot chapatis or Idlis or even Dosas into it and enjoy :-))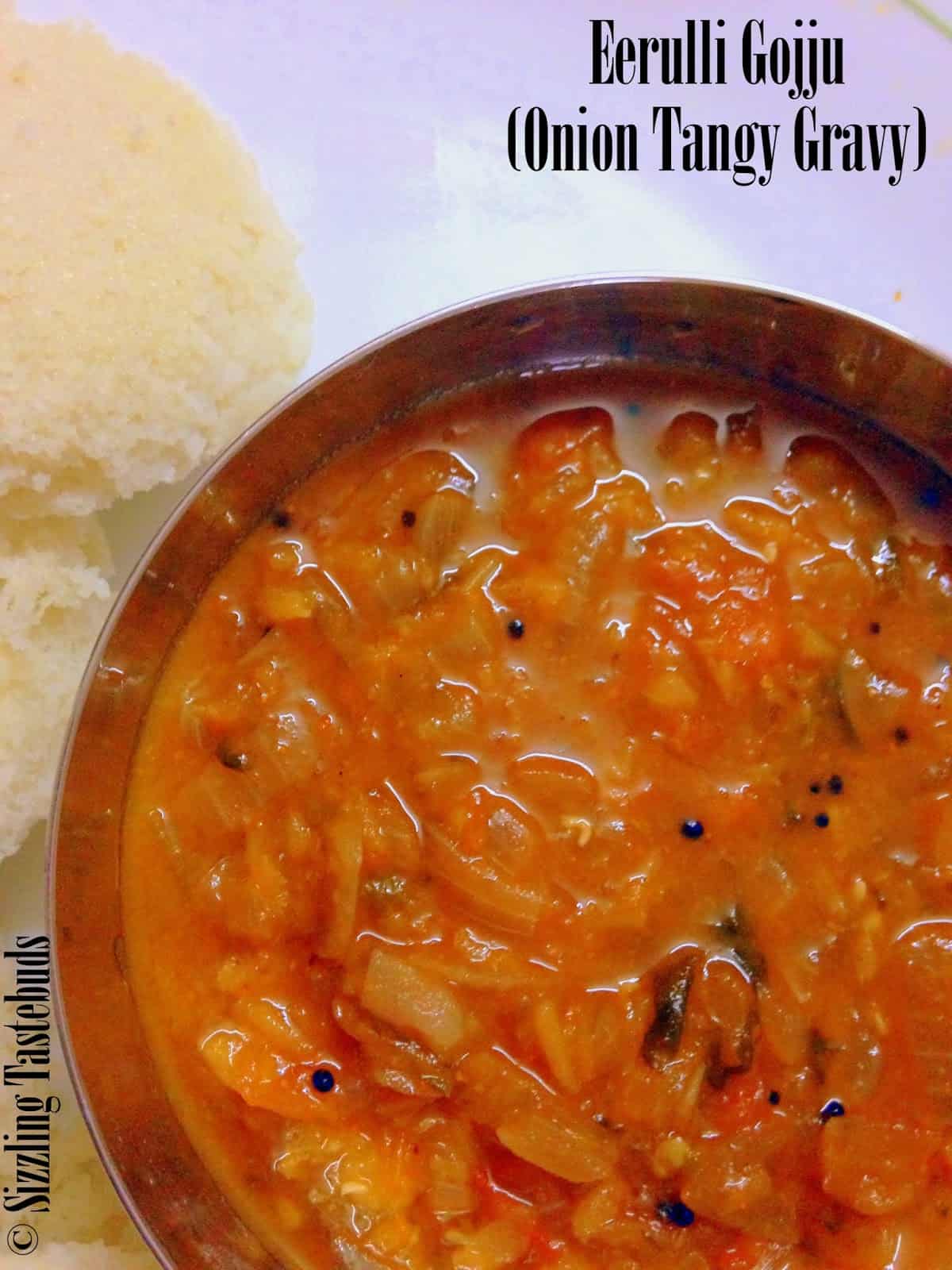 Pin