After the Orange
Almond Wholewheat cake, its time for some savoury bake today. Veg Au Gratin
is a family favourite, which is so versatile that any veggies can be sneaked in
for a whole dish. I made this for a party recently, and the kids and adults
went gaga over it.
In the culinary arts, the term au
gratin (pronounced "oh-GRAH-tan") refers to a dish that is baked
with a topping of seasoned breadcrumbs and cheese. The au gratin topping should
be golden brown, which can be achieved by baking or by placing the dish under a
broiler (source:here).

So,basically any meat or veggies
are sautéed and then baked under a silky creamy cheesy crust, grilled a bit. Au
Gratins are generally cheese heavy and therefore laden with fat. However, we
made clever substitutions with both the white sauce and used lesser cheese but loved it nevertheless
Baking Marathon Day 2 : Veg Au
Gratin
Recipe type : Vegetable Bakes,
Cuisine : French adaptation
Spice level : Medium. Serves : 4
Prep time: 30 mins | Bake time :
30 mins (varies from oven to oven)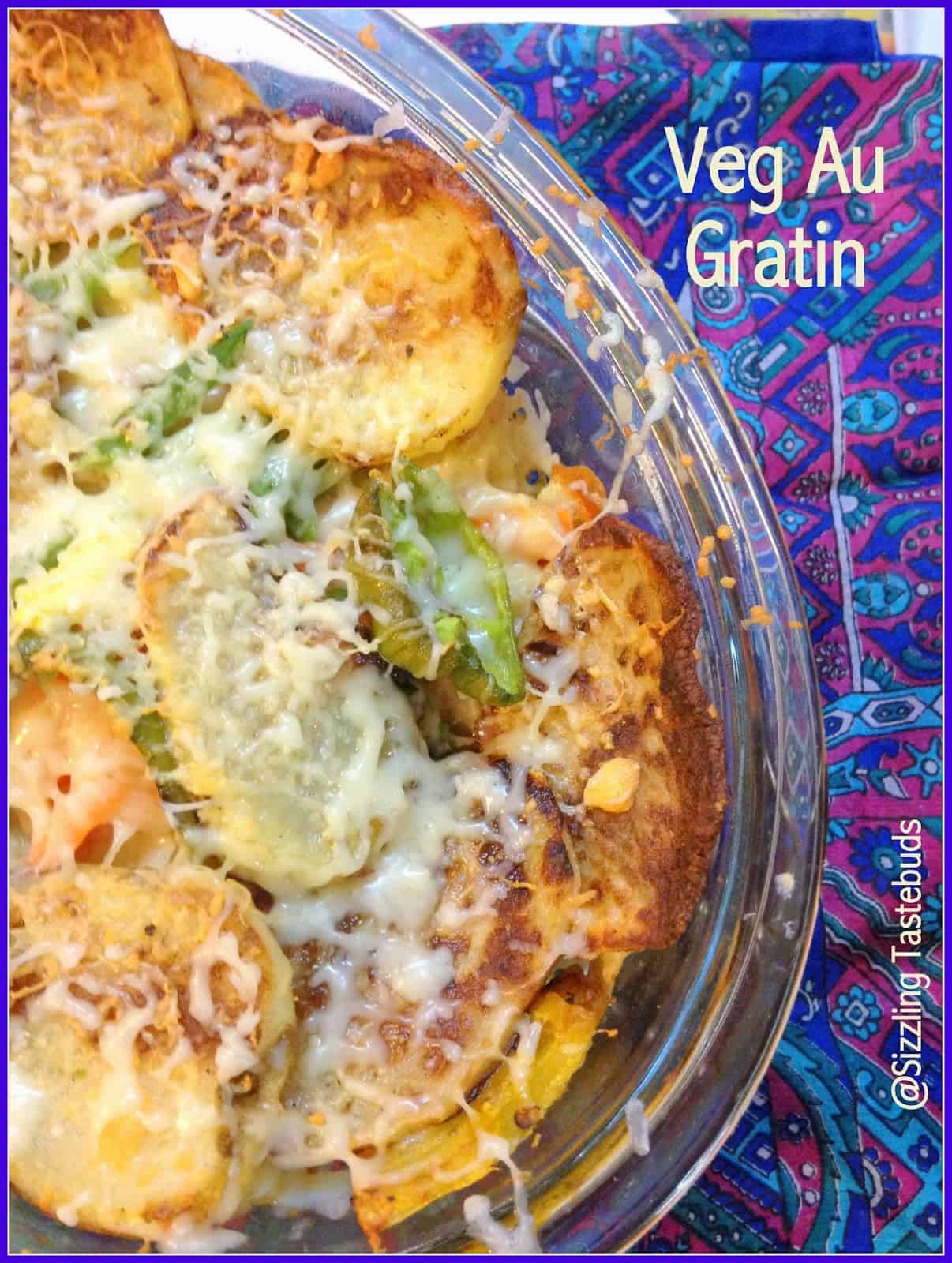 Pin

What you need:

Vegetables (your choice):
Squash / yellow pumpkin / Kaddu –
100 gms
Potato – 1 large
Baby corn – 4 to 5
Carrots – 1 large
Cauliflower – 10 florets (large)
String beans (French beans) – a
handful
Macaroni / or any other pasta – 50
gms (optional)
For the white sauce:
Wholewheat flour – 3 TBSP
Oil – 1 tsp
Milk – 1 cup
Salt and pepper – to taste
Olive oil – 3 tsp
Grated cheese – 1 cup
Notes:
The amount of butter in the white sauce, combined with any APF (maida) used will give out a softer buttery sheen on top. Also I did not use any butter or maida and used very little cheese for topping. You can adjust cheese , butter quantities as per your liking.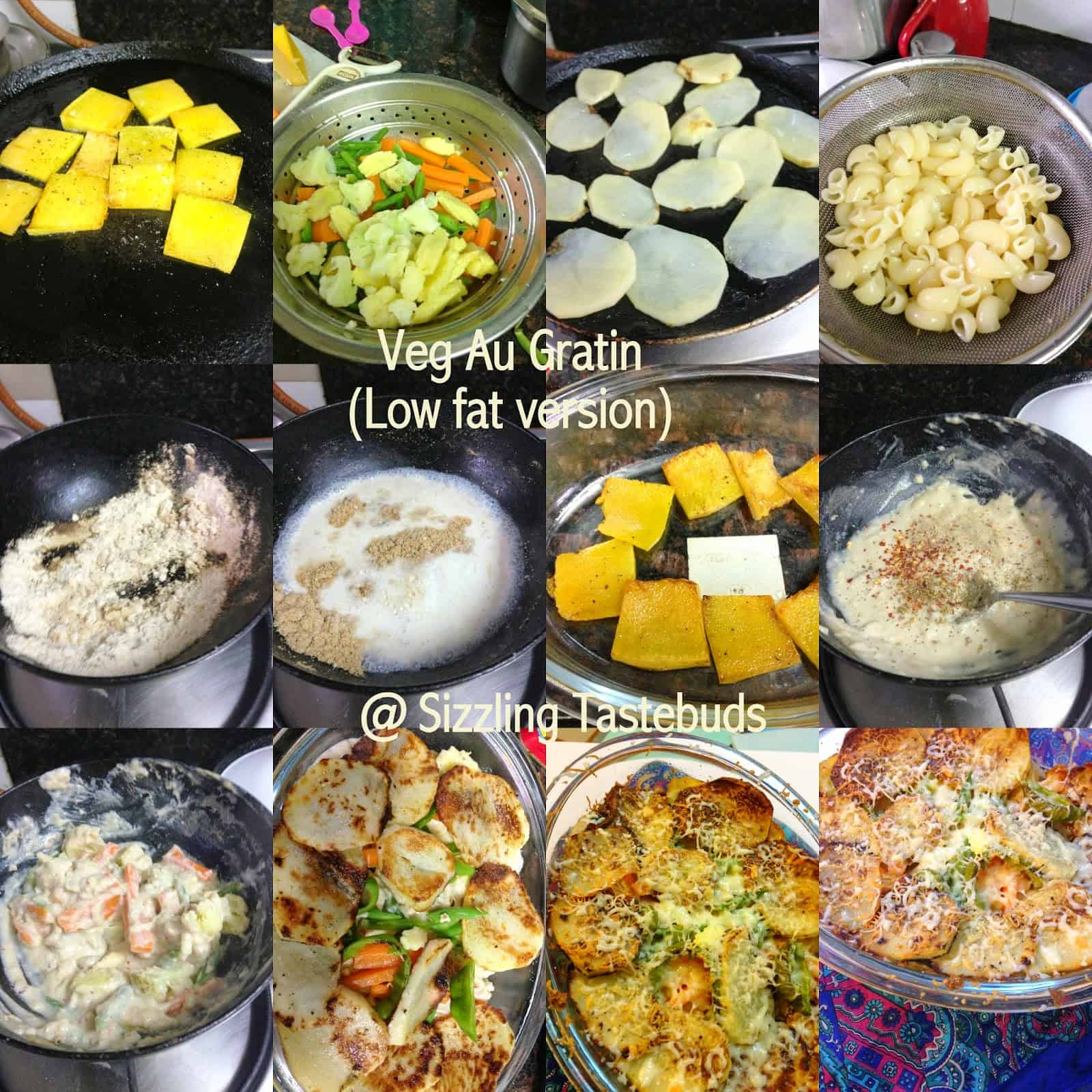 Pin

Method:

Phase 1 : Veggies & pasta Prep
: Blanch the veggies (except pumpkin and potato) for 5- 8 mins in salted water,
drain. Thinly slice the pumpkin using a mandolin (without skin) and place it on
a greased tava- let it brown on both sides a bit. Cool. Similarly peel and
place slices of potato for 8 – 10 mins (flipping them intermittently) till they
slightly cook and brown at the edges. Cool. Also cook the pasta (or macaroni) as
per packet instructions and drain.

Phase 2 : White sauce : In a pan,
heat 1 tsp oil and roast wholewheat flour for 4- 5mins till nice aroma wafts
out. To this add milk and quickly whisk on a low flame till no lumps are
formed. Let it simmer for 2 mins, add salt and pepper and half the cheese. Add
the cooked pasta, blanched veggies and let it cook for 3-4 mins till a nice
gravy is formed.

Phase 3 : Assembling and baking : Preheat oven
to 175 Deg C. Grease a bake dish, line with potato and pumpkin slices
(reserving a few for topping), add a dash of spice (salt, pepper, red chilli
flakes etc) and add the white sauce (with veggies) gravy onto it. Top
with remaining potato and pumpkin slices, finish with grated cheese and bake
covered (if oven is too hot) for 20-25 mins (oven times may vary). Broil for
last 3 mins to get a crunchy / crispy golden top.

Serve hot with any salad or bread
or just as a main course.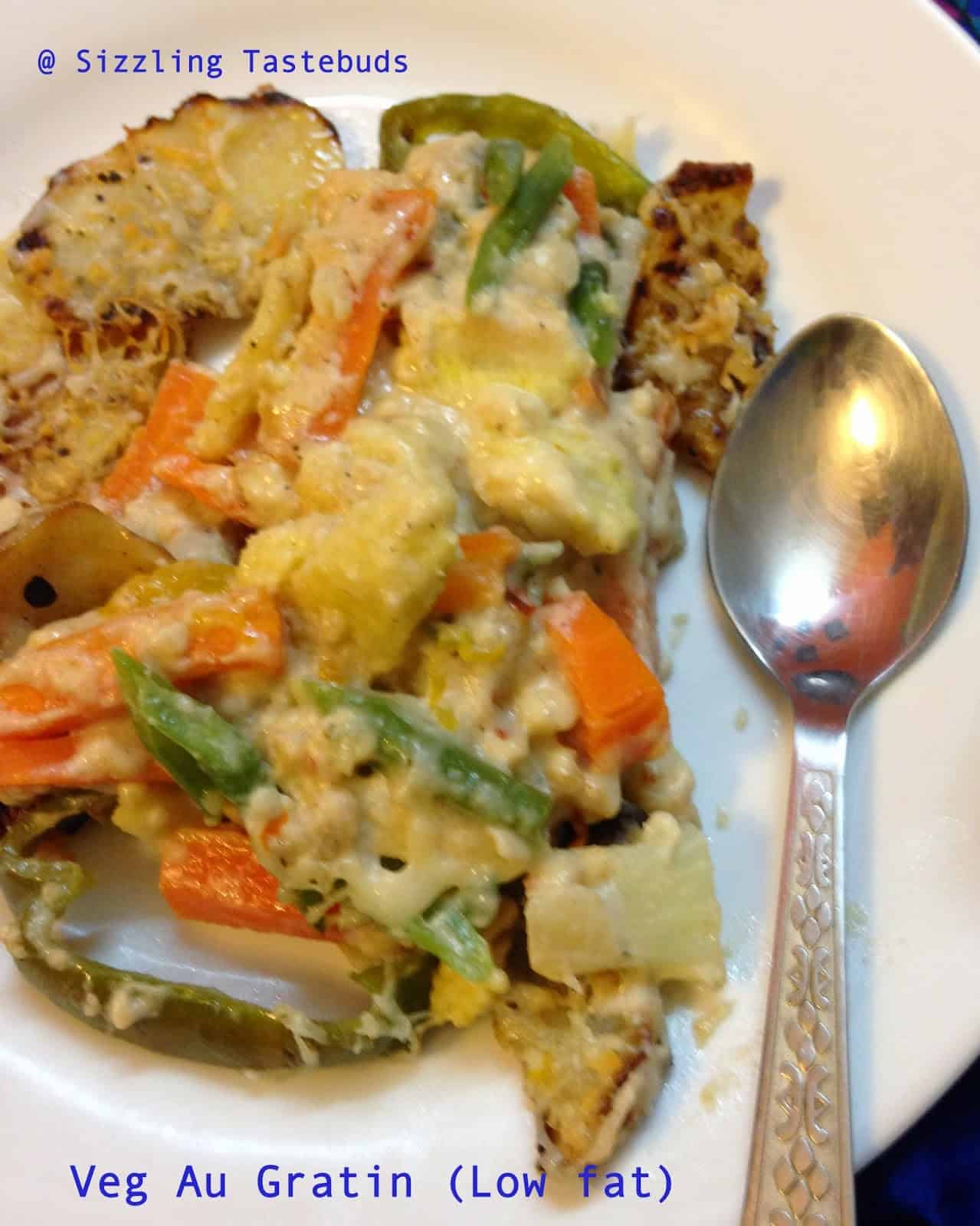 Pin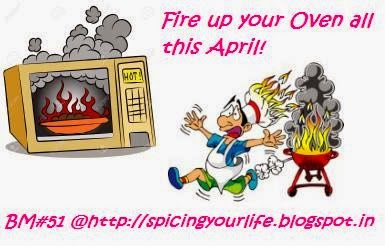 Pin
Check out the Blogging Marathon page for the other Blogging Marathoners doing BM# 51