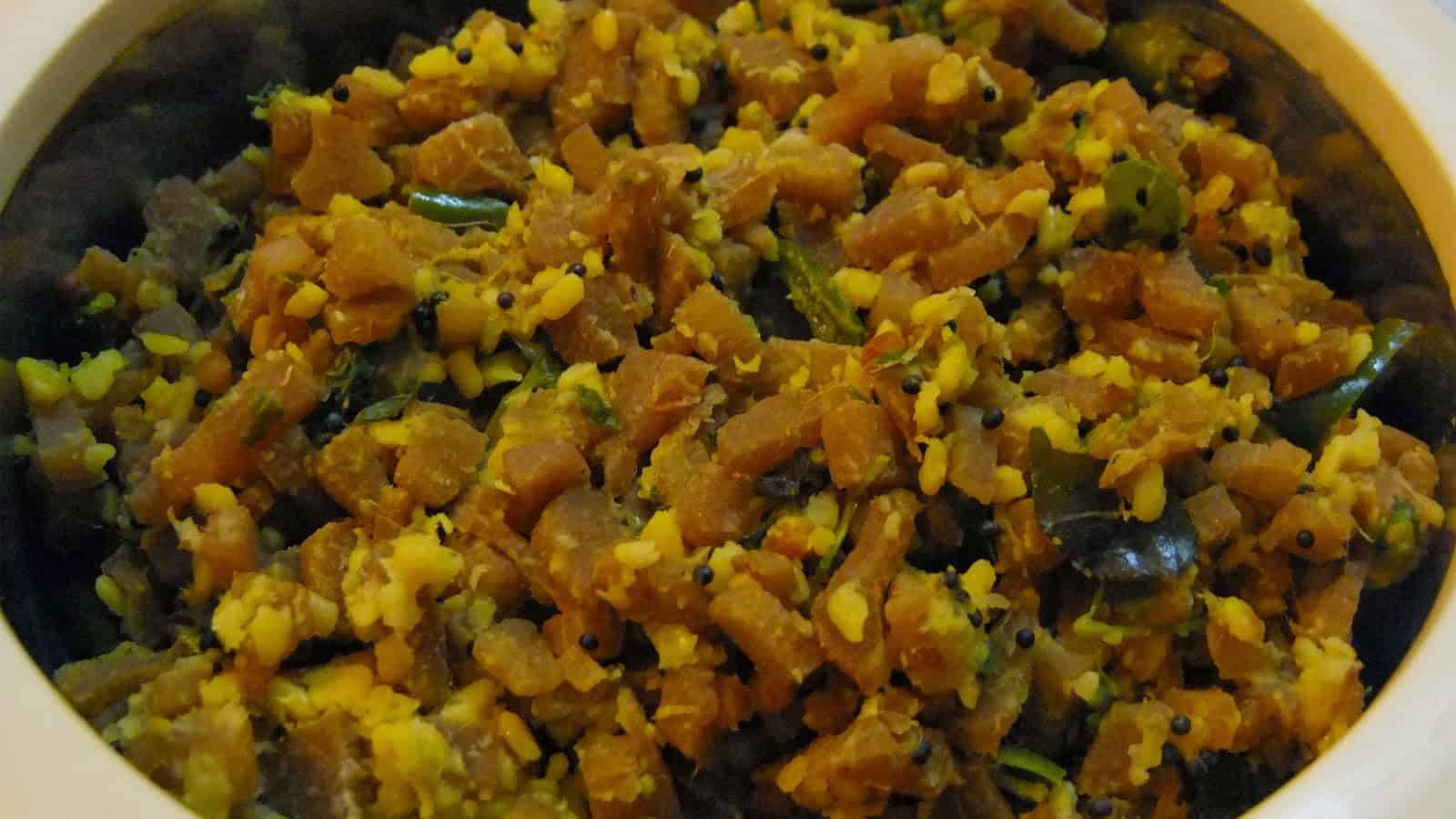 Pin

One of our family's favourite, S can have this curry almost everyday … MIL and mom make this different ways, and we love both ! This one is mom's version. Plaintain stem is bursting with fibre and is highly recommended for both weight loss as well as a sure shot remedy for kidney stones.. Its quite laborious to chop the raw banana stem, but you can chop in advance and store in an airtight ziploc and use. I also make Morkootu (this veggie in curd gravy)

Now to today's dish, it can be prepared in under 20 minutes and goes well with Rasam / Sambhar / Kuzhambu + rice (yes, Sambhar and Kuzhambu are different for a Southie, but more on that another day!) .

Prep time : 10 mins. Cooking time : 10 mins. Serves: 3

Ingredients:
Banana Stem – 1 no (about 1 foot long)
Moong Dal (Split yellow dal) – 1/2 cup
Grated coconut – 1/4 cup
Salt – 1/2 tbsp (or to taste)
Turmeric – 1/2 tsp
Oil – 2 tbsp
Tempering : Mustard Seeds, Urad Dal, Dry red chillies(2), Green Chillies(1)
Curry leaves and coriander leaves – few
Method:
1) Peel the plaintain stem and chop into rings about 1/4 inch thick.
2) Remove the fibre between the rings with your fingers and reserve in a cup of buttermilk to prevent discolouration
3) Once all the discs (rings) are cut, finely chop the veggies. Use as much as required and store the remaining in ziploc as chopping this veggie is very labour intensive
4) Meanwhile soak the moong dal in warm water for about 10 mins.
5) Pressure cook the veggie and moong dal with very little water & a pinch of turmeric for 2 – 3 whistles. Cool and drain any water. If not using pressure cooker, boil till the dal turns slightly done but not mushy. Add a pinch of salt too.
6) In a pan, heat oil. Prepare the tempering. Add the above veggie-dal mixture, curry leaves, salt, grated coconut, coriander leaves and stir lightly.
7) Serve hot with Rasam / Rice. Goes well with chilled curd rice too 🙂
Sending this to Krithi's eventon Healing Foods – Banana