This time for Karthigai Deepam,  I made Thiru Kanamudhu (or Thasmi) – a very special kheer and also today's dish –Mullu Murukku. However I couldn't take any pictures that day due to a hectic schedule. So I made this again over Christmas (much as I would have loved to bake a fabulous Plum Cake for Christmas,I wasn't sure about adding any more sugar to my family's diet and decided to go easy on it) .I have tried making this Mullu Murukku for almost what would be the first time, and although it didnt shape out like the typical  murukku (roundel shaped),the taste was fabulous. It must have been coz I tried this dish all on my own for a very little quantity, and that didnt have the volume to really spiral it up like a real murukku. Having said that, we liked it a lot with our evening tea, and my kiddo also took some to school in her snack box to share it with friends.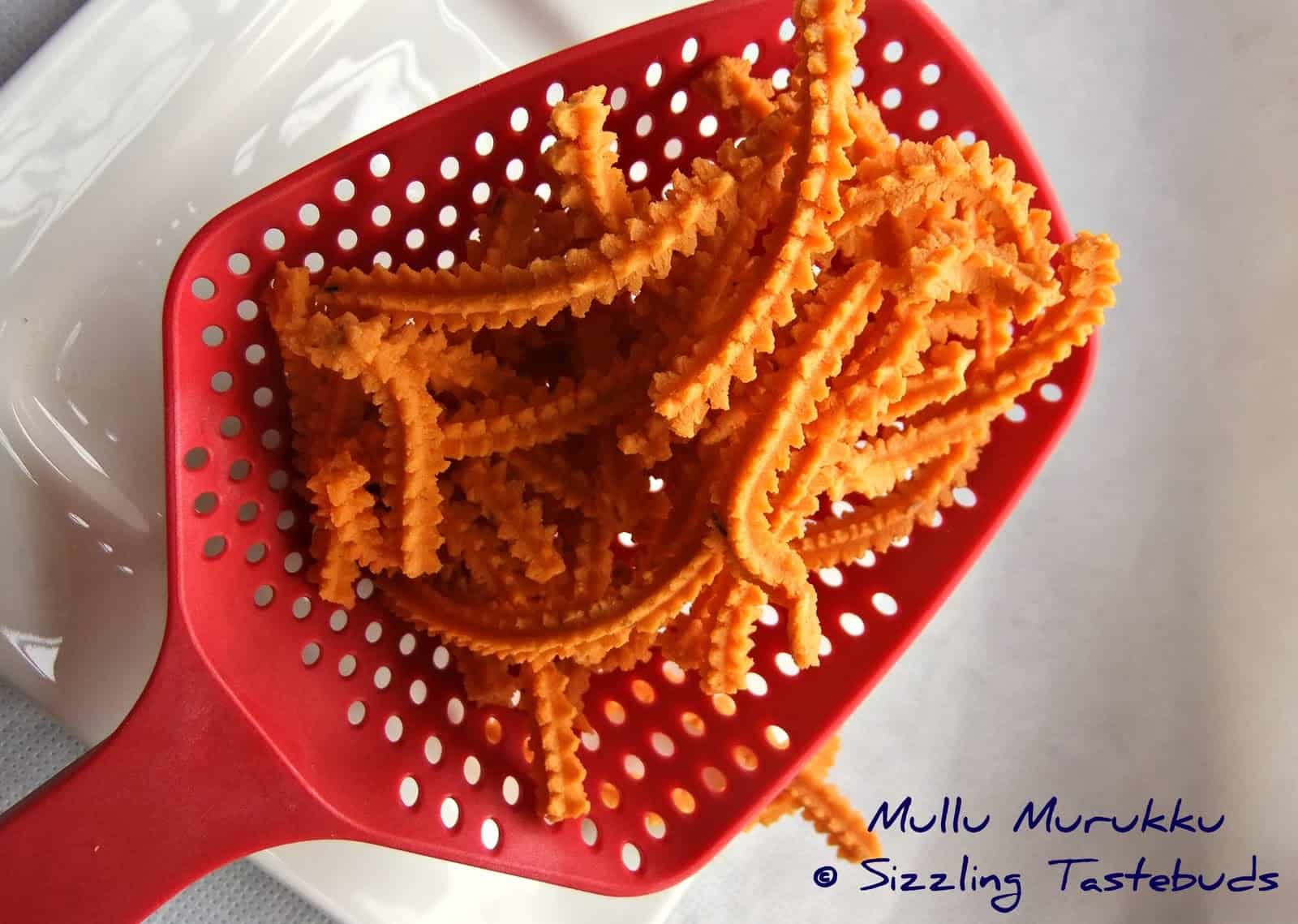 PinPin

I shall post the recipe for the Thiru Kanamudhu shortly-its my grandmom's signature dish, and we all loved it a lot. Now to today's recipe – Mullu Murkku. I  have used an assortment of flours here, but you may choose to make this only with Rice flour. Sending this to Blogging Marathon under "Holiday Cooking" and also to Valli's Snacks Mela, Radhika's Winter Carnival & Cooking Challenge – Tamilnadu by Vidhya.

Check out more Fried Delights here

Prep time : 15 mins. Frying time : 10 mins, Makes : Approx 100 gms of the snack
PinPin
Ingredients:
Rice flour – 1 cup
Channa dal – 4 TBSP
Moong Dal – 4 TBSP
Asafoetida – a generous pinch
Salt – 1 tsp
Ghee / Butter – 3 TBSP
Red Chilly powder – 1 tsp
Jeera / Cumin seeds – 1 tsp (opt.)
Oil – to deep fry + 4 tsp for making dough.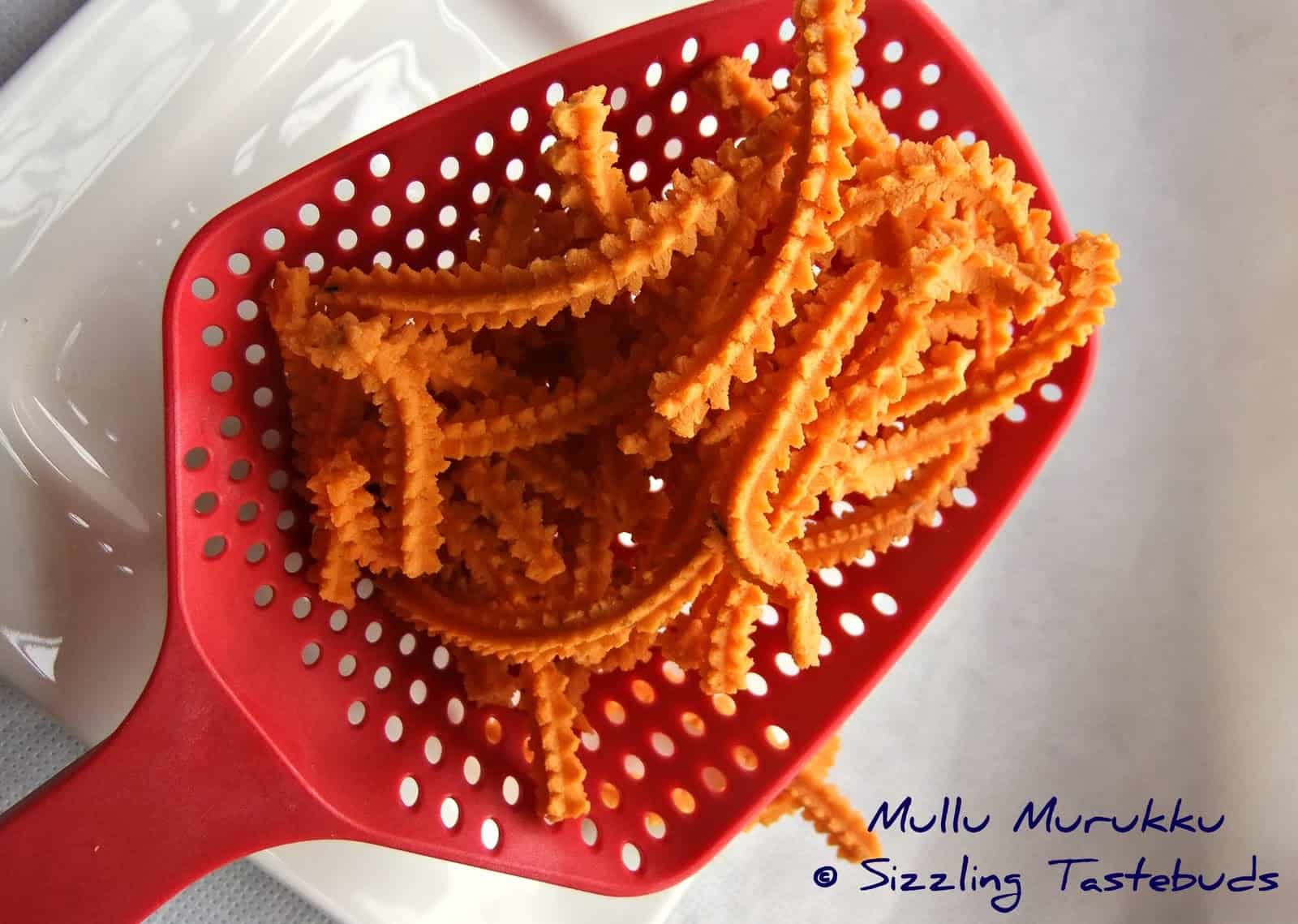 PinPin
Method:
1) Roast both the dals separately. Cool and grind them
2) Mix & sieve all three flours couple of times.
3) To the flours, add melted ghee (or butter), 4 tsp of heated oil, salt, red chilly powder and asafoetida and mix well till they turn into crumbs.
4) Now sprinkle warm water little by little and mix till it forms a nice pliable dough. The dough should be neither too soft nor too hot. Cover with a damp muslin cloth for 5 – 8 mins. Make equal roundels of the dough (For the above proportion, I got about 3 medium sized roundels)
5) Meanwhile, heat about 2 -3 cups of oil in a deep bottomed pan / kadai.
6) Grease the Murukku mould and add one roundel into the mould. Press onto a slotted spoon and insert gently into the hot oil (Oil should be hot, but not smoking). Fry well like how Pooris are made on a gentle medium heat. 
7) Remove with a slotten spoon onto paper towels. Repeat with remaining dough.
8) Cool and store in airtight containers. 
9) Enjoy with a hot cup of tea or pack them into kids' snackboxes for a special homemade treat! 
PinPin