Homemade Thai Green Curry served with aromatic rice is a perfect lunch or brunch option for vegetarians and vegans
My first experience with Thai Green Curry (or Gaeng Keow Wan as its known), was at a get together that me and S had put together for friends in Mumbai soon after our wedding. Till then I (clumsily) assumed that anything Thai (or Asian / Non-Indian) meant non vegetarian. There is (was) this restaurant called Oasis that had this yummy curry on their buffet, and I instantly fell in love with it. I have made this many times since then, but it never occured to me that I hadnt posted this recipe till now….
Mildly spiced with galangal and a dash of coconut milk, we had this with Sticky Chilly Garlic Rice. It so much
reminded me of the paal kootu or the veg kootu (mixed veg gravy) we make at home with coconut, and over the years i truly have liked it. 
A steaming bowl of thai green curry with Sticky Chilly Garlic Rice (Recipe soon) and Veg Fried Rice (for the kiddo) provided for a perfect meal on a cold rainy day. Another Thai Curry is this Yellow Curry with Mango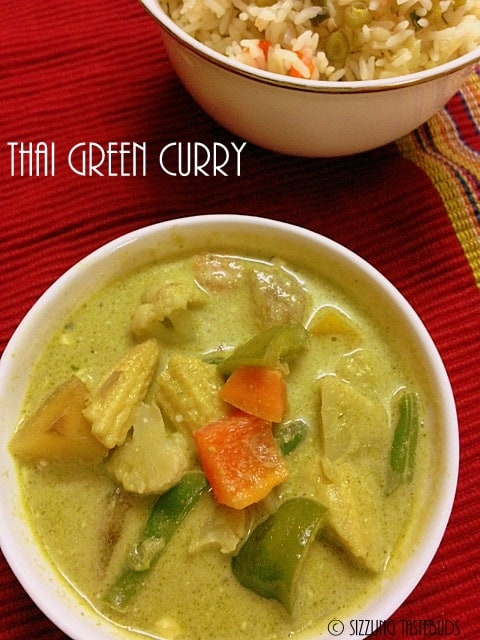 Prep time : 20
minutes. Cooking time : 10 mins. Serves : 3
Ingredients:
Vegetables chopped – 1 cup (I used beans,
carrots,baby corn, Zucchini)
Capsicum / bell pepper – 1/4 cup chopped – I
used all three colours
Mushrooms – 4 to 5 – thinly sliced
Onions – slit lengthwise
Panner cubes – 1/4 cup (instead of Tofu –
which I had run out)
White pepper powder – a dash
Olive Oil – 2 TBSP
Coconut milk – 1/4 cup
Fresh basil leaves – 1 or 2 leaves (opt. – I
didnt add)
Grinding:
Coconut grated – 1/4 cup
Shallots – 1/4 cup
Green chillies – 2
galangal – 1 inch piece
Coriander leaves – a handful
Washed and trimmed fresh coriander stalks – a handful
Salt – to taste
lemon rind – a dash (be sure to grate it from
the top and not towards the whites)
lemon grass – 1 or 2 stalks (opt.)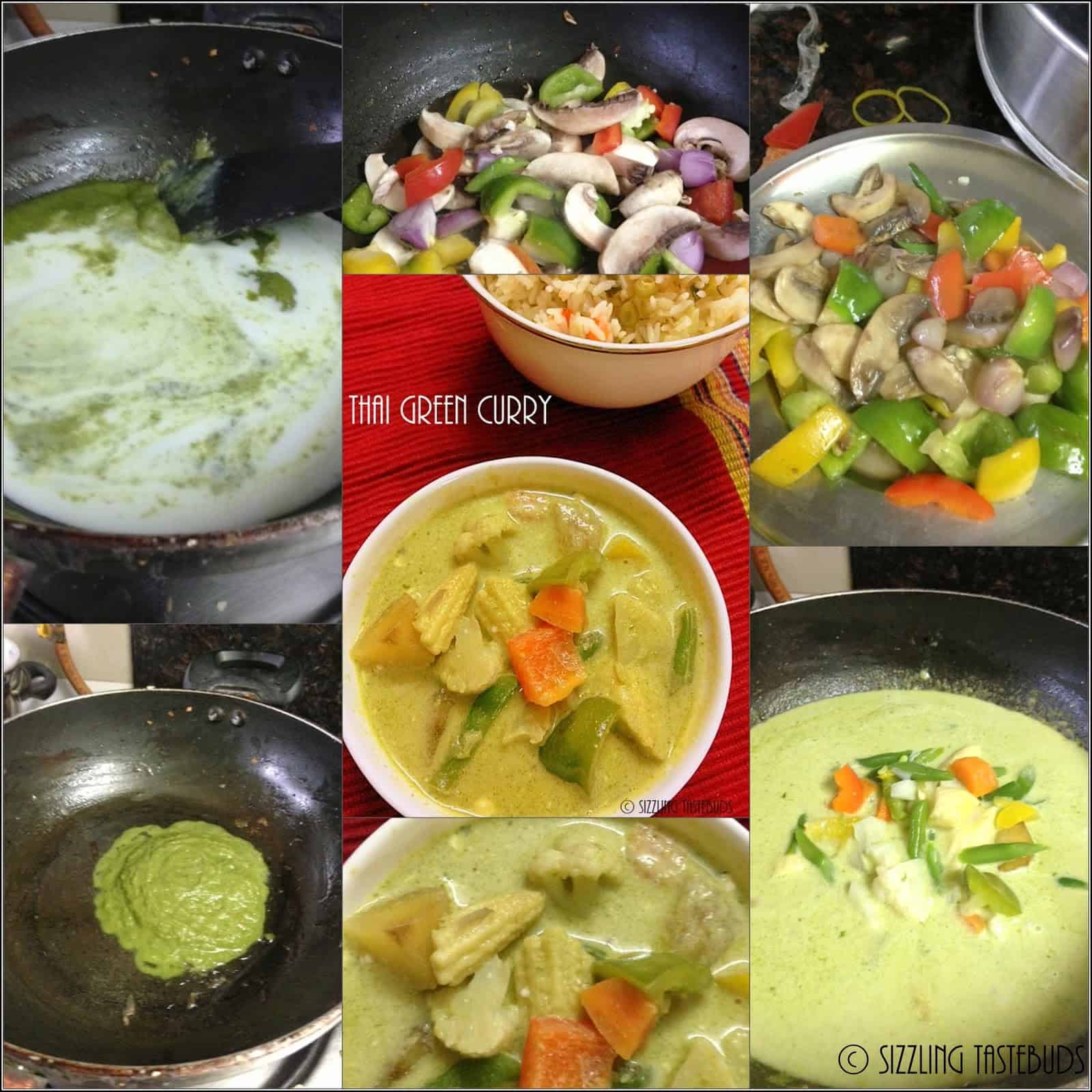 Method:
1) Blanch all the veggies in hot
boiling water (salted a bit) for 5 – 8 mins . Drain and retain the water.
2) Grind all the ingredients under
"grinding" table to a smooth paste. Add adequate water as if grinding
for chutney to a smooth milk paste (slightly flowing).
3) In a wok, heat olive oil. When hot,
add the onions and mushrooms and fry lightly. Add a dash of salt and cook
covered for 4 – 5 minutes. Now add the capsicums and fry again. When slightly
crunchy, add the rest of the veggies. Saute well.
4) When the veggies are almost done,
add the ground paste. Add the water from the blanched veggies. Adjust salt and
seasonings. Add coconut milk as well as 1-2 leaves of fresh basil. Cook covered
on low simmer for 10 mins.
5) Serve with hot steamed rice( preferably
Thai Sticky rice or even plain steamed rice) and enjoy a Pan Asian culinary experience.