School Lunchboxalways seems to be a source of stress to moms –
working or otherwise. What to pack? Will it remain hot and tasty ? Will my child like it
? Preparing and packing healthy food for kids is a big concern these days. With
the advent of Junk food easily available, and pocket money within the means of
most kids, working moms (and SAHMs) too get hassled with what to make for about
160-170 school days of the year.
I remember that while we were kids, and further graduated to jobs,
there were very simple answers : eat a heavy breakfast and carry curd rice :
the South Indian panacea to soothe upset tummies, brave the summer heat and provide
a cooling respite to hungry stomachs. So much so, I was nicknamed, albeit for a
short while, as "Ms Curd Rice" at my first job. We were neither
embarassed to carry rice to school nor bored by the everyday curd rice. Yes,
there were exceptions like Lemon Rice, Puliyogare or even Chapati-Bhaji, but
curd rice ruled the roost.
Try selling that idea to kids these days : yes, I know you are
smiling. Well, this week's Blogging Marathon seems to provide some workable
solutions. Let me know how you liked this series with Lunchbox Ideas as my
comeback post to Blogging.. Linking this to Jayanti who is hosting Valli's Kids
delight Lunch box ideas.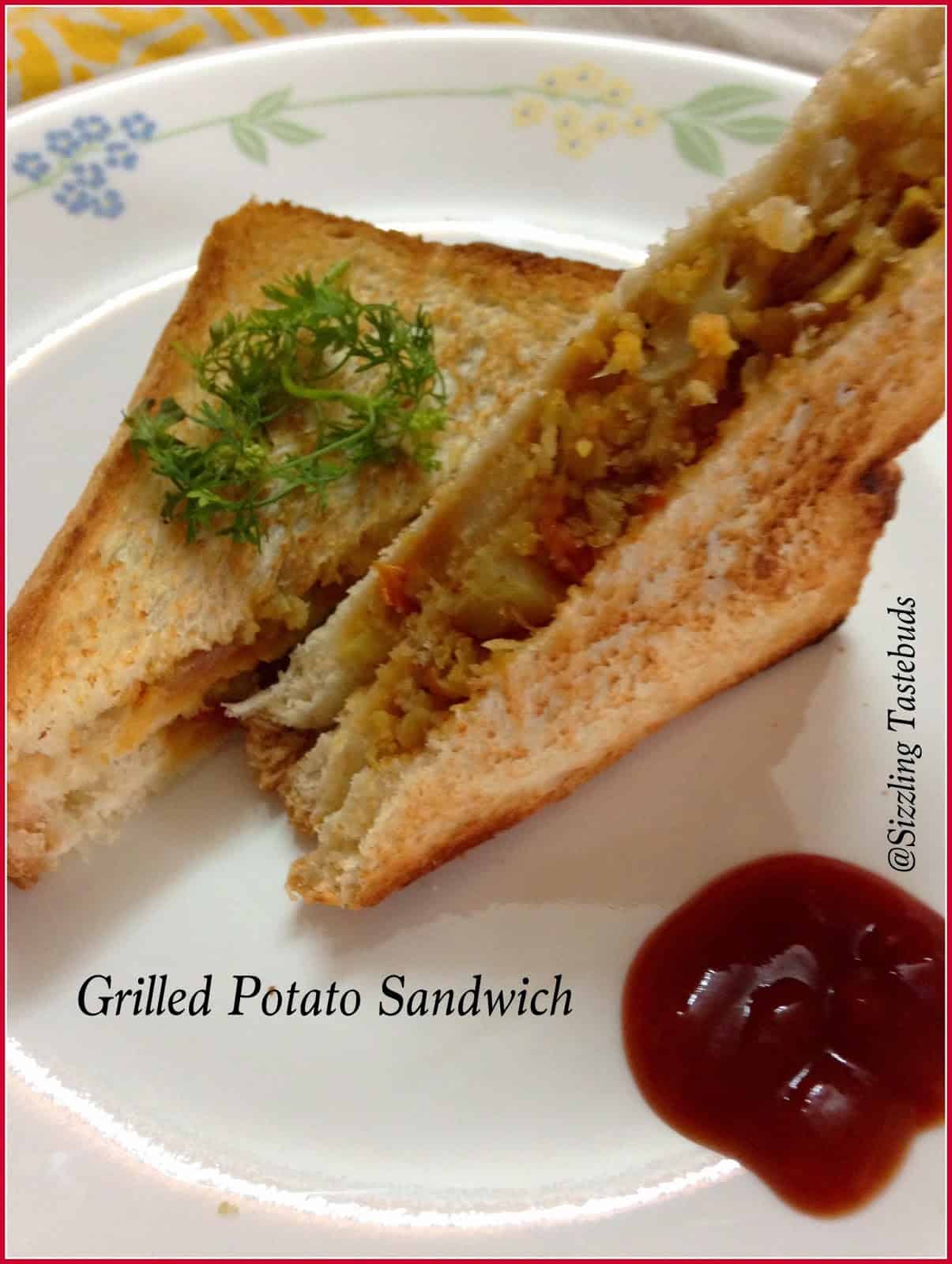 Pin

Today's post is a new discovery after my kid started accepting
Potato as a vegetable. Sure, she likes her French fries or even wafers
ocassionally. But boiled potato in a curry was something she ate grudglingly. I
had made a batch of Masala Dosa and the potato curry was left over. It was a
weekday where too many errands were beckoning and I made myself this quick
Bombay Sandwich (called so, coz its popular in Mumbai where Vada Pav and Pav Bhaji rule). And when I came back to my table after answering a phone call,
half my sandwich was missing 🙂

I knew it was the kiddo who had dug into it, and liked it too !
So, whether you have leftover Potato Bhaji masala or making the filling from
scratch, make a batch, and am sure you would love it too ! I used brown bread,
but you can use any bread that you and your family prefers. You can grill it on
a tava or even use a sandwich toaster. Use ghee or butter sparingly and wrap it
in a foil when still warm (and not hot). It remains perfect for a lunchbox
treat !

Prep time : 20 mins | Cook / Grill time : 15 mins | Serves : 2

Ingredients :
Brown Bread – 4 slices
Potato Curry – 1 cup (refer my Masala Dosa post on how to make
curry)
Green Chutney – about 1/4 cup
Butter / Ghee – to grease (use vegan version if you prefer)
Serving accompaniments : Tomato Ketchup or Green Coriander Chutney
Optional Toppings : Grated processed cheese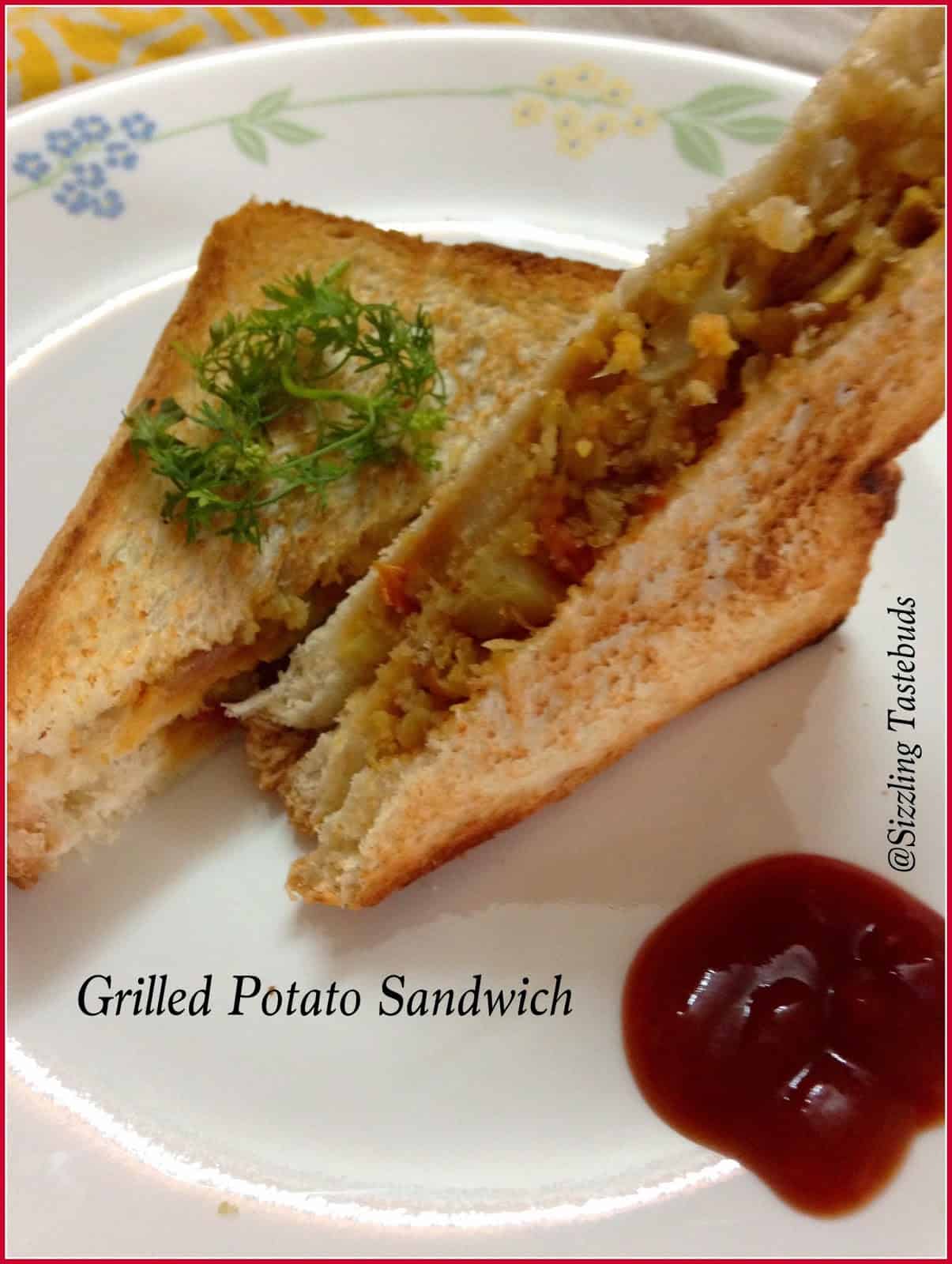 Pin




Method:

Slightly warm the curry if you are using the pre-prepared curry..
Else make the curry as per taste

Cool to room temperature.

Trim bread slices (optional) and butter / grease as per
requirements.

Apply green chutney on the slices (a thin layer will do)

Spread the potato curry on one slice and close with the other
slice

Grill with additional butter on a hot griddle or a sandwich maker.

Top with cheese if serving immediately or serve with tomato
ketchup.

Check out the Blogging Marathon page for the other Blogging Marathoners doing BM# 41