Thepla is a kind of Indian flat bread, particulary made by Gujaratis but relished all over India. I tasted Methi Thepla early on during my first job, and particularly remember a colleague Komal Shah, who used to bring these wafer thin Theplas – about 12-15 of them (more for us, than her!!) and it used to vanish in a jiffy ! Today, I was rather pleased with my attempts at making Pudina Theplas and packed it for kiddo and S's lunchbox with a simple homemade Carrot Pickle and Moongachi Usal (recipes coming soon!) and a bowl of curd. Theplas can be made ahead and preserves well for a max of 1 week and especially helpful on long journeys !! You may also add jeera (cumin) and Til (sesame) to the dough. Theplas can also be made with Methi (fenugreek leaves) or Doodhi (bottlegourd). This goes to BM # 11 under "Lunchbox Recipes" , Krithi's Breakfast club – Breads, event by Helen.
Check out the Blogging Marathon page for the other Blogging Marathoners doing BM#11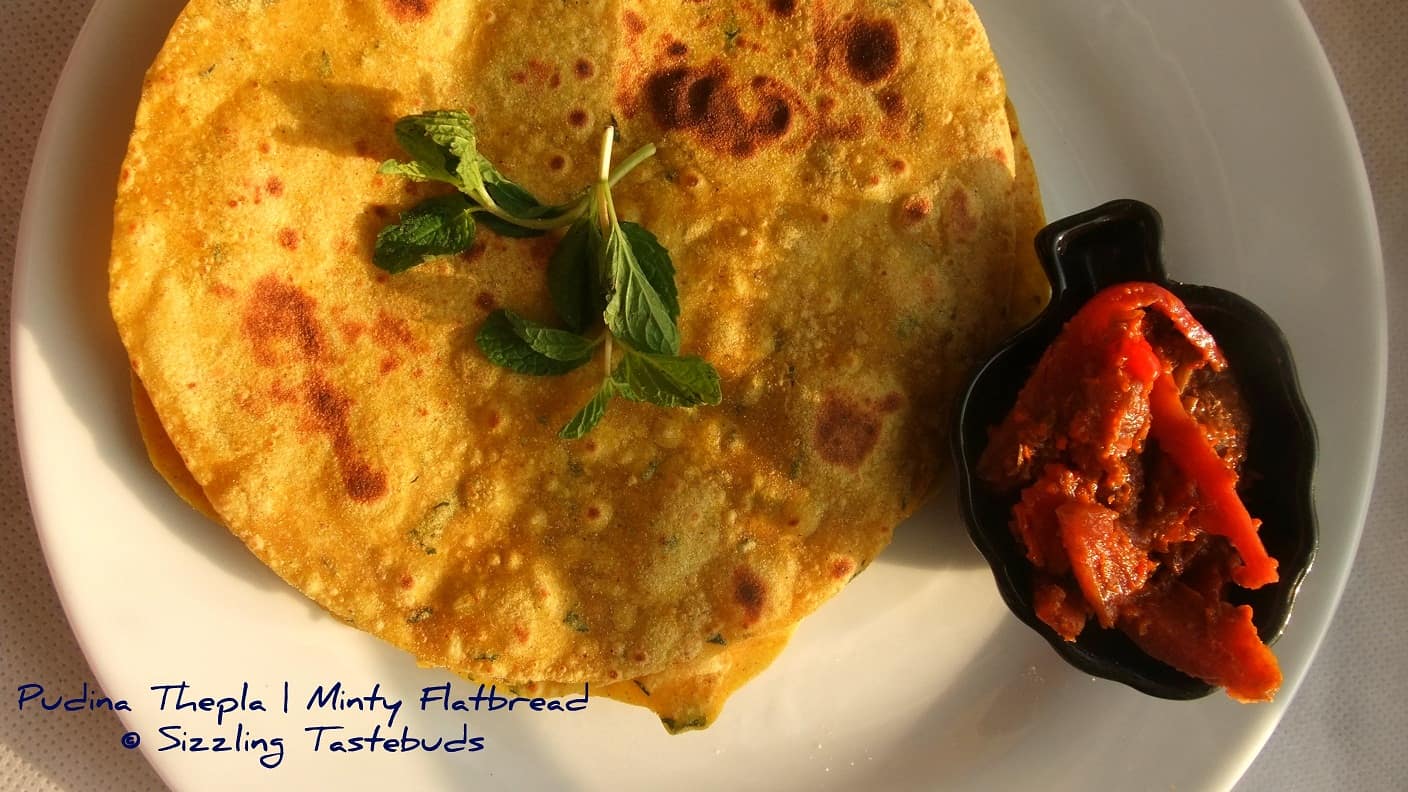 Pin

Prep time : 20 mins.

Cook time : 15 mins

Makes : 12 Theplas

Ingredients:
Wholewheat flour – 2 cups
Besan / gramflour – 2 tsp
Pudina / Mint leaves – 1/2 cup – finely chopped
Curds / Yoghurt – 2 TBSP
Turmeric powder – 1/4 tsp
Chilli Powder- 1/2 tsp
Hing / Asafoetida – a pinch
Salt – to taste
Oil – 2 TBSP + to cook Theplas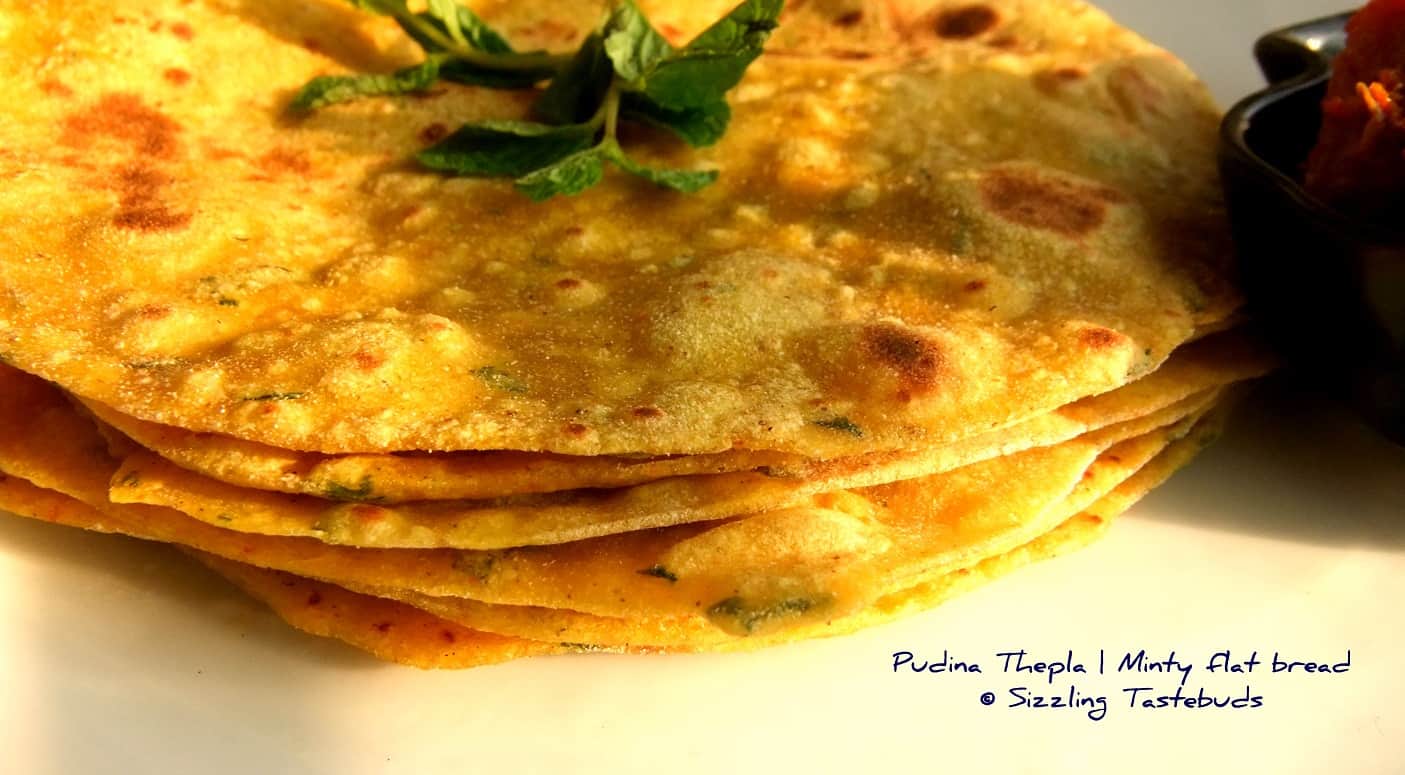 Pin

Method:

1) Mix all ingredients in a large bowl and knead well to a soft dough. Use water only if required.

2) Keep aside covered for 10 minutes

3) Divide the dough into 10 to 12 equal parts and roll out each portion into thin 4 to 5 inch dia circles. Use extra flour for dusting, but not too much.

4) Heat a Tava (skiller / griddle) and cook each Theplas using a little oil till it turns golden brown.

5) Serve hot with Curds and pickle.

Note: If using the Theplas for a longer time (max 1 week), use a little more oil, and ensure the Theplas dont dry up on the tava. Wrap immediately in a muslin cloth to preserve its softness and freshness.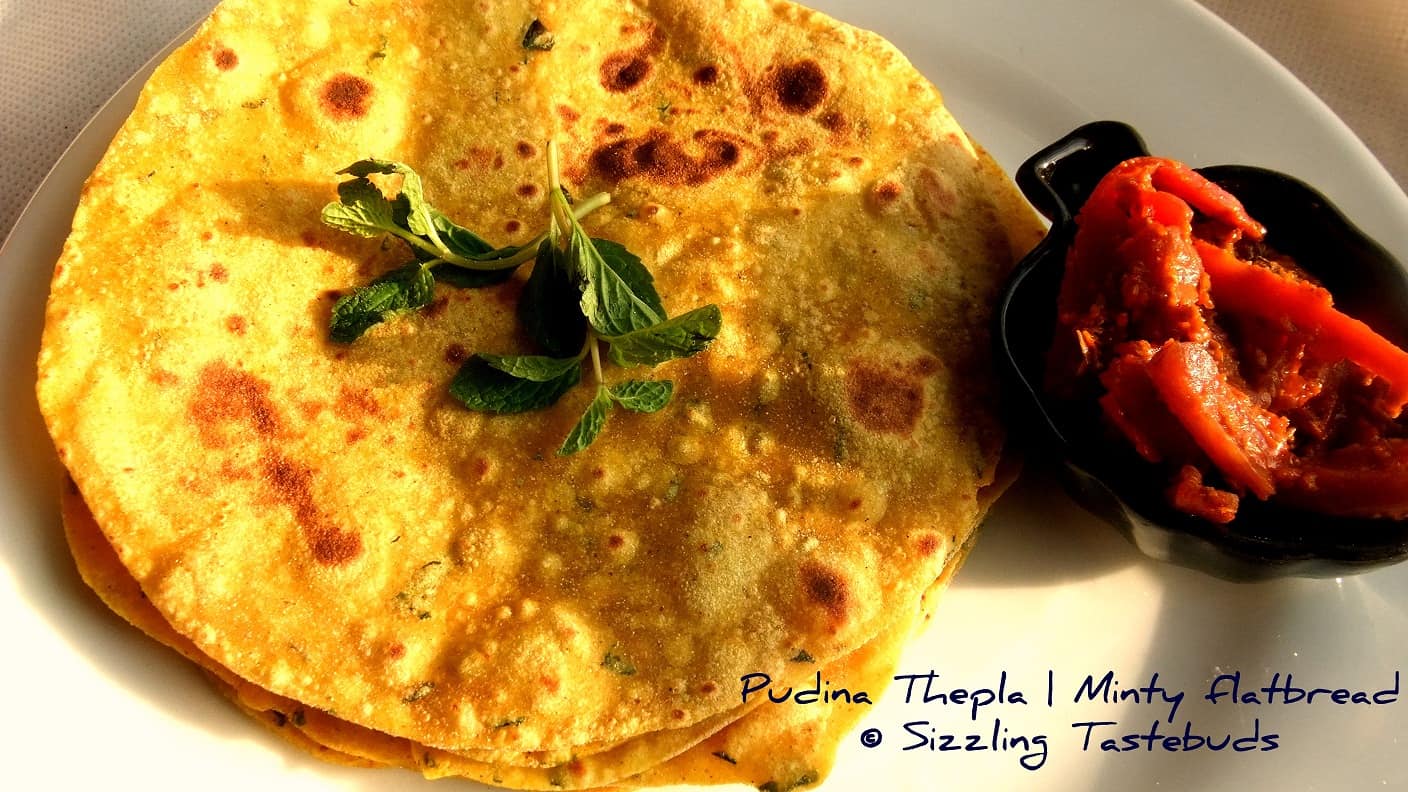 Pin