The posts on this blog seem to have taken a yawning break (again) and we come back this week with 3 stuffed dishes. This was a last minute sign up and I am typing this recipe while still on a vacation as I have this dish in my drafts 🙂
My earliest memory of amma (mom) making chapati was the one stuffed with ghee (what me and sis called triangle chapati) . Eaten hot off the tawa, this was one of the few delicacies that was welcome any time of the day. I have slightly tweaked it to suit my child's palate and was surprised as I have not posted it at all.
So, presenting sweet n spicy (ghee-stuffed) chapati that goes great for even (cold) lunchboxes on its own or with a spicy curry. I served it with Punjabi Chole. 
Prep time – 15 Mins; cook time -15 Mins ; makes – 6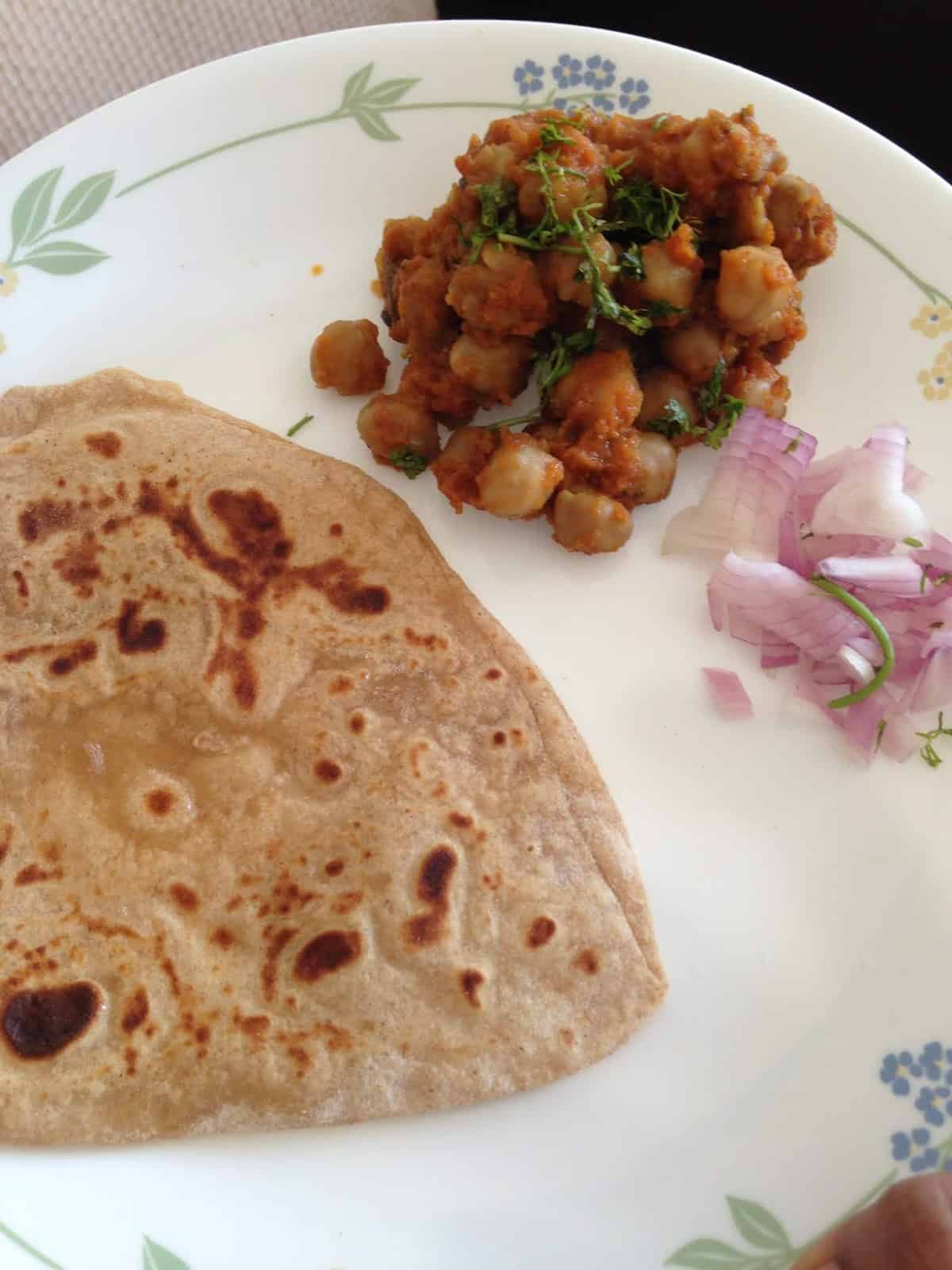 Pin

You need:
Atta / stone ground wholewheat flour -1.5 cups
Salt -1/2 tsp
Oil – to fry the chapati – as required
Warm water / warm milk – to knead the dough (milk makes it stay softer for a longer time, so I use it when I need to pack these for lunch boxes)
Stuffing :
Solid / Room temperature homemadeghee – 2 tbsp (melted ghee doesn't work well here)
Sugar powder – 1 TBSP
Chilli powder / crushed black pepper/ chilli flakes – 1/2 tsp or to taste
Ajwain (carrom seeds) – crushed – 1/2 tsp (or to taste) – you may omit this for toddlers
Method
Sieve the flour well, add salt , 1/2 tsp of oil and mix well.
Add warm water or warm milk as required little by little and make a semi soft dough. Cover with a damp kitchen towel for 15 Mins.
Heat a Tava / iron skillet (non stick works but i prefer the iron version)
Pinch out small balls (large gooseberry sized) from the dough. Roll into a 4 inch disc using some
Dry flour.
Now apply a layer of the ghee, sprinkle sugar powder ,ajwain and chilli flakes / powder (as using) to taste.
Fold into quarters and roll out again in an irregular triangular or circular shape.
Cook on the Tava till both sides of the chapati give out brown spots. Apply a little or more oil as required and serve hot.
It tastes yum as is (my little one wraps it like a roll and munches it) or with some curry on the side (if packing for lunchboxes, slightly cool and then pack in a foil / ziploc else the condensation would make it extremely soggy)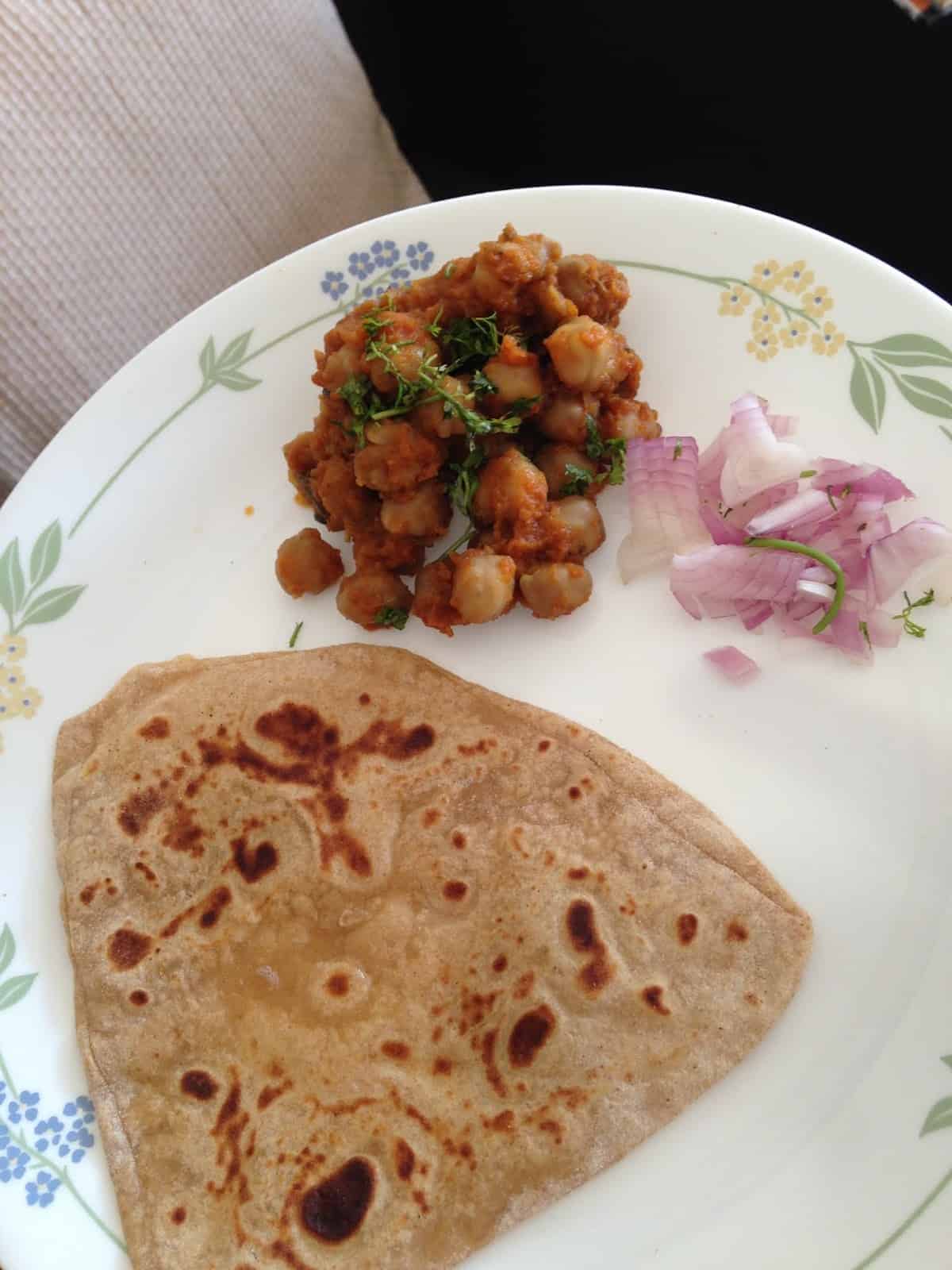 Pin
Sending this to BM # 89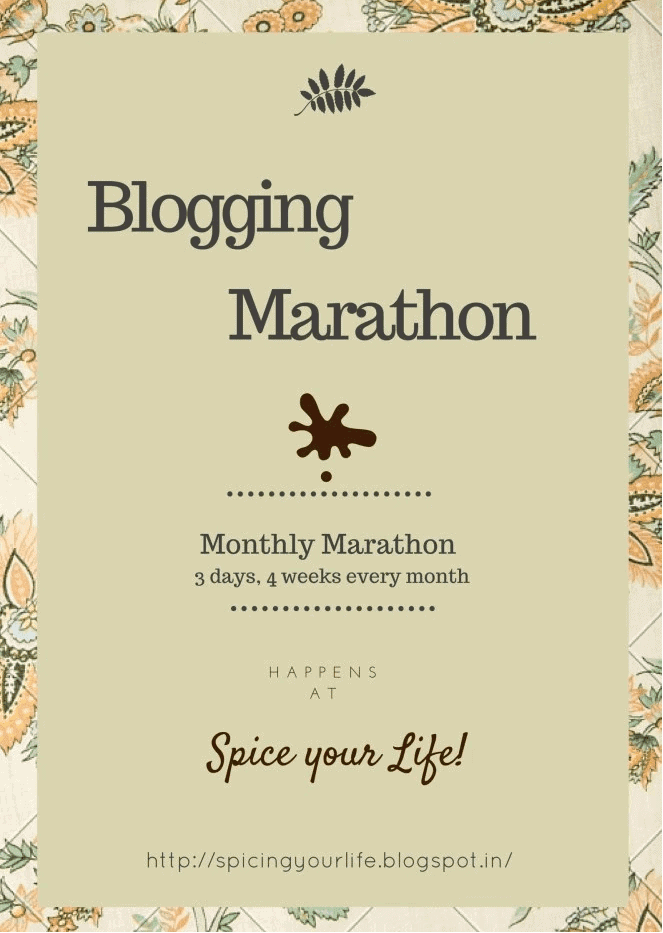 Pin