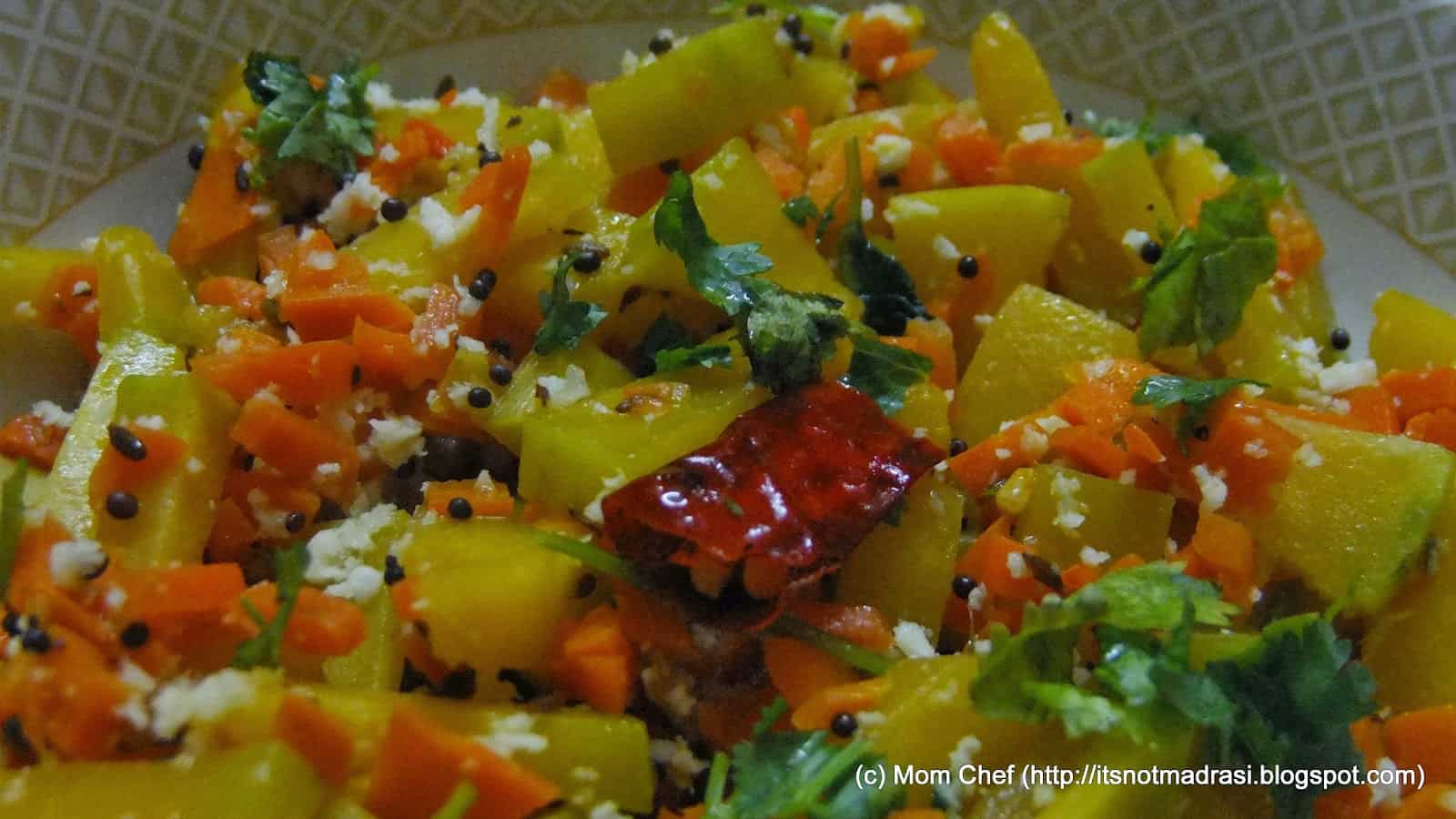 Pin
Quick and super easy to make, this dry curry can be had with tomatorasam / sambhar / vettal kuzhambu or even just curd rice. The goodness of Squash along with some juicy carrots and no -garlic no-onion affair makes it a great combo even with hot parathas / rotis. Some people mash up the vegetable a bit to make Parangikai Poriyal but we at home prefer this just done. I have added carrots to make it healthier for my kid and also add in extra beta carotene to the dish !
We use this veggie extensively at home, and its a sure winner everytime. Sending this to Blogging Marathon's Day 2 with the theme "Curry in a Hurry"
Preparation time : 15 mins. Cooking time: 10 mins. Serves : 4
Ingredients:
Peeled and cubed Yellow Pumpkin – 2 cups
Carrots diced – 1/2 cup (opt)
Salt – to taste
Coriander & curry leaves – few
Dry red chillies – 1 or 2
Turmeric – 1/2 tsp
Coconut grated – 2 tbsp (opt)
For tempering:Oil – 1 tsp, mustard seeds – 1 tsp, hing – 1/2 tsp, urad dal – 1 tsp
Method:
1) Wash and lightly peel the yellow squash (if you peel it fully, it becomes mushy on cooking)
2) Cube into 1 inch bites
3) Boil the pumpkin and carrots(if using) separately till tender but not mushy. Add a pinch of salt. Depending on the size and quantity, this might take about 10 mins.
4) In a pan, splutter mustard, curry leaves, hing, urad dal. When done, add turmeric, red chillies and stir.
5) Now add in the boiled veggies, and check for salt. cover for 2 – 4 minutes till well done.
6) Uncover and garnish with green coriander and grated coconut.
7) Serve hot with Tomato Rasam / Sambhar.
Pin
Check out the Blogging Marathoners doingBM#5along with me :
Curry in a hurry under 30 min:Cool Lassi(e),Harini,Kalyani,Priya Mahadevan,SumaSeven Days of Colorful Dishes Kid's Special:Priya Suresh,Veena,
Seven Days of Indian Sweets:Shylaja,Srivalli
Seven Days of Regional Specials:Priya Yallapantula
Under 15 mins Quick Breakfast:Aarthi,Vaishali