Pizza Pinwheels was one of the most awaited snacks during the
recent Christmas break that kiddo had. Ever since I told her I would make it,
everyday she would start the day with the same question "are we making it
today?" .. The day we actually made it, we had it as a snack rather than
for dinner. She loved it with a cup of tea, while little one had the non-spicy
version and loved it too. surprise, surprise, my inlaws and mom who are not so
into baked goods also liked it quite a bit.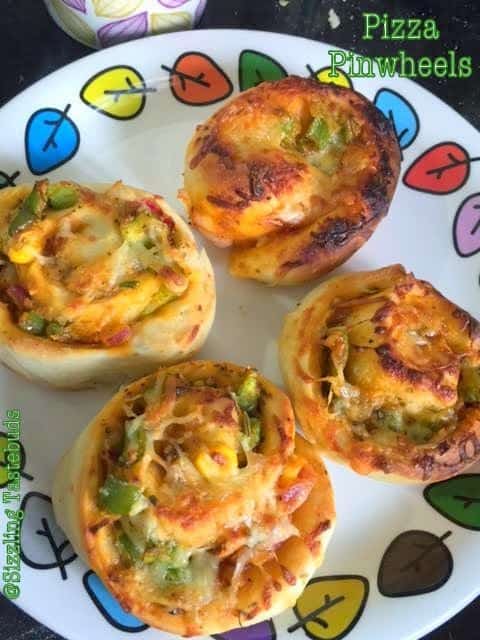 Pin

All in all, a snack that has endless possibilities for filling. I
am sure to make this for her birthday too (as per her 'orders' :D) . So do make
it and let me know how you and your family liked it.

Sending this to BM#48 under Wraps and Rolls. Check out other
marathoners here. Also to Vardhini's Bake Fest # 39, Nupur's Whats with my Cuppa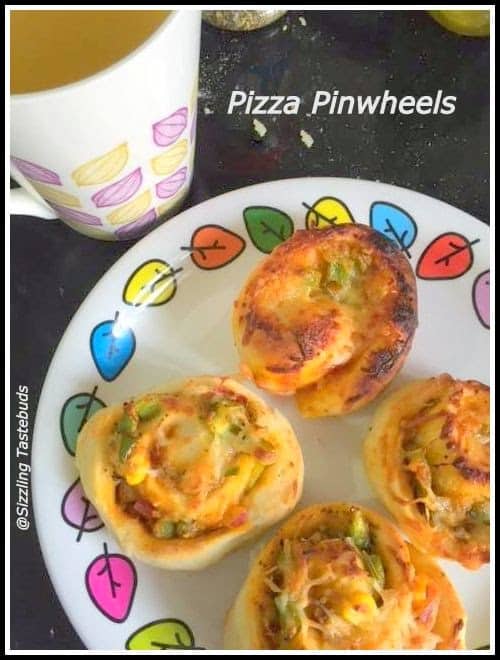 Pin

Prep time : 15 mins | Standing time (rise time : 1.5- 2
hours)

Bake time :20 mins | Makes : 1 dozen medium sized
rolls

Cuisine : American , type : Snack or appetiser

Ingredients:
Unbleached
bread flour – 2 cups ( I used king arthur brand)

Instant
yeast – 1 tsp

Sugar
– 1 tsp

Warm
water – 1/3 cup + little more for kneading

Olive
oil – 1/4 cup

Salt
– to taste (about 1/4 tsp) 
Filling:
Pasta
sauce – 3/4 cup

Boiled
corn – 1/4 cup

Diced
capsicum / bell pepper – 1/4 cup

Diced
onions – 1/4 cup

Dried
herbs – 1 tsp (I used oregano, basil and thyme)

Salt
– to taste

Red
chili powder – 1/2 tsp

Shredded
mozzarella cheese – 1/3 cup

Olive
oil – to brush the bakes
Method: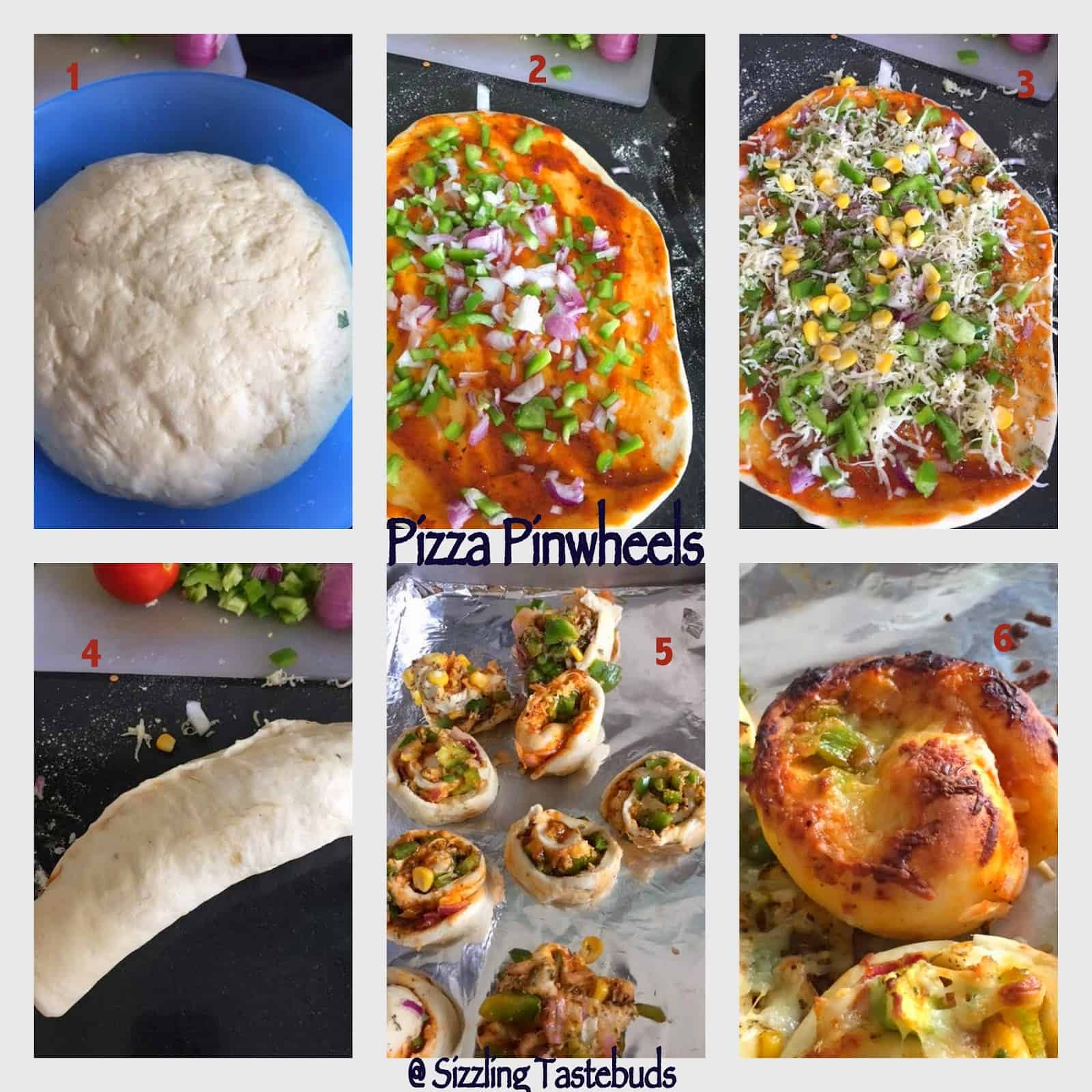 Pin
Proof
the yeast with warm water and sugar. (I proof the yeast every time
although its instant, just to be sure). Once done, add the oil and whisk
it well. 

Sieve
flour and salt twice over, make a well / dent in the flour and add the
proved yeast + oil mixture. Knead to a smooth dough adding any additional
warm water if necessary. Cover with a wet kitchen towel and place in a
draft free environment till it doubles (I keep it in an oven with the
light on). My dough generally doubles in an hour, however that week
it was chilly and took about 90-95 mins to double.

 Punch
down the dough a bit and divide  the dough into two parts (One
portion went to make a lovely veggie margarita type pizza for the husband
and me). Knead the other portion lightly.

On
a floured surface, roll into a rectangular sized sheet. 

Spread
the pasta sauce, sprinkle  the veggies, cheese, dry herbs, and top it
with cheese. 

With
the shorter end of the rectangle facing you, roll into a tight roll (like
a cinnamon roll) and press the ends to seal. Roll all through the length
of the pizza sheet. 

Clingwrap
and refrigerate for 20 – 30 mins (this is an important step, dont miss,
else you would be left with messy pinwheels). Towards the end of this 20
mins, Preheat oven to 180 deg C. / 375 deg F.

With
a sharp serrated knife, cut thickish roundels, place the pinwheels with
the cut portion facing upwards on a greased / lined baking sheet

Bake
for 12-18 mins till you get golden brown pinwheels, keep an eye after the
15th min to avoid hard pinwheels. 

Serve
warm as a snack or for dinner with any soup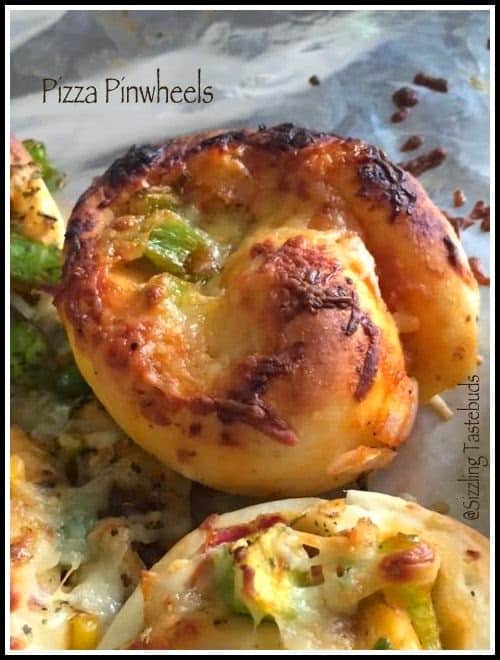 Pin