Last weekend, as usual, the fight was on as to who owns the remote. On weekdays, it would be a miracle if I can even catch up on my fav TV shows or even the News (Now whats new in news, when every hour there seems to be 'breaking news', you might ask!). As someone said, wristwatches became redundant with mobile phones, I think TV also has seen (or will soon will have) the same fate with internet and smartphones. Tired of waiting for the newspaper to be delivered each morning, S checks the headlines on his smart phone on the way to work, and when I do need to go beyond my 'cookbook' recipes, Google is to the rescue on mine.
So,why the struggle for remote, do you ask? I just wanted to make my presence felt in the house (for sometime), although my TV show was defeated hands down with a re-re-re-telecast of Chota Bheem & Krishna (No prizes for guessing who won! :-)) … now, all this rambling led to one thing : my kiddo said whatever cookery shows I watch or how much ever I blog, I mostly dont make her favourite dishes (and chocolate-based being on the top top favourite). Yes, I am impartial to chocolate. Actually in an anti-sentiment kind of a way. In this fast food era, I do try cutting down on fat and chocolate to an extent : my point being we dont need our kids to go the doctor or dentist too early.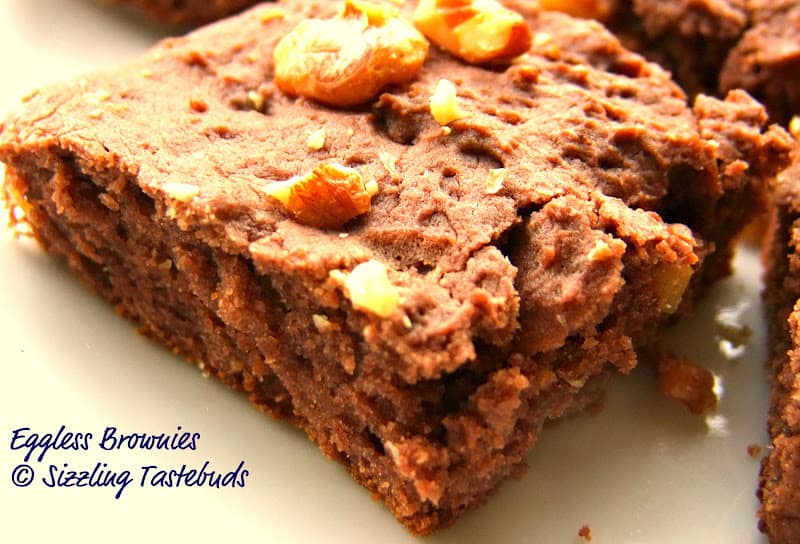 Pin

So, as she mumbled on how she had this most yummilicious brownies at her playmate's house, last week, some guilt pangs seeped into my conscience as well : not to eat them, but make them for her 🙂 And my search for eggless (not vegan) brownies took to me to several blogs / recipe books before I settled on this one. It seemed perfect except for one thing – I was making these for the first time, so wanted to be sure with a smaller quantity . I had eaten brownies earlier (mostly on full fare flights, where for the lack of doing anything else, one gulps down a zillion calories with that brownie and stale airplane food). Like I said chocolate and me are miles apart, although I love my Lindt and Cadbury Dairy Milk versions (yes!) occassionally 🙂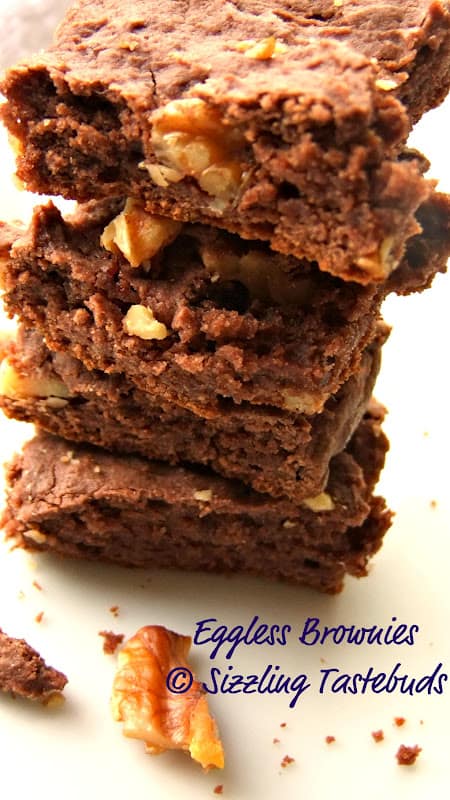 Pin

So, I halved the recipe, added some olive oil (to replace most of the fat), and it turned out mildly sweet and kiddo pronounced it perfect (Post note : she said that the earlier version eaten last week was more soft, so I told her there must have been eggs which I didnt add). Anyways, I guess she liked them and asked me to pack some for her friends at school too (That was like the icing on the cake…errr… brownies :-)). Needless to add, these taste divine (I am told so) served sizzling hot with vanilla ice cream. May be that combo, next time !

Sending this to BM # 14 under "Quick Kids Snacks" and the event "Bake Fest" hosted at my blog.

In case you have missed any of the past week's dishes under this theme, here's a quick recap before we go to the today's dish:
Prep time – 15 mins
Bake time – 18 mins
Makes – 14 – 16 medium sized brownies
Ingredients:
Maida / APF – 3/4 cup
Cocoa powder – 2 TBSP (you may use Choco powder too)
Chopped walnuts & pistachio – 2 TBSP
Baking powder – 1/2 tsp
Refined Sugar – 1/3 cup (I felt this might require a little more – may be 2-3 TBSP more)
Butter – 2 TBSP
Olive Oil – 4 TBSP
Vanilla Essence – 1/4 tsp ( I did not add)
Milk – 5 TBSP
Yoghurt – 1/3 cup
Mixed fruit Jam – 2 TBSP
Salt – a pinch (not in the original recipe, but I added)
Method:
1) In a large bowl, sieve dry ingredients together thrice : Salt, baking powder, cocoa powder, APF.
2) In another bowl, Beat butter, oil and sugar till fluffy. Add milk, yoghurt, vanilla essence, jam and mix well again.
3) Chop the nuts finely. Dust them thoroughly with 1 – 2 tsp of flour and keep aside.
4) Meanwhile, preheat oven to 190C / 375F. Grease and flour a baking pan (if you dont have a brownie pan, use a square cake tin).
5) Mix the flour-cocoa mixture to the wet mix and fold gently. The resultant will be a gooey thickish batter (yes, you are allowed to lick your fngers as you sample the batter 😀 ) Add half the nuts to this batter and fold once finally.
6) Transfer this batter to the greased and floured tin and gently tap the tin for the batter to settle in lightly( For the above proportion, you would not get thick brownies, unless you dont prefer slightly flat ones)
7) Sprinkle remaining walnuts on top. Bake for 15 – 18 mins till the choco aroma wafts out and a tooth pick comes out clean.
8) Take out, cool on a wired rack. Transfer to a plate and mark out the shapes while its still cooling.
9) Cool completely. Cut out the shapes and serve. This can keep upto 3days without refrigeration.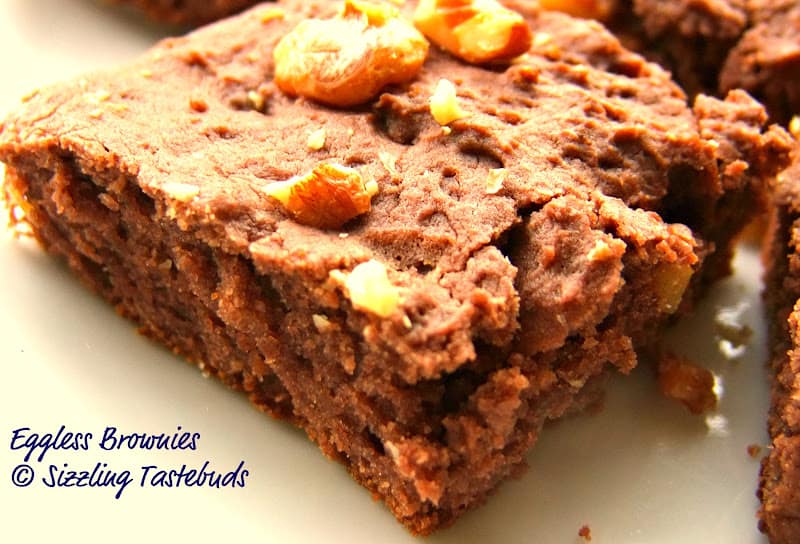 Pin