I was introduced to this hearty, lovely dish by my friend PS, who belongs to Chandigarh. 
Although we do use Urad dal (split black gram) in Idlis / Dosa – Uttapams / Chutneypudi (Condiments) or even for everyday tempering for south Indian dishes, I love the rustic way of eating lentils / legumes – with its whole skin on. Yes, it does take a fair bit of planning to soak, cook these lentils, but the effort is worth it. 
A simple dal like this and hot rotis / Phulkas / Rice and a salad is all you need for a weekday brunch and you are set for the day 🙂
Sabut Urad simply refers to whole black gram cooked in their skin (soaked and pressure cooked) and sauteed with simple spices. If you are a lentil lover like me, am sure you would appreciate this simple yet delicious dish. A similar dish can be made with Sabut Moong as well (whole green gram) and the taste varies slightly coz black gram is more heavy than green gram when cooked.
Lets get to the recipe then. Linking this to MLLA # 92, hosted by Rafeeda, event managed by Lisa & conceptualised by Susan. 
Prep time : 15 mins + 8-10 hours soaking time
Cook time : 20/25 mins
Serves : 4
Accompaniments : Phulkas (puffed wholewheat flatbread), Naan / Kulchas / Steamed rice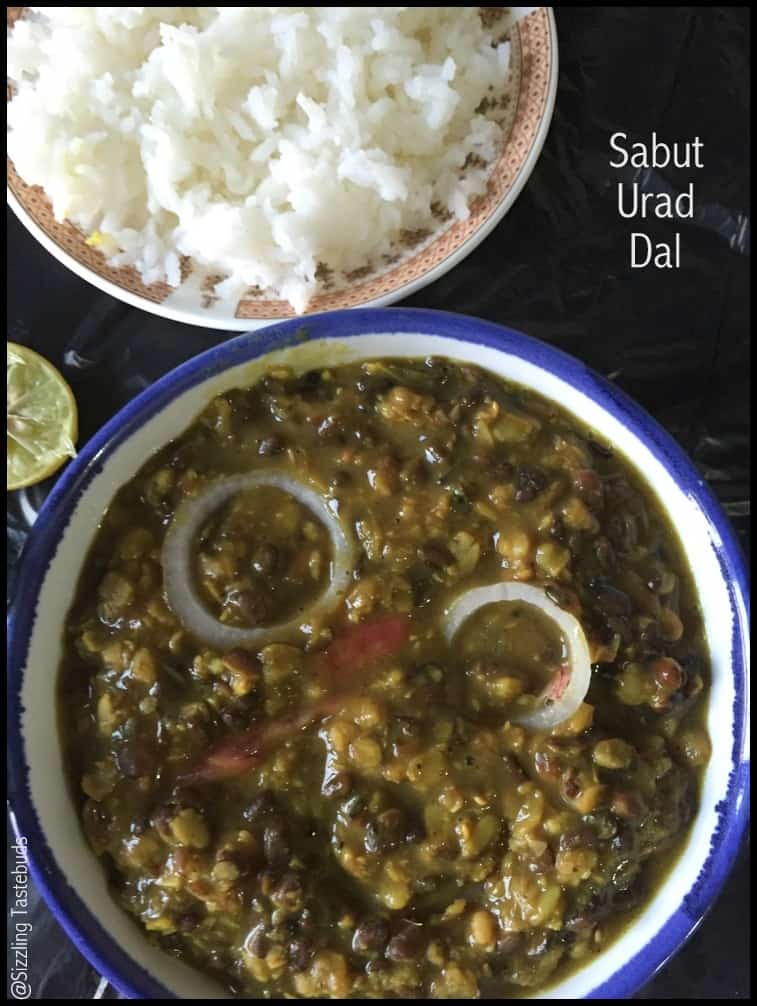 Pin

Sabut Urad dal –  A vegan whole black gram cooked in their skin (soaked and pressure cooked) and sauteed with simple spices.

Ingredients:
Sabut Urad dal (whole black gram) – 1 cup (200 ml)
Onions – 1 large
Tomatoes – 2 medium
Salt – to taste
Turmeric – 1/2 tsp
Ginger garlic paste – 1/2 TBSP (opt.)
slit Green chillies – 2 nos (adjust spice)
Spice powders : Coriander powder (1 1/2  tbsp), cumin powder (1 tsp), red chilli powder (1 tsp), Amchur / Dry mango powder (1/2 tsp)
Tempering : Oil (2 tsp), Cumin seeds (1 tsp), Hing (asafoetida) – 1/2 tsp
Garnish : Onion rings , Tomato slivers
Method:
Wash and soak Urad Dal for 6-8 hours (or overnight). Drain and pressure cook with 2 cups water, turmeric, green chillies and 1 medium tomato till done and slightly mushy. Let the pressure come down on its own.
In a pan, heat oil, splutter cumin seeds and asafoetida. Now add the diced onions, ginger garlic paste, remaining tomato, salt and saute well till onions are browned and tomato turns mushy. 
Add the spice powders one by one & saute till oil leaves the sides, now add the cooked urad dal and mash up well. 
Let it simmer for 5-7 mins on medium heat. 
Check for salt and seasoning and serve hot / warm with flatbreads / rice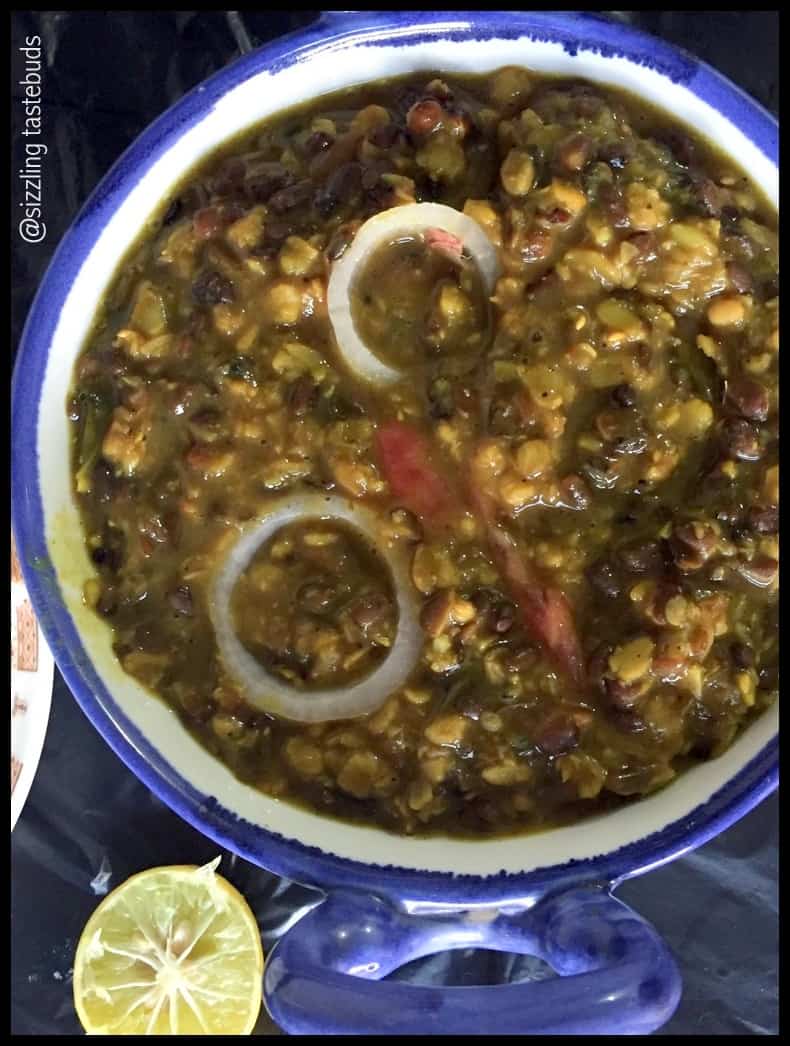 Pin