Given a choice to pick out my favourite vegetable, I can do it with my eyes closed. And its always capsicum (or bell pepper). I find this member of this chilly family to be soo versatile. Stuff them up like this Bharwa Capsicum or use it for flavoured rice (Tindora Capsicum rice/ Bisibelebhath), Stir fries like this Tiranga Capsicum fry , as a filling for Tofu grilled Capsicum Sandwiches , as an essential element for Low fat Pav bhaji or even as topping for pizzas (and even bruschettas). I actually dont need a reason to use this, and my love for this veggie is quite evident throughout my menu 🙂 So much so, my shopping list has this permanently etched on to it..
Summer is blazing out here, and I wanted to make something cool, yet easy. Raithasare soo much our family favourite and while you can be versatile and add up pretty much any veggie in a raitha (curd based dish), I used Red bell peppers along with grated radish to make Roasted Bell Pepper Raitha.It was a wonderful accompaniment to the Brown Rice Pulav for our Sunday brunch.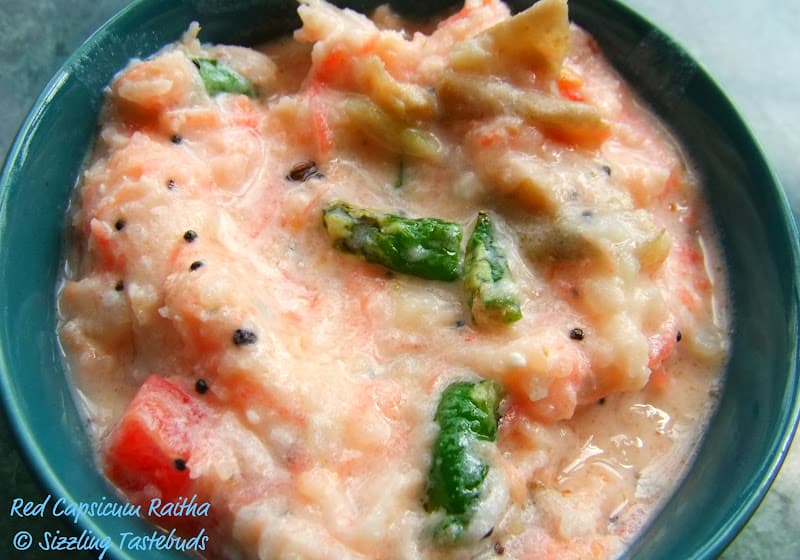 Pin

Sending this to Anusha's Summer Spunk as well as Healthy Veg. Side Dishes by Vardhini and Radhika's Lets serve Chilled. Lets get to the recipe now..

Prep time – 10 mins. No cook required

Serves – 2

Ingredients:
Red capsicum or bell pepper – 1 large
Grated radish – 1/4 cup
Grated coconut – 4 TBSP
Jeera / Cumin – 1/2 tsp
Green chillies – 2 or 3
Salt – to taste
Yoghurt / Curd – 1 1/2 cups
Olive oil – 2 TBSP (for roasting)
Tempering : Oil (1 tsp), mustard seeds
Method:
1) Wash and pat dry the bell pepper. Apply oil generously over the skin and hold it on an open flame for 2 -3 mins while rotating continuously while the skin turns slightly black and shrivels. Once done on all sides, put it quickly in a bowl of cold water for 1 min. Cut and deseed the bell pepper. Cube into fairly large chunks.
2) Grind cumin seeds, green chillies, coconut and a handful of the roasted bell pepper with 2 – 4 TBSP of warm water to a paste.
3) In a large bowl, add the rest of the bell peppers, grated radish and mix well. Beat the yoghurt free of lumps and add to the bowl. Add the ground spice paste and mix gently to incorporate it well. Chill well for 30 – 45 mins
4) Just before serving, make the tempering with oil and mustard seeds. Once the mustard stops spluttering, add it to the raitha, top with salt. Mix well and serve immediately for a hearty summery dish. Am sure the smoky flavours of the roasted bell pepper would tantalise your palate as much as it did to us.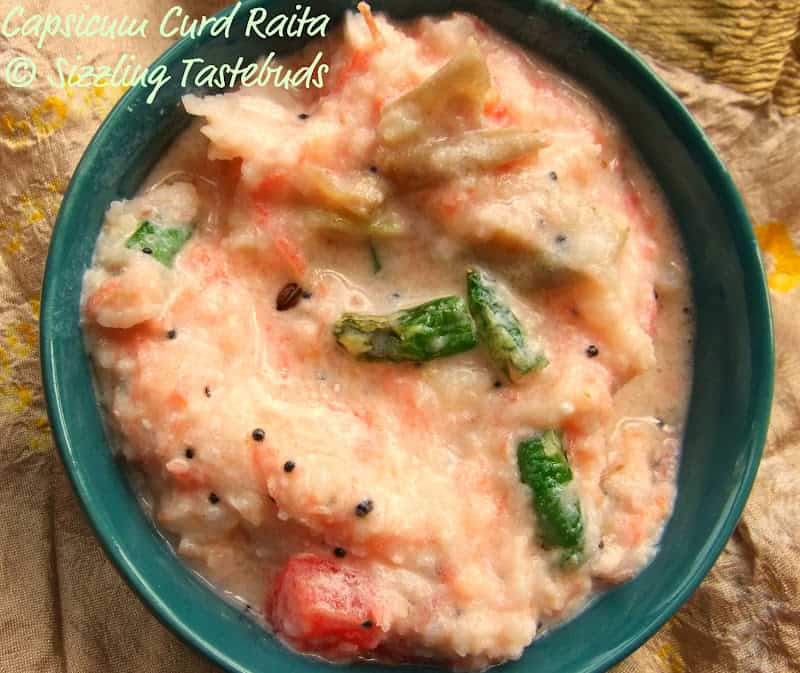 Pin