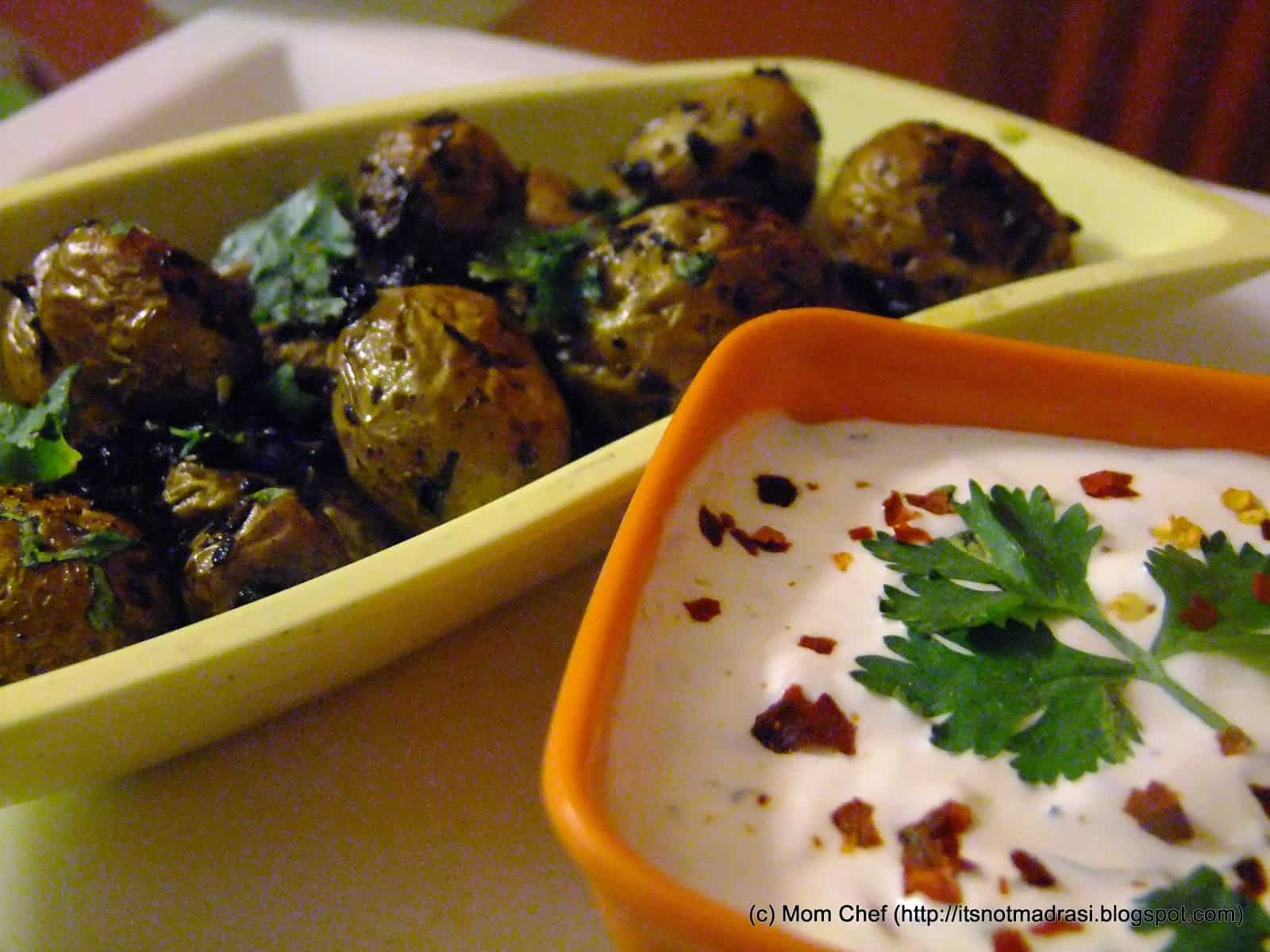 Pin
Roasted baby Potatoes with Cheesy dip is a pure kid's delight. Eaten slightly warm off the oven, last night's appetizer was polished off in a jiffy before the cartoon program / after dinner drive and all such enticements were even commencedJ
This dish can be made in under 30 minutes even as a great party appetizer ! The goodness of Olive oil rubbed potatoes with the creamy hung cheesy dip blends as a wonderful wholesome food ! I have also added Indian dry masala powders along with Dried herbs to create some fusion J I unconsciously seem to have chosen to post three potato/ sweet potato recipes in a row for the Blogging Marathon Kids Delight, and have one more from the tuber stable J he he !!
Preparation time: 20 minutes. Cooking time : 10 minutes. Serves : 2
Ingredients:
· Baby Potatoes – 1/4 kg
· Olive Oil – 4 tbsp
· Salt – to taste
· Dry herbs – Oregano , Red chilli flakes, Basil – each ½ tsp
· Gram flour / besan – 1 tbsp
· Garam Masala powder- ½ tsp
· Red Chilli powder – ½ tsp
For the cheesy dip:
· Shredded cheese – ½ cup
· Hung curd – ½ cup
· Olive oil – ½ tbsp
· Tomato ketchup – 1 tsp
· Salt – to taste
Method:
1) Scrub and wash the potatoes well.
2) Preheat the oven to 220 – 230 deg C.
3) Prick the potatoes all over with a fork and microwave on high for 5 minutes ( I prefer the potatoes to have their skin on, but you may peel them if you wish)
4) Mix olive oil, salt, dry herbs, garam masala and red chilli powder in a bowl. Now add the besan / gram flour and mix well again.
5) Roll the potatoes in this mixture and evenly coat the mixture on all the potatoes. Marinate for 10 mins. Add 1 or 2 more tbsp olive oil if required
6) Spray some cooking oil on the baking tray and bake in the pre heated oven for 12 – 15 minutes till the potatoes are done.
7) For the cheesy dip, beat the hung curd well. Add shredded cheese, olive oil, tomato ketchup and little salt. Beat lightly with a fork. Add chilli flakes if you wish and chill for 10-15 minutes (you may make this while the potatoes marinate too)
8) Serve the baked potatoes with the chilled dip and some veggie batons for a wholesome kiddies meal J
Check out the Blogging Marathoners doing BM#5 along with me
Curry in a hurry under 30 min: Aarthi, Divya, Jayashree, Kaveri, Pavani,
Seven Days of Indian Sweets:Gayathri, Priya Suresh,
Seven Days of Microwave Meals:Monika,
Seven Days of Regional Specials:Harini, Vaishali, Suma, PJ
Seven Days of Colorful Dishes Kid's Special:Kalyani
Summer Coolers: Jayasree, Kamalika, Srivalli