Wiki: "Convalescence is the gradual recovery of health and strength after illness or injury. It refers to the later stage of an infectious disease or illness when the patient recovers and returns to normal, but may continue to be a source of infection even if feeling better. In this sense, "recovery" can be considered a synonymous term. This also sometimes includes patient care after a major surgery, under which they are required to visit the doctor for regular check-ups"
Convalescence needn't be only past partum. It can also be when a child or family member is recovering from serious illness like high fever / typhoid / jaundice or any such where the tastebuds dont work properly due to the high medication.
Today's home remedy – Rava Kanji – is more like a food supplement than a cure. It can also be used for those days when you are rushed in the mornings to make breakfast or stand in for those days when a throat infection prevents you from having even little spice. Its a whole meal by itself and can fill you up from breakfast to lunch. For those on a diet, this is any day better than those commercial protein shakes with added additives, and can easily be a post workout snack too.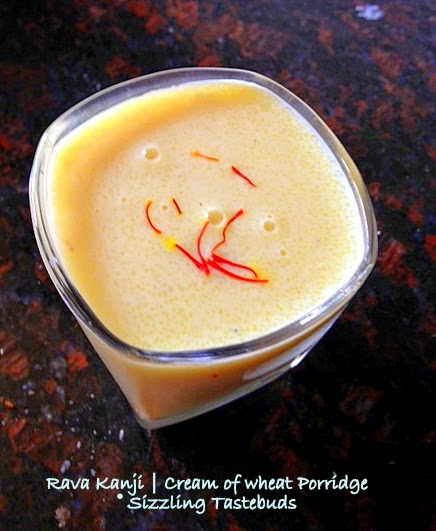 Pin
Rava Kanji (or cream of wheat porridge) is a quick to make remedy.
It can be as sweet as much as you need – mom and me have it mostly sugarless
too. But if you are giving it to kids, you can add 2-3 tsp of sugar per
serving.
Note:
1) Even 1 TBSP suji (or semolina) is enough for 1 person
as milk is added.
2) This porridge thickens once cooked. So you need to have it hot or warm. Else, you can cook the semolina with just water, and then add warm milk when required, in batches. However, the cooked semolina is to be consumed within 30 mins for best results.
Prep time : Nil | Cook time : 10 mins | Serves : 2
Ingredients:
Cream of wheat / Semolina / Rava / Sooji – 2 TBSP (fine sooji)
Hot Milk – 1 large cup (200 ml)
Hot water – as required
Ghee – 1 tsp
Optional addons:
Method:
In a pan, roast the semolina in 1 tsp of ghee till a nice aroma
wafts out. Add about 1/3 cup hot water and cook it for 3-4 mins. When done, add
hot milk, mix well without lumps and let it simmer for 2-3 mins.
Serve as it is , or add sugar, cardamom powder and homemade badampowder for more flavour and taste.
If serving to kids, add a dash of vanilla essence if they like it.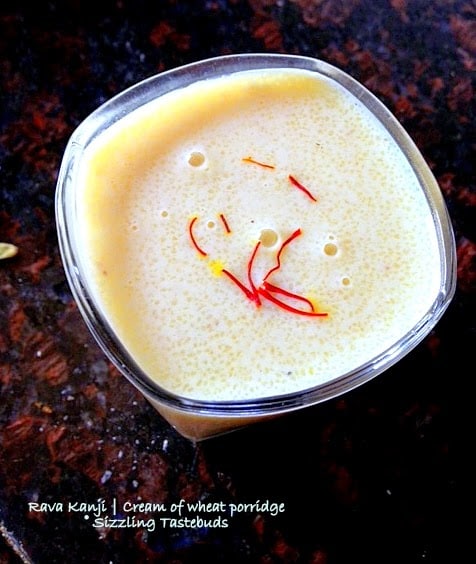 Pin