Even after marriage and moving to Mumbai, I considered it my privilege to use only my mom's spice powders that I used to lug back every 6 months from Bangalore : Spice powders are something that remind you of home, even 1000s of miles away – a unique comforting aroma that wafts from sambhar or rasam when home made spice powders go into it. As a child, I used to watch grandmom and mom make this, and although paati (my grandmom) kept telling me repeatedly to get the proportions for any spice powder right as it would be help me after getting married and moving away , like most teenagers I didnt pay too much attention. In fact took it all for granted, when one fine day last week, i discovered that my rasam powder was over, and I didnt have any backup left.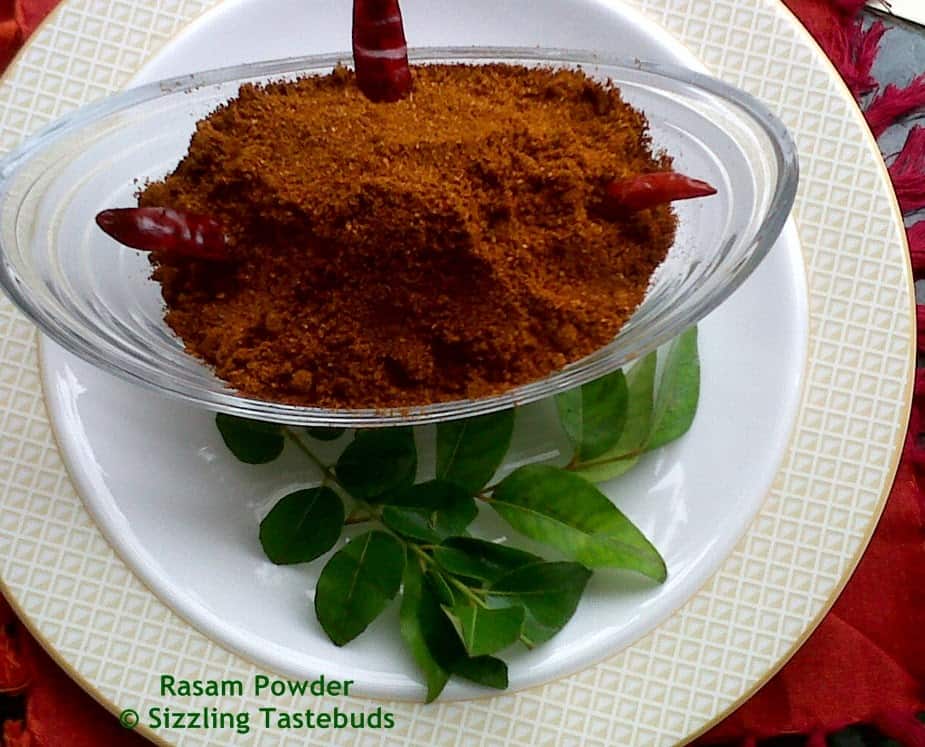 Pin
Unlike S, kiddo loves rasam (in fact Tomato Rasam) soooo much, that all she asks most of the time after school or especially on weekends is Rasam Saadam (Rice + Rasam). After making lemon rasam, Poricha Rasam(recipes coming soon) and other variants of rasam which didnt require the Rasam powder, I ran out of options !! And that's when I turned to mom for help – to make it all by myself – for the first time. The typical teacher that she is, mom said she will give me the proportions, but I need to make it. So, I turned pupil under her watchful eyes, and made this aromatic Rasam Powder which is sure to be a hit in your kitchen too ! Look for more info in the Tips section at the end of this post.
This is an heirloom recipe from grandmom to mom to me and I am sure you would enjoy making it too. I have given step by step pictures too for reference.
The recipe / procedure is repeated verbatim from mom. So if you are like me who detests buying spice powders from the store and preferred home-made versions, read on to get an authentic Iyengar Rasam Powder (Mysore Style). This is used for both Tomato Rasam & Mysore Rasam and also to spice up my favourite evening snack – Gojjavalakki / Puli Aval.
This spice powder goes to Valli's condiment Mela as well as Nayna's South Indian flavours
Other Spice powders from my pantry are:
Molagapudi / Molagapodi (accompaniment to Idli / Dosa)
Karivepalai Podi ~ Curry leaf Spice Powder
Paruppu Podi ~ Mixed Lentils Spice Powder
Ingredients:
Coriander seeds – 1 cup
Red chillies – 1 cup packed
Byadgi/ Kashimiri chillies – 1 cup packed
Methi – 2 TBSP
Cumin / Jeera – 2 TBSP
Pepper – 1 TBSP
Mustard – 1 TBSP
Dry Turmeric shoots / Manja Kombu – 3 inches
Asafoetida – 1 tsp
Curry leaves – 6 to 8 sprigs
Oil to fry
Ghee – 1 TBSP
Method: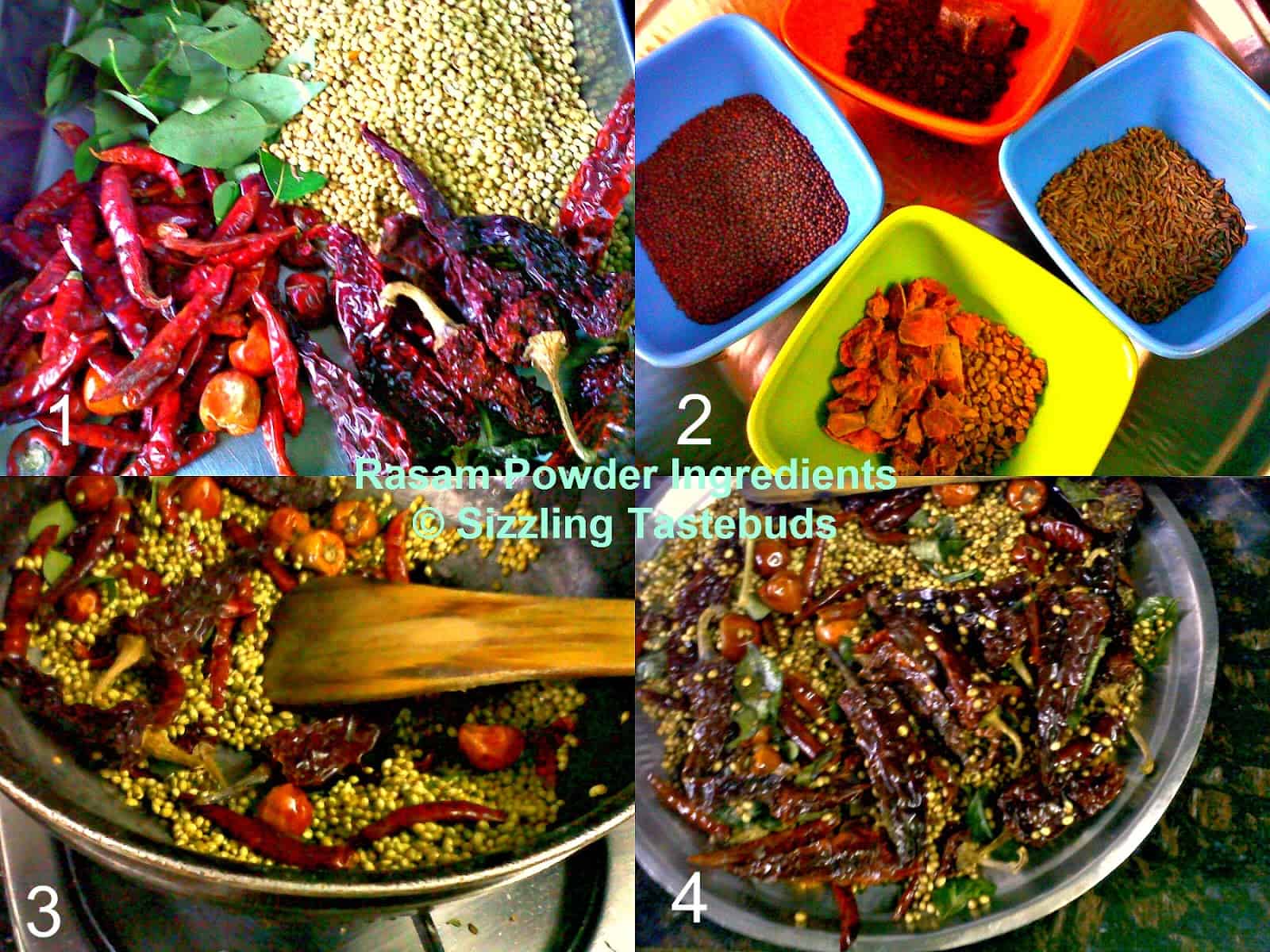 Pin
1) Pound Turmeric shoots in a stone grinder or a spice grinder lightly (till it becomes small pieces)
2) Fry methi & pounded turmeric together : dry roast on a hot pan till near brown
3) Mix coriander, chillies (both varieties) and curry leaves well. Divide into 2 portions. Fry each portion well in 1 TBSP oil till they turn golden brown. Cool
4) Fry black pepper in 1 TBSP ghee (According to ayurveda, this removes the dosham / impurities of pepper)
5) Dry roast mustard& cumin separately in a hot pan till it starts spluttering.
6) Add the mustard , pepper , fried methi, turmeric (Manje kombu) to the coriander – chilly mix.
7) Cool thoroughly (atleast 15 – 25 mins)
8) Add asafoetida (hing) to the above mixture and grind in batches to a smooth powder.
Tips / Notes:
You may sieve it before storing if preferred (unless you are using a heavy duty mixer).
Store in an airtight glass jar.
Use as required. As with most condiments, use only DRY spoons to increase the shelf life.
To make Rasam for 4 adults, use 1 tsp (heaped) of this spice mixture.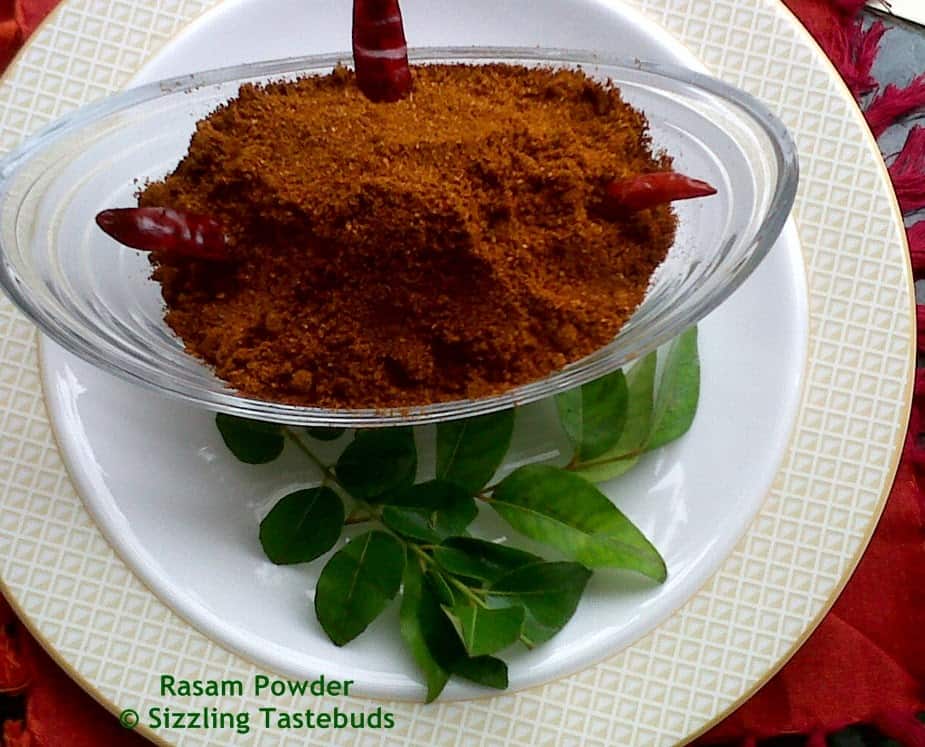 Pin