Come winter, there's an abundance of veggies in the market. If I were a chef, my favourite ingredient in my kitchen would be vegetables – I love buying, chopping and cooking with veggies : the more the merrier. In fact, amma (mom) would call me "Purchase Manager" (and that title has stuck till date). Mumbai has a very short and mild winter, but some markets do bring out beautiful produce.
Today's dish – Rajma Sweet Potato Tikki – is also one of my family's favourites. Made with the season's bounty of fresh Rajma, this is protein-loaded. My good friend Shweta gave me these some time ago, and as we are fans of Tikkis / Cutlets, this made a great tea time / post-school snack.
Perfect for the Legume/Dal theme that @Aruna gave us this week for@FoodiesMondayBloghop– #CrunchyMunchyDal. Sweet potato gives this the perfect starch for binding. This along with the other veggies makes it fibre rich and even suitable for a bite or two for diabetics too !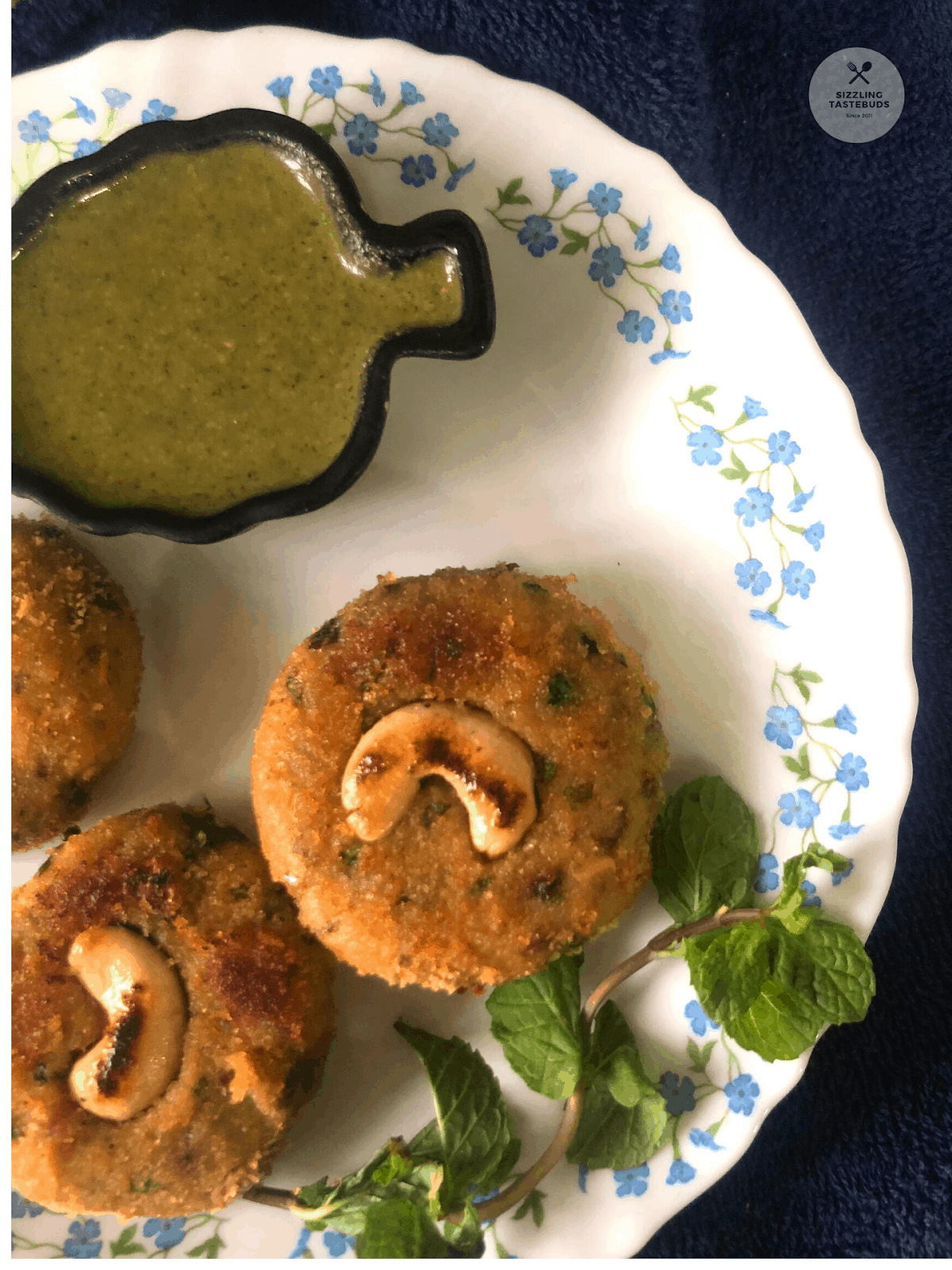 Pin
and this is how Fresh Rajma looks:)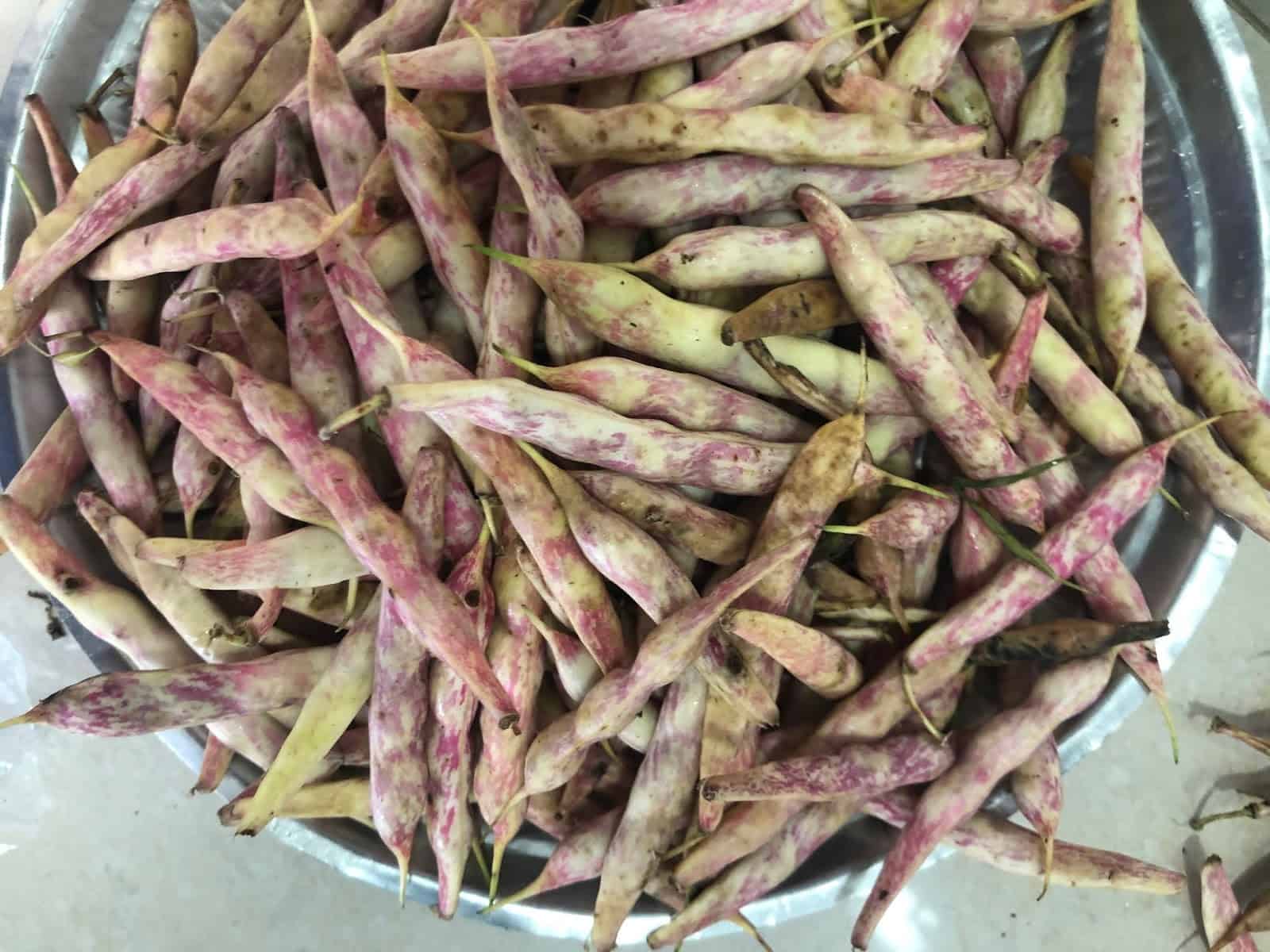 Pin


And then we make delicious #WinterDishes like:


Undhiyoo (I am just waiting for the all the veggies to come into the market to make this!!)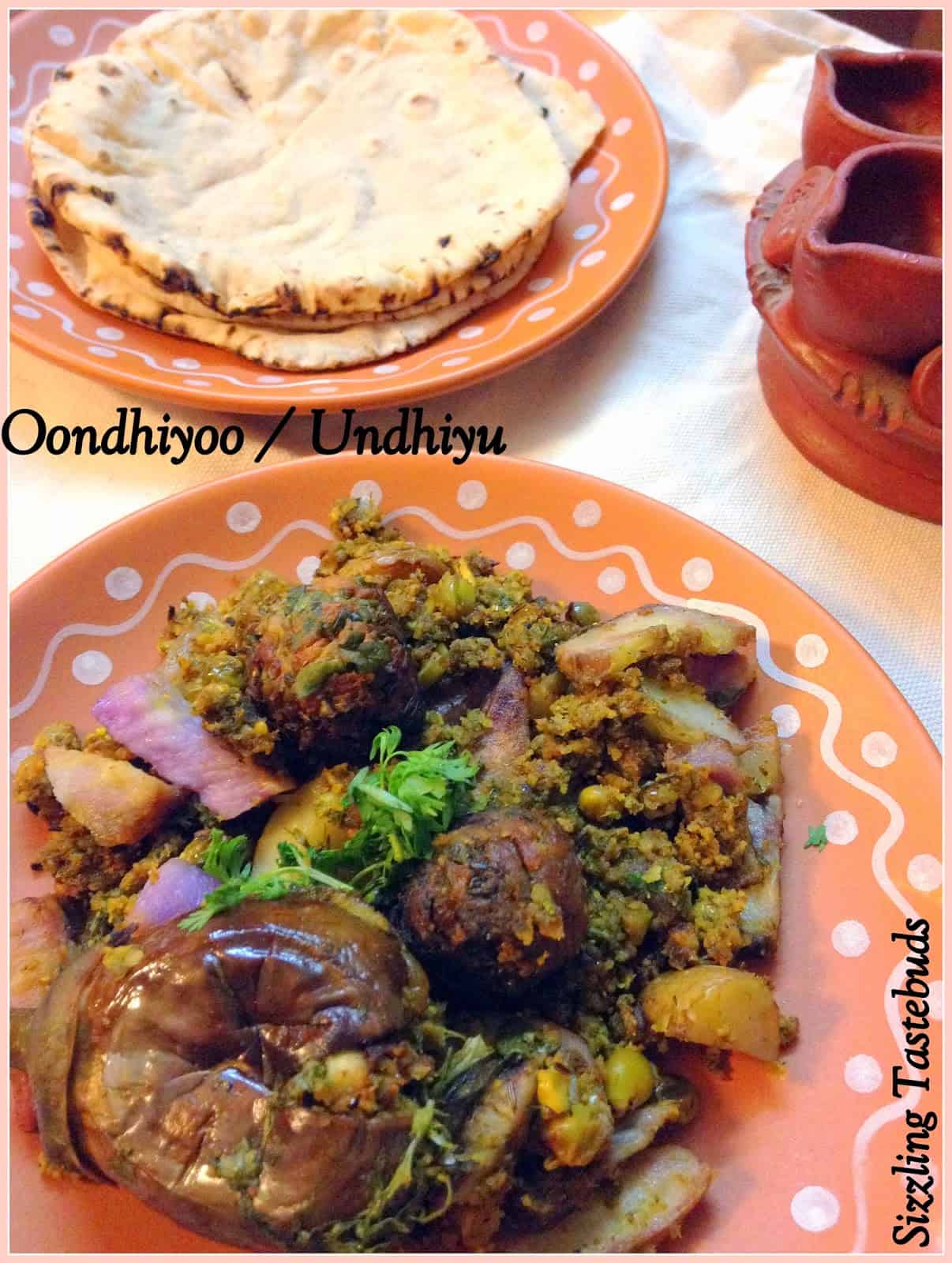 Pin


Oven Roasted Vegetable Soup, and a WHOLE LOT of Soups !!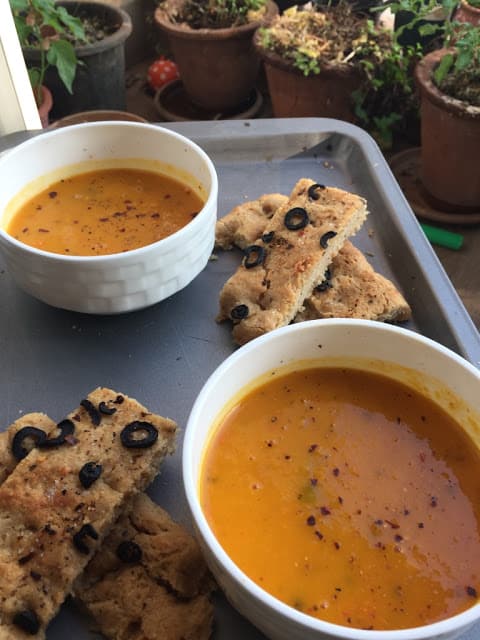 Pin
Avarekaalu Saaru (Hyacinth beans sambhar – a traditional dish of Karnataka during Winters)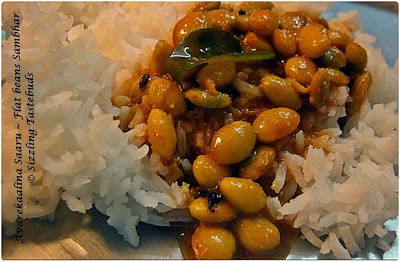 Pin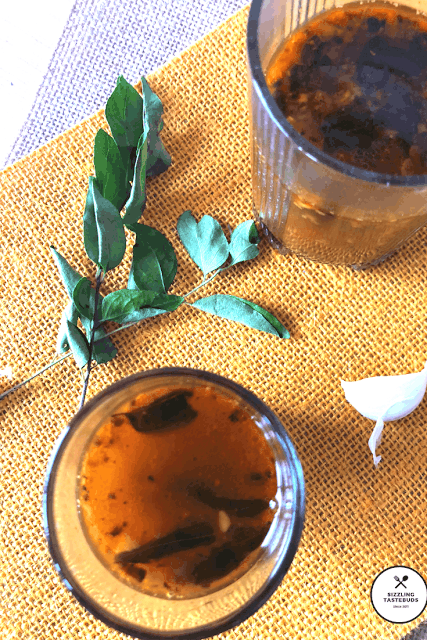 Pin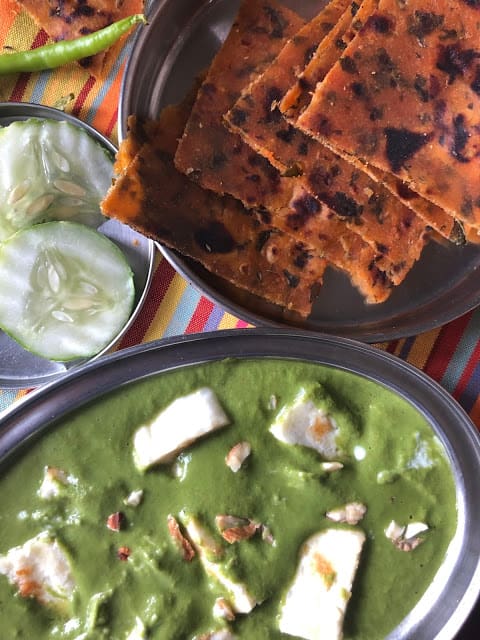 Pin
Loads of my mom's recipe for Gajar Halwa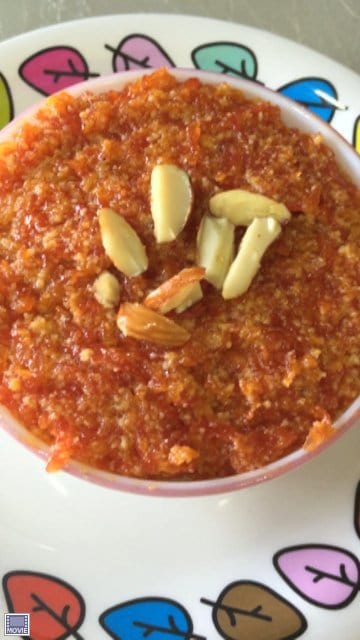 Pin
Methi Kadhi (my fav!)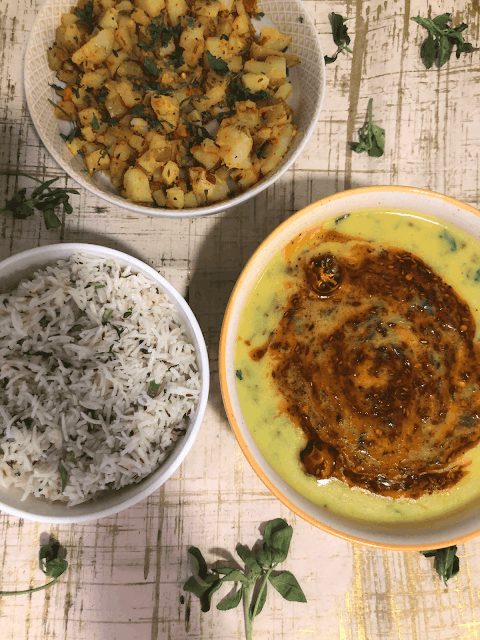 Pin
Let's get to the recipe:
PIN FOR LATER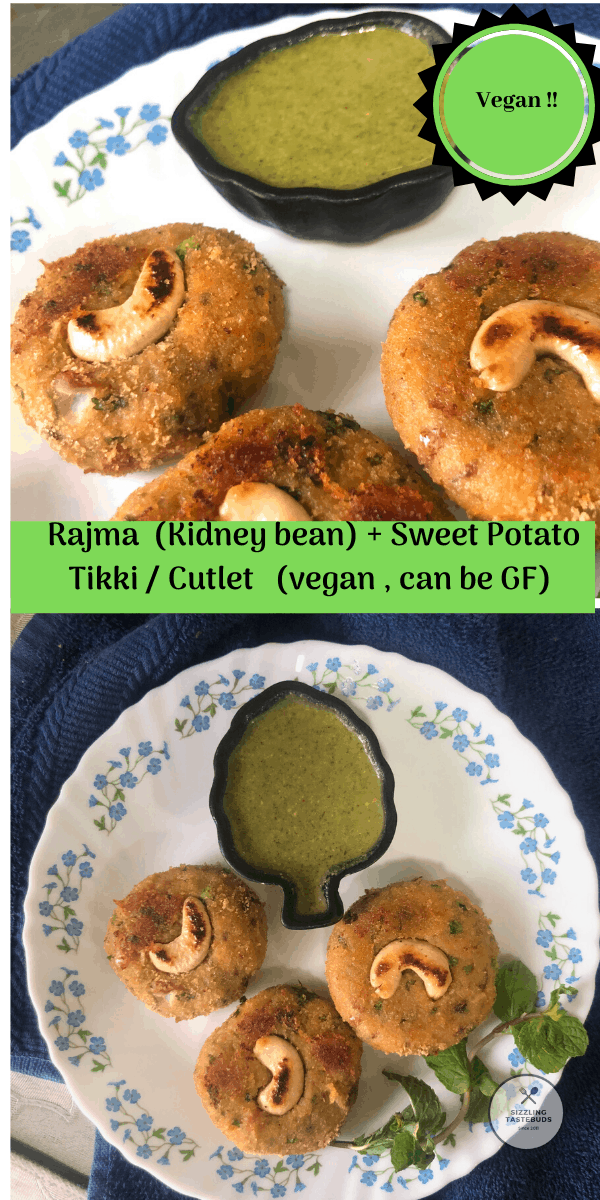 Pin
Rajma (Kidney Beans)-Sweet Potato Tikki – Vegan snack (Can be GF too!)
Course : Snack / Appetiser , Cuisine : Indian
Prep time – 20 mins, Standing time – 15 mins, Cook time – 15 mins,
Makes – 10 to 12 cutlets / Tikki
What you need:
Fresh Rajma (Dried beans could be soaked, cooked soft and used too) – 1 cup (240 ml)
Sweet Potato – 1 medium (100 grams)
Mixed veggies – 1/4 cup (I used Shredded cabbage, french beans, green peas)
Salt – to taste
Oil – to baste + pan fry (about 5-6 TBSP in all)
Mixed spices (use according to taste) – turmeric, red chilli pwdr, dhaniya powder, roasted jeera powder, chaat masala, garam masala
Green chillies – finely chopped – 1/2 tsp (skip if serving to kids)
Grated ginger – 1/2 tsp (opt. but recommended)
Bread crumbs – 1 cup (split use – skip for GF version, use Arrowroot powder instead, in smaller quantities)
Finely minced mint leaves + coriander – 1/4 cup
Split cashews – 10 to 12 (opt. but recommended)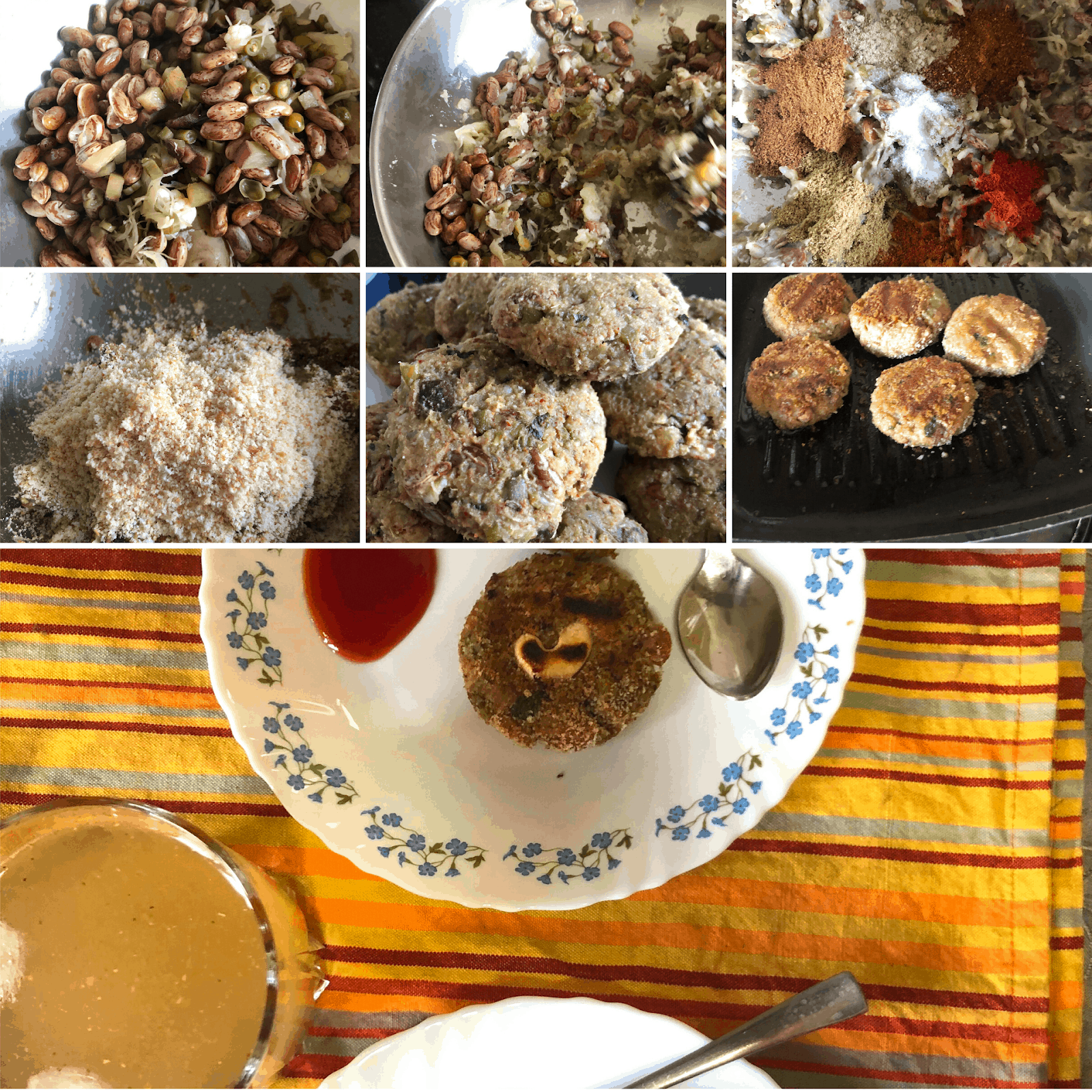 Pin
How to (Check out the step by step pic collage above too):
If using fresh rajma, shell them from the cover. In a colander (which would fit into your pressure cooker), add the freshly shelled rajma, all the veggies and pressure cook for 2 whistles. Let the pressure come down on its own and the veggies cool completely.
In a large bowl, take the cooked veggies, mash them with a potato smasher or wooden pellet (you may use your fingers too). Add the salt, chillies, ginger, mint, coriander and all the spices (to taste) and mix well.
At this point, it would be sticky, so add half of the breadcrumbs and bind together (GF version – add a tsp or two of arrowroot powder to bind). Let it come together as a dough.
Taste and adjsut salt and spice.
Pinch medium sized roundels and flatten lightly between greased palms to a tikki / cutlet shape. Repeat for other tikkis.
Refrigerate for 10-15 min (This step is optional but recommended, the low temperature helps the tikkis to contract a bit and ensures it doesn't break while frying) : at this point, if you aren't making them immediately, freeze for further use. However, I havent tried freezing them, so please let me know via a comment below how long these can be frozen.
Once they are chilled enough, heat a grill pan /tava/ skillet and grease it generously.
Press a halved cashew onto each tikki, roll each in the remaining bread crumb and place in the skillet and gently fry till both sides are golden brown and crispy.
Serve hot with Ketchup and / or Green chutney.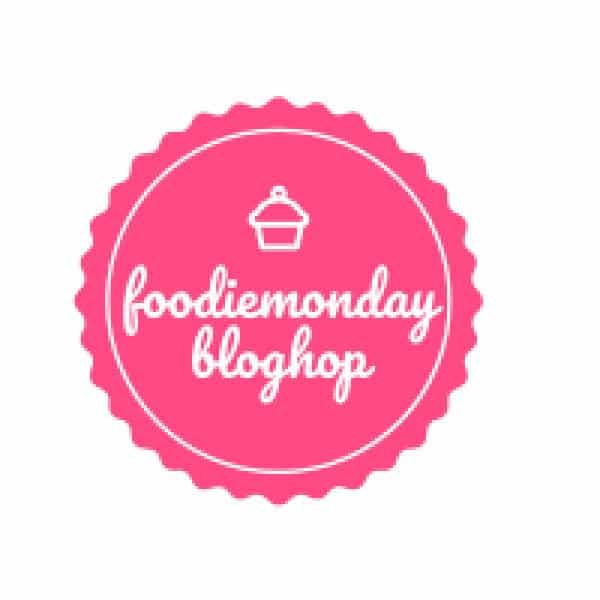 Pin