Rajma Pulao is an easy and quick One Pot meal made with Rajma (kidney beans), Rice and basic pantry spices. Great for potluck or brunch.
Rajma Pulav – a delicious one pot meal has me in smiles. Smiles not because of the onion prices have dropped a bit, but smiles because the husband who's a staunch Anti-Rajma campaigner asked for second helpings !!
Yay… I found a way to serve Rajma in a pure form (rather than sneak them in Rajma Pepper Quesedillas , the Mexican Baleadas Honduras or Multigrain Adai or the favourite Galoti Kebab, of course the fresh Rajma Sundal is quite welcome, but well, during Navratri).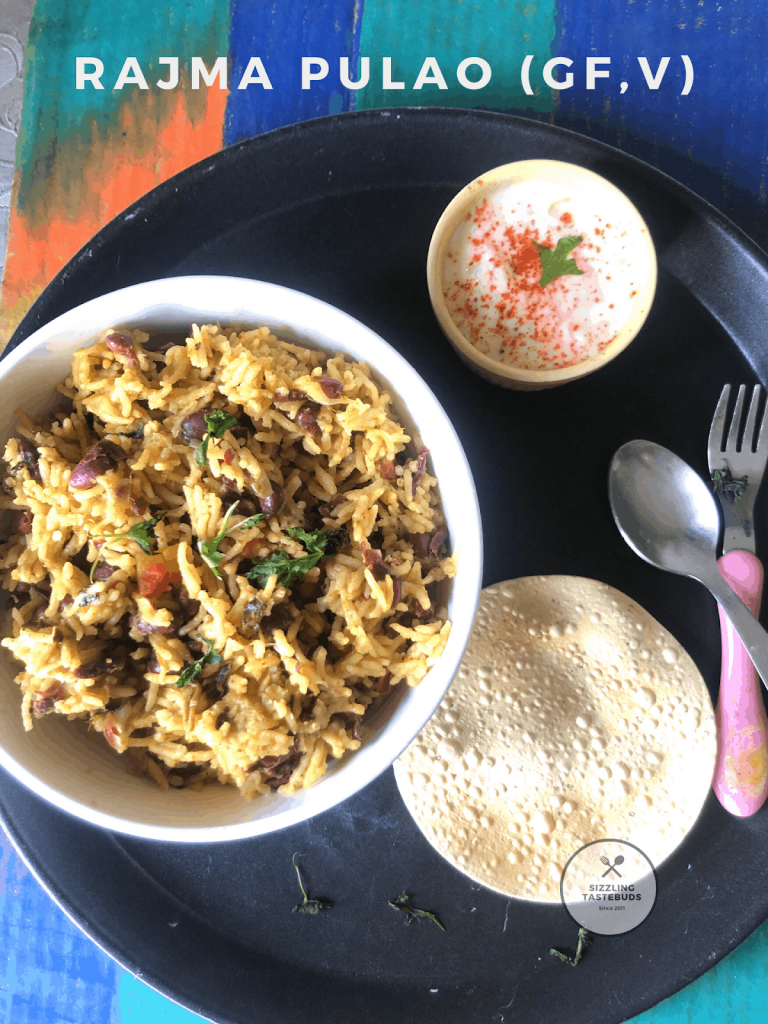 Some time ago, I also used fresh Rajma that my friend had sent over in these delicious GF / Vegan Rajma Sweet Potato Tikkis which were also well received.
So, all in all we have another Rajma (Kidney bean) dish that can go to the meal rotation.
But as I had a worthy winner in persuading the better half to eat Rajma in a delicious form, I shall definitely be looking at making this dish again. If you like Pulav /One Pot meals like us, why not try this Darshini Style (Restaurant Style) Veg Pulav or this Quick and Easy Bachelor kitchen friendly Tomato Rice or even this Yelllina Chitranna (Karnataka style sesame flavoured rice)
Similar Easy and Quick One Pot meals you may like
Instant pot Darshini style Veg pulav
Instant Pot Darshini Style Veg Pulav is a delicious One Pot Meal made with Rice and Vegetables cooked in a special Spice paste.
Check out this recipe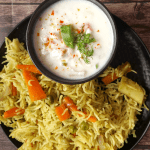 Thakkali Saadam | How to make spicy tomato rice | Main course dishes |
Tomato Rice is a gluten free, Vegan and Easy One Pot meal made with tomatoes, Cooked rice and everyday spices. Works for lunchbox or potluck too. 
Check out this recipe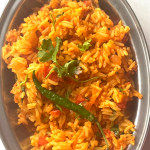 Instant Pot Vegetable Biryani
A delicious Veg Biryani made in Instant Pot. Biryani is usually served with Raita or Salna as a Main Course in Indian Cuisine
Check out this recipe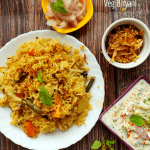 Jollof Rice | South African Jollof Rice
Jollof Rice is a quick One Pot meal (Vegan+ GF) that is bursting with spices, peppers and is usually served as main Course with meat / veggie sides.
Check out this recipe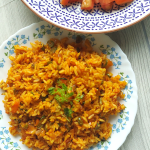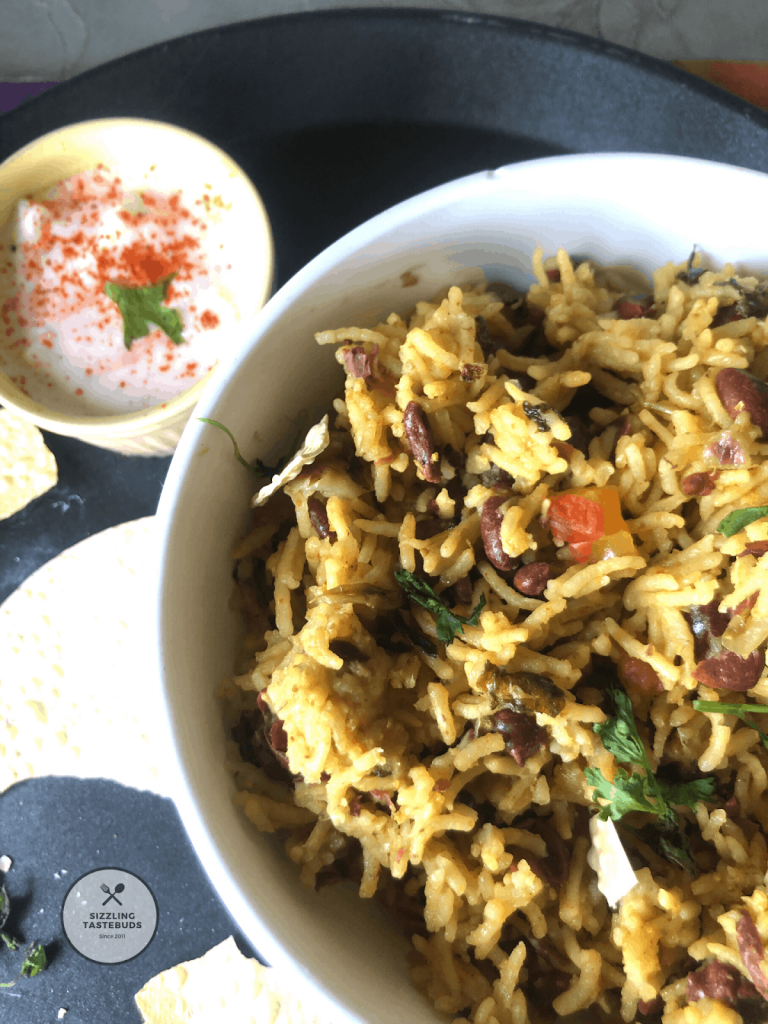 Do try this nutrition packed version and let me know how you liked it.
Prep time – 15 mins. Soak time : overnight. Cook time – 20 mins+15 mins
Serves – 3~4 generously
PIN FOR LATER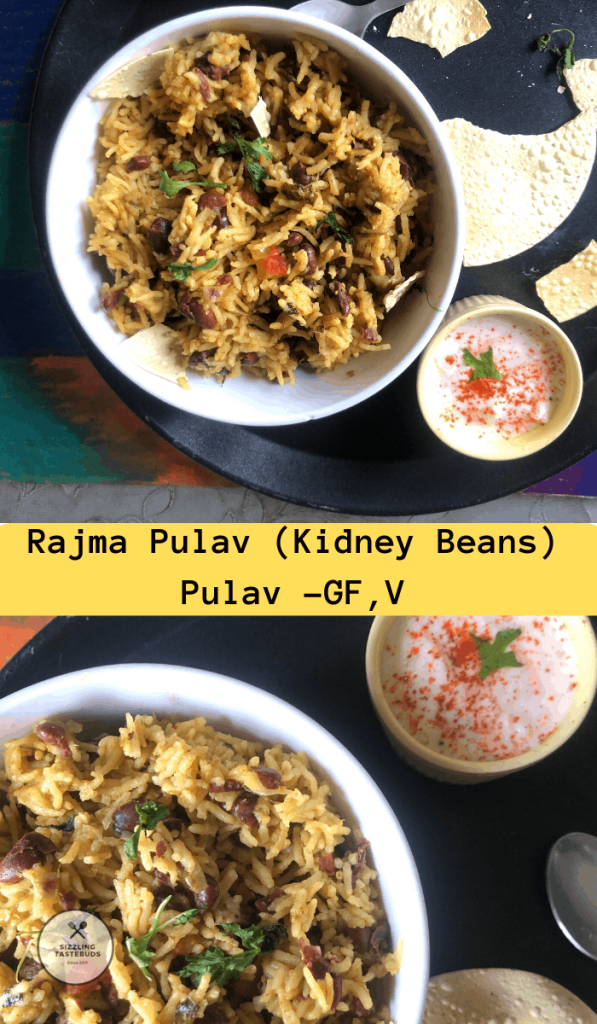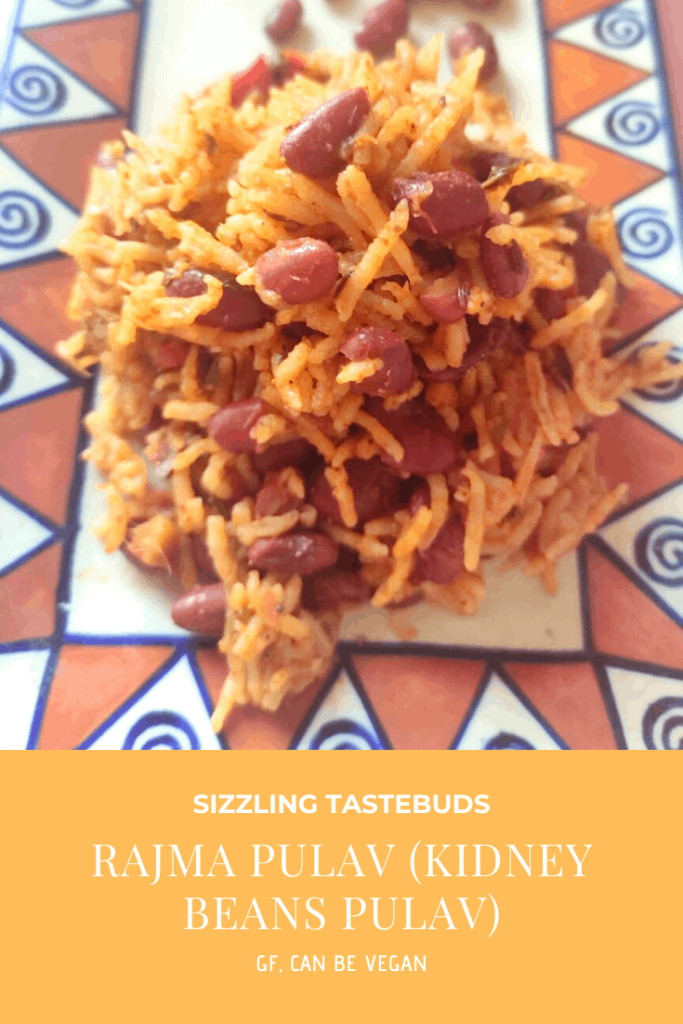 What you need:
Kidney beans / Rajma – 1 cup (soaked and cooked overnight to soft but not mushy texture) ; if using canned beans, be sure to rinse thoroughly.
Basmati rice – 1.5 cups
salt – to taste
Mint and coriander leaves – a handful each
turmeric – 1/8 tsp
Dry masala powders : Coriander powder 1 TBSP, Red Chilli powder 1 tsp
Tomato – 1 medium – juilenned
Onion – 1 small – sliced thin
Garlic pods – 2 (minced fine)
Oil – 1 TBSP
Ghee – 1 tsp (skip for vegan version or replace it with 1 tsp oil or vegan butter)
Whole masala / spices :
bay leaf 2 nos, green elaichi / cardamom 1 no,
Shahjeera – 1 tsp, large cardamom / Badi Elaichi – 1 no. (optional)
Masala paste (Optional)
Onion – 1 large
Garlic pods -2 -3
Ginger – 1/2 tsp
Cashews soaked in warm water – 6 to 8 nos. (opt. but recommended)
How to:
Check out this video embedded below for the method