After Avarekaalu Usli and Cheesy Bread Cups, its another easy to make Snack – Vangi Poha.  This can be made for evening tiffin or even for snack box (for slightly older kids or kids who eat  fair bit of spice). Brinjal in Poha ?? Thats how husband looked at me, but neverthless enjoyed it…
I love this dish for its earthiness and poha is a favourite ingredient to work with – Like I said in my post on Microwave Poha Chivda, be it Lemon Poha, Gojjavalakki, Curry leaf poha , Curd Poha , Indori Poha or just Jaggery poha, poha / Aval is a very versatile ingredient. This snack goes well with any Raitha or Pachadi for a lunch box item too. Do try it out. Those who dont use eggplant may, well, just skip this. But for eggplant lovers (like me), I love it ! 
Well, even if you skip the eggplant, be sure to add the vangibhath powder (spice powder) – it takes it to a different level altogether. If you do want to add veggies, you can add sauteed bell peppers, a dash of cooked peas or even boiled potatoes. The final taste however may vary.
This is the Day 3 entry for BM # 43 under Kid Friendly snacks. Hope you enjoyed the series, will be back next week with another theme. Also sending this to Harini's event on Valli's kid's Delight series – healthy snacks. Also linking to Beulah's Eggplant event, hosted for Nayna.
~~~Vangi Poha – Flattened rice with eggplants and spice powder~~~
Cuisine – South Indian
Served for : Breakfast or evening snack or even lunchboxes
Serving suggestions : Cucumber Raita or just plain yoghurt 
Difficulty level : Easy
Spice Level : Medium to slightly spicy
Prep time : 15 mins | Cook time : 10 mins | Serves : 4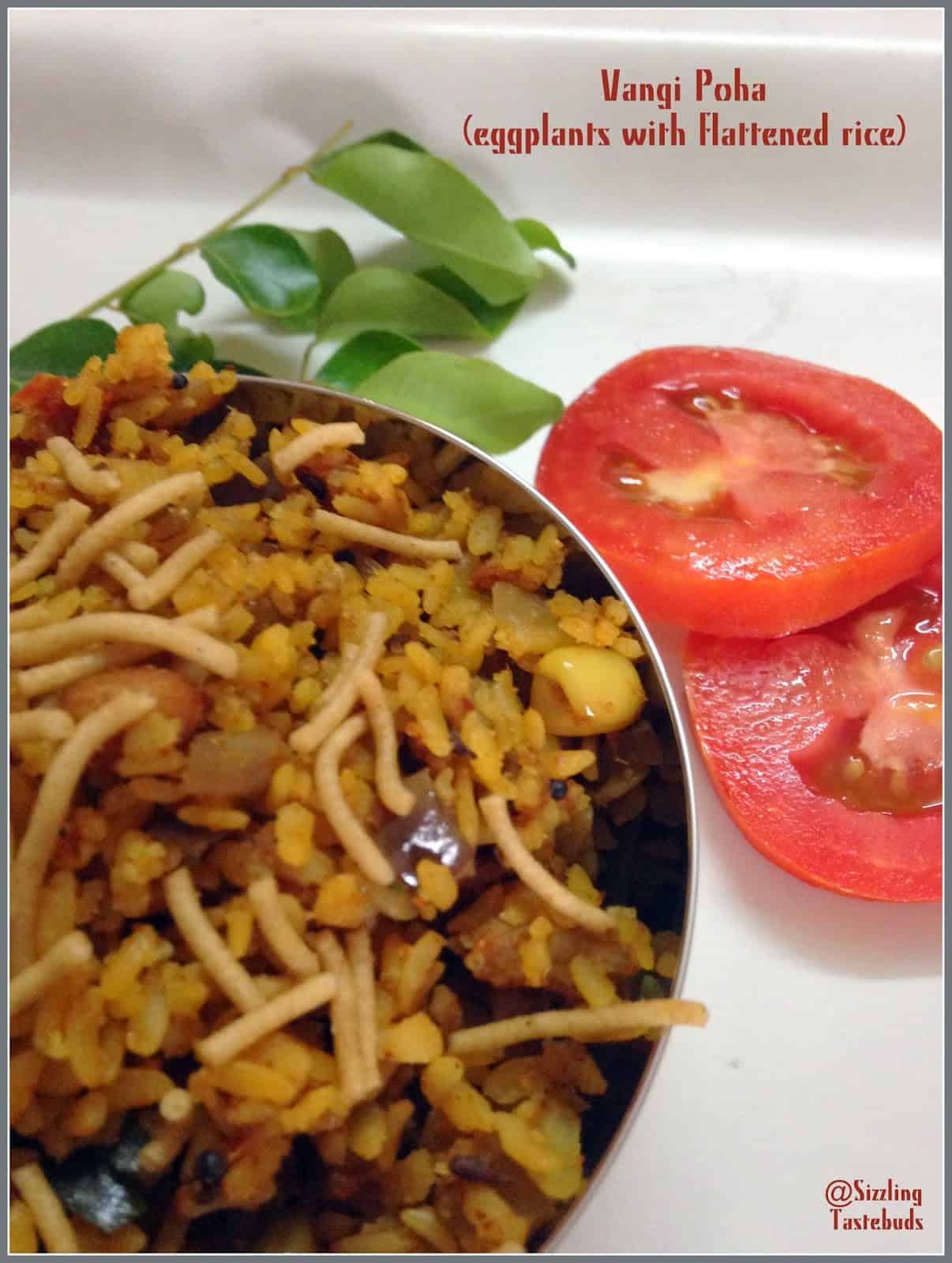 Pin

Ingredients:
Poha / flattened rice – 1 cup (thick variety)
Tender brinjals – 3 medium – wash and slit into 1 inch batons (use the long variety, not the plump bharta variety)
Peanuts – a handful (optional)
Vangibhath powder – 3 TBSP**
Tamarind paste – 1/2 tsp (substitute with 1/2 tsp amchur / dry mango powder)
Jaggery – 1/2 tsp
Red chilly powder – 1/4 tsp
Turmeric – a generous pinch
Salt – to taste
Oil – 4 tsp
Tempering : Mustard, curry leaves and asafoetida (hing)
**If you want an instant version of this spice powder,roast the following ingredients separately and powder it after cooling them. Makes about 1/4 cup (approx) of Spice powder and keeps for a month- you can use it to add to Upma, or vangibhath (flavoured rice).
     Coriander seeds (dhaniya seeds)  – 4 tbsp
Channa Dal (Bengal gram) – 1 ½ tsp
Clove – 1
Cinnamon – ¾ – 1 inch long
Marathi moggu– 1 or 2  (optional)
Red dry chilles – 4 nos
Kashmiri chillies – 4 nos
Oil to fry spice – 1 tbsp
Dry Copra grated – 3 tbsp (optional, but greatly adds to the texture and flavor)
Notes:
1) Onions are optional, you may use if you wish
2) The dish is slightly dense and moist. Make sure you dont dry the poha too much or soak it for longer which will make it crumbly.  
Topping suggestions : Sev (or ompudi) 
Method:
Wash and slit brinkals into 1 inch batons (use the long variety, not the plump bharta variety). Reserve in a bowl of water to prevent decolouration.
Meanwhile wash and drain poha in a colander. 
In a non stick pan, add oil. Splutter mustard seeds, curry leaves ,peanuts, hing. Add turmeric and the drained brinjals – saute on low-medium heat for 6-7 mins. Add salt, sprinkle 3 tsp of water and cook covered for 4 mins – the brinjals need to cook but not turn mushy.
Now add the vangibhath powder,red chili powder, jaggery, tamarind paste and coat the veggies with the spice mix. Add 3-4 TBSP of water if required.
Tip in the soaked poha now, and mix well with the veggies – spice mix
Cook covered on low flame for 2 more mins
Serve immediately topped with sev / ompudi or with Cucumber Raita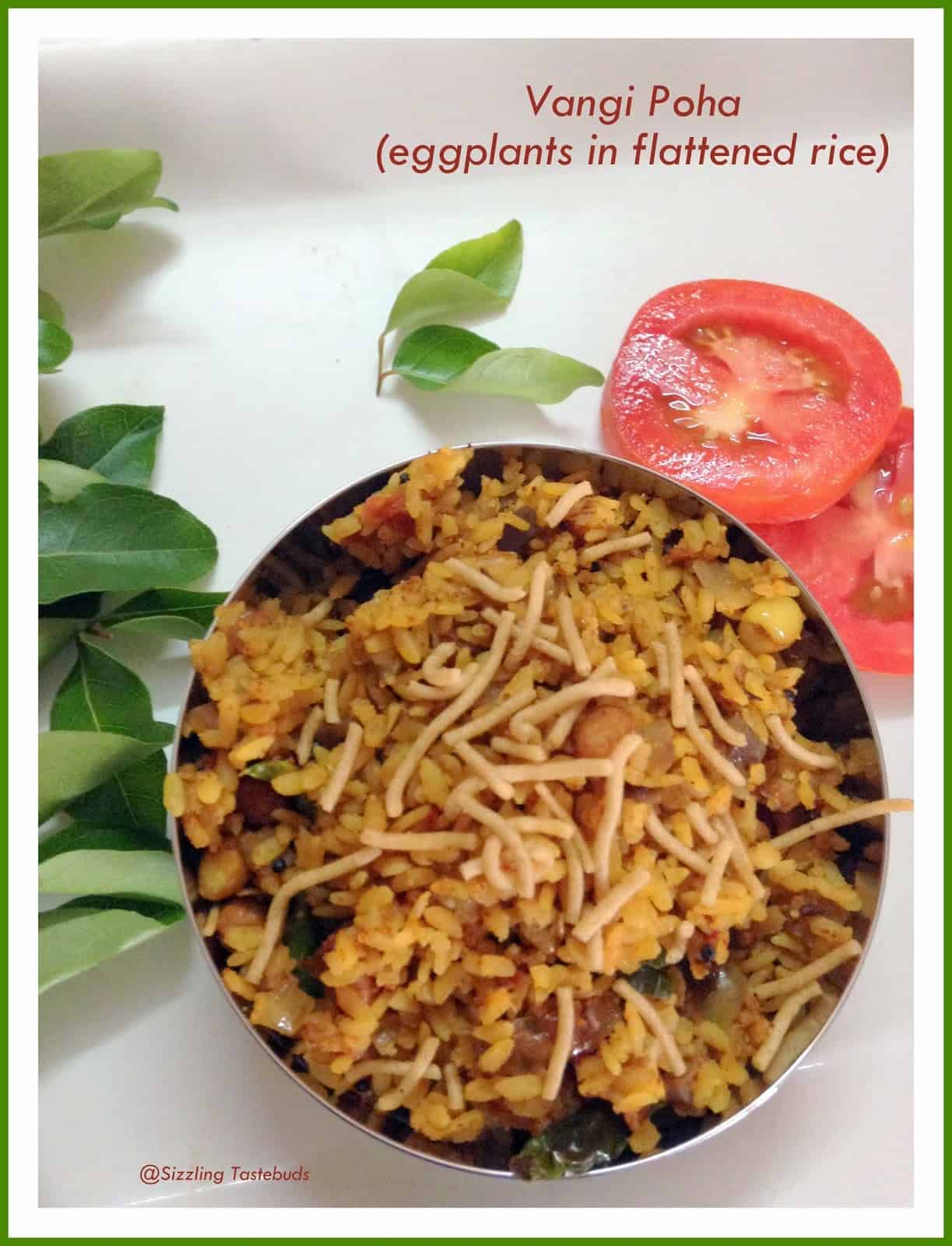 Pin