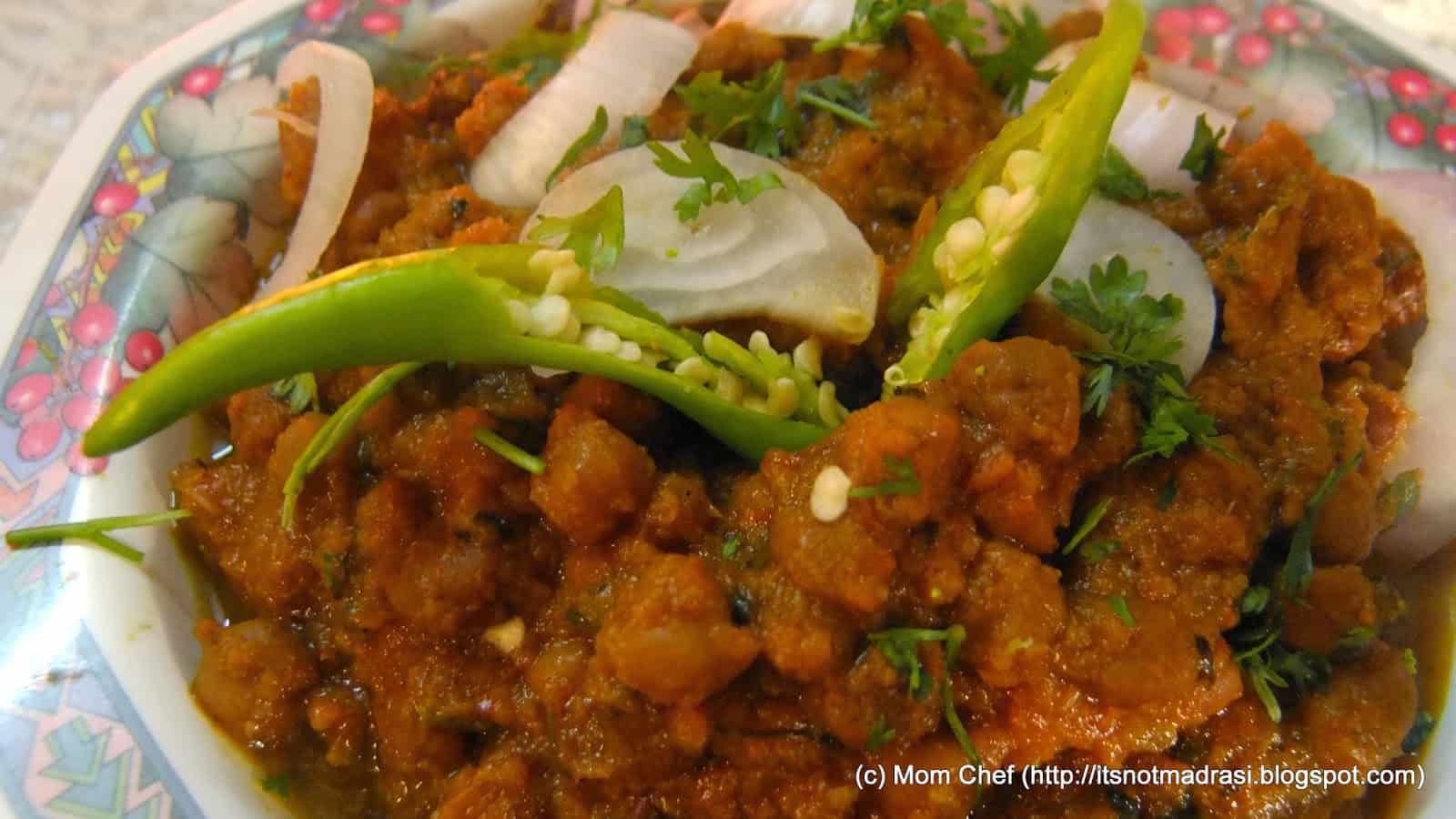 Pin

Chole with Puri (unleavened Indian bread) is one of mine and daughter's favourite breakfast treats ! Although breakfast is generally Idli / Dosa at my place, an occassional indulgence like this on Sunday mornings makes for the perfect treat 🙂

Chole / Choley with Channa / Garbanzo bean is made in a million different ways in as many households across the globe. While the Amritsari Chole is famous for its spicy taste and goes great with Bhature (another unleavened Indian bread), Punjabi Dhabas have made this a popular eatery all over India. Once while at Chandigarh, I was told that staunch foodies would drive down all the way from Chandigarh to Amritsar to have Choley-Bhature with Lassi in the winter season and burp their way back home 🙂

Like I said this can be prepared in many ways. The following version works best for me with minimum oil and spice and can put together quickly even in the mornings (with some prior preparation overnight). This also goes well with roti /Nan/Phulka 🙂

Preparation time: 12 hours (soaking) + 10 mins

Cooking time: 30 mins

Serves : 3 – 4

Ingredients:
Kabuli Channa / Garbanzo beans – 2 cups
Oil – 4 tbsp
Salt -to taste
Bay leaves – 1 or 2
Gooseberry / Amla – 1 (opt)
Curd – 1/2 cup
Onions and tomatoes – chopped lengthwise – 1/2 cup each
Coriander – 1 tsp
Crushed Kasuri Methi (dry and fragrant methi leaves) – 1 tsp
Masala Paste (to grind)
Tomatoes – 4 nos
Onions – 2
Green chillies – 1
Ginger garlic paste – 1 tsp
Chole Masala powder – 1 tsp
Garam Masala powder – 1/2 tsp
Turmeric Powder – 1 tsp
Dhaniya Powder – 1 tsp
Jeera Powder – 1 tsp
Amchur Powder – 1 tsp
Red chilli powder (Kashmiri version) – 1 tsp
Pomegranate seeds – 1/2 tsp
Sugar – 1 tsp
Method
1) In a large bowl, wash the Kabuli Channa and soak for 10-12 hours.
2) Pressure cook well with a pinch of soda and a gooseberry (both optional). Slightly mash about 1/4 cup of cooked channa and keep aside
3) In a pan, heat 1 tbsp oil and add the chopped onions and tomatoes (for the masala) and fry for 5 -6 mins. Cool and grind smooth this with all other ingredients of the masala paste in a blender.
4) Heat oil, fry bay leaves. When slightly browned, add the sliced onions and fry.
5) Then add the masala paste and stir till oil leaves the sides. Tip in the curd now and stir on low flame.
6) Now add tomatoes and stir again.
7) Add the cooked and mashed channa one by one and stir. Add salt.
8) Add requisite water and cook covered for 20 mins.
9) Once the consistency is reached, garnish with Kasuri methi and fresh Coriande.
10) Serve hot !
Tips:
1) Curd is optional. You may use if you require any more tart in your masala.
2) Gooseberry gives it a huge dose of Vitamin C as well as imparts the black colour that is so typical of Amritsari choley. I didnt use this for the above recipe this time, but I use it almost everytime I make Chole. You may halve OR quarter the curd quantity if using gooseberry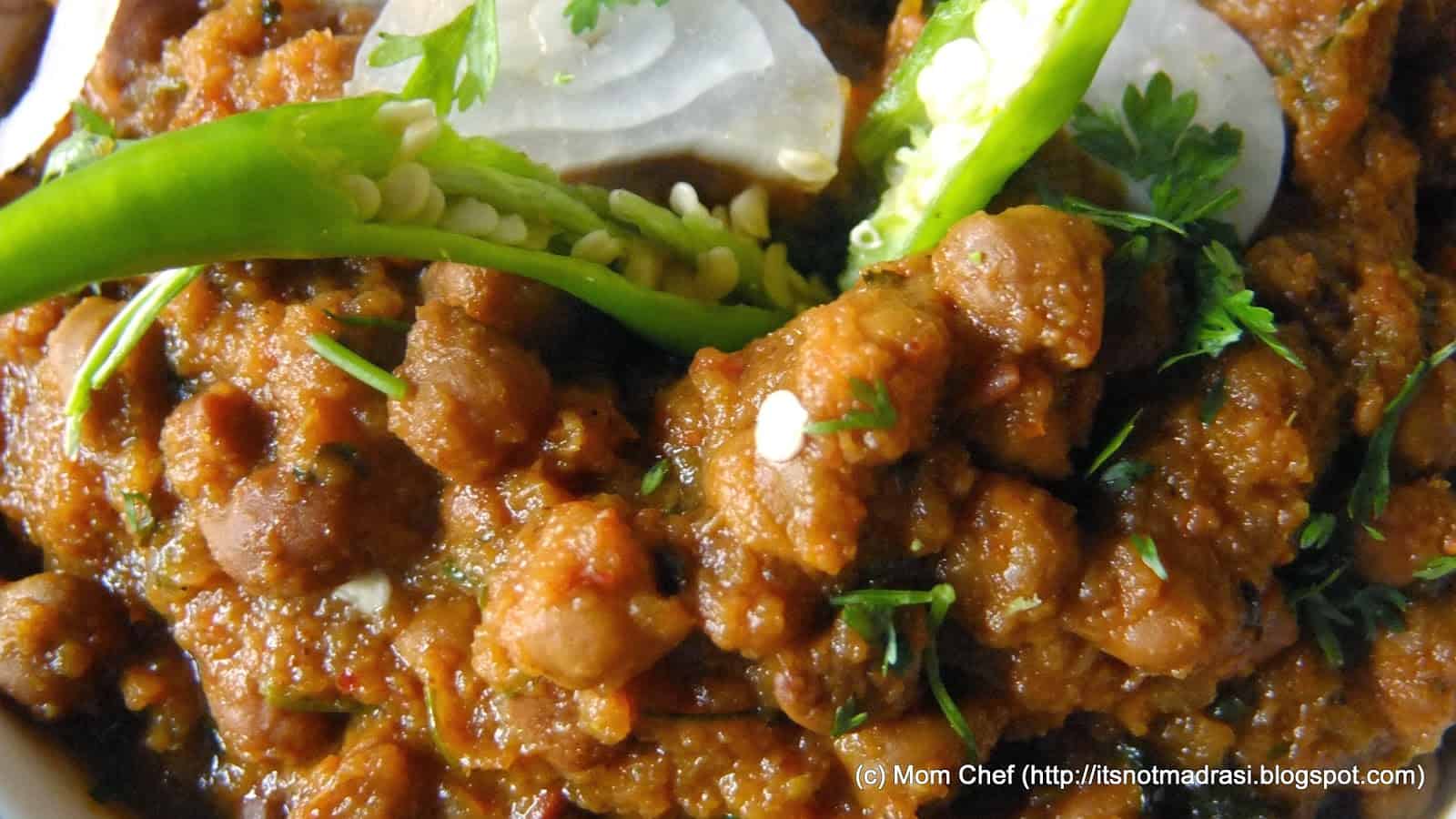 Pin