Sometimes the strangest of things happen in my kitchen. Just as I plan my week ahead for breakfast and kiddo / hubby's lunchboxes, I fall behind as to what to make for lunch or dinner for myself. And when I do crave for something really rich and filling, I seem to have a little of this and a little of that.. Which is exactly what happened when I started out to make myself a lusciously spicy Paneer Paratha for my lunch.
But Paneer (Cottage Cheese) , which is a staple ingredient in my refigerator went amiss with only a few cubes remaining, which wouldnt suffize for the Parathas. And there wasn't any Palak either to make Palak Parathas. And low cal meant skipping the potatoes for Aloo Parathas. With the rains pouring down since last week, I wasnt ready to tread out in the Mumbai monsoon to pick up any supplies.
So, to cut a long story short, I mixed up the grated paneer with some radish begging to be used, and there it was ! ! A perfectly stuffed Paneer- Mooli Paratha (although I dont roll them that thick like the Punjabi version – I like mine to be slightly thinnish). Lapped this up with some Curd and I was good to go!
The best part of this was I also used a few teaspoonfuls of different Attas (flour) to make this, so just two of them was quite filling to grab on the go ! Sending this to BM # 18 under "Stuffed Dishes".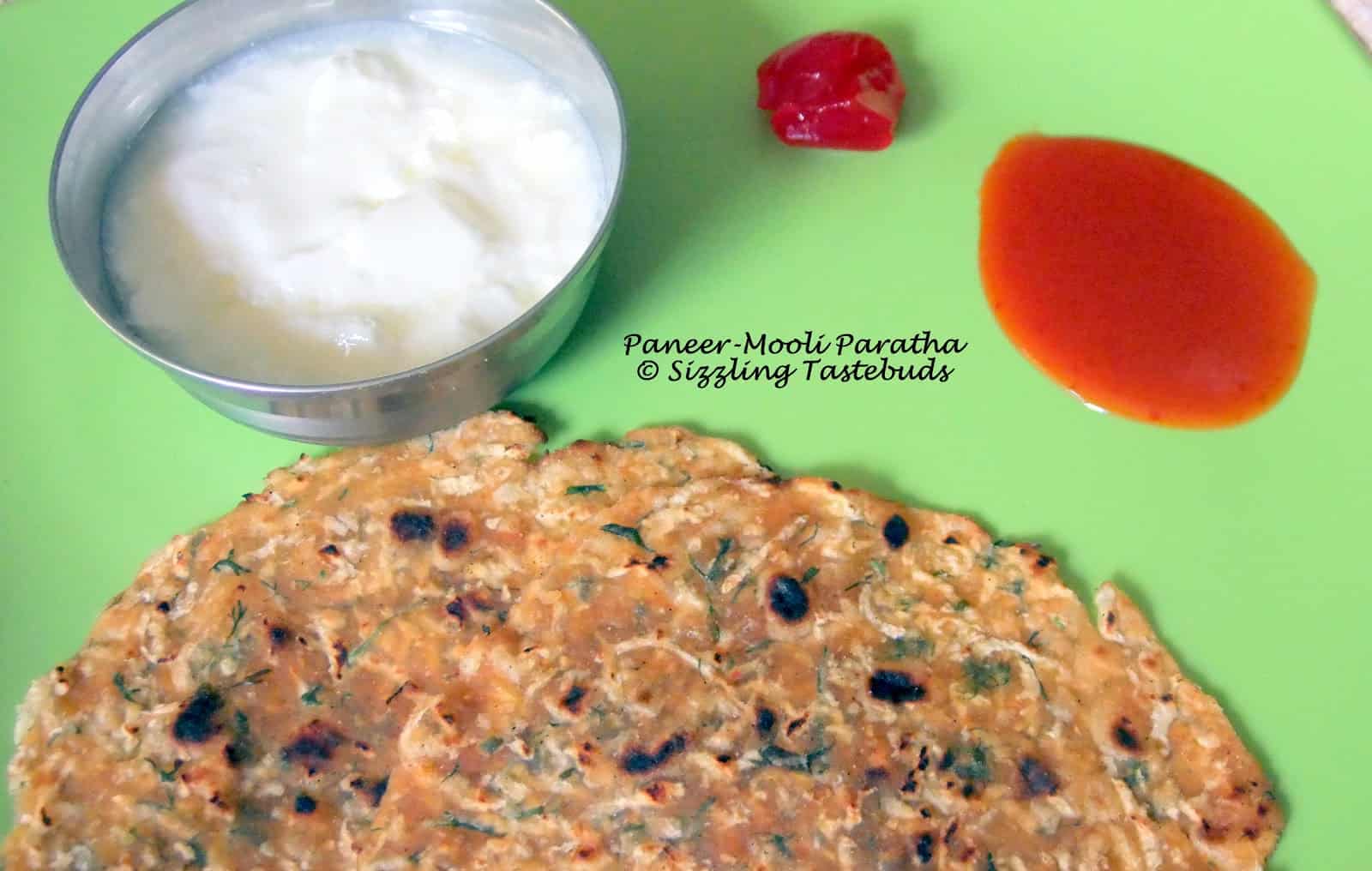 PinPin

(Pardon the pix on this dish, the monsoon outside provided absolutely no light at all, to click this pic)

————————————————————————–

Prep time – 20 mins

Cooking time – 15 mins

Serves – 2

Difficulty level – Medium

————————————————————————–

Ingredients:

Flour Mix:
Wholewheat flour – 8 TBSP
Ragi /Finger millet flour – 2 TBSP
Bajra – 2 TBSP
Jowar – 2 TBSP
Besan / Gram flour – 2 TBSP
Other Ingredients:
Turmeric – ¼ tsp
Grated panner – ¼ cup
Grated mooli / Radish – ¼ cup
Salt – to taste
Red chilli powder – ½ TBSP
Chopped Coriander – 2 tsp
Warm water – to make the dough
Oil – for frying the Parathas
Method:
Dry roast all the flours separately on a medium flame for 30 seconds each. Transfer to a plate.
Sprinkle a pinch of salt on the grated radish and leave for 10 mins
Meanwhile, in a large bowl, sieve and mix all the flours, salt, turmeric and add warm water slowly to make a slightly soft dough. Keep covered for 10 mins.
Note that as you are using a mixture of flours, you need to keep sprinkling very little warm water at a time to make the dough.
To prepare the stuffing:
Squeeze out any excess water (and salt) from the grated radish. Repeat twice to keep the grated radish absolutely moisture free.
Mix the grated paneer, grated radish, salt, coriander leaves, red chilli powder well. Make equal portions of the stuffing and keep aside.
To make the stuffed parathas:
Heat a tava on medium flame.
Pinch out a portion of the multi grain atta dough you have prepared.
Roll to a small circle of dia 3 – 4 cms. Place one portion of the stuffing and close from the circumference of the chapatti towards the centre.
Using a little more atta, roll out to desired thickness.
Repeat with rest of the dough. I got 6 medium sized parathas.
Fry on the hot skillet (tava) on one side with a little oil drizzled on the sides. When it is half done and brown spots appear, flip over to the other side and cook for 1 – 2 mins on medium flame
In this manner, prepare all the parathas.
Enjoy with a chilled cup of yoghurt & some pickle.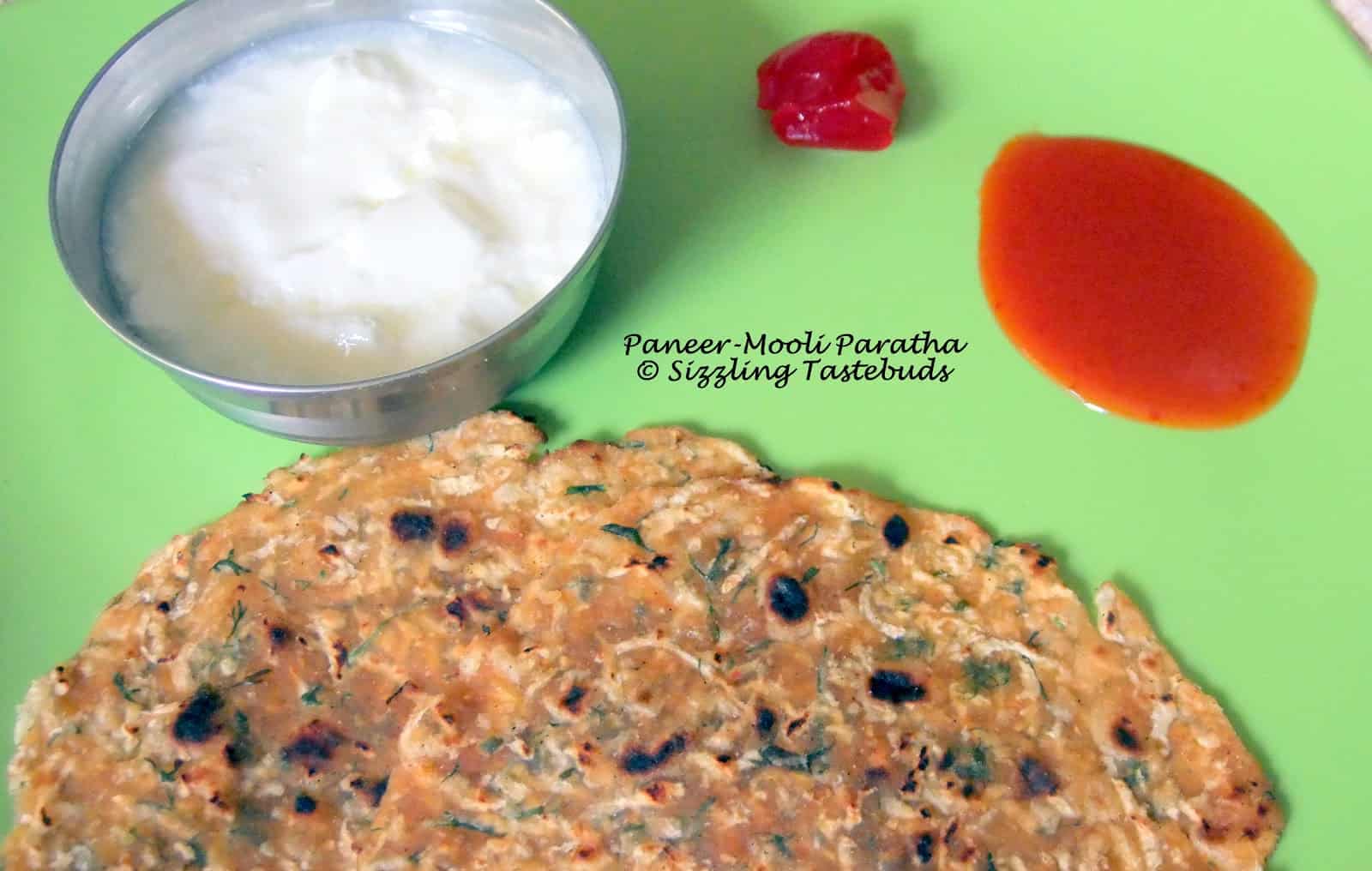 PinPinAlso, linking to:

Radhika's Let's Cook – Breads & Divya's Love Lock Series – Breads