Some foods leave you satiated,
some spell bound. This dish belongs to the latter category. I first had it a
friend's house in Mumbai and was left asking for more, what with the rich
creaminess of the Black Masoor Dal coming through in earthy concoctions. So
much so, that I pestered my friend for the recipe but lost track where I had written it down. I remembered I had to make it when I spring cleaned my larder and found two packets of Kala
Masoor (black Masoor dal) waiting to be used up. 
While I made Kale Masoor ki Daal
which is one of my family favourites with one packet, I called that friend and
(shamelessly) asked for that recipe once moreJShe gladly acquiesced and this gravy (or curry if you please) well became a hit
in our own house. I have used the Maharashtrian Ghoda masala here, but didn't use
any garlic in it. But do feel free to add garlic in this, and am sure it would
be a keeper at your place too.
Linking this to Blogging Marathon # 24 under "Curries / Gravies from different States of India"
theme. Today's is from Maharashtra, a state in Western India. Check out my
co-marathoners here.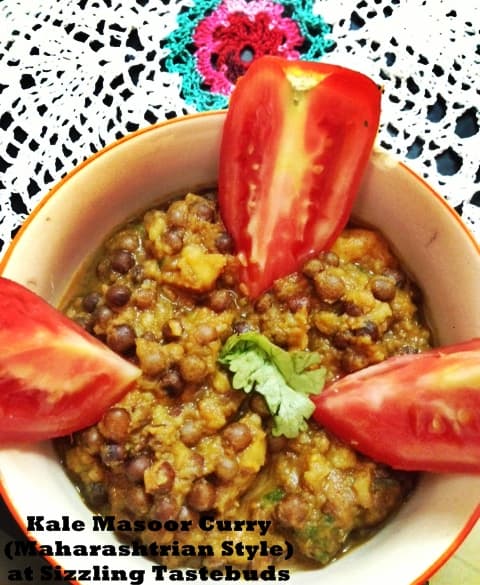 Pin

Prep time : 20 mins +
soaking time (8 hours or overnight)

Cooking time : 20
mins | Serves: 4

Difficulty level :
Medium

Spice factor : Medium

Serving suggestions :
Butter Kulcha / Kalonji butter Naan / Indian Bread

Ingredients:
Whole Black masoor
dal – 1 cup
Onions – 1 large
Ripe Tomatoes – 2 large
or 4 medium
Jeera / Cumin seeds –
1 tsp
Ginger paste – ½ tsp
Green chillies – 2 medium
(I used Serrano variety)
Salt – to taste
Oil – 2 TBSP
Turmeric powder – ½ tsp
Red chilli powder – ½
TBSP
Garam Masala powder –
1 TBSP
Ghoda Masala – ½ TBSP
(See Notes below)
Sugar / Jaggery – ½ tsp
Lemon juice and
coriander leaves – to garnish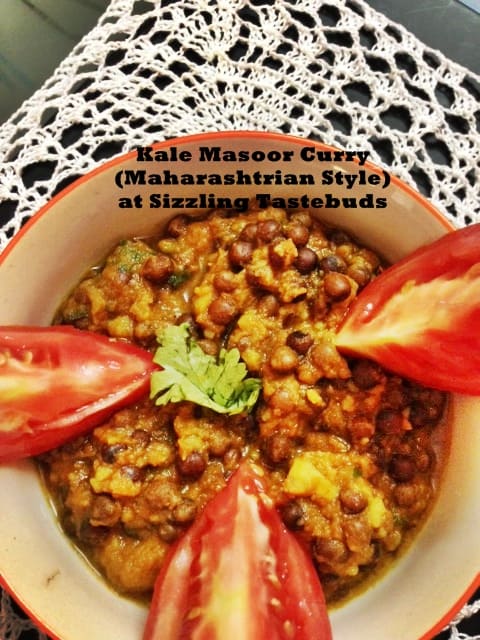 Pin




Method:

Wash and soak Masoor
Dal overnight or min 8 hours

Blanch and coarsely
chop Tomatoes. Finely chop onions

Drain the soaked dal
and Pressure cook Masoor dal with little salt for 3 whistles. Do not let it
become mushy.

In a pan, add half
the oil and sizzle cumin. Add the ginger paste and chopped onions and sugar and
sauté till onions turn slightly brown, about 4 – 5 mins. Keep sprinkling water
in order not to burn the onions. They need to look darkish brown, but not
burnt. This is the key to this dish. Else burnt onions make the dish bitter. Switch
off the stove and cool.

Grind these onions along
with the blanched tomatoes into a fine paste.

In the same pan, add rest
of the oil and tip in the ground paste. Now add turmeric, salt, Ghoda masala,
red chilli powder and the Garam Masala. If you are using add the finely minced
green chillies now and sauté till the gravy turns thick. Add 1 – 2 TBSP of warm
water if you need it a little runny. Do not add too much water.

Check for spice and
salt and switch off the stove. Garnish with lemon juice and coriander leaves.

Serve hot with any
Indian bread and some cool yoghurt.

Notes
Ghoda masala can be
home made or store bought. If buying from the store, be sure to check the
expiry date as it turns rancid very soon.
To make Ghoda masala
at home, I used the recipe fromhere.
I made a smaller quantity, the proportions of which I shall post soon
In case the gravy gets too watery, add 1 – 2 chunks of boiled and mashed potato.
Also linking to:
My own event – Winter Foods 30 min Challenge
Susan's MLLA # 55
Vardhini's New "U" 2013
Sumee's Bon Vivant Healthy appetite
Gayathri's WTML