Thovve (Dal in Kannada) is one of the easiest dishes to make when one is pressed for time or when you need something light and breezy for lunch / dinner. Today I present Padavalakai Thovve (Padavalakai = Kannada for Snakegourd) – a very simple, basic and healthy accompaniment to Phulkas / rice alike.

For years we kids used to call it "Satellite" at home.. Now, thats a strange name for a dish, wouldn't you say !? To cut a long story short, the episode goes like this : As kids, we used to have our dinner, esp on some summer evenings outside the house right on the compound where grand mom used to give us "thuththu" (Thuththu in kannada means small morsels of food made from a common food bowl) to all her grandkids. That particular day, she had made this Thovve and up in the sky, we could see some bright objects spinning.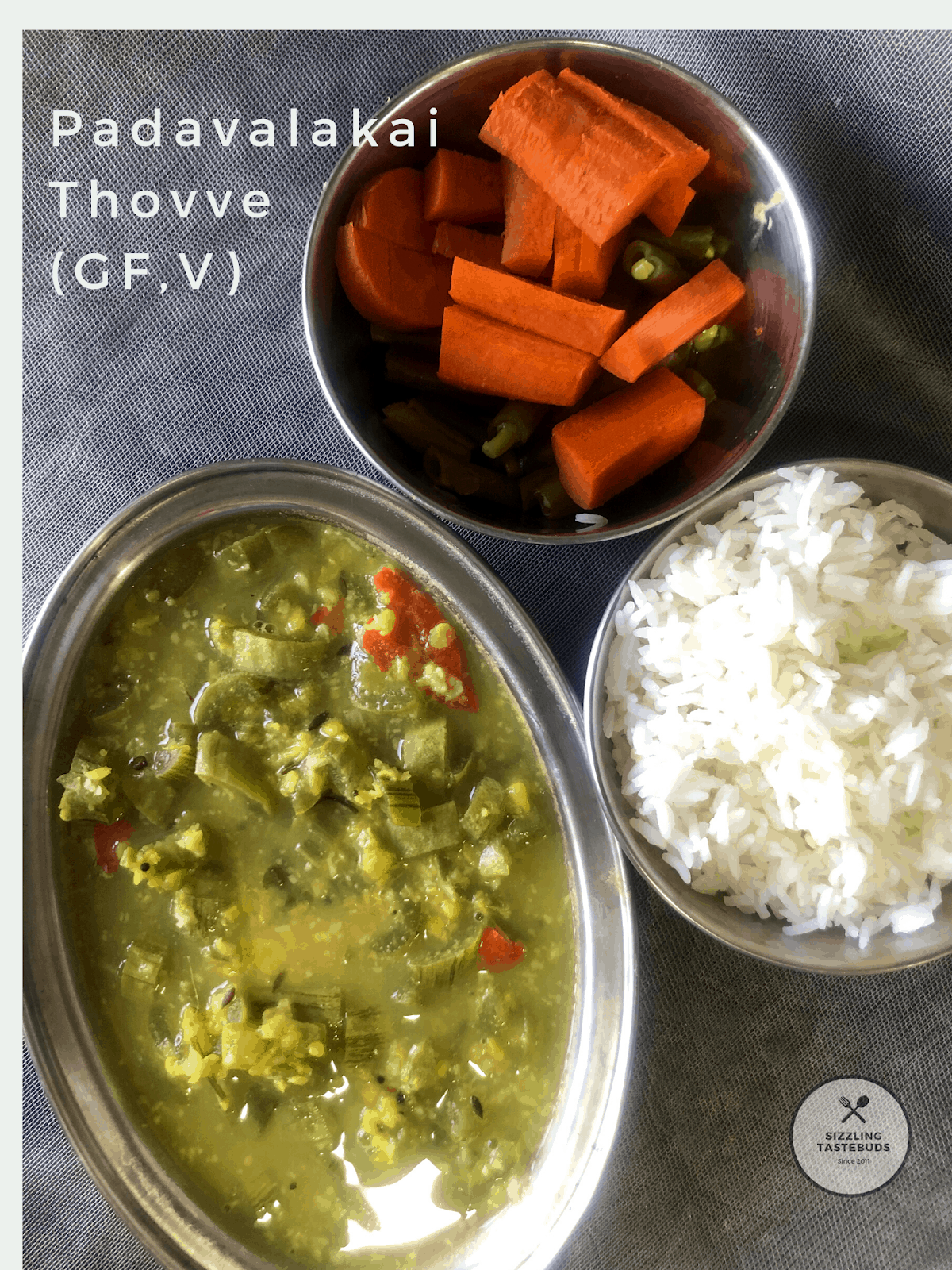 Pin



The first idea that came to us was that they were satellites whirling away (only years later did we know how true that was !). So, grand mom coaxed us to eat this dish and nicknamed it Satellite, and so the name stuck. It was even stranger that when I got married too, I kept referring it to as Satellite in the first few months, and S thought he had married an alien(?!) he he 😀



Pin

You can make this with veggies like Chow Chow, Snake gourd, cucumber (yes, green cucumber) or any such water-based vegetables (zucchini?? may be, I havent tried) . S calls this Mashial (Tamil), but we dont add the usual tomatoes , onions etc . This dish can be rustled up in under 30 mins and is almost Oil free (just 1 tsp reqd). Tastes yum with both steamed rice and roti.

Other dishes using Snakegourd are:
Pin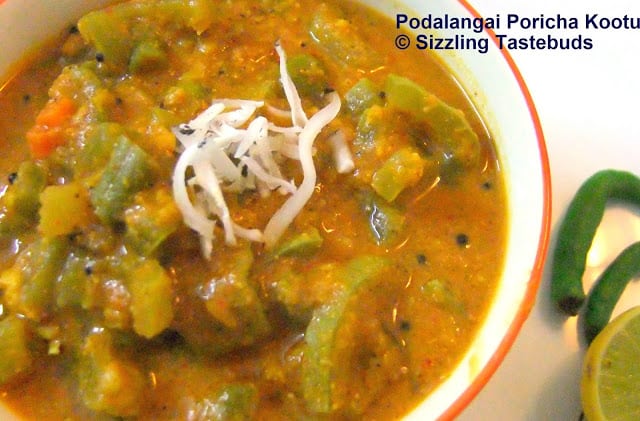 Pin
                                                           PIN FOR LATER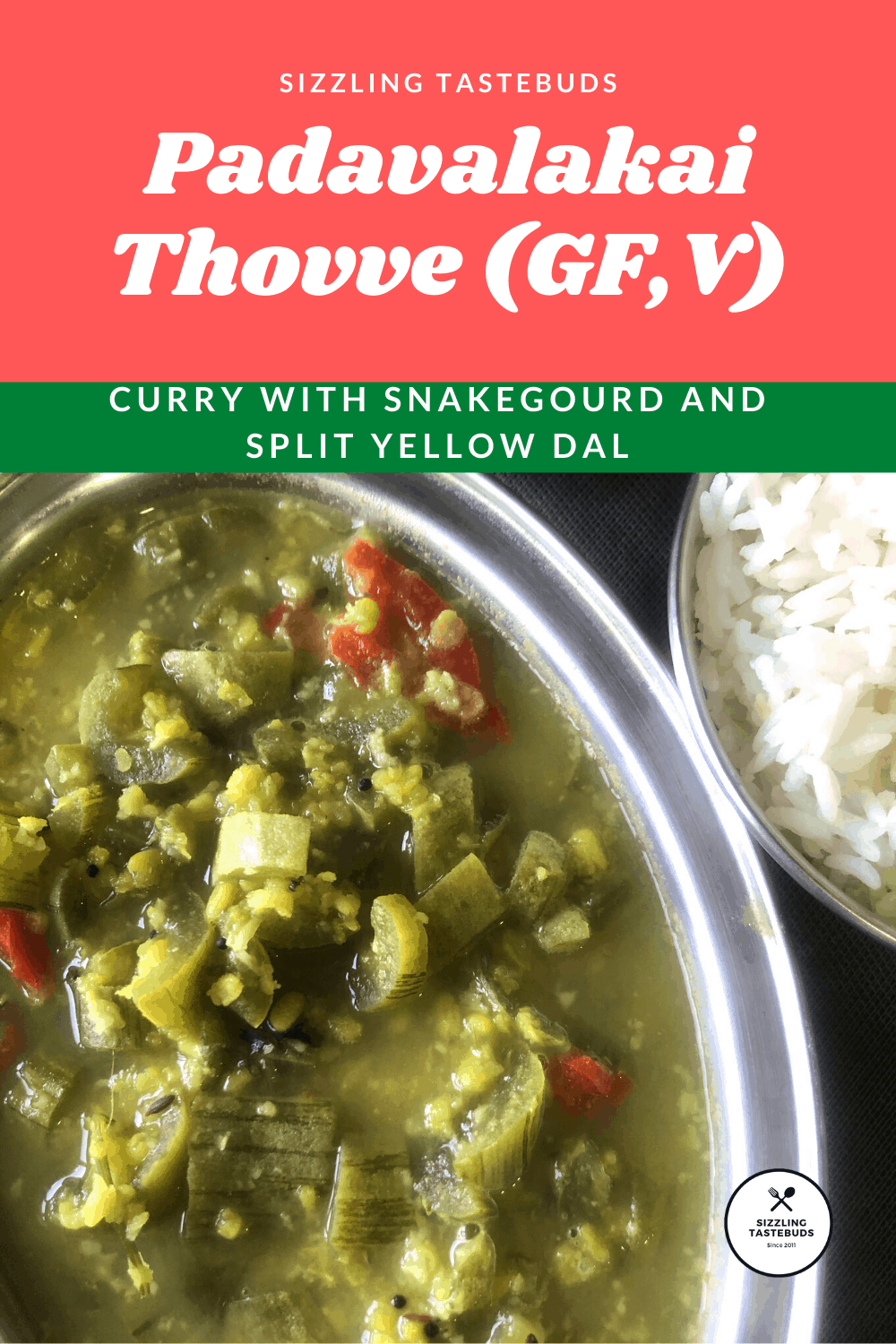 Pin


Preparation time : 5 mins. Cooking time : 15 – 20 mins. Serves : 4

Ingredients:
Moong Dal / Split yellow gram- 1 cup
Chopped Snake gourd – 1/2 cup
Oil – 1 tsp (yes!)
Turmeric – 1/2 tsp
Salt – to taste
Grated coconut – 2 tsp 
Lemon juice – 1 tsp (opt.)
For Tempering:
Mustard seeds – 1 tsp
Jeera / Cumin – 1 tsp
Red chillies (broken) – 2 or 3 (alt. use 1 or 2 green chillies)
Hing – 1/8 tsp (skip for GF)
Coriander and curry leaves – few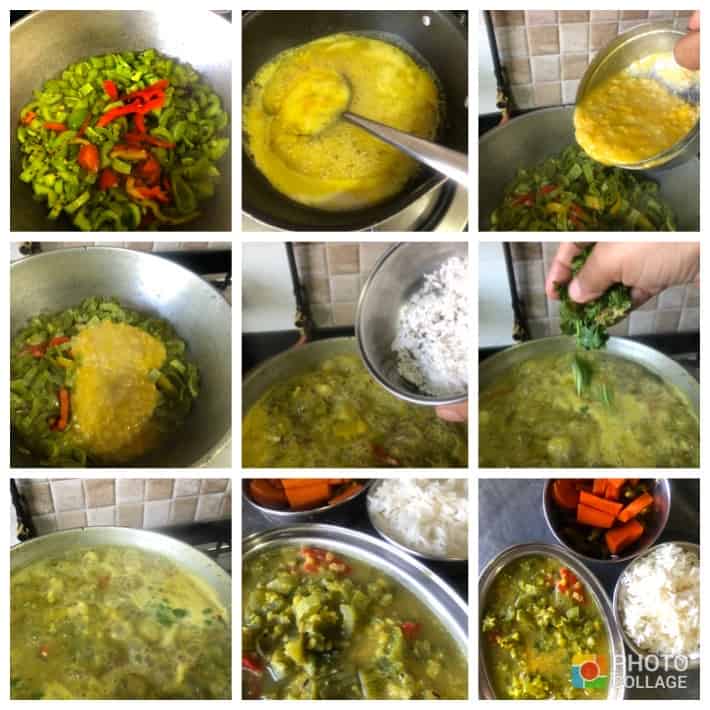 Pin
Method:
1) Wash and chop snake gourd into bite sized pieces. Boil them in water with a pinch of salt for 5 – 6 mins.
2) Meanwhile,  pressure cook Moong Dal (Split Yellow Gram) with less water for 2 whistles. Cool .You may cook on stove top like we do,  the texture is quite pleasant than pressure cooked moong dal.  Cool.
3) In a pan. Add the oil. Prepare the tempering with mustard, jeera, red chillies, hing an curry leaves.
4) Add the dal and adjust salt. Now add turmeric and the boiled veggies. Simmer for 8-10 mins.
5) Garnish with coriander leaves. Switch off the gas and stir in the lemon juice and serve hot with Rotis / Steamed rice and papad.
Pin
Tips:
1) You may use Toor Dal also sometimes along with Moong Dal.  But I find using the latter makes you feel light, while Toor Dal might makes this dish a tad heavy. But whichever dal you use, dont mash it up, but try to boil them till they are soft, but not mushy.
2) You may also stir fry the veggies rather than boiling them al dente. I use this method sometimes, when I feel I need to use zero oil / very little oil. Feel free to try to both methods.
 Updating this for #Foodies_Redoing Old Post 25 where we update old posts with fresh pictures and text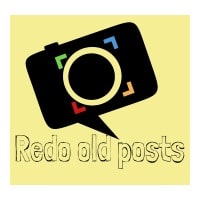 Pin