hi friends !
Happy to announce I would be hosting my blogger friend Valli's event : Kids Delight from 15th Oct – 14th Nov 2015. The theme would be cooking with wholegrains .
I had hosted this Kids Delight with Iron Rich Recipes, Finger Foods for Kids Party in the previous years' editions of this very popular event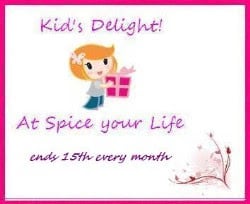 Pin
This event is also accompanied by a giveaway that is self-sponsored. Do read on for more details…
Its one of the themes very close to my heart and we have consciously chosen to bake / cook with whole grains at home .
Whole grains contain the entire grain – the bran, germ and endosperm. Examples include whole wheat, oats/oatmeal, rye, barley, corn, popcorn, brown rice, wild rice, buckwheat, triticale, bulgur (cracked wheat), millet, quinoa, and sorghum.
Eating whole grains provides important health benefits:
Many whole grains are good or excellent sources of dietary fiber. Most refined grains contain little fiber.
Dietary fiber from whole grains, as part of an overall healthy diet, may help improve blood cholesterol levels, and lower risk of heart disease, stroke, obesity and type 2 diabetes.
Dietary fiber can make you feel full, so you may eat fewer calories. Including whole grains in your diet plan may help you reach or manage a healthy weight.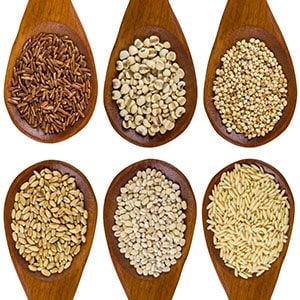 Pin
Grains are also important sources of many nutrients:
B vitamins (thiamin (Vitamin B1), riboflavin (Vitamin B2), niacin (Vitamin B3) and folate (Vitamin B9) are important in a variety of biological functions.
Folate (folic acid), one of the B vitamins, helps the body form new cells and can prevent certain birth defects.
Iron is used to carry oxygen in the blood.
Magnesium is a mineral that is involved in more than 300 processes in the body./li>
Selenium is important for a healthy immune system and regulating thyroid hormone action.
It's important to include a variety of grains in your eating plan because grains differ in their nutrient content. Whole grains can be a good source of fiber, but refined grains usually are not.
So, don on your cooking caps, and send me any dish which features whole grains. If you still need some ideas here are list of wholegrains (as defined by Wiki)
Common whole grains include:
Common wholegrain products include:
Some guidelines for you to follow:
1) It can be baked or non-baked dish , but has to be vegetarian / Vegan / Eggless
2) Alcohol / pork / beef are also not allowed
3) Entries need to be posted between 15th Oct and 14th Nov 2015.
4) Kindly link up this event announcement and Valli's Kid's delight announcementto qualify as an entry.
5) One qualifying entry shall be randomly chosen as a winner. Winner shall be announced by end of Nov.
6) Kindly use the below mentioned Linky tool to link up your entries. In case you are a non-blogger or unable to link your entries, mail me the same on momchef77(at)gmail(dot)com | [email protected]
Thank you and look forward to your healthy entries…
Cheers
Kalyani