Borrowing perhaps from the southern states that are experiencing a bad heat wave, this long weekend was punishingly severe, while draining out most of the plans we had made out over the long holiday weekend. So, while we were cooped out at home, what better way to rise spirits (not literally though) with this super refreshing Orange-Tea-Minty cooler that was picked from Epicurious for this month's version of Gourmet Seven. And this month's choice was beverages. So, let's quickly head to this citrusy delight that refreshed us quite a bit over the scorching weekend.
Recipe source – Here
Prep time – 10 mins. Cook time – 2 – 3 mins (to boil water)
Serves – 2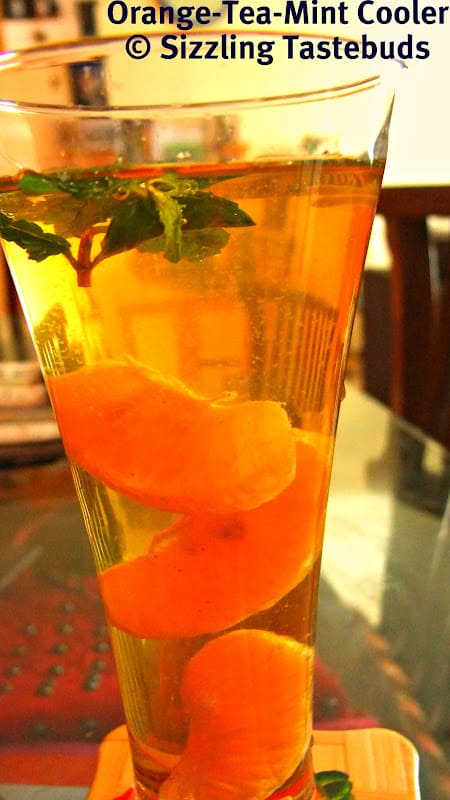 Pin
Ingredients:
Orange squash – 2 TBSP
Cold Water – 2 cups
Orange flavoured Tea bags – 3 nos (more if you like it stronger)
Honey – 2 TBSP
Lemon juice – 2 TBSP
Fresh Orange Juice – 4 TBSP (maybe a little more)
Black Salt – a pinch
Mint leaves – a few for garnish
A few Orange segments – for garnish
Ice cubes – a few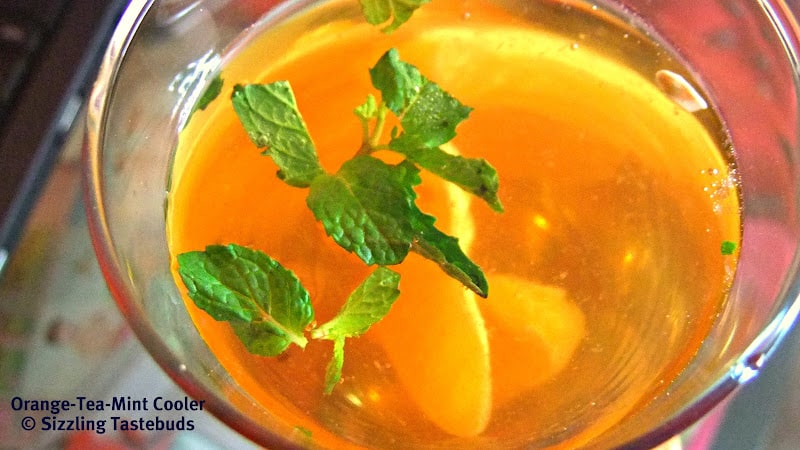 Pin
Method:
1) Bring 1 cup of water to boil. Transfer to a kettle or a large mug and steep in the tea bags for exactly 1-2 mins (longer if you want your beverage stronger). Drain the tea bags and reserve the black tea.
2) In a large bowl, mix the orange juice, orange squash, lemon juice and the cold water. Mix well. Now add in the black tea decoction and mix once more. Add a dash of black salt and mix in the honey. Chill for 10 mins.
To serve –
Tear the mint leaves reserving a few for garnish. Crush them with some ice cubes and spoon this mixture at the bottom of two serving glasses. Now add the chilled mocktail, add a few orange segments and a mint sprig for garnish. Serve chilled.