Been a while since I
guest hosted any event, and Pari's invite couldn't have come at a more
opportune moment. December being the month of Christmas, what better way than
to celebrate it than baking :-)) I know for many including truly yours that baking
is an stress reliever, a reviver of sorts to everyday mundane cooking… and an
addiction for most of us.. Doughnuts, Cupcakes, Christmas Cakes, Breads, Yeasted Breads, Muffins… the list is simply endless isn't it ?
There is something isn't
it, to see the yeast prove and froth about, and knead those flours into
fermented ones and bake those golden topped crusty breads, or simply the
aroma of vanilla infused bakes or cinnamon topped doughnuts wafting from your
kitchen, your own neighbor would think its already Christmas time even if you
did bake in July :-)) So, don those aprons and knead those doughs and send
those vegetarian / vegan Baked Treats to my event "ONLY BAKED TREATS"
hosted right here, at Sizzling Tastebuds all this December. Any baked goodie will qualify as long as they are vegetarian and eggless – sweet and savory too..
Am guest hosting
this event for Pari, who has created the "ONLY" series of events
successfully.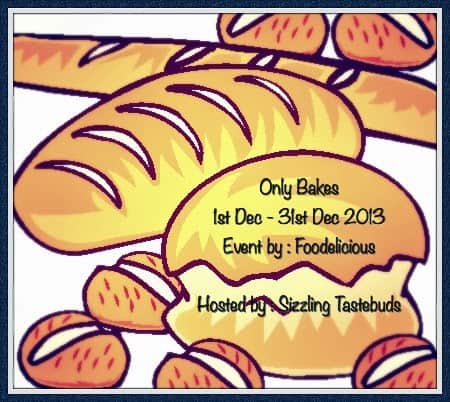 Pin
And to enthuse you even
further, a giveaway is in order – a cookbook sponsored by Pari & TarlaDalal's office. Whats more is that you just need to recap the following rules
to win that coveted Prize, as you use the Linky Tool (s) at the end of this
post to enter your details. There are two Linky tools, simply to segregate
those entries that come within India – meaning those that have an Indian
Shipping address (and are therefore eligible for the random draw for the prize)
and those from outside India…
Rules for
the event:

1. Any number of fresh entries can be sent but only two
recipes from archives will be accepted.
2. Only Vegetarian and Vegan entries accepted (Eggs not accepted please).
3. New and old posts should be linked with my event
announcement and Pari's giveaway announcement.The entries will not be accepted
in case of failing to follow this rule.
4. Link your entries using the Inlinkz tools. Those
participating in the giveaway (anyone who can provide an address in India)
enter under Giveaway participation entries category else link
under Non participants of the giveaway. Please enter your entry
only once in one of the inlinkz tools.
5. Use of logo is compulsory as it helps spread the word.
6. In case you have a difficulty in using Inlinkz tool, mail
me to …(provide your email id here).
7. The giveaway is shipped only in India and only to the
Followers of Pari's Blog. You can follow her blog through Google Friend connect
or Google plus publicly.
I cannot win the giveaway being the guest host this month. Also,
I will post the round up within a week after the event completion.
So, bake along and send me those Treats…and win a chance to get
that giveaway !
Cheers
Kalyani