Dals or lentilsis the basis of most vegetarian meals – be it as a side dish or kebabsor Cheelas (crepes) or even most breakfast menus. Today is one such healthy option for breakfast made with Oats & Moong dal. Given a choice to choose between all dals & lentils I use in my kitchen, it would surely be Moong Dal (or split green gram). I find it most versatile, light to digest and also easy to cook, and lends itself into many different dishes across course. Today is a take on the popular South Indian breakfast- Pongal and its a twist with a healthy addition of Oats. Quick and healthy, am sure you would also enjoy this. I served this with Katrikkai Pachadi (Brinjal Raitha) and it was a total sellout. Am sure this would be one more variant of Pongal along with Rava Pongal & Ven Pongal to the breakfast menu.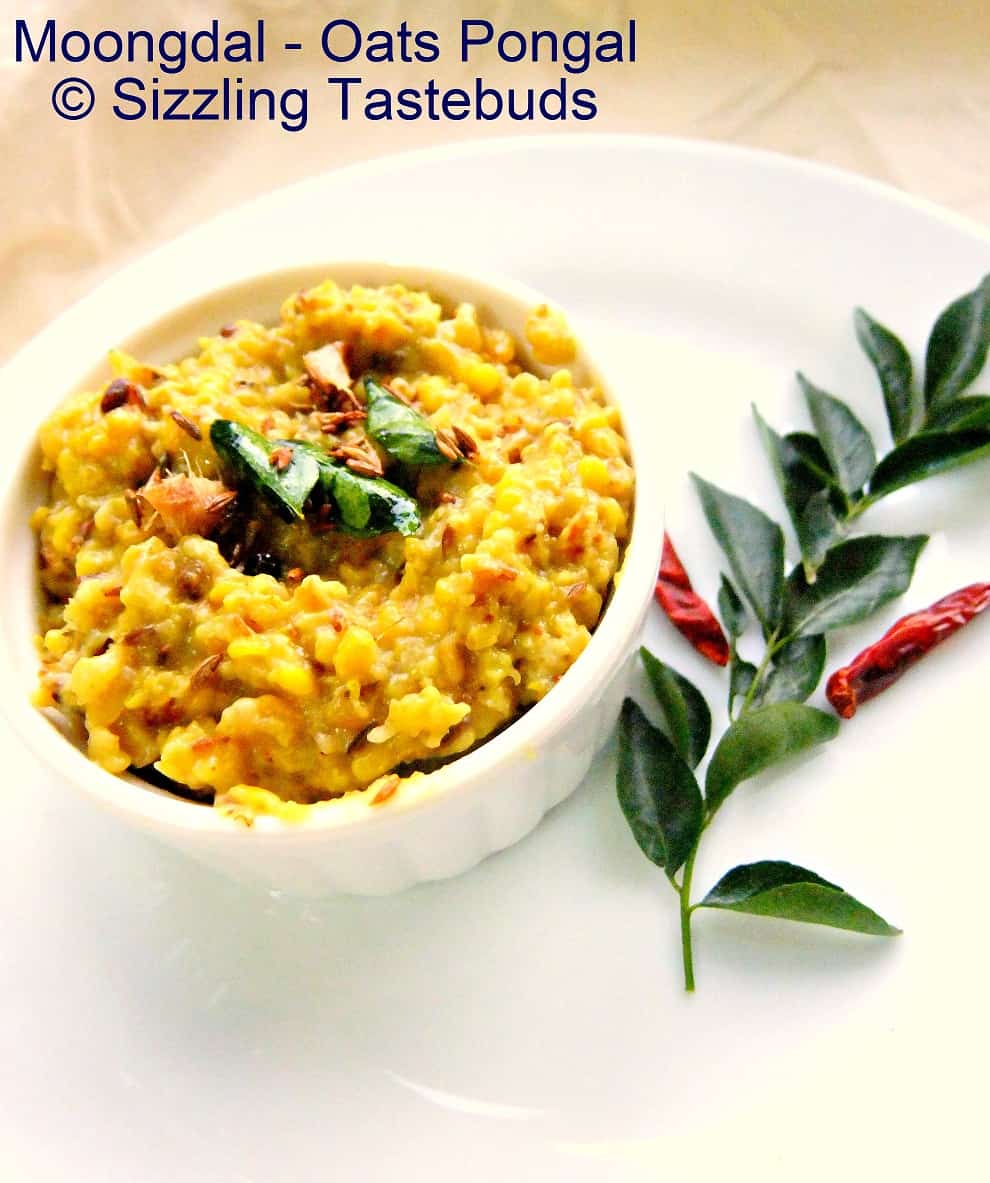 Pin
Sending this to Blogging Marathon -Day 3. Also to MLLA # 43, hosted by Chez Cayenne, event by Susan, Vardhini'sNew U, Cooking Challenge – Tamilnaduby Vidhya
Do check my fellow marathoners here
Prep time : 10 mins. Cook time : 20 mins. Serves : 2
Moong Dal – 1/2 cup
Oats – 3/4 cup (I used quick rolled Oats)
Salt – to taste
Oil – 1 TBSP
Ghee – 1 TBSP
Turmeric – 1/2 tsp
Tempering : Curry leaves, Cumin Seeds, Grated Ginger, Asafoetida
Green / Red chillies – 2 nos.
Method:
1) In a dry pan, roast Oats till it turns slightly crispy but doesnt burn. Add 1 TBSP of oil and fry the moong dal (split green gram) till it gives out a nice aroma. Transfer & mix both in a cooking bowl and cool.
2) Add 2 – 2.5 cups of water and pressure cook the Oats-Moong Dal mixture with a pinch of salt & turmeric for 3 whistles.
3) When the pressure cools down, heat ghee. Add cumin, curry leaves, grated ginger, asafoetida, chillies and saute for a minute.
4) Transfer the cooked Pongal to a serving dish. Adjust salt and pour the prepared tempering on the pongal. Mix just once and serve hot with some ghee and any raitha.
Note:
1) Oats needs to be dry roasted, else will become mushy.
2) If cooking the pongal in a rice cooker, add lesser water but soak the moong dal for 10 minutes in warm water before using. Do not over mix the pongal else it will turn to a paste.
3) For the tempering, you may also add some black pepper corns, but I avoided it as its quite an effort to locate them during rushed morning breakfast time 🙂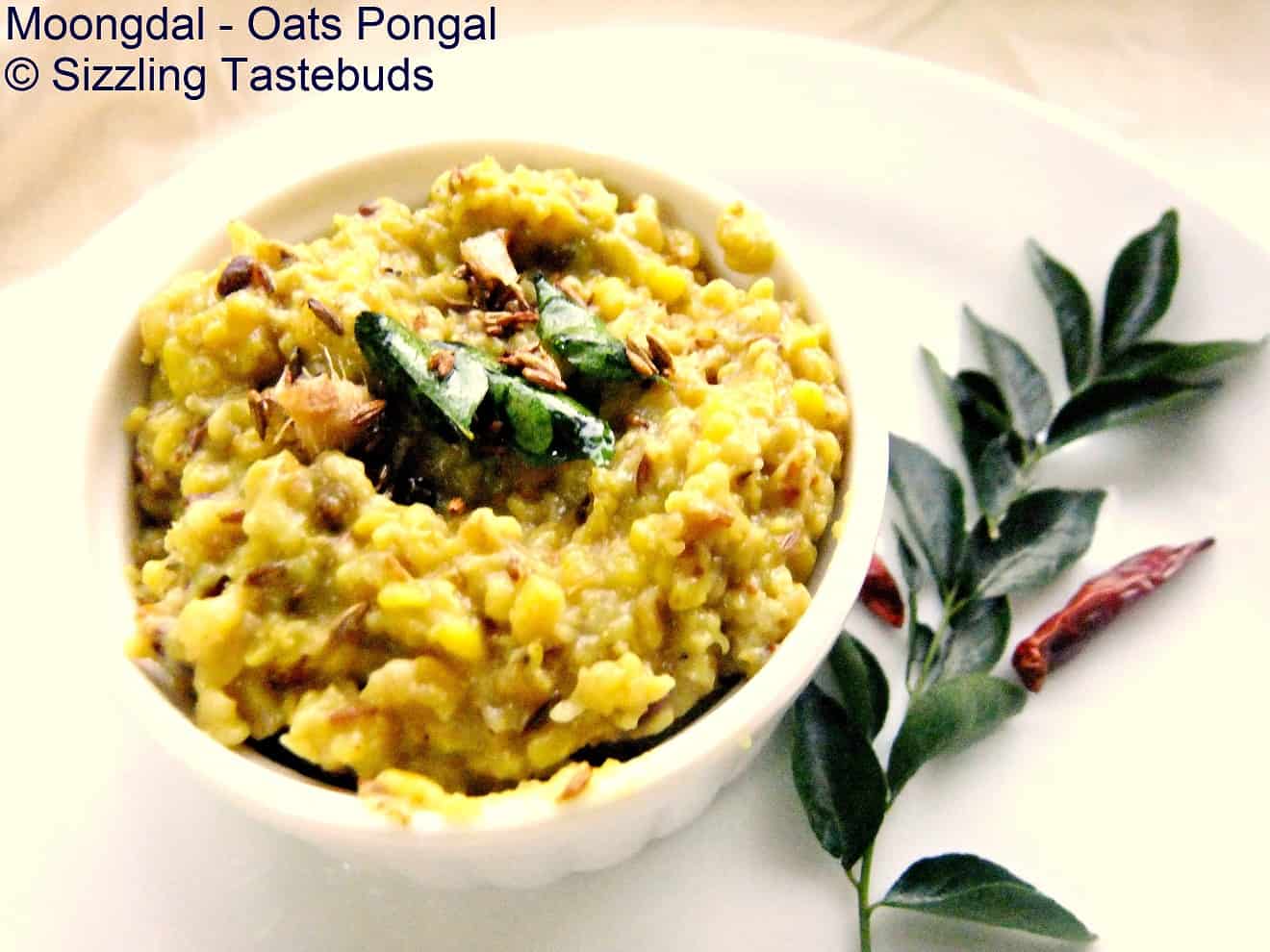 Pin