Coming back to Mexican favourites, we have nachos with salsa today from the street food repertoire. This dish is an eternal favourite with my kids – be it at theatres, on long drives or while even watching television. I had baked tortilla chips and baked Nachos earlier, but this time gave in to the deep fried indulgence. Enjoyed best with sour cream and salsa, this is one quick dish that's any party's favourite 🙂
PS: My elder one helped me style and took the clicks too 🙂
Adapted from Tarla Dalal's recipe–
I didn't change much except adding Kashmiri chilli powder and cheese powder into the dough itself … that gave its characteristic colour and punch and the kids loved it a lot.
As I was deep frying, I only made a small batch. But you can easily double or even quadruple if feeding a crowd. For those keen, the history of Nachos can be seen here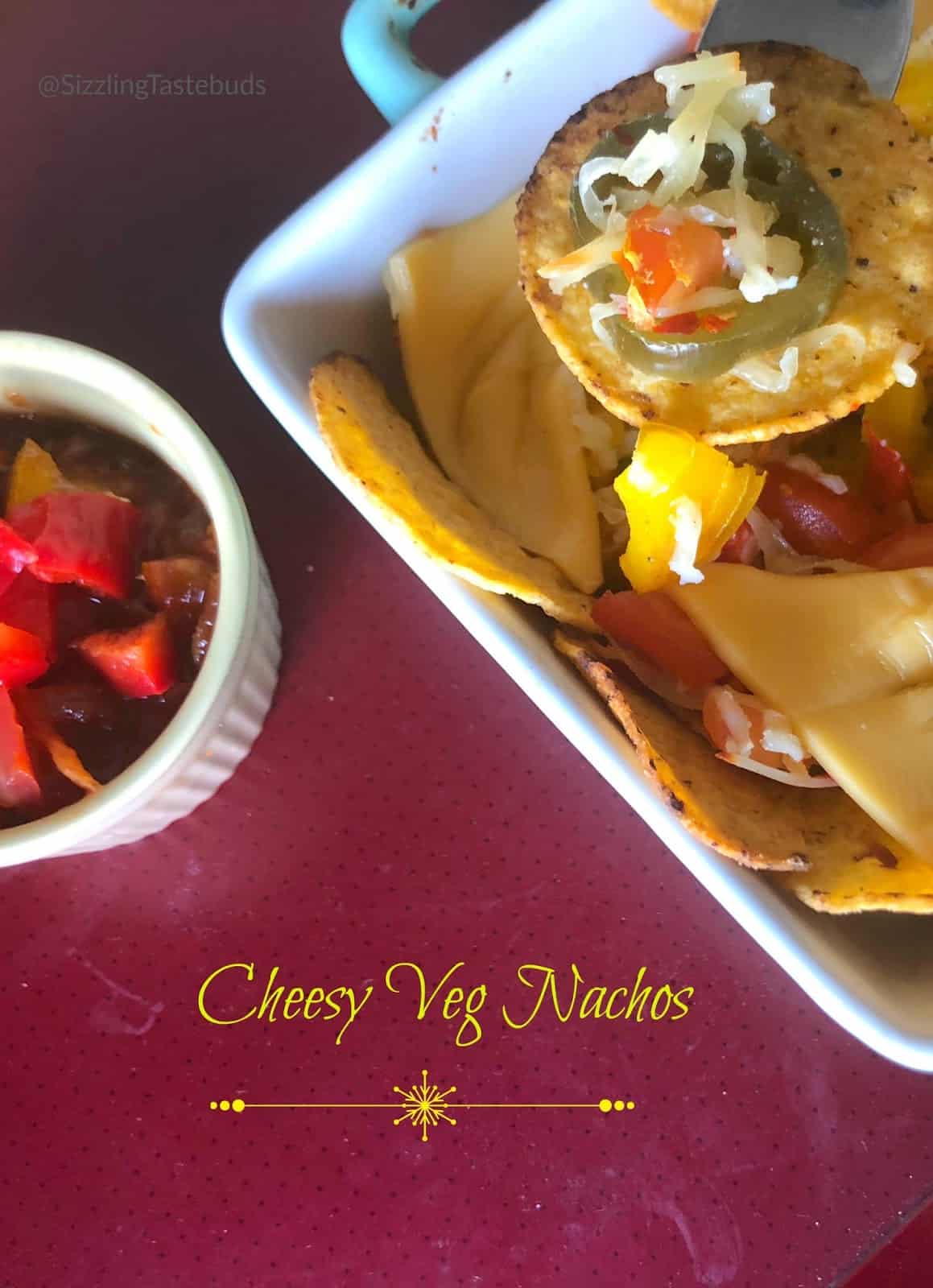 Pin
Personally I preferred the baked version but with kids it's always deep fry which score extra brownie points. So, lets get cracking to make this yummy delight.
Prep time : 15 mins, standing time : 10 mins, Frying + assembly time – 15 mins
Ingredients for the dough:
Makai ka atta / coarse maize flour / Cholam maavu – 1/4 cup
Wholewheat flour – 1/8 cup
All purpose flour- 1/8 cup + as required for rollng
salt – to taste
Oil – 2 tsp (to knead) + 1 cup (to deep fry)
cheese powder – 1/8 cup (vegans can skip this)
Kashmiri chilli powder – 1/2 tsp
Crushed pepper – 1/8 tsp
sugar – a pinch
crushed carrom seeds – 1/8 tsp (optional)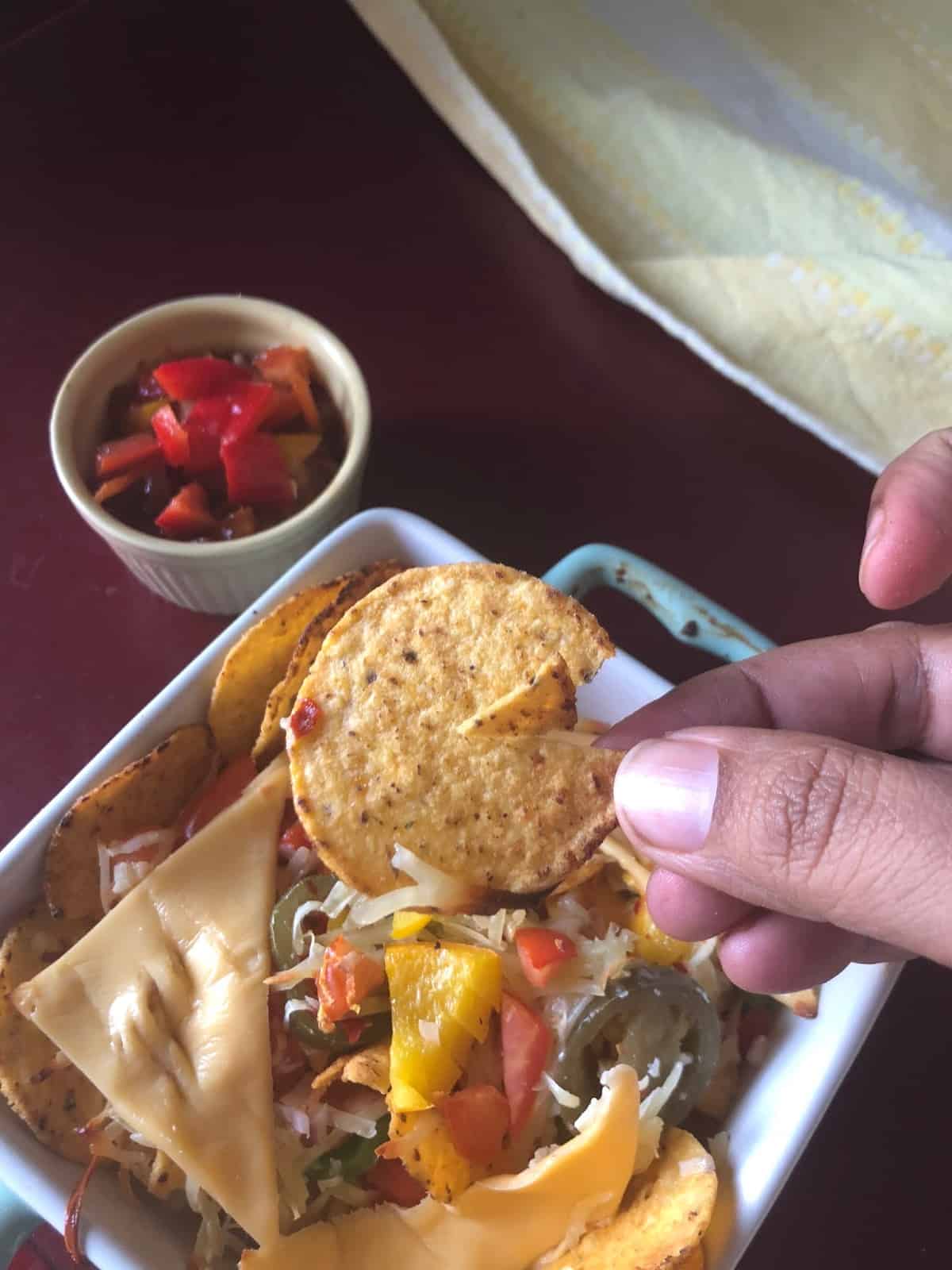 Pin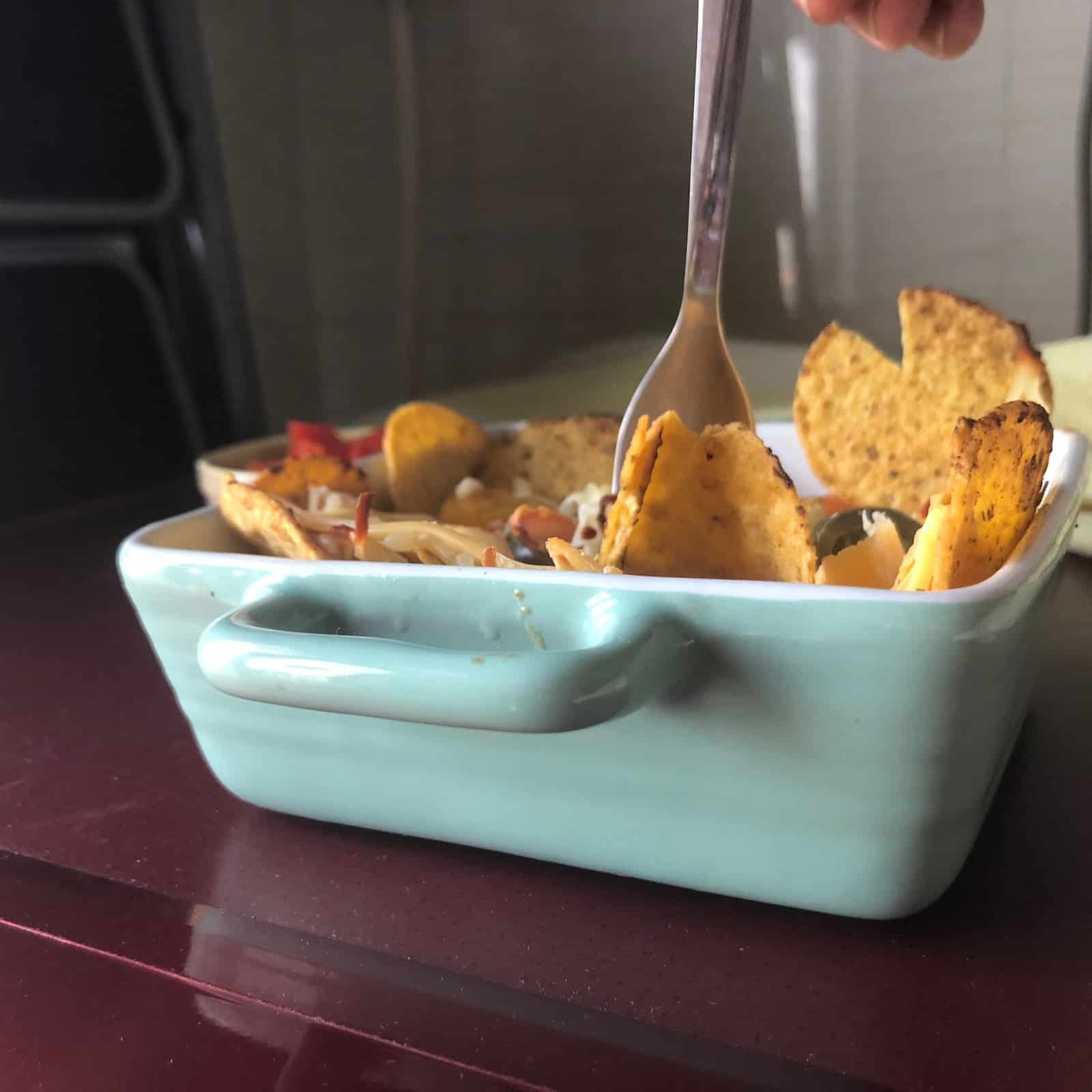 Pin


method:
In a large bowl, add the flours, red chilli powder, black pepper, cheese, sugar, salt, mix. Make a well / indentation, add the oil and rub into the flours. Slowly, add warm water as needed and make a semi stiff dough. Cover and keep for 15 mins.
Heat oil in a deep bottomed pan.
Pinch out small roundels, and roll into a thinnish 7-8 inch circle dusting with flour as needed.
Using a sharp knife or pizza cutter, cut into small sectors. Place gently in a plate and dust a little flour and keep covered.
Repeat for entire dough,
Deep fry the pieces in moderately hot oil till golden brown on both sides.
Remove with a slotted spoon and drain on kitchen towels.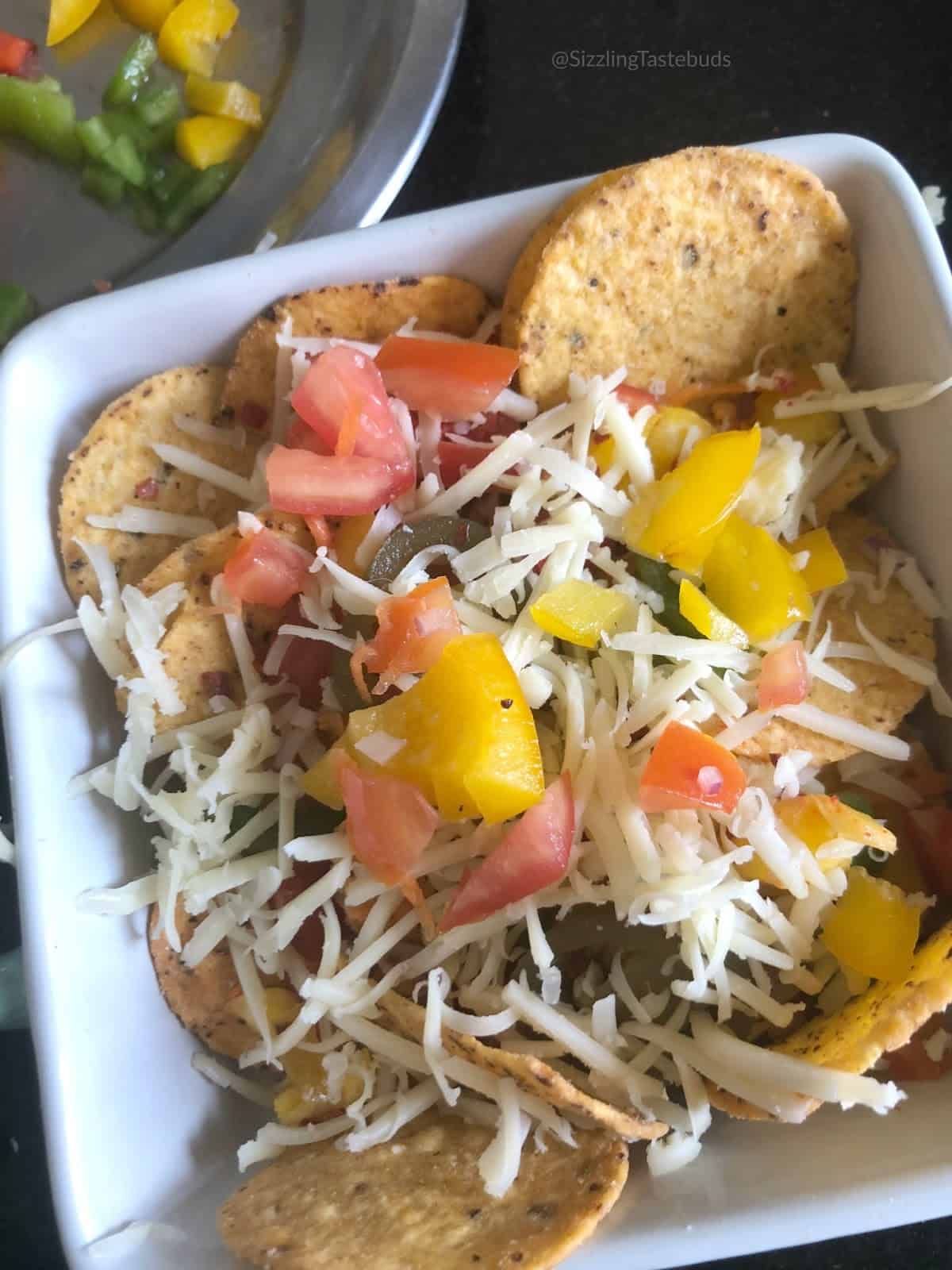 Pin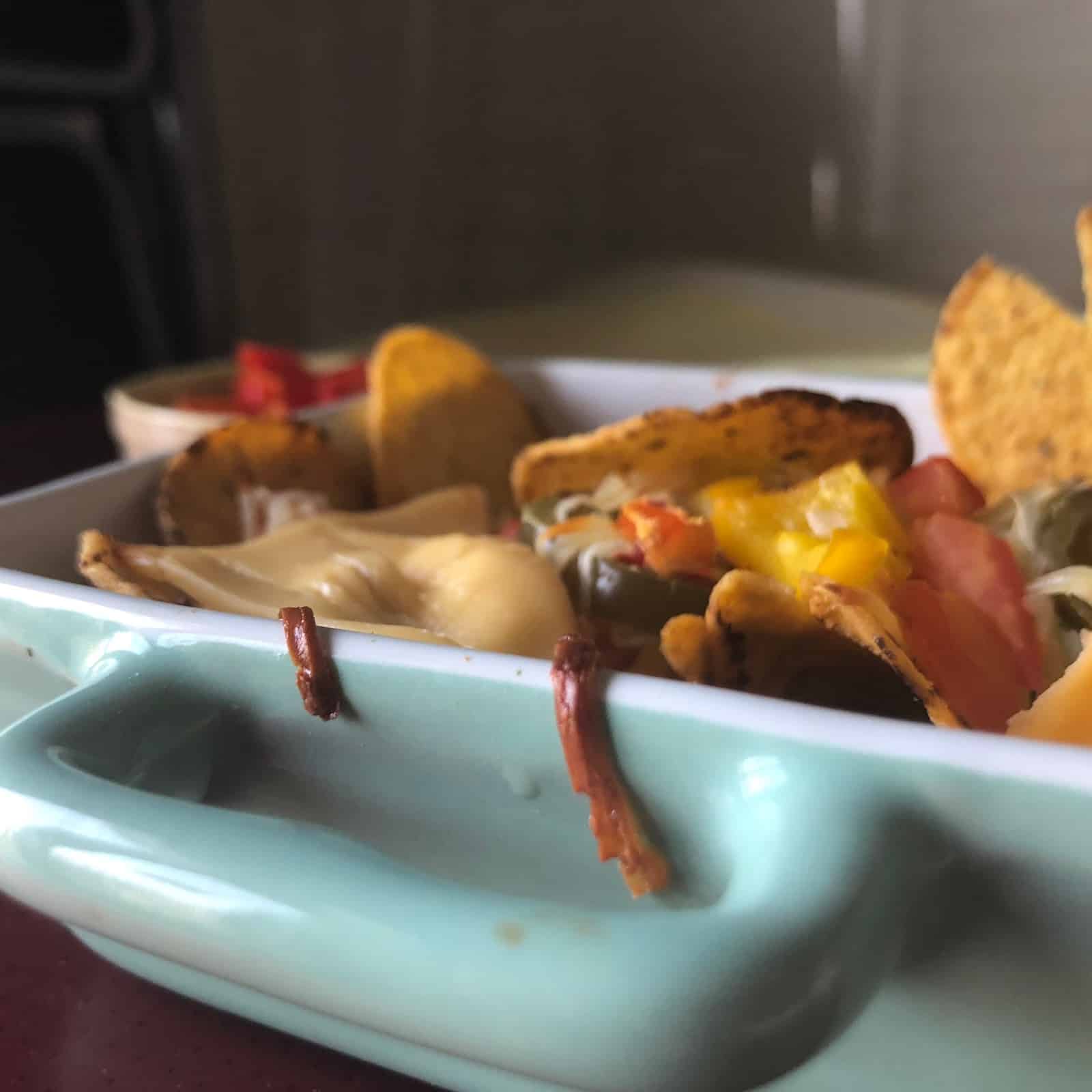 Pin


To assemble:
Place the nachos in a oven proof /micro plate. Spread cheese and bake slightly till the cheese melts.
OR
serve the nachos as is with sour cream and salsa on the side. We love it either way:-)
Pin
Check out the Blogging Marathon page for the other Blogging Marathoners doing BM# 87