Chaat- the name itself evokes memories of drooolicious food. And the memories of eating out of paper / leaf plates in gallis (narrow streets) across India. Today's guestpost by Swaty has all those memories and more… Swaty is an IT professional and a trained baker whose food blog FoodTrails is chockablock with traditional recipes from UP and Rajasthan as well as some delectable bakes. And today she shares one of my favourite Chaats from Moradabad (U.P) – Moradabadi Dal Chaat. Thanks Swaty for this delicious recipe and your guest post…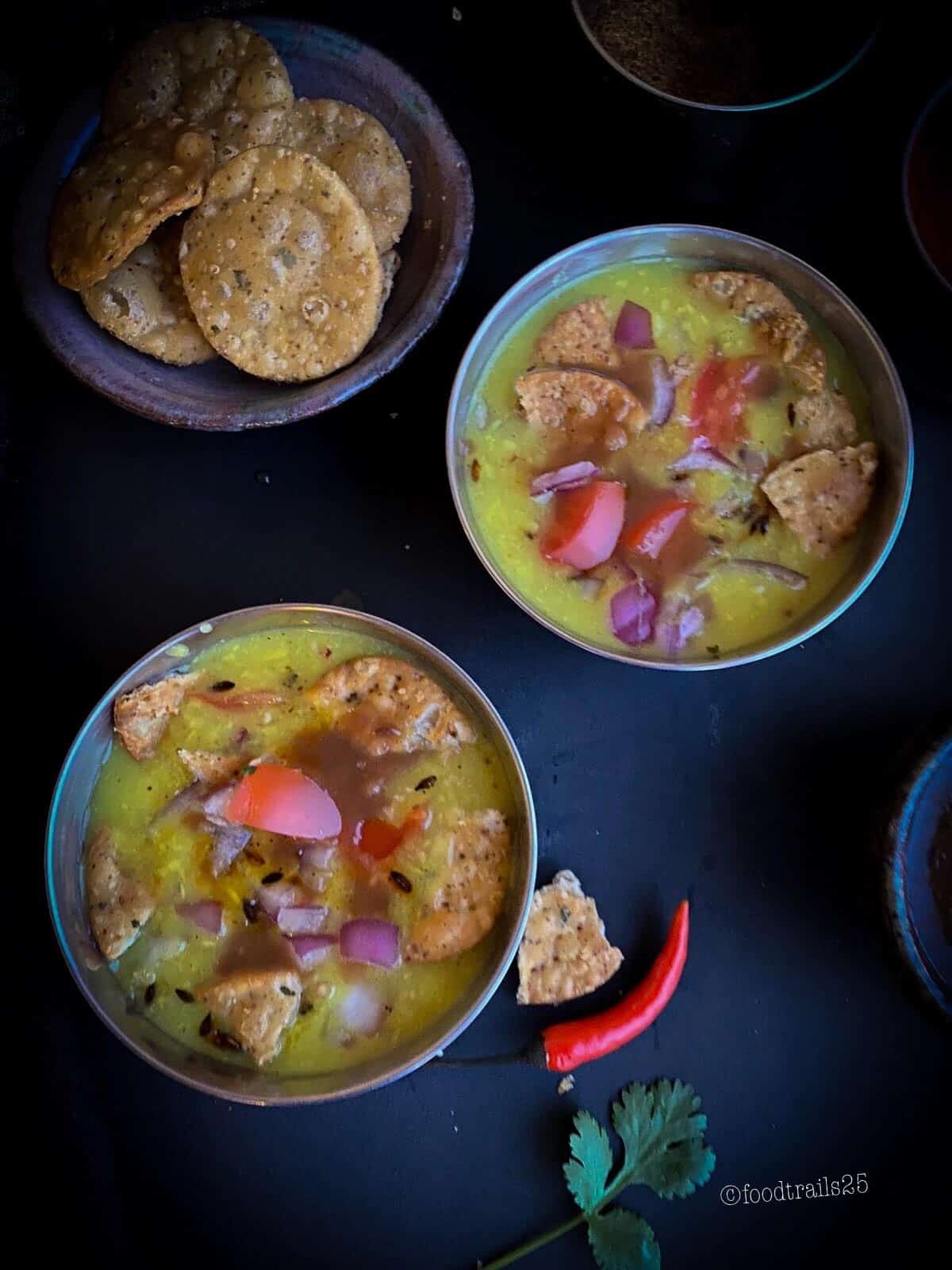 Pin



Over to Swaty in her own words…



*******************************




Warm Wishes to the Readers of Sizzling Taste Buds!!

So happy to be here in on Kalyani's blog – Sizzling Tastebuds !! and a big thanks to her for inviting me to do the guest post for her wonderful blog!!

I met Kalyani in Blogosphere in one of the Facebook food groups!! A wonderful blogger to who creates easy to cook recipes mostly vegan-friendly and gluten-free recipes,Kids friendly recipes, muffins, snacks and main course and what not… from authentic South Indian Cuisine to International. I really appreciate her simple and to the point writing style.

A little about me.. I am Swati here!! Cooking has always been a passion for me and I love to cook and treat my loved ones!! I worked in IT security sector for around 10 years then quitted my job to be with my kids and start my own Baking venture. In 2016, we moved to US, when I started to have the itch .."What's Next!! so, started with my food blog that was on hold due to shortage of time for 2 years due to my upcoming home baking venture.

Foodtrails my blog, where I am documenting my experiences and food journey through various recipes that I learned from my grandmas, mom, and friends and everyone around me. I always hope that my recipes are helpful to many others like me (homemakers or professionals) who are always on lookout for nutritious and wholesome meals for themselves and whole family especially kids!!




In her invite, Kalyani requested that she will love if I can share any of my family's traditional recipe or any of the old forgotten recipe from my side of cuisine. I have lots of my family's and regional recipes, on the blog. One of the recipes that still was pending to post was this Moradabadi Dal Chaat.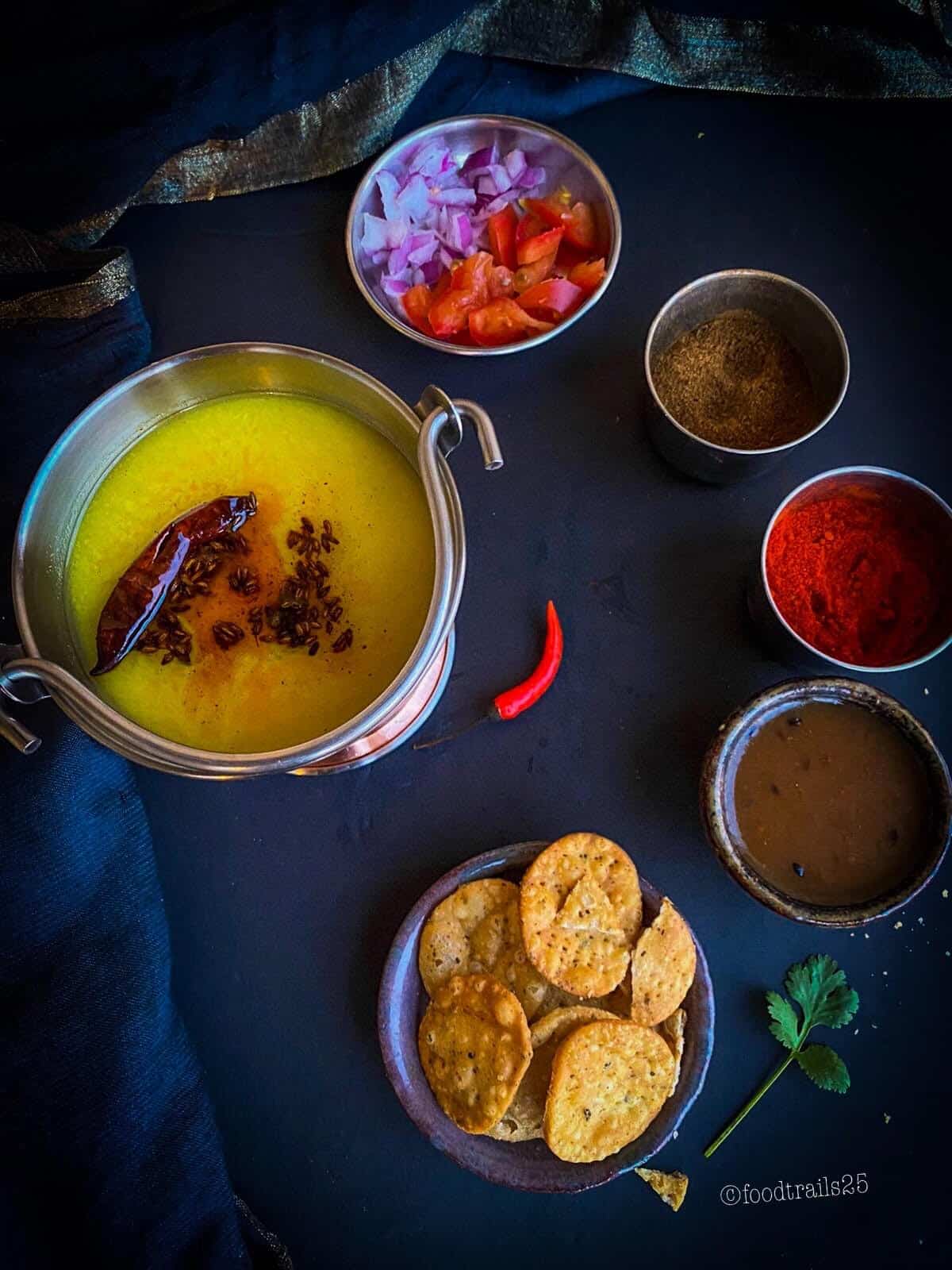 Pin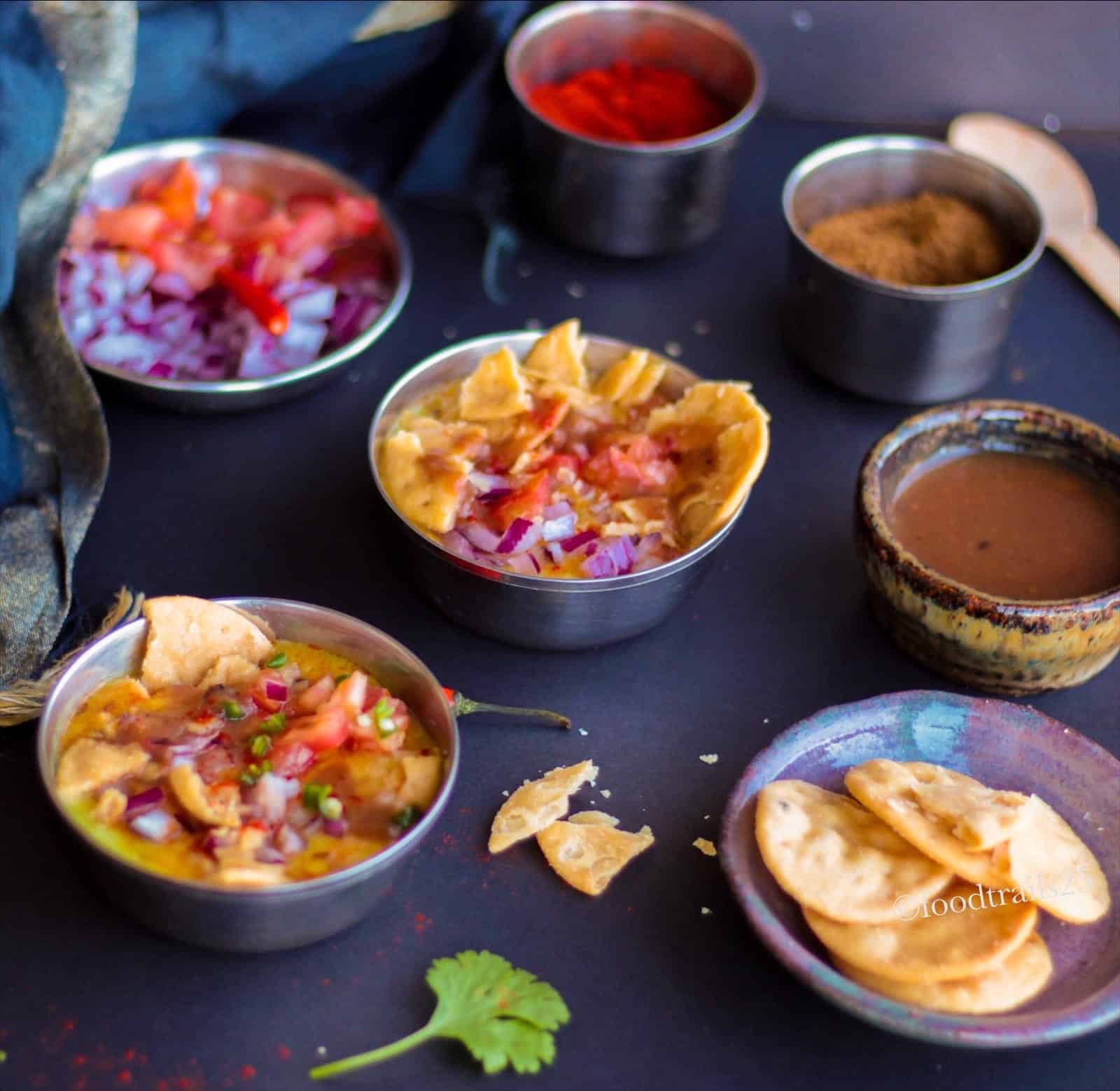 Pin
Moradabadi Dal Chaat is a very simple dal/lentil recipe, but it is especially served on special occasions like marriage parties, in the region. Toppings served with this lentil take it to another level, and it is relished by kids and grownups alike.
These days many well-known fine-dines serve it as part of Food Festivals, through which they are reviving the lost and lesser known recipes of Indian Cuisine.
A brief introduction on Moradabadi Dal Chaat…
Moradabadi Dal Chaat is a lesser known Chaat/snack recipe from Moradabad, a town in Western U.P. It delish and very light lentil snack, that is mostly served as street food or served at parties as starters, in that region. Moradabad is famous for it brass and wooden handicrafts and Moradabadi Dal!!
We never lived in Moradabad, but many times dad visited this place for official work. There, in a party (years back) he had this delicious Dal chaat. Dad loved this way of serving Dal and since then it became quite a regular in our house.
Moong Dal is a main course item which was is usually served as main course with rice or chapatis. I am sure most of the kids and even grown-ups are not very fond of Moong Dal. Many people have it when not feeling well for light dinner.
This dal chaat also has fond memories for me. Mom made it during chilly winters and used to have it topped with lots of onions, tomatoes, sweet tamarind chutney. I and my sister looked forward to it have it with lots of papadi and namkeen as no chapati was served with dal. It was followed by our favorite garam garm(warm) Gajar Ka Halwa!! My kids also like to have it this way!! Kids love such simple meals na!!:)
This is not served for main course but as starter/snack. Every home has their own favorite topping for this dal, but it is cooked in most simple ways.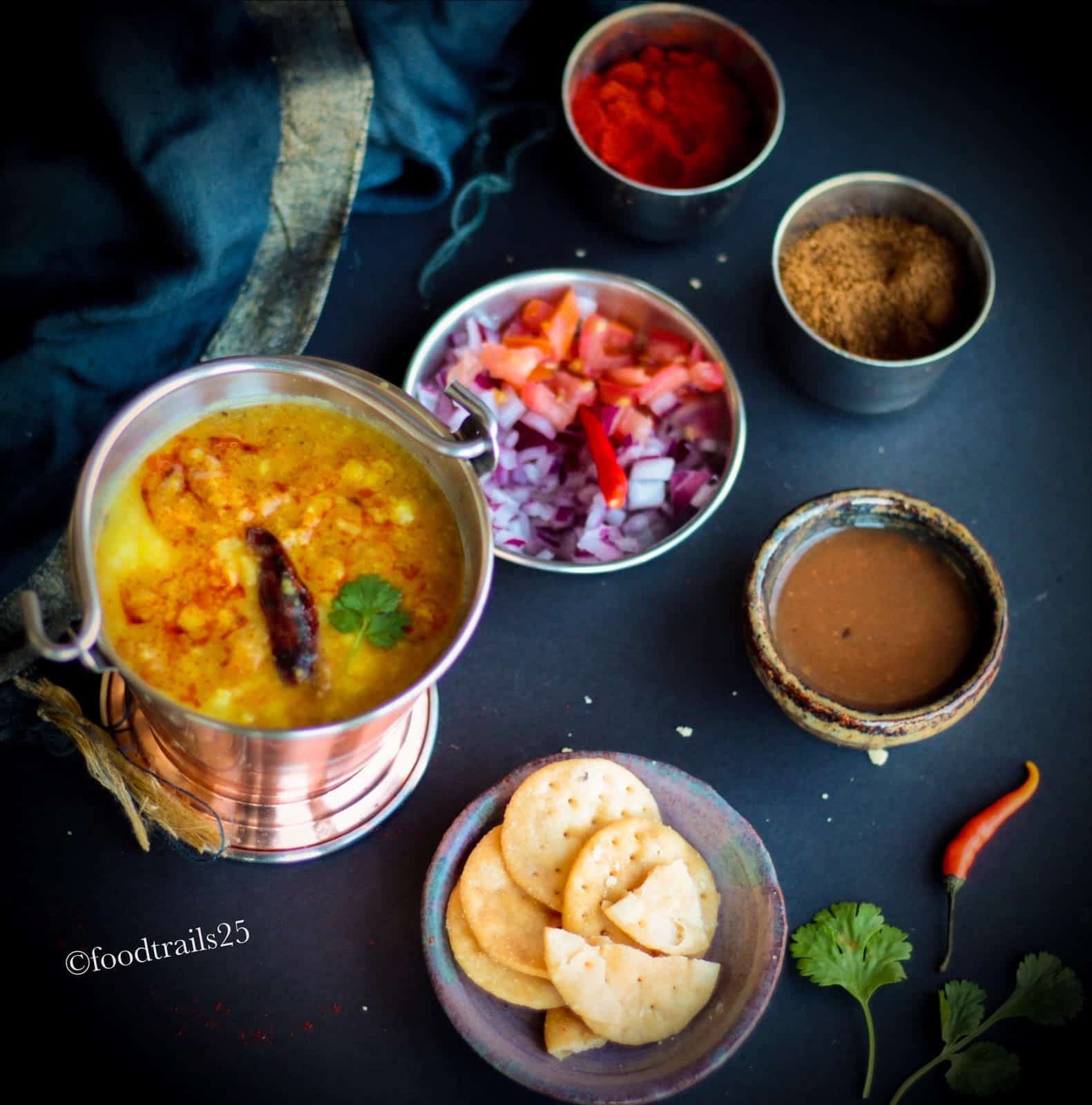 Pin
Hope you will like this easy, simple but delicious Moradabadi Dal Chaat recipe as much as my family loves it. Use leftover dal or make a fresh batch for light dinner/snack or get-togethers!!
Again, a big thanks to Kalyani, for inviting me and reminding me of posting the recipe that has been long pending and is one of our favorites!! For me it is my first guest Post for any blogger!! So happy I could share this recipe of Moradabadi Dal Chaat on her blog!!
I wish Kalyani endless years of successful and happy blogging, with her healthy and nutritious recipes.
History of Moradabadi Dal Chaat
Moradabad is district town in Western Uttar Pradesh. It is very famous for it brass and wooden handicrafts. Origin of this Dal chaat dates back to 1625, during the reign of Murad Baksh, the third son of Emperor Shah Jehan and great grandson of Akbar. Murad established the city of Muradabad. He, like his great grandfather loved simple vegetarian Rajasthani Cuisine. Panchmel Dal (dal made with 5 lentils) that is served with baatis was his favorite. Legend says that he got bored of this dal and ordered his chefs to make something new and simple, just like his favorite Dal. Various combinations of dals were tried but didn't got the approval of the king. Then one day, chef accidentally discovered that Moong Dal cooked for 5hrs gets a creamy sweet texture. The dal was served to the King in dried beetel nut bowl and then served with different toppings for next few days and gradually he started loving this dal, so much so that used to have it 3 times a day in small portions!! Since then, the tradition of serving this dal in small portions with toppings started.




There are many online references on the history.. you can check this link if interested to know more..For detailed read on .. Moradabadi Moong Dal History "



How to make Moradabadi Dal Chaat
Ingredients
To prepare Dal
Moong Dal– 1Cup
Turmeric Powder– 1/2 tsp
Salt to taste
For Tempering/Tadka
Ghee– 1-2 tbsp
Cumin Seeds– 1tsp
Red Chili Powder– 1tsp (or as per spice tolerance)
Whole Red Chili– 1-2
Asafetida/Hing– ¼ tsp (for gluten-free version skip it or use gluten-free)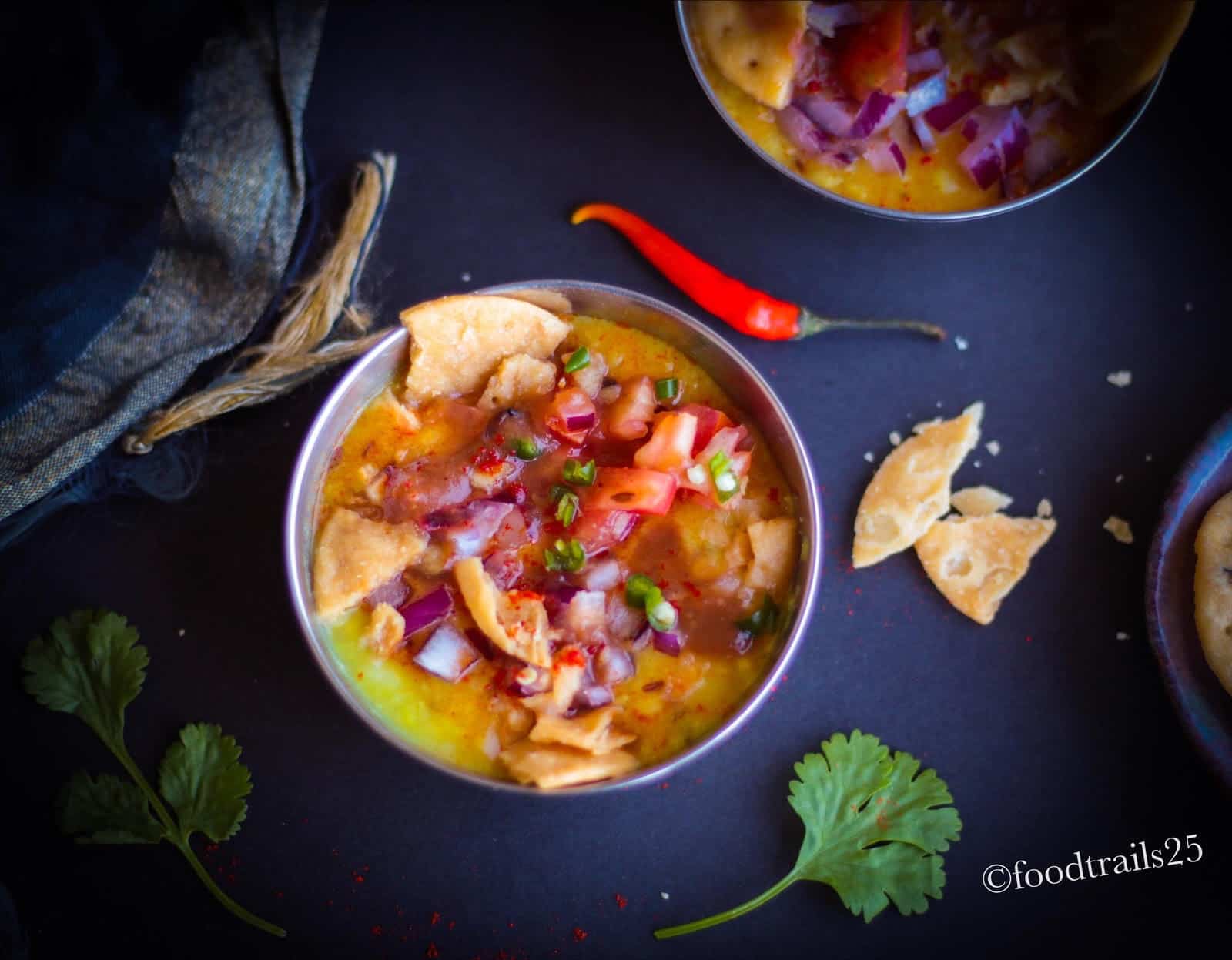 Pin
Toppings for Dal Chaat
Finely Chopped Onions– 1cup
Finely Chopped Tomatoes– 1cup
Finely chopped Green Chili– as required(optional)
Tamarind Chutney/Lemon juice
Green Chutney(optional)
Papadis/NamakPare – 3-4 per serving
Method
Traditionally this dal was prepared with slow cooking method in initial days but nowadays people make it in pressure cooker to save time. Though pre-soaked Moong dal takes hardly any time to in open pot also.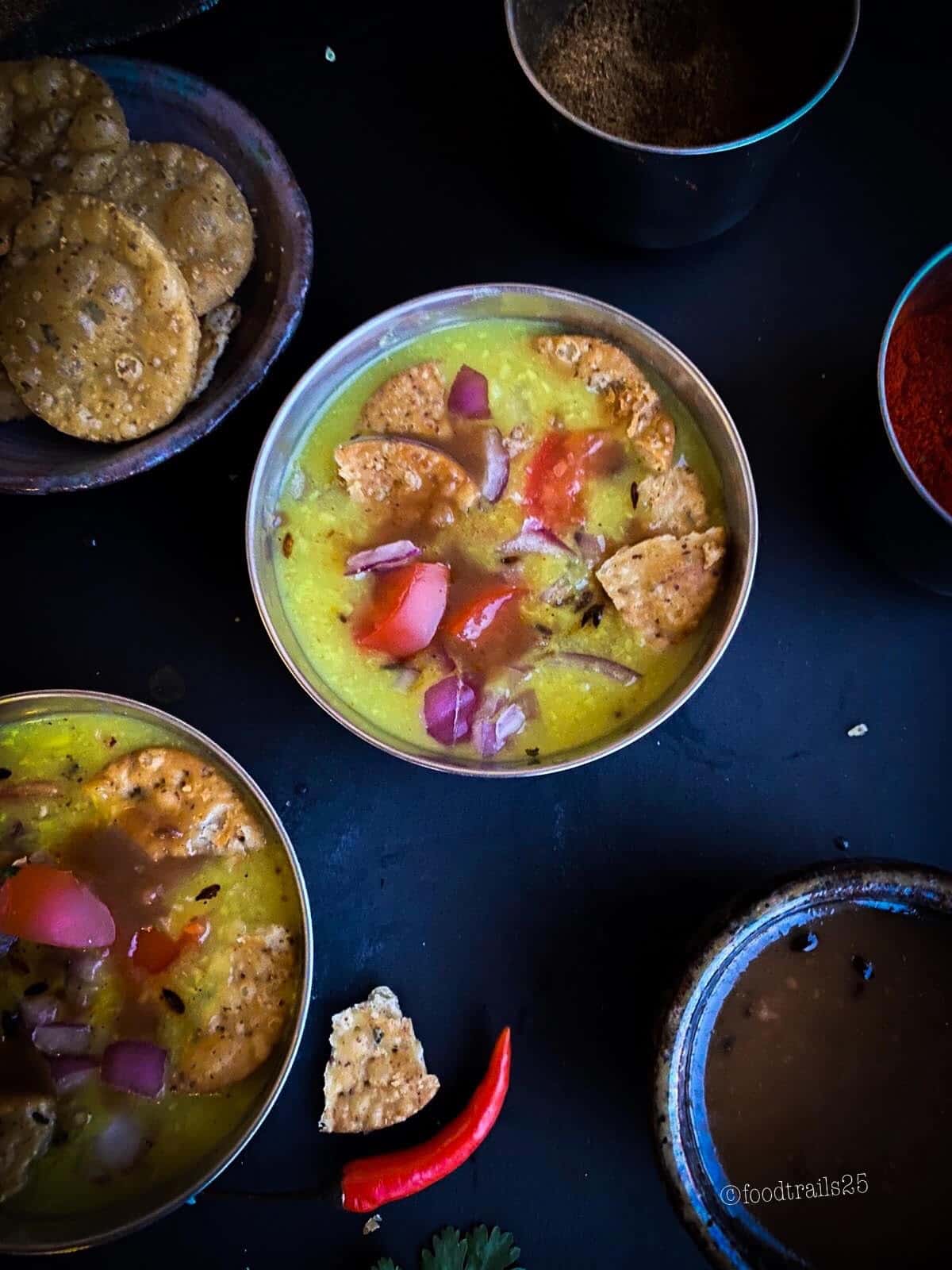 Pin
Pin
Prepare and Temper Dal
Soak dal for 10-15 minutes, then pressure cook turmeric powder and salt.
This dal has thick consistency, do not add a lot of water while cooking it. Keep Dal to water ratio as 1:1.5.
In a pan heat ghee/oil, add cumin seeds. Once seeds crackle, add whole red chili, and red chili powder along with asafoetida if using.

Add tempering to dal. Close the lid for few minutes so that the flavors of tadka/tempering infuse into dal.
Assemble Dal Chaat
Divide in small bowls, top with finely chopped onions. tomatoes(optional), green chilies( skip when serving to kids), sweet tamarind chutney. You can add green chutney too. Or, can also add lemon juice if not using Tamarind Chutney.
Top with crushed papadi. You can also use any of your favorite namkeen mixture like sev, aloo bhujiya and serve immediately.
Notes:
Serve this dal hot and immediately after adding topping especially papadi.

You can also use your leftover moong dal to make. Temper leftover dal with ghee tadka and serve with toppings.
Street food vendors (thellas) serve it in mud bowls or kulhads or bowls made with leaves of banyan tree(patals).