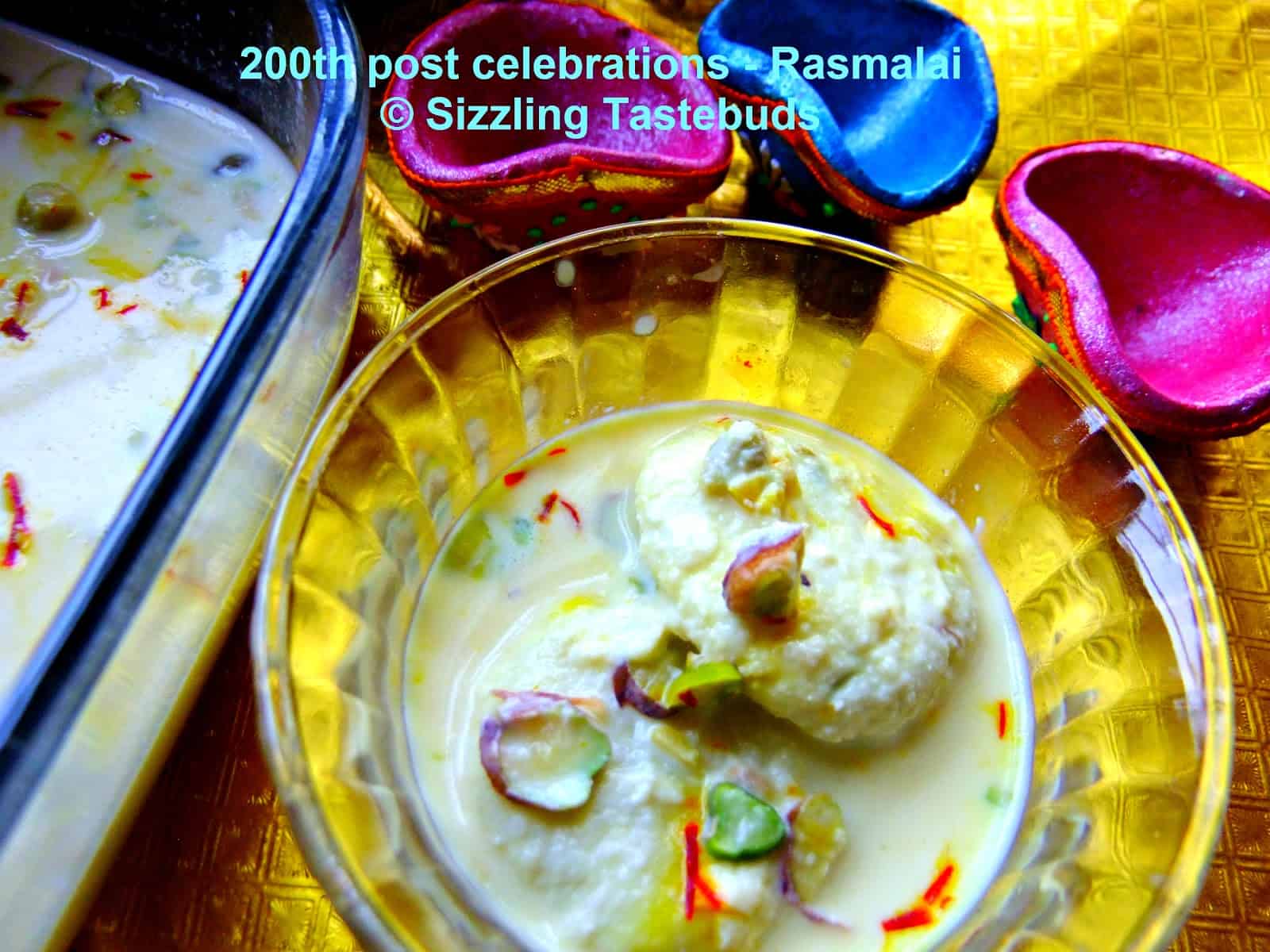 Pin

Let me be honest – I had almost lost track of the number of the blog posts till a casual conversation over dinner – with a good friend of mine & S [email protected] Delhi last fortnight asked me how my blog was going – and I said it was good , and that I might have crossed about 150 posts..he gently corrected me and said as he keenly followed my blog, I was on my 181st post–wow ! that was some news, I thought, and then got to work on celebrating what is my blog's 200th post – a milestone that I had dreamt of, when I started this blog about 11 months ago ! Like Anna Pavlova said "To follow, without halt, one aim: There's the secret of success."

I briefly halt though to thank all my readers, well wishers, family and very importantly course my blogger friends , without whose constant encouragement,this would have remained a wish,a hope. Thanks also goes to husband, kiddo and mom for grinning and bearing me as I fussed over the snaps first before serving them food (ok, kidding!) . A special thanks is in order for hubby for, amongst other things, handling my tantrums while shopping out for that particular muffin mould, not to mention cartloads of books brought online and borrowed, and most importantly, gifting me a new laptop so I could work uninterrupted. Just seems like yesterday, when I was all hesitant to step out to the blogosphere : I wasn't even sure I would post once a week, forget running events, contests or even participating in Blogging Marathons and Blog hops events !! And it seems like a breeze now… although , like Robert Frost says , " …and miles to go before I sleep,…"! Thanks to all out there for your support and encouragement:-)

And for you, dear friends this is a small way of thanking you with a giveaway at the end of this post 🙂

And while I celebrated my 100th post with these eggless carrot and raisin Muffins,  the 200th post comes to you with this delicious home-made Rasmalai …  For years, dad and me (both ardent foodies) used to sample restaurants every alternate Sunday in inflation-resistant Bangalore . I cherish with relish the memories of savouring Piping Hot Dosa at Vidyarthi Bhavan (Bangalore), or the "Double" (A plate of single Idli-vada as it was known in most Udupi eateries) across Visheshwarapuram where you could enjoy uber-soft idlis with piping hot vadas for what was a princely sum of Rs. 10/- (rs.1 for extra butter ;-)) or even having Churmuri (puffed rice with a whole lot of masala pastes, chaat masala, roasted peanuts,crushed nippattu ,crunchy onions,juicy tomatoes – all in one fiery medley) wrapped in paper cones lined with simple eco-friendly leaves at roadside vendors , or even sampling sweet Bengali delicacies like Cham Cham, Champakali or Rasmalai at Kamat restaurants across the city. We even had a monthly routine where 10th of the month, dad, sis, me and yours truly used to march to the erstwhile Sukh Sagar in Jayanagar, and without once looking at the menu card order mouth watering Ragda Patties, Pavbhaji, Special Bhel (with coconut toppings and slivered raw mangoes) and ending the meal with the speciality of the house – Fruit Salad with ice cream .. I am yet to see one single restaurant which can match the heavenly taste of these 4 delights 🙂

Come to think of it, I think it was dad who introduced our family (ok, mostly me – the foodie) to some rare delights and simple food alike. I am stuck for words when  I write this, for I know he is watching me from heaven above, blessing me as i take baby steps to record, recreate and relish good food in this journey of my blog. Love you. dad ! There can't be a better tribute to your magnanimous heart and everlasting love than this post especially for you – home made Rasmalai – my first Bengali sweet creation, and toasting to many more celebrations to come.. Let's get to the recipe now …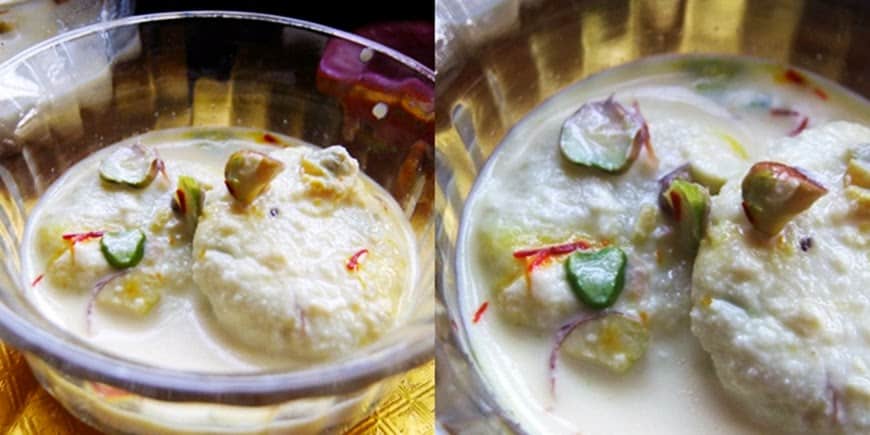 PinPin

Recipe:

Prep time : 15 – 20 minutes. Cooking time : 35 – 40 minutes. Makes : about 18 pieces of Rasmalai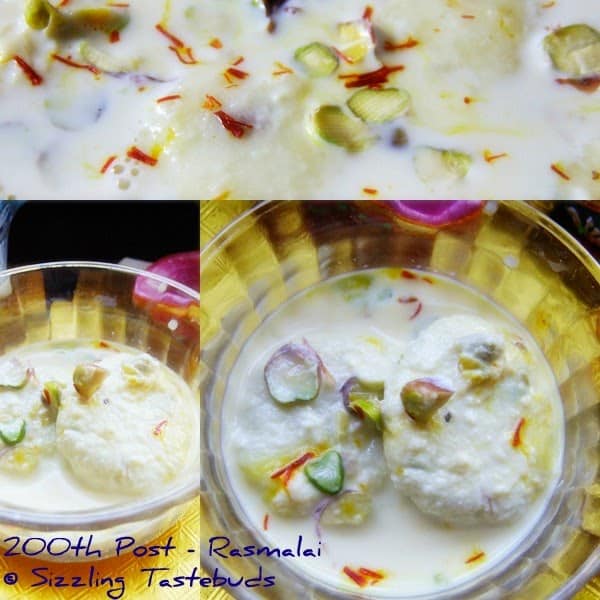 Pin
Ingredients:
Full cream milk – 1 litre (910 g)
Paneer / Cottage Cheese – 250 gm (I used store bought, but you can make it at home too)
Pistachios – 25 gms
Saffron – a few strands
Maida / APF – 1 TBSP
Sugar – 1/4 cup
Condensed milk – 1/2 cup (adjust to taste)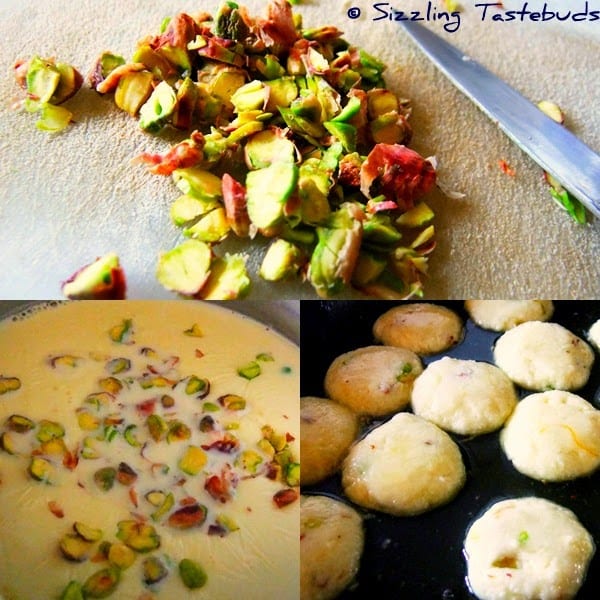 Pin
Method:
1) Heat the milk on medium heat for about 15- 20 minutes till it reduces to about 1/2 the volume. Meanwhile soak the saffron in 2 tsp of warm milk and the pistachios in hot water for 20 mins
2) Once the milk has reduced, add the condensed milk, and keep stirring on low flame till you get a thickish rabdi kind of consistency. 
3) Drain the water from the pistachios (once blanched) and chop into fine slivers. Add half of these slivers to the rabdi (from step above). Refrigerate for a couple of hours.
4) Crumble the paneer finely and add the APF and press with the palm to a fine dough like texture.
5) While you are working on the paneer, dissolve the sugar in water and boil on low flame to a one string consistency. Let it cool on its own.
6) Once the paneer comes together, make a log out of the dough and pinch out equal balls. Flatten out with your fingers and simmer for 4 – 9 mins in the sugar syrup on low flame. 
7) Drain the sugar-soaked patties on a serving dish. Pour over this the chilled rabdi and refrigerate again.
8) Before serving, spoon two rasmalais together with some rabdi and enjoy a sinfully sweet  gastronomical journey 🙂 
Check out other Indian sweets (Mithai) here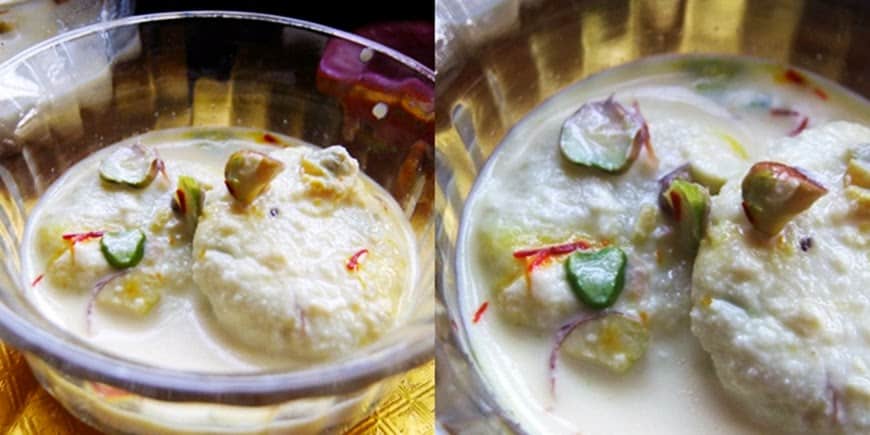 PinPin
Now, to the giveaway !
And what better way to thank all my blogger friends for their super duper encouragement without a giveaway – almost akin to a return gift at a kid's birthday party 🙂 So, to check what this giveaway is all about, read on ! Its a super delightful book – Tarla Dalal's "Desi Khaana". I am sure your kitchen would be richer by its presence, and the winner of this giveaway (chosen by random selection) can receive it at any Indian address.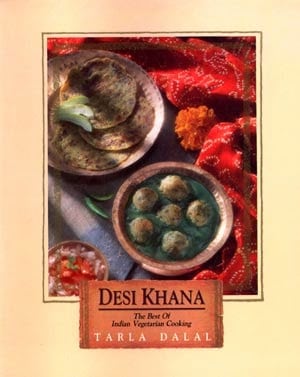 Pin
What do you have to do to enter this Giveaway ? 
You could do one of these things (each counting as an entry):
1) Like my Facebook page. You can even click on the "like button" at the top right of this page under "Facebook Fans"
2) Subscribe to my posts through email – there is a small box on the right column, where you can enter your email address. Be sure to click on the verification link in your inbox to complete the subscription. Only complete subscriptions shall be valid.
3) Leave a note at the end of this post in one or two lines as two why do you think you should win this giveaway indicating alongside with whether you live in India or can provide an Indian Shipping address (if living outside India).
4) Follow me through Google Connect – link on the top left bar of this page
5) Follow me through Twitter (click on the link on the right bar of this page)
The contest shall end 7th Dec 2011 and I shall be announcing the winner by mid-December.The winner of this giveaway,chosen randomly, shall receive at his / her Indian mailing address a wonderful book by Tarla Dalal – Desi Khana. Its a treasure trove for foodies, and I am sure you would enjoy winning a copy of the same as a giveaway. 
Thanks again, dearies for your wonderful support and am sure you are super excited to win the giveaway ! So, click on the links, dash me your entries and enjoy your day 😉
Cheers,
Kalyani