4-5
pm is where most diets go for a toss, even if you eat healthy through the day.
Fruits may not be appealing most of the while, and time may not permit you to
have a full snack / tiffin especially if you are working. For those who are at
home – Puli Aval or Gojjavalakki (Tamarind Poha Upma) , corn chaat, masoor salad, Fruit Chaatmay be made
instantly. Today's dish – Microwave Poha Chiwda (guilt free flattened
rice snack) help quell those hunger pangs – whether you are at home or working.
Poha (or Aval in Tamil / Avalakki in Kannada) is rich in fortified
calcium and B12 making it an easy way to absorb those vitamins. We makeCurry leaf Poha Upma regularly for breakfast.
As
with most people I used the Microwave initially to just reheat food or steam
veggies, till I started using it more efficiently. I have another Poha Chivda recipe(deep fried version)..
In this dish, the thicker
Poha is used (you may use thin variety also, but the taste greatly varies). I
have followed Madhura's
recipe to make this. It doesnt consume too much oil. The copra and
peanuts are optional, but adds to the crunch – dont skip it.
Make
a large batch of this, and you can find yourself digging into it more often
than you think. Also sending this dish to BM # 42under quick tiffins and my
own event – Calcium rich recipes hosted by PJ.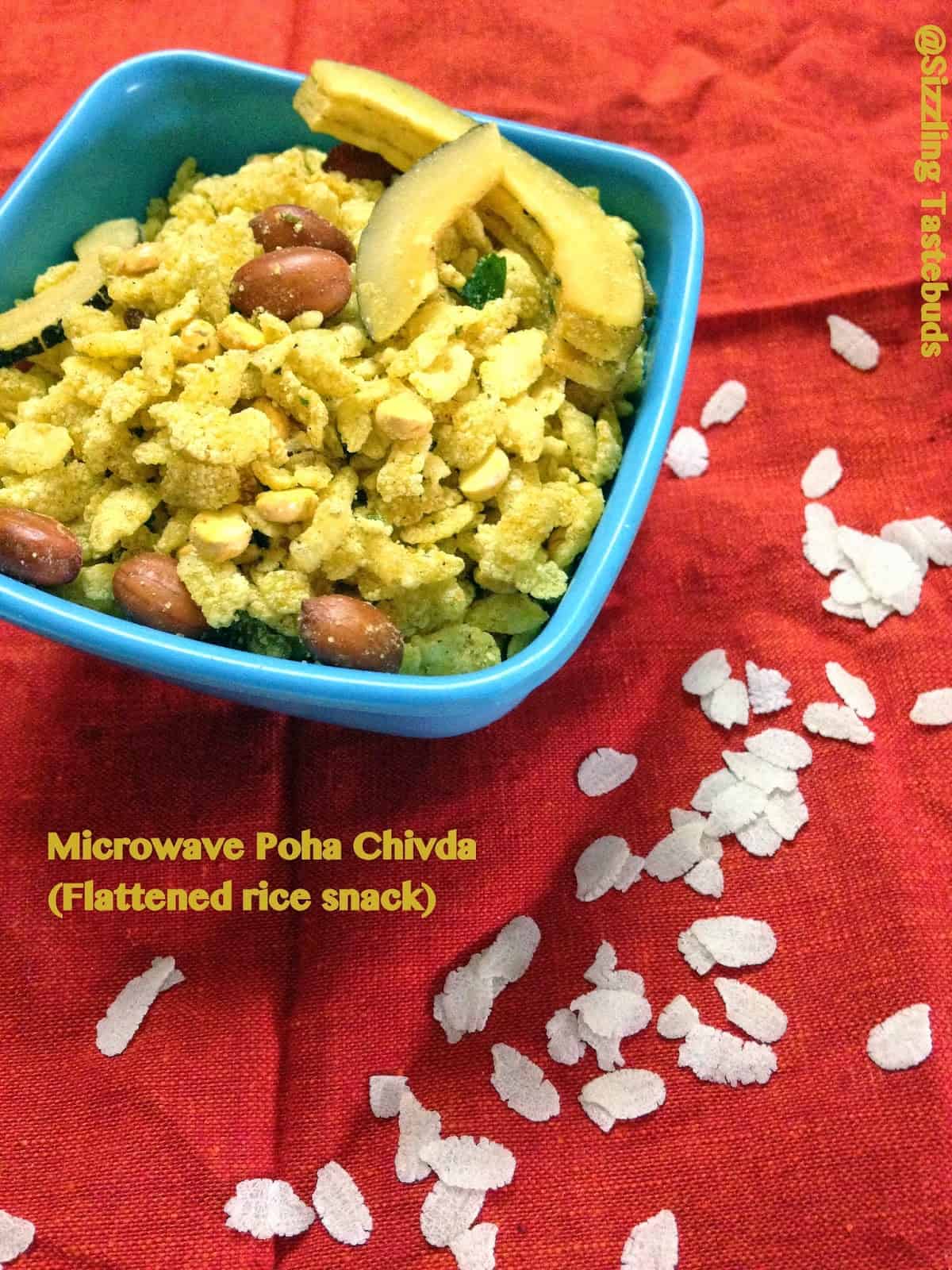 Pin
Prep
time : 15 min | Microwave time : 10 mins (depends on the model)
Makes :
Approx 200 gm of Chiwda
Skill
level : Beginners
Cuisine
: Snack, Indian
Ingredients:
Thick Poha – 2 cup
Oil
– 2 TBSP
Tempering
: Mustard seeds,Hing, Turmeric powder, Red chillies Curry leaves
Peanuts-
2 fistfuls
Salt
– to taste
Copra
– grated or thinly sliced
Optional
add-ons :Daliya(fried gram), powdered Sugar, Jeera, Green chillies, Chilli
powder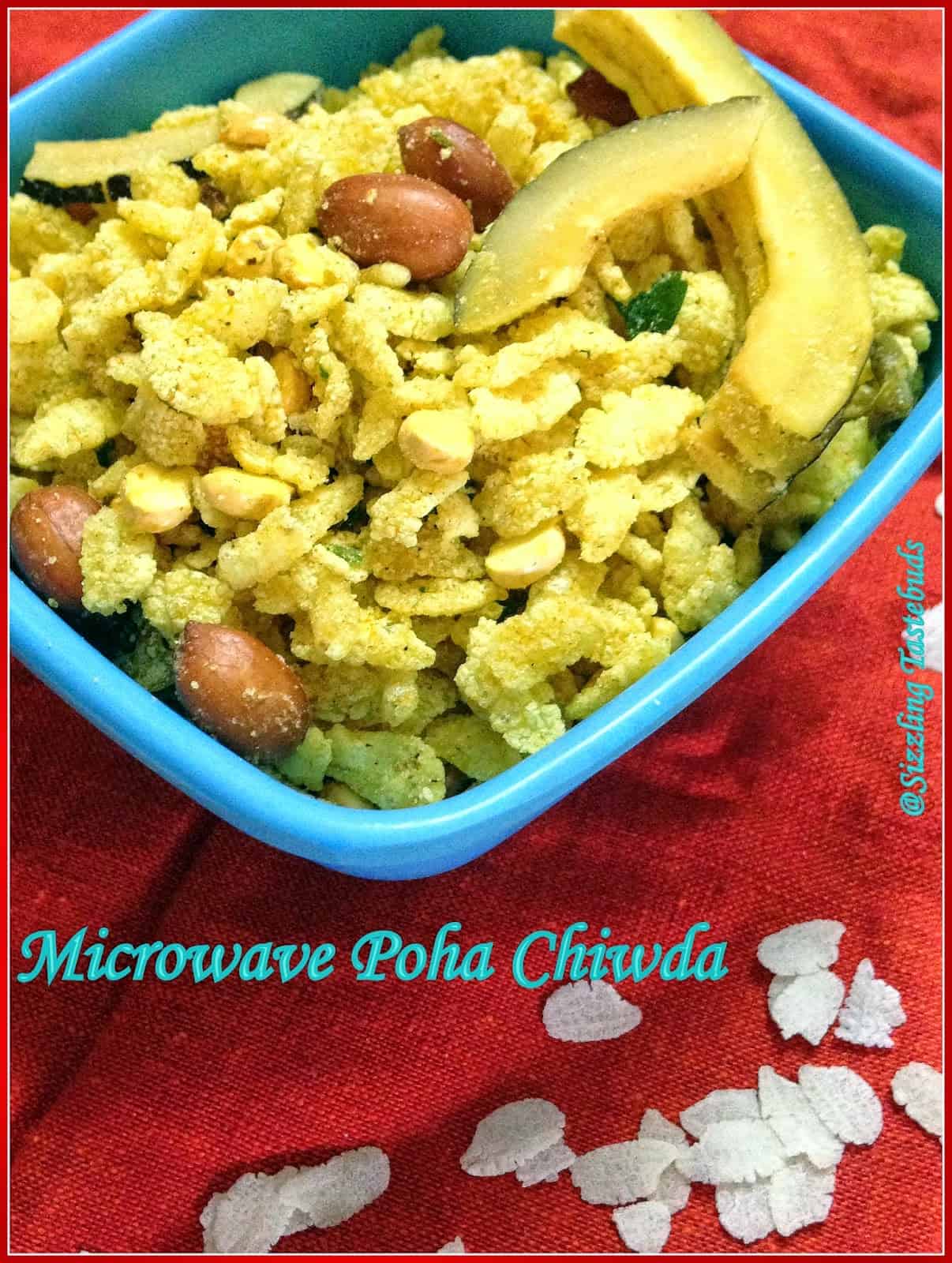 Pin
Method:
In
a microwave safe bowl, heat oil for 2 mins, add mustard seeds, red chillies, curry leaves and
micro for 1.5 mins in spurts.
Add
peanuts and micro for 3 mins, stirring after every minute.
Add
hing, Turmeric powder and again microwave for 1 more minute
Add
grated copra and micro for 30 secs (take care not to burn the copra)
Now
add Poha , mix well and micro for 3 more mins in a gap of every 1 minute, stir
well and micro again.
Once
done, cool slightly, add salt, spices and sugar (if using, I added a tsp of powdered sugar)
Toss
well, and store in an airtight container.