After Cabbage Dhokla and Microwave Poha Chiwda, its time for some
indulgence. Crazy weather here – its deciding in July whether to rain or not, and it finally rained a bit last two days ! Its ok to deep fry
once in a while, and these fritters like Bhajia or Pakoras are best eaten
without any side dish – just as it is.. Its Saturday and its raining – you dont need a better excuse to indulge in these yummy Masala Vadai hot off the frying pan.
I have teamed it up with Coconut
Chutney and all that you need after this is a hot cup of tea to savour the
indulgence further. By the time I could get my cup of tea, the vadas had disappeared, therefore they appear with just the coconut chutney :)) LoL !!
Masala Vadai is probably a very popular deep fried delight sold on
the roadside too, and the heady aroma of spices would compel one to buy them
whenever you pass by the vendor. Similar to Aama Vadai or Paruppu Vadai yet different like Maddur Vade, this
has many versions floating around in each household.Today is my version. You
can also make the batter ahead and freeze it (without salt). Bring it to room
temperature, add salt,onions – mix and fry. So, thats a great Party Idea as well 🙂
Before we get to the vadas, recipe for Basic Coconut Chutney:
Grind 1/2 cup Grated coconut with 3 tsp fried dal (dalia), 2 small green chillies, little tamarind and 2 pods of garlic with 3-4 TBSP of water to a smooth paste. Add a pinch of salt. Temper with mustard if required.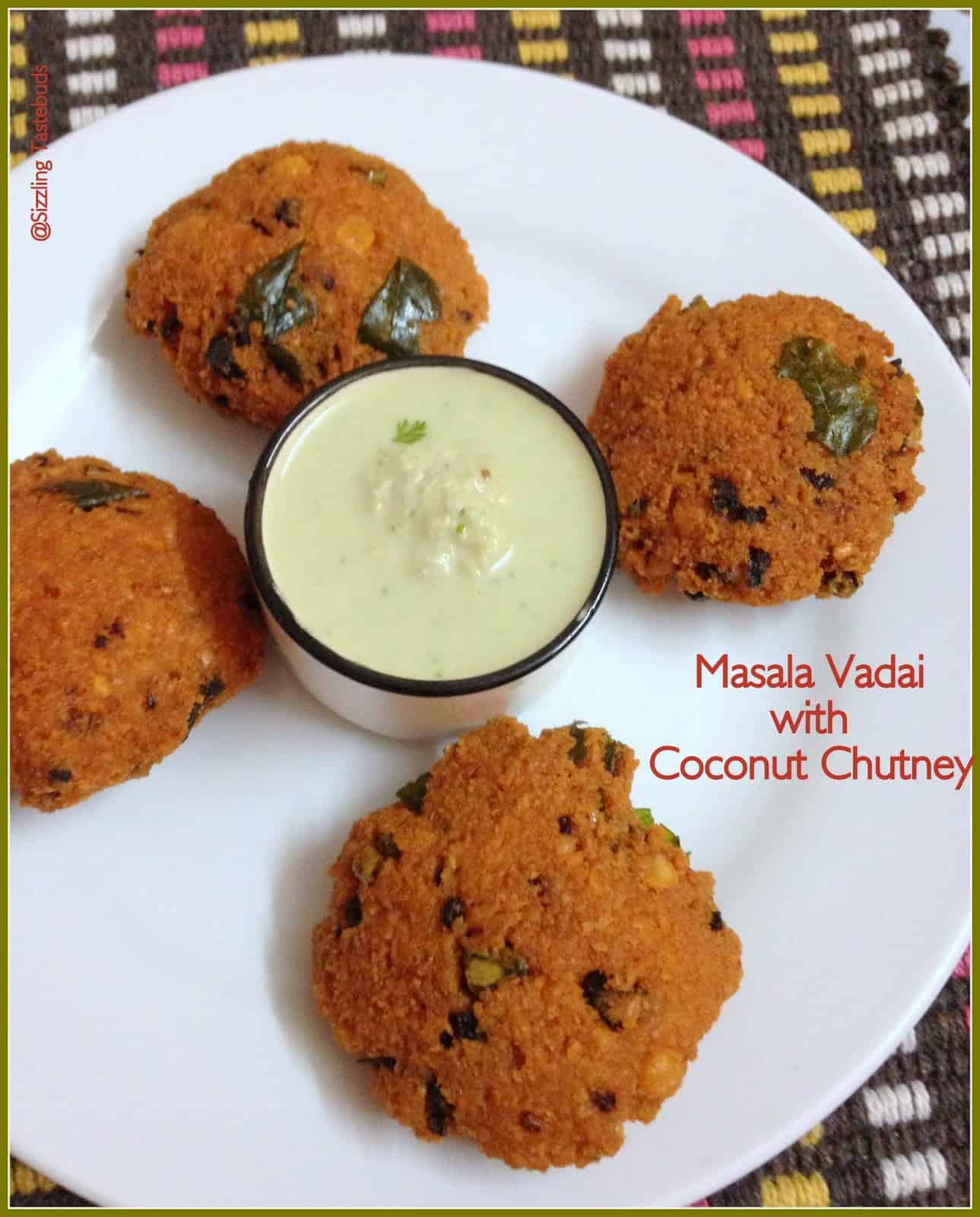 Pin
Prep time : 15 mins + 2 hrs soaking time | Cook time : 15 mins |
Makes : Approx 12-15 vadas
Ingredients:
Moong dal – 1/2 cup
Urad Dal – a handful
Channa Dal – 3/4 cup
Oil – for deep frying
Onions – 2 medium – finely chopped
Coriander & curry leaves – few
Salt – to taste
Masala paste :
Coconut grated – 1/4 cup
Saunf / fennel seeds – 1 TBSP
Black pepper – 1/2 tsp
Green chillies – 3 nos (Adjust spice)
Ginger – 1 inch piece
Garlic – 3 pods
Method:
Wash and soak all dals separately for 2 hours. Drain and grind to
a smooth paste (use the soaked water to occasionally wet the batter, but dont
use more than 3 TBSP). This batter is similar to the Urad Dal vada batter.
Grind all ingredients under Masala paste to a smooth paste with
very minimal water.
Add this masala paste to the ground lentil paste. Mix well.
Now if making immediately, add salt and onions and curry leaves and coriander. Else refrigerate
and add these later on.
Mix the batter lightly after adding the onions, we want to retain
the fluffiness of the batter.
Meanwhile heat oil for frying. When it reaches the right
temperature, flatten out a small portion of these vadas and deep fry on medium
heat till golden brown.
Use the rest of the batter to make Vadai. Drain on absorbent
towels.
Serve immediately with Coconut Chutney and/ or hot coffee or Tea
for a yummy late noon snack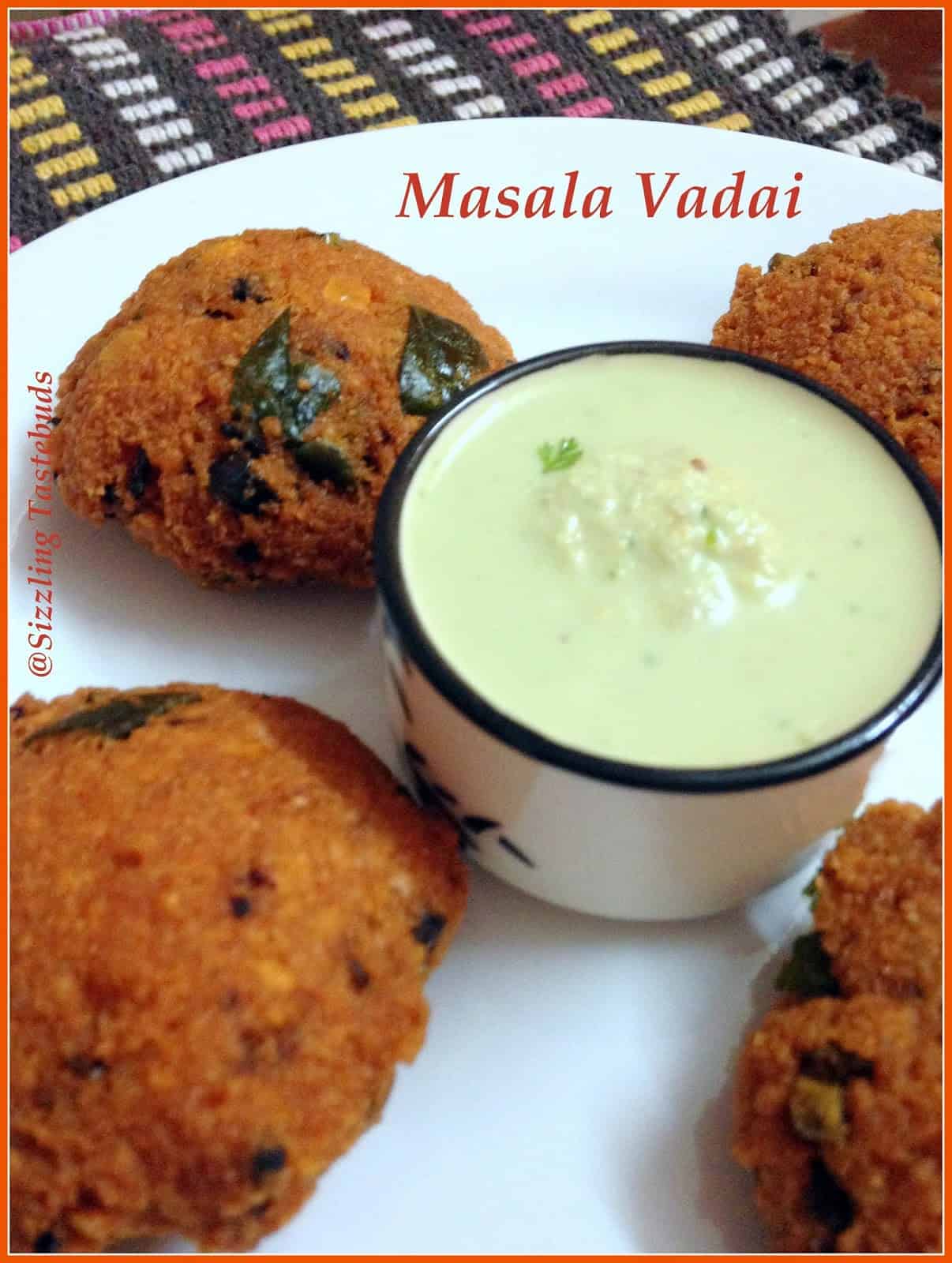 Pin