This month for sshhh cooking challenge for Madhya Pradesh cuisine,  I was paired with Avin who gave me 2 lovely ingredients , one of which was spinach . I immediately thought I would make Indori palak puri which is a much relished breakfast through that that state. I had made Indori Poha earlier and  it's now a staple at our breakfast table. I knew these pooris would be well received by the little one and she did enjoy it . 
The side dish – Bhandare wale Aloo ki Sabji– was made with the other secret ingredient – yoghurt. I had been wanting to make this for a long time and I knew the elder child would like some spicy, tangy dish to go with the pooris. 
In my haste to fry and click the pics, i couldn't wait to roll out better looking puris. And as we make pooris (puffed flatbreads) very rarely at home, the kids were rather impatient so I shall update the post with better pics. But taste wise there wasn't any compromise and it was satisfying to see the kids enjoy their meal with this combo. 
The recipe for Bhandarawaale Aloo can be found here on this link. For the pooris, you can head to the recipe below: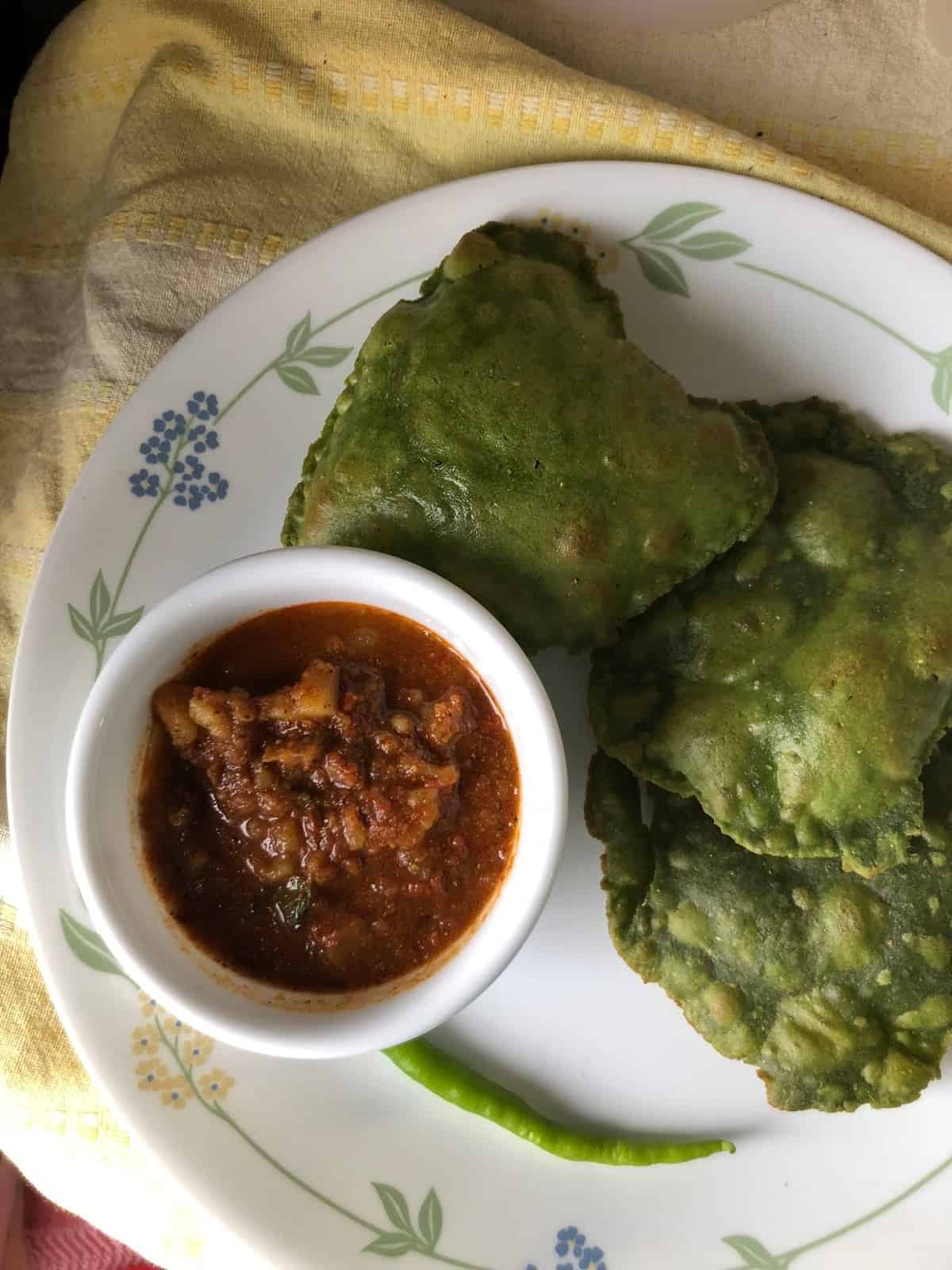 Pin

Indori palak poori (Vegan Breakfast or snack / brunch idea)

Prep time -15 mins, roll and fry time – 15 Mins; makes – 10-12 medium sized pooris

Wholewheat flour- 1 cup

Palak (spinach) – 1 cup (packed)

Salt to taste 

Roasted cumin powder, red chilli powder – to taste.

Oil – 2 tsp to knead the dough + as  required for frying

Ginger – 1/3 inch piece (optional but recommended)

1~2 green chillies (I didn't use)

Remove the stalks of the spinach (wash the leaves & pat dry). Blitz spinach to a smooth purée with the ginger and green chillies. 

{{note to self –  blanch, drain dry and purée the spinach next time on before adding it to the dough}}
In a large mixing bowl or flat plate, add the wholewheat flour, spices, salt, 2 tsp oil and the spinach purée. Mix well throughly for 2-3 mins without adding any additional water.
I didn't require any additional water/ liquid , but if you are not vegan and feel the dough is too 'floury' or dry , you may add a few drops of milk or yoghurt to bind it. Knead to a tight dough and keep aside for 10/15 mins .
After that resting time, pinch out small equal portions of the dough for puri and keep aside.
On a countertop or rolling surface, smear some oil and also some on the pinched out dough.
Without adding any additional dry flour, roll out the dough portions into thin pooris. Make most of the pooris this way and deep fry in hot oil one by one till they puff up.
Drain and serve with any side dish or pickle of choice.
Indori poori is traditionally served with chai (spiced Indian milky tea️) and some pickle.

x