Truth be told, I am a soup person while the husband is a salad person. Whenever we order out/in or cook at home, I prefer the soup and hubby always manages to rustle up a salad. 
So, the idea of a warm salad came from our early days of our marriage when he used to warm up few veggies (partially roast it actually) and with a drizzle of the vinaigrette, and trust me, it was a great meal to dig into especially after a long work day.
Today's salad is a warm salad too, and I love it a lot. I had shared some pics on my Instagram feed earlier too on another warm salad. This takes under 15 mins, entirely Gluten Free and Vegan. So, a great dish to dig into on any day : warm or cold.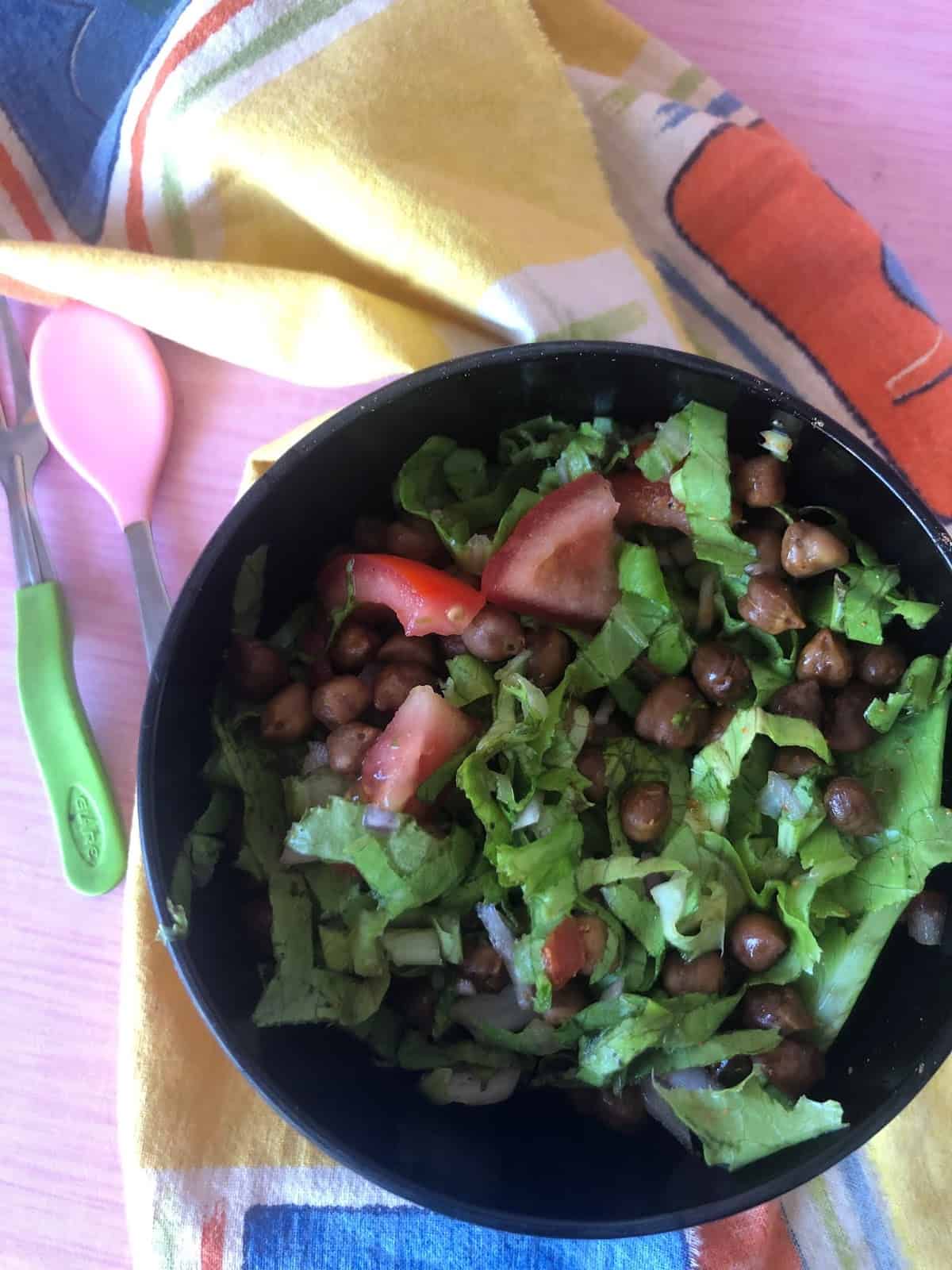 Pin

Prep time – 10 mins, Cook time – 5 mins, Serves – 1

What you need:

Cooked Black chickpeas – 1/4 cup ( I used small kala channa, but you can use any chickpea/ cooked protein u have on hand)

Shredded lettuce – 3 handfuls

Shredded spinach  – 1 handful

Tomatoes – 1/2 cup (diced)

Red Onions -1 tsp

dressing : Salt, pepper – to taste, Lemon juice – 1/2 tsp, Balsamic vinegar 1/4 tsp, paprika 1/4 tsp

Olive oil – 1 tsp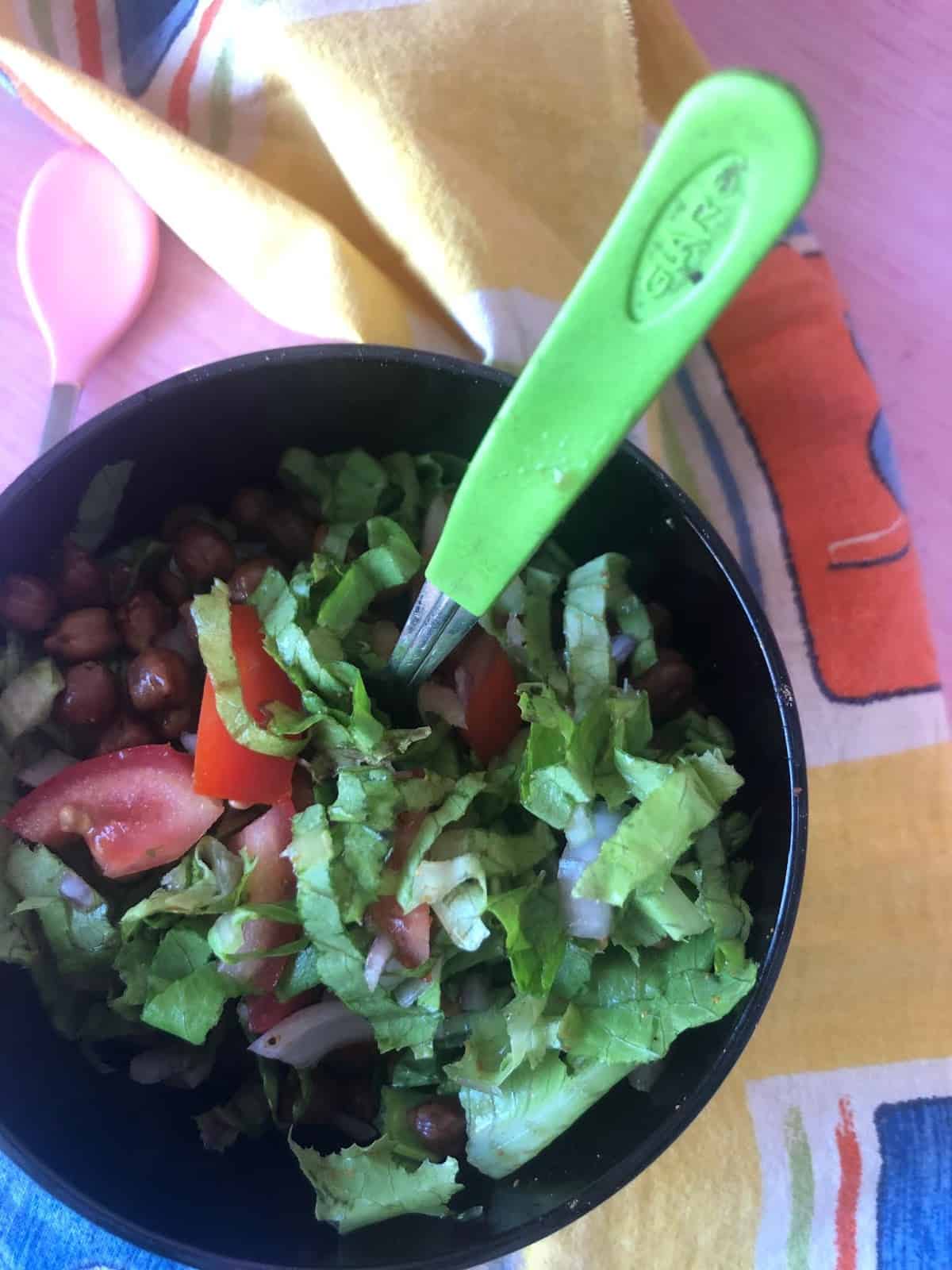 Pin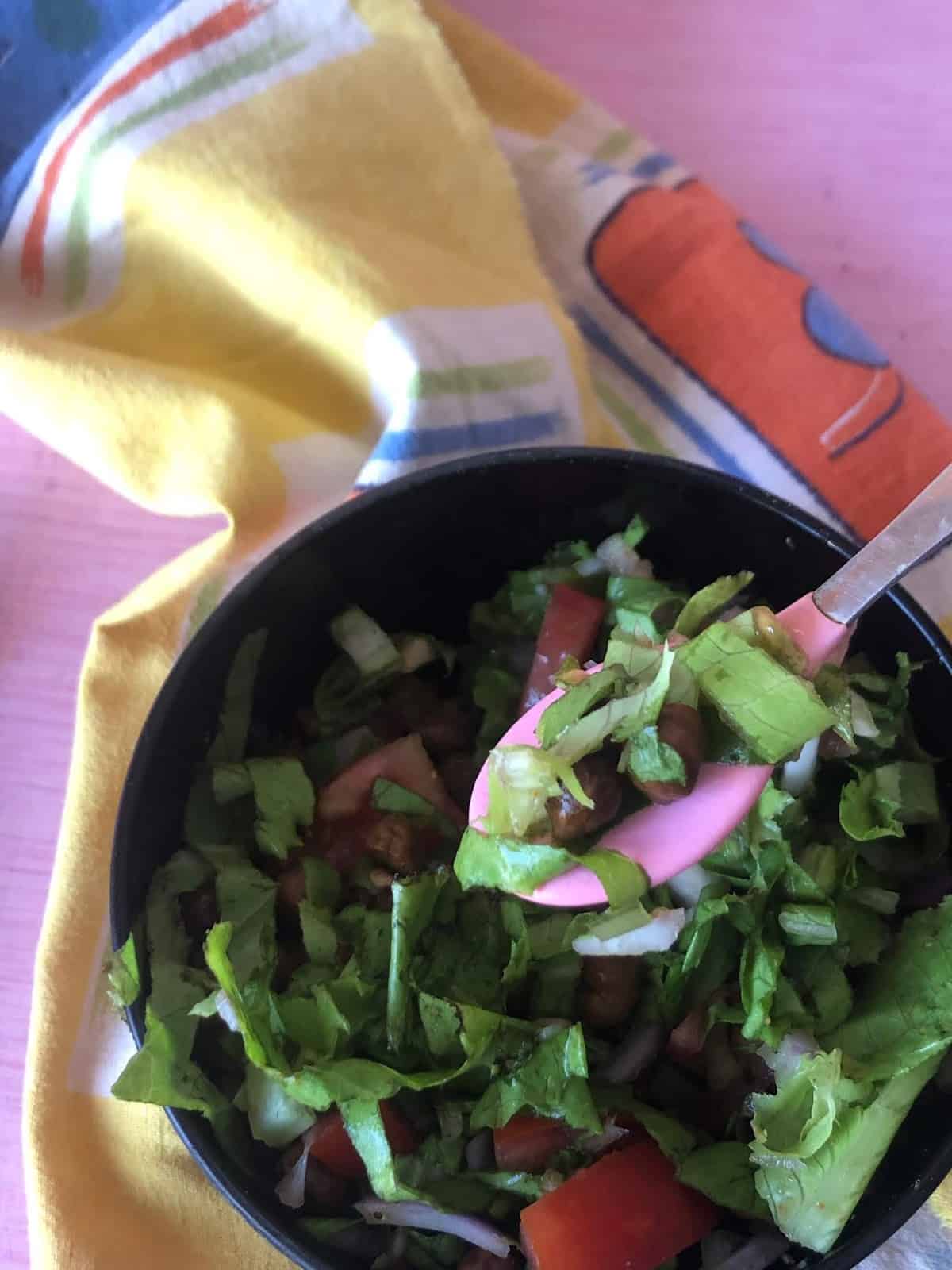 Pin
How to:
In a pan, heat oil. Cool. Add the chickpeas and saute for 1 min, remove and add the shredded spinach and lettuce. In a bowl, add all ingredients. 
Whisk the dressing and add to the salad and serve immediately 
Salads in an Indian context are mostly Kachumber,  Kosambari – Kosumalli (lentils+cucumber/carrot t and then tempered). 
I have a few salads that the kids and me like:
Sweet potato and Chickpea Warm salad (most repeated salad at home :p)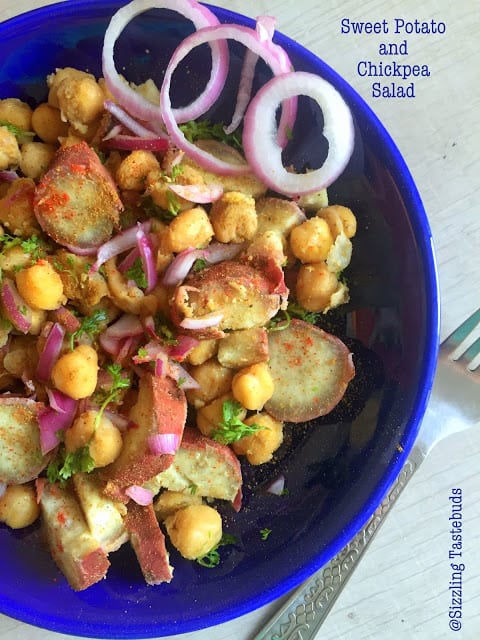 Pin
Colombian Quinoa Salad with Avocado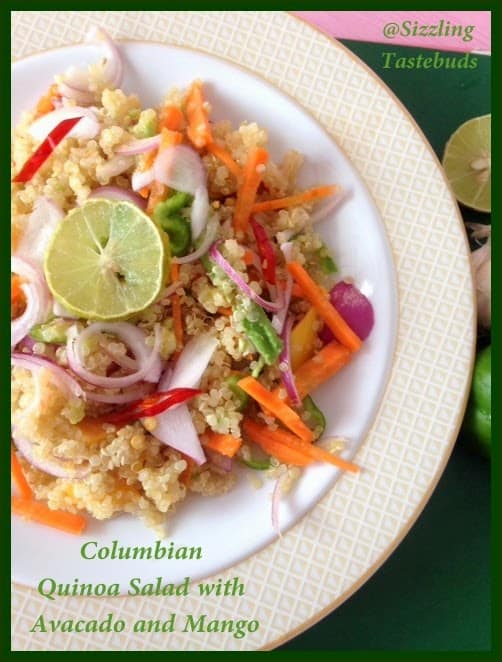 Pin
Russian Olivier salad (without mayonnaise)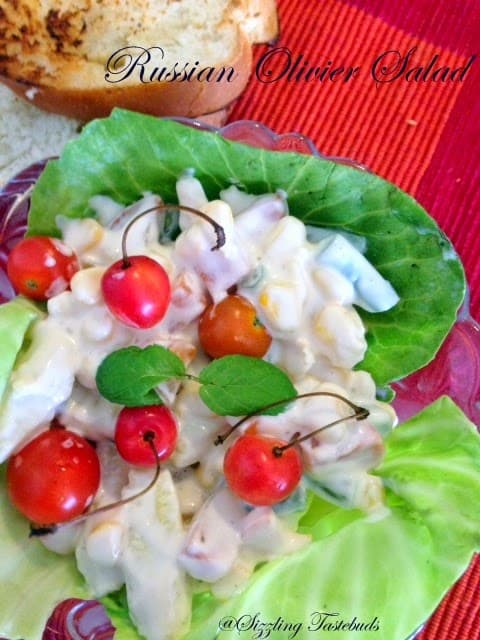 Pin
Lebanese Chickpea Salad with Zataar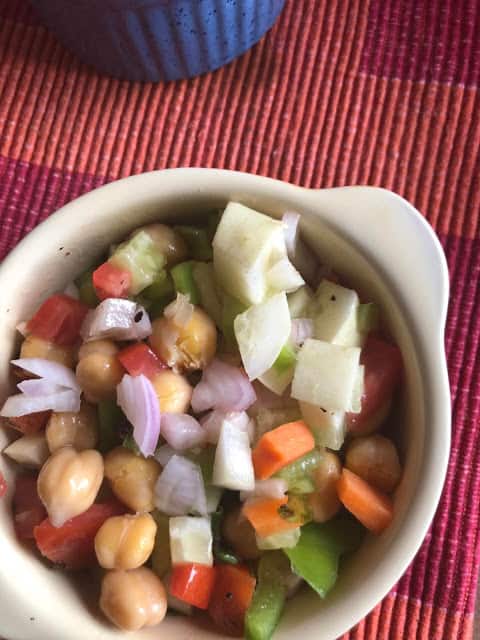 Pin
Chinese style Smashed Cucumber Salad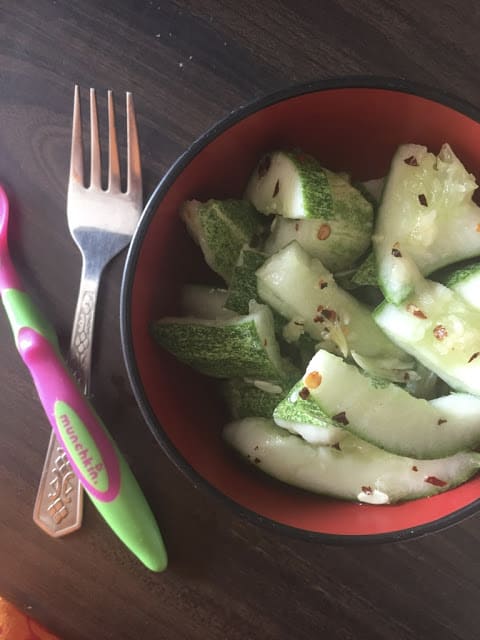 Pin
Watermelon Feta Salad (and the husband's fav too!)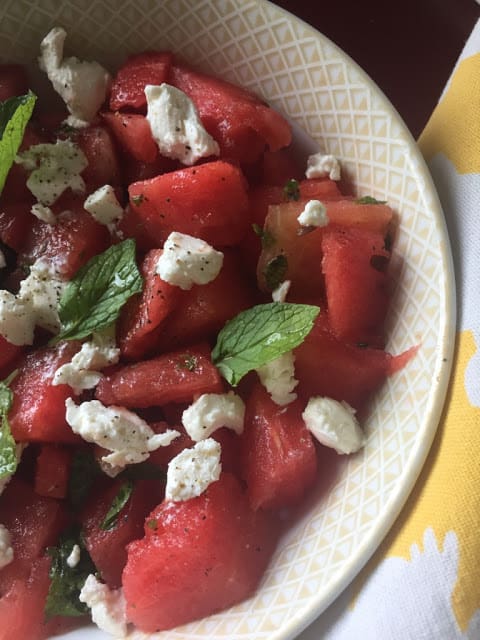 Pin
Bolivian Purple Cabbage and Broccoli Salad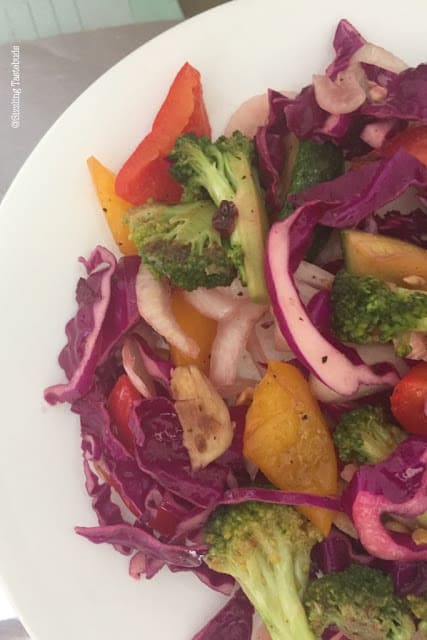 Pin
Cuban Pineapple Strawberry Salad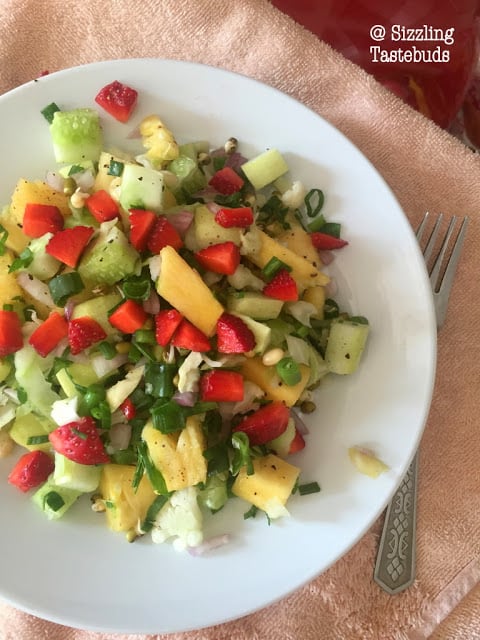 Pin
Watermelon Quinoa Salad with Lime and Chilli Vinaigrette (my fav!)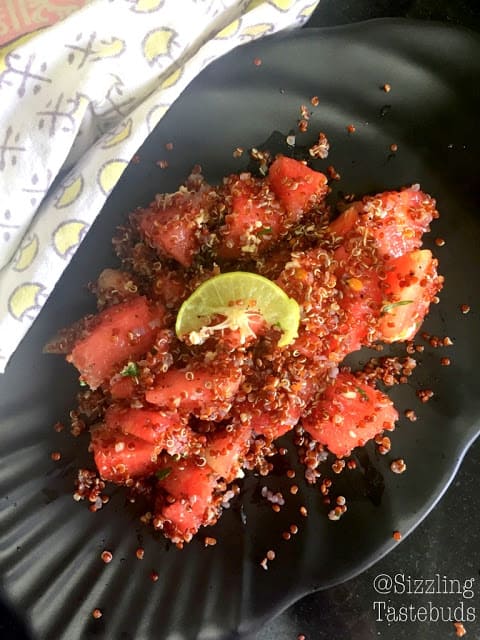 Pin
This week at Foodie Monday Bloghop, Narmadha has given us #SaladStories to spin and weave our own salads.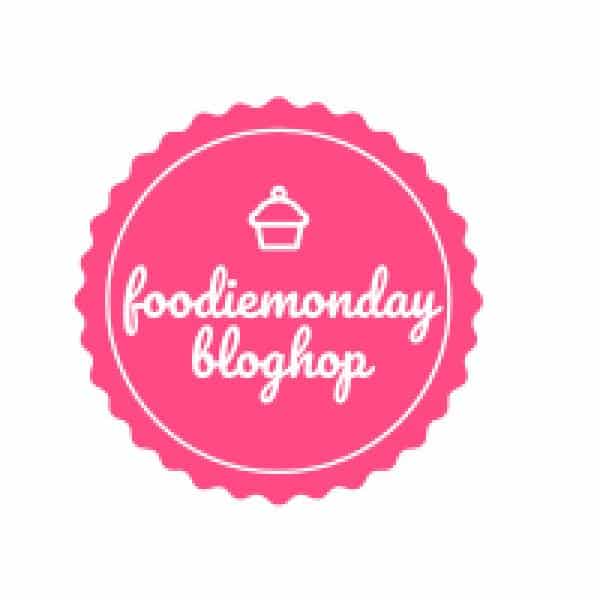 Pin