With winter almost upon us, its time for quick, warm and comforting soups both for dinner and brunch. Today's soup is adapted from thisrecipe and contains numerous warmth-inducing foods : potatoes, chickpeas and nutmeg. We had this along with freshly baked wholewheat masala buns for a light supper. The colour of the soup came from a cube of summer squash that I added in at the last minute and it was very flavourful balancing the rather carbo-protein textures that potato and chickpea gave out. This soup goes to:
a) Sukanya's Cooking with Seeds – Chickpeas, event by Priya
b) Min's Taste n Create where I am paired with a blog named "No Reason needed"
c) Priya's Healthy Diet-Warm Soups 
d)Fastfood not fat food- event by Priya Mahadevan, hosted byPriya Sreeram
e) Priya/Puja's Tuesday bookmarked recipes
f) My event Kitchen Chronicles – Cooking with leftovers – hosted by Veena
g) New U – event by Vardhini
I had some boiled chickpeas & potatoes on hand after making Choley, and used them in this soup. Else, you may soak and cook the chickpeas exclusively for this soup. This also goes to
I have made some minor modifications to the original recipe and am sure this soup will be an addition to our menu card. Let's get on to the recipe now.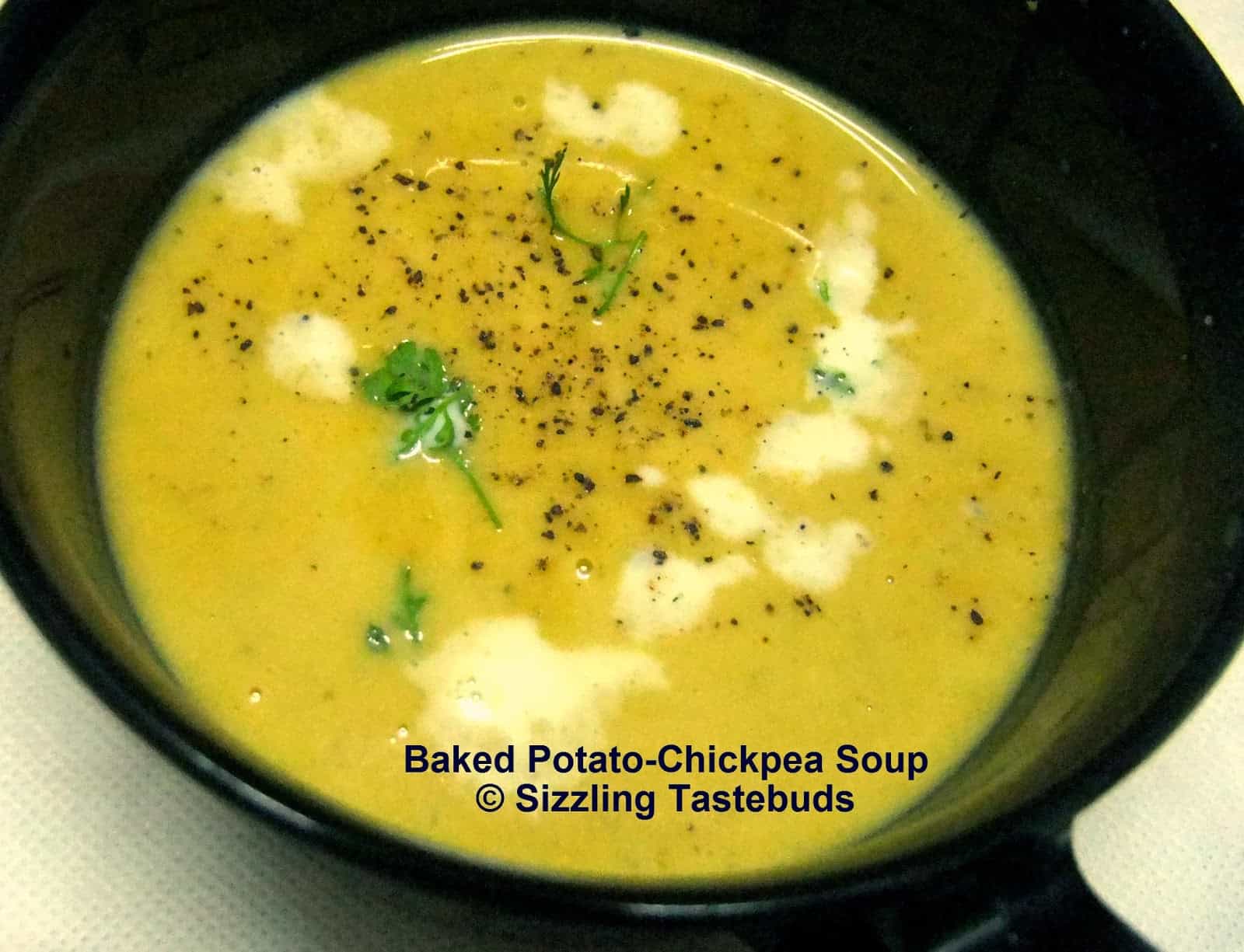 Pin

Source : here

Prep time : 20 mins.

Cook time : 20 mins

Serves : 4

Ingredients:
Boiled Chickpeas – 1/4 cup
Potatoes – 2 large
Onion – 1 large
Garlic – 1 or 2 – minced fine (opt.)
Olive oil – 2 TBSP
Dry herbs : Oregano/thyme/basil – suit your palate (I used a generous pinch of each)
Red chilli flakes – 1/4 tsp
Butter – 1/4 tsp (opt.)
Squash – chopped fine – a handful – optional
Nutmeg – a teeny weeny dash
Cream – 1/2 TBSP – for garnish
Black pepper – 1/2 TBSP – for topping
Salt – to taste
Method:
1) In a large soup pot (I used a pressure pan), heat olive oil. Add onions,garlic.Fry well till the raw smell disappears.
2) Meanwhile,wash,clean and bake potatoes in a microwave for 8 mins or wrap in foil and bake in the oven with a little butter & soft till soft. I added a pinch of red chilli flakes & pepper to bring out the aroma.
2) In the pressure cooker, after the onions are sauteed, add the cooked chickpeas, squash, salt and 5 cups of water and bring to a boil.
3) Pressure cook for 3 whistles and cool (If using a soup pot, cook covered for 20 – 25 mins till cooked well)
4) Drain and reserve the stock.
5) Puree the mixture along with the baked potatoes and tip in the reserved stock.
6) Bring this puree to a low simmer. Add the nutmeg, dried herbs, chilli flakes and adjust salt and other spices.
7) Transfer to serving bowls and finish with cream and black pepper.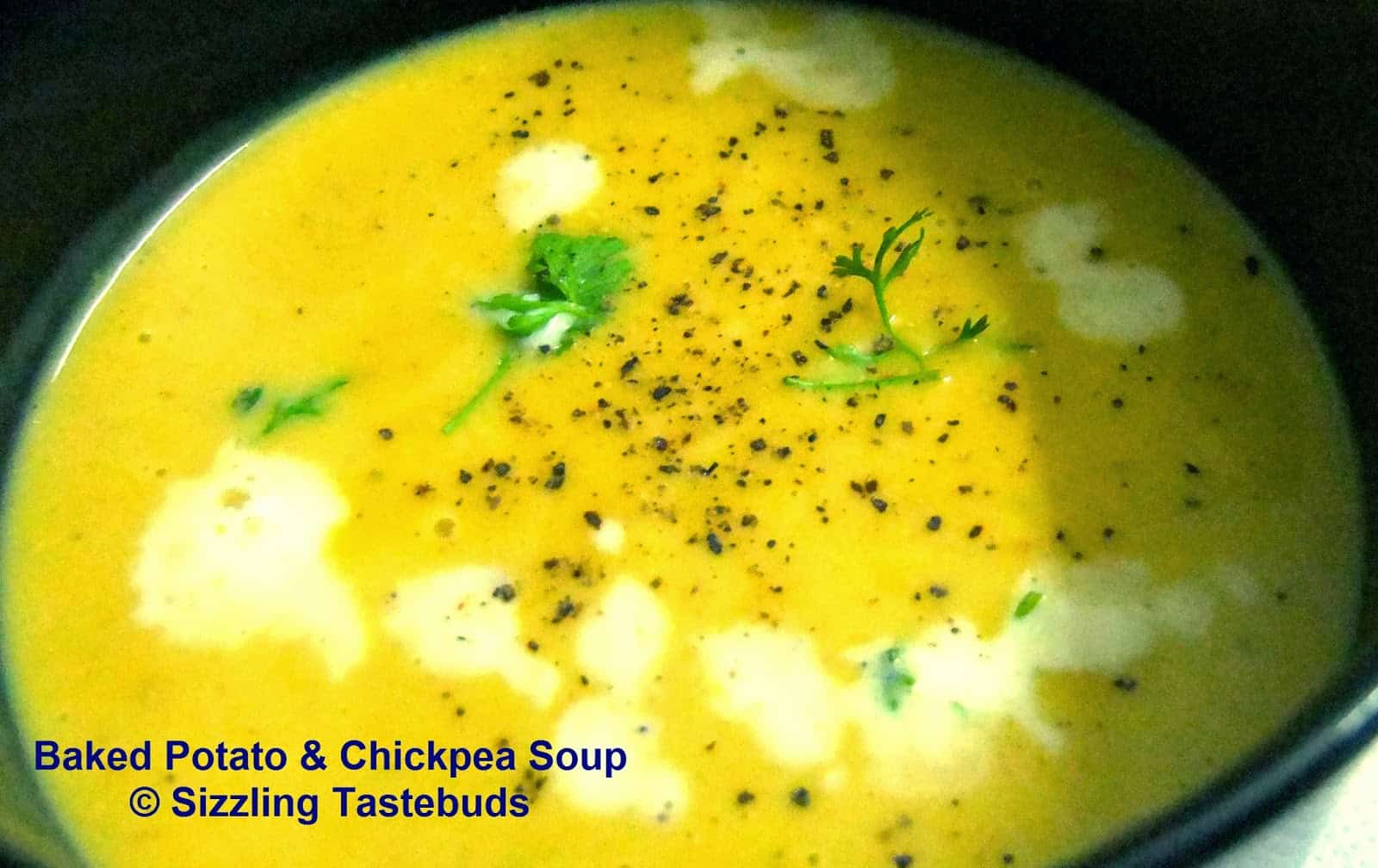 Pin