Garlic pepper Rasam shots is one of the appetisers I make as an appetiser for small parties along with Oats Masala Chaas. Moving away from sugary drinks and colas was a decision we made as a family many years ago. And am glad we took that stand. As of now, the kids seem to be in sync with the idea, and Rasam is a great dish to make for the kids as they huge rasam fans !


More Rasam varieties on the blog:
Tomato Onion Rasam
Mysore Rasam
Vettalai Rasam (Betel leaves Rasam)
Garlic Rasam (Poondu Rasam)
Jeeraga Milagu Rasam (Cumin-pepper Spicy Rasam)
Poricha Rasam (Spiced lentil rasam)
Tomato Rasam
This garlic pepper rasam shot is highly sought after by my elder kid who's into spicy, tangy food given her age.
For Garlic (and rasam) lovers, this is a combo they will keep coming back to. You can sip this as a broth, or even eat it with hot rice, ghee and roasted papad as a welcome change from a heavy diet or when are back from a long trip.


Either way, it's sure to tantalise your tastebuds and now, let's get get to the recipe.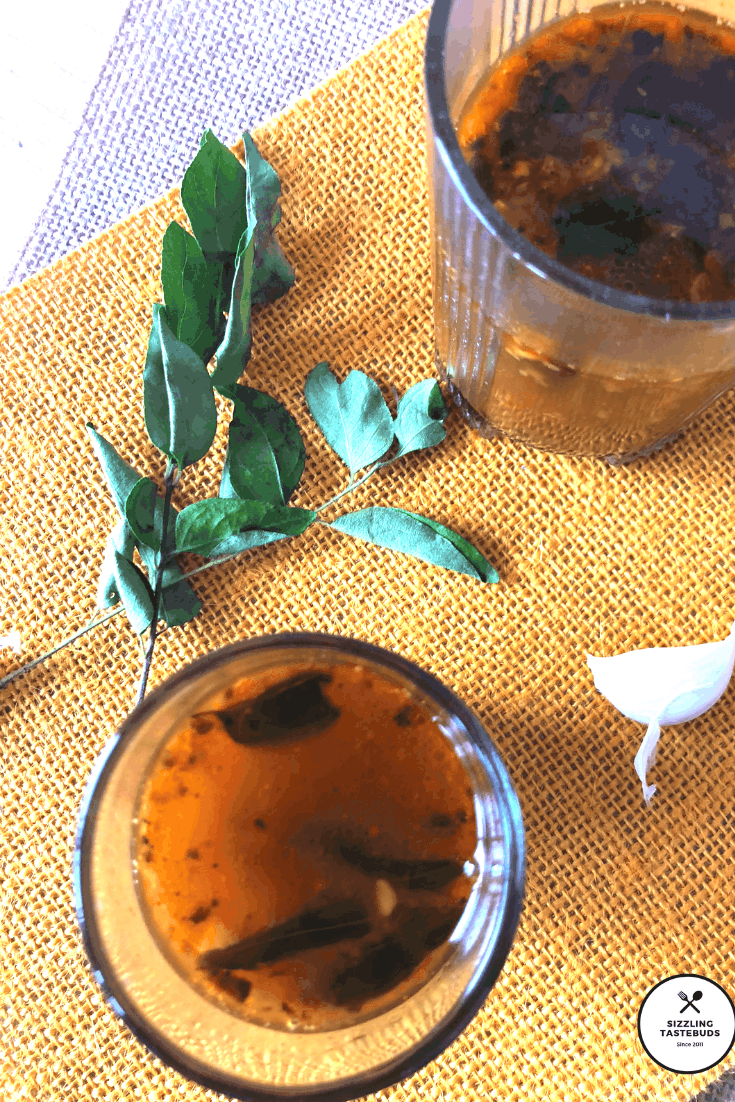 Pin
Make sure to make it overnight and consume the next day as the flavours steep in really well after a few hours.
Prep time – 15 Mins, cook time – 10 Mins , serves -3
Garlic pepper Rasam shots – vegan, gluten-free appetiser / broth.
PIN FOR LATER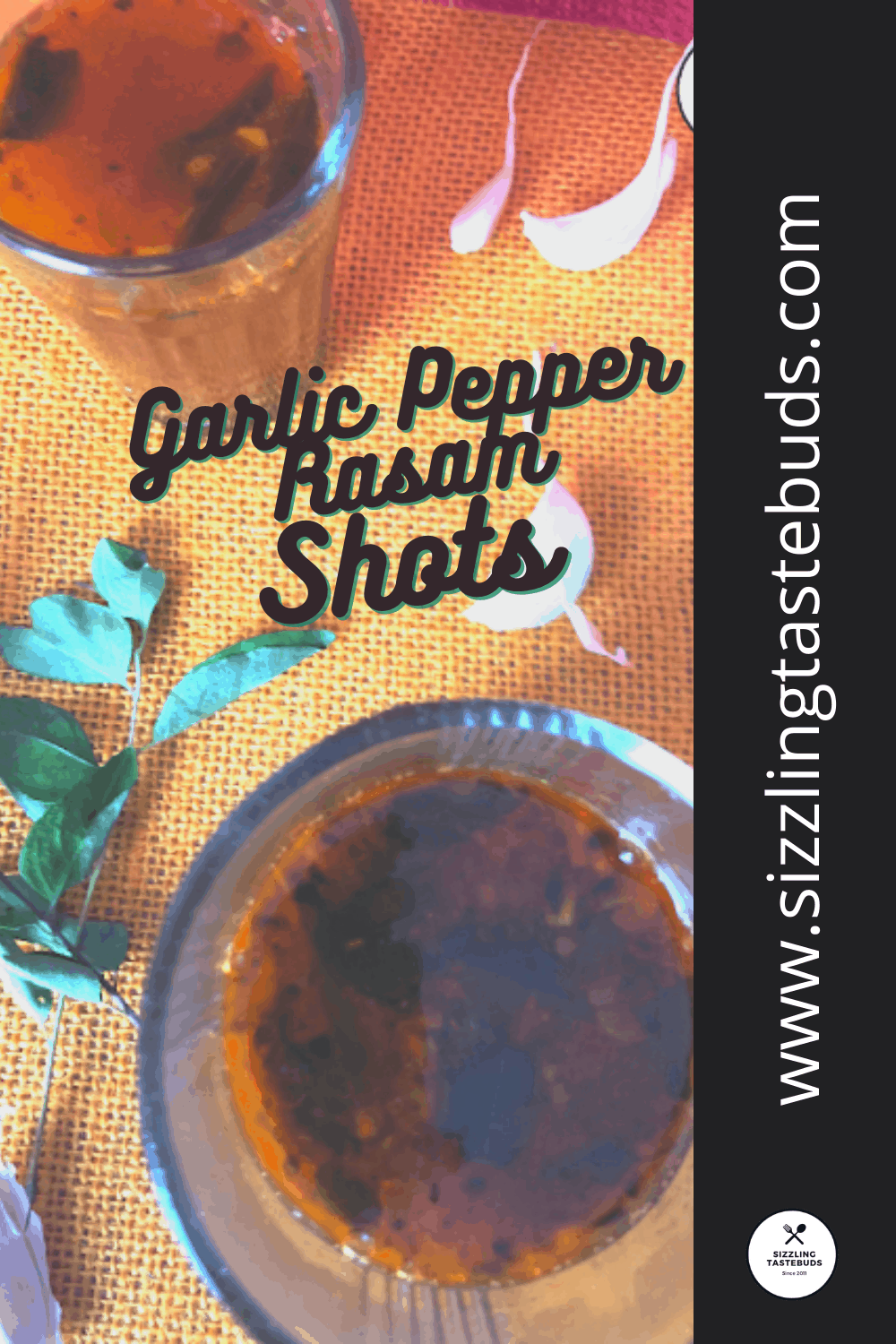 Pin
You need:
Tamarind- 1 large gooseberry size soaked in hot water for 1 hour.
Garlic pods (large) – 10 nos
Black pepper – 1 tsp
Jeera / cumin seeds – 1 tsp
Red chillies – 2
Oil – 1/2 tsp
Ghee – 1/2 tsp (replace with oil if vegan)
Mustard seeds – 1/4 tsp
Salt – to taste
Hot water – 2 cups (240 ml)
Jaggery – 1 tsp (grated)
How to:
In a mortar pestle, crush the garlic pods. In Alan, dry roast cumin , red chillies and black pepper for exactly 45 secs. Cool and semi coarsely grind it. Extract the tamarind juice (about 1 cup), mix In the hot water , 1/2 tsp salt, jaggery and heat in a pan till raw smell disappears.

Sauté the crushed garlic in ghee till it browns well and add to the boiled tamarind water, after 2 mins add the spice powder mix.
Check for salt and spices. The broth must be watery and mustn't thicken.

Switch off. Make tempering with oil and mustard seeds. Add to the broth.

Serve hot
If making ahead and storing, make sure to reheat in small portions just before serving else the flavours will be lost. You may add a dash of chopped coriander leaves but I left it out as my kids don't like that in their broth.