There aren't too many weddings / celebrations in my family which don't include Thayir Vadai (or Dahi Wada) as part of the menu… We all relish this, and had made this as part of the Tamil New Year festival and invited some friends over… One of them, lets call her R, was simply bowled over with the soft texture that she compelled me to make this once again for her, and take step by step pictures to serve her with the treat, again ! At home, we definitely had no qualms about having these once again, and hubby and me in particular, love the curd based gravy once the wadas get over. Mix it with Rice, and you have a treat :-))
There are umpteen methods of making these vadas, but I simply follow the taste and texture that I have grown up with. Ordinarily deep fried stuff mixed with curds is not accepted as part of Ayurveda, but the seasoning and the masala mixture added makes it not only dosham (bad health) free, but also adds to the taste. Use Fresh Curds for best results. Greek yoghurt will not work here. Homemade Curd which is sweet is best for this dish.. As part of the traditional sit-down lunch or dinner on occassions, this dish is served after the Sambhar and Rasam and rice have been eaten, and just before the Kheer or Sweet is served. The yoghurt is said to be lining the tummy and preparing for the intake of the Sweet. Lets get to the recipe, shall we ? This is a virtual treat for my mom who celebrated her b'day yesterday and for sis, who loves this dish a lot…
I used Hudson Canola Oil, specifically for the deep frying of the vadas as I had got this bottle of oil as a product sampler. As a family who isn't too much into deep frying, we did feel the light and non messy (and non-smelly) Canola Oil to be perfect for deep frying. Having used Sunflower oil, I naturally felt it was the best till I used this. I am sure over the next few months we would use this brand more in my kitchen.


(PS : Note this is not a paid preview for Hudson Canola Oil, but a honest feedback based on the sampler sent to me)
Sending this to BM # 32 under Alphabet "I" and also to Gayatri's Mom Special.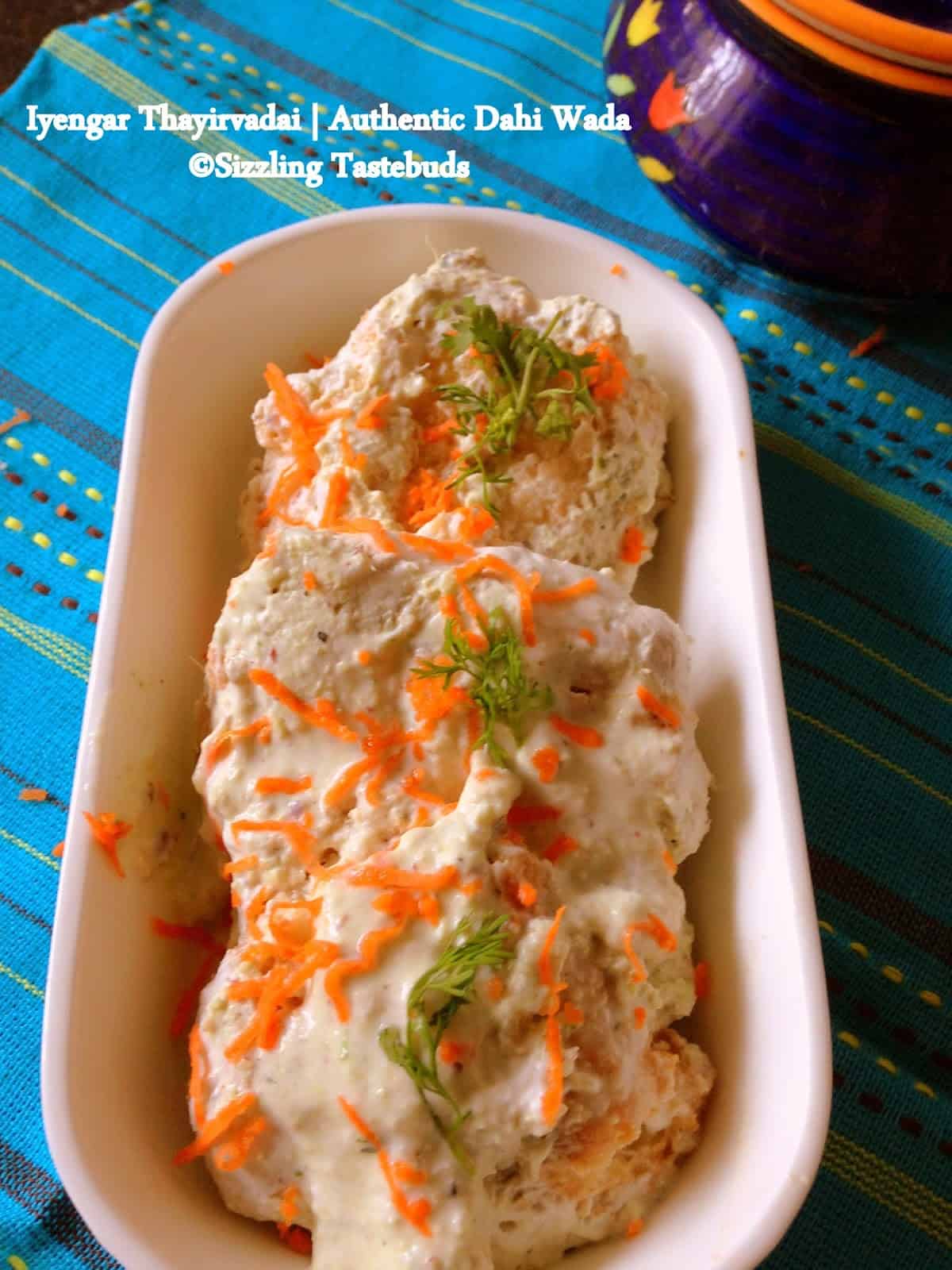 Pin

Prep time : 2 hours soaking + 1/2 hour | Cooking time : 20 mins | Standing time : 2 hours min

Makes : Approx 20 Medium sized vadas

Lentil Vadas in Spicy yoghurt gravy – a festive snack from Tamilnadu

Ingredients:


Urad Dal (split Black gram) – 1.5 cups

Raw rice – 1 TBSP

Oil – to deep fry

Fresh, sweet yoghurt – 3 cups – well beaten

Salt – to taste

Milk – Low fat version – 1/2 cup

Hot water – 1 cup

Add to the batter:

Fresh Coconut chunks – cut into small bits

Grated ginger – 1/2 tsp

Jeera – 1/2 tsp

Curry leaves – 2 sprigs

Black pepper – 1/2 tsp

To grind:

Coconut – 1/2 cup

Jeera / Cumin – 1 tsp

Ginger – 1 inch piece

Green chillies – 4 nos (less spicy variety)

Coriander leaves – a handful (optional)

Tempering:

Oil – 1 tsp

Mustard seeds – 1 tsp

To garnish : Grated carrots (Optional) & boondi (gramflour snack)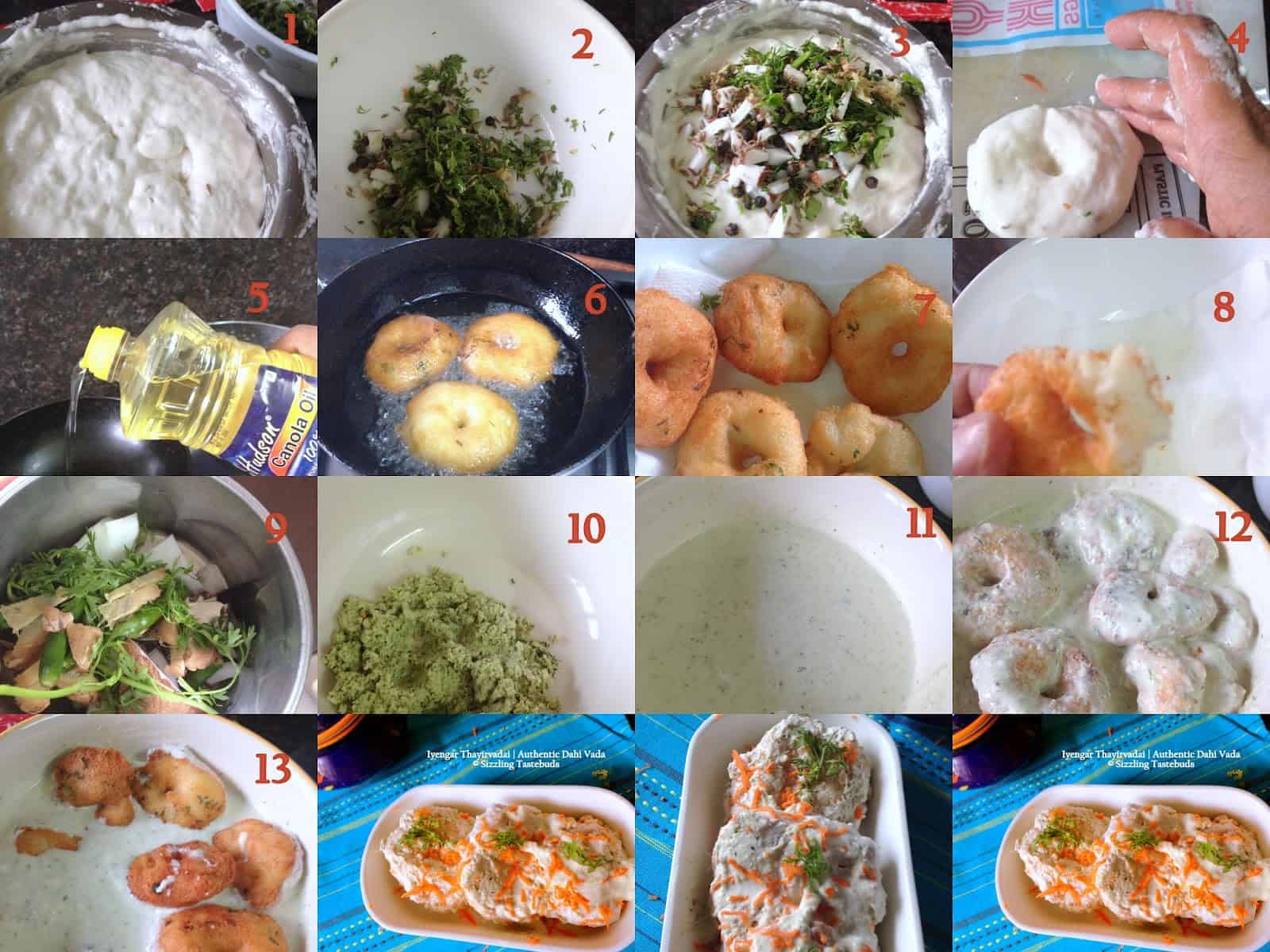 Pin

Method:

Wash and soak the rice and dals together for 1-2 hours. Drain, and grind to a fluffy batter without adding any extra water. Test of a good batter is that it should float on the surface in a cup of water.

To this, add salt (you would add salt to the yoghurt gravy too, so add a little less), and all ingredients under "Add to the batter". mix well with the hands to a thickish batter. Rest for 5 mins (not more)

Meanwhile, beat the curds well with half the milk free of any lumps. Grind the masala ingredients with a little water and add salt and mix with the yoghurt-milk mixture to a smooth gravy texture. Prepare the tempering with mustard seeds and pour onto the gravy.

Now, heat oil for frying (approx 2 – 2.5 cups). Wet your hands, and Take a handful of the batter, and spread on a plastic sheet or in your palms, make a small indentation in the centre (this is to ensure even cooking, so dont fret if you cant make that depression – it will still taste awesome as a whole roundel)

In a wide bowl, mix the hot water and the remaining milk well.

Slide into medium heat oil, and fry them in batches of 2-3 on medium heat till it turns golden crisp on all sides. Drain on absorbent paper. After 2 mins, soak the vadas in batches in the milk-water mixture for 1 min, and slightly squeeze it and drop it now in the yoghurt mixture…(this soaking in the water-milk step is very important to prevent hard vadas)

Repeat till you exhaust the batter and ensure all the vadas are fried only on medium heat to get super soft vadas

If making ahead, add few teaspoons more milk to the gravy to ensure the curd doesnt turn sour (especially in summers). Let the vadas soak in the batter for a minimum 2 hours to ensure the gravy gets absorbed in the vadas.

Top with grated carrots and boondi ( I didnt use the latter) and serve warm or chilled..You may refrigerate them upto 2 – 3 days (if they last that long), so on the next few days, add a dollop of fresh yoghurt, whisk it well, and serve.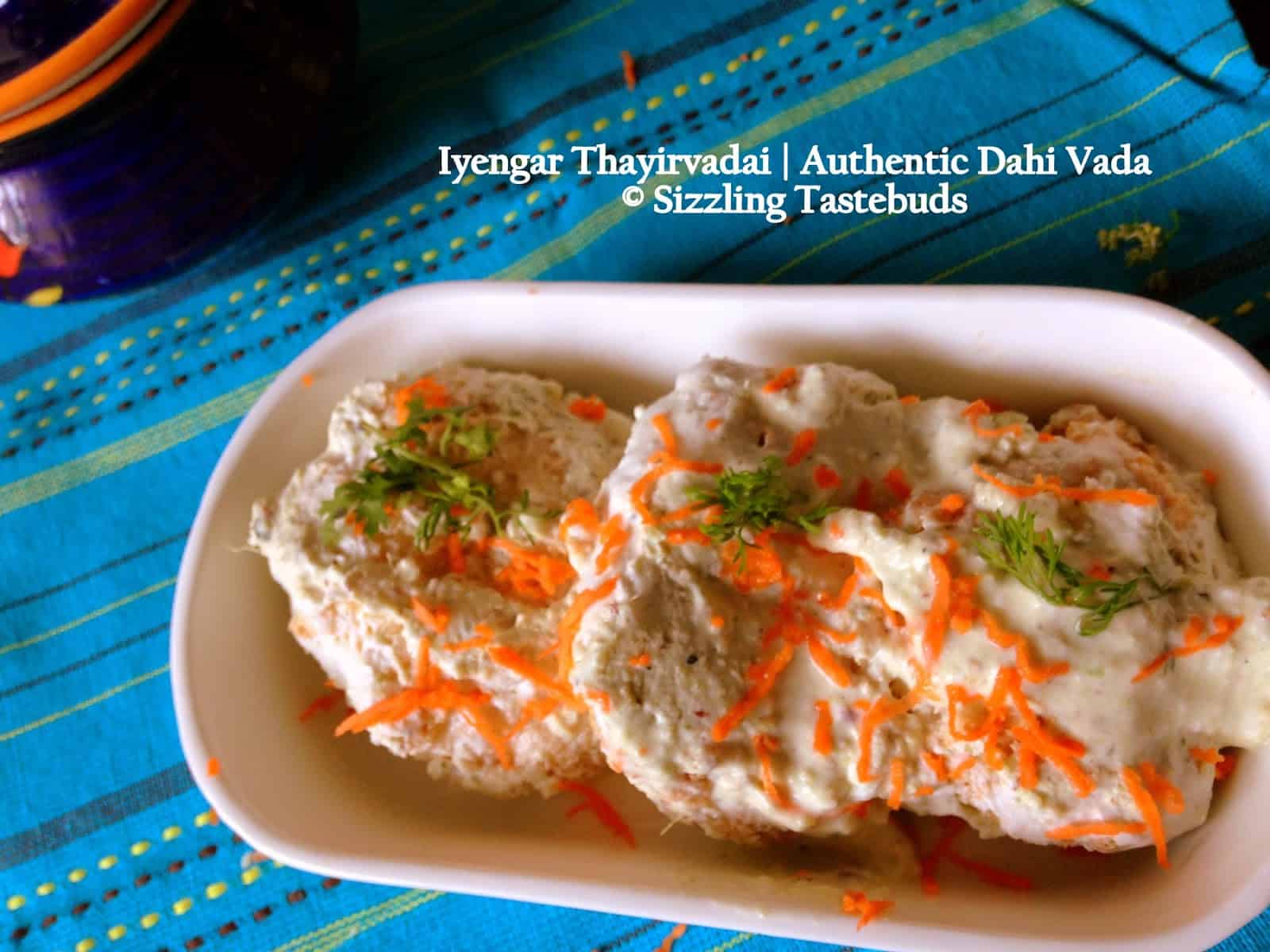 Pin