Pepper Cumin Rasam is a delicious Soup / broth made with a tamarind base and freshly ground spice mix. It comes together in under 10 mins for a soothing meal or can be sipped like a soup.
Bliss of Rasam
If life could be one stretch of 24-hour snooze time (once in a while), nothing could be more blissful 🙂 Similarly after a marathon of eating heavy stuff, today's dish couldnt be any less blissful. Easy to make, and yummy to taste, this is one Rasam (english equivalent = Broth) that you can put together in a matter of minutes. Its also my comfort food and is made in a zillion ways in most South Indian households (esp around Tamilnadu & Karnataka).
History of Rasam
Rasam is a traditional South Indian soup that holds a significant place in Indian cuisine. Its origin can be traced back centuries within the Tamil-speaking region of South India. It is believed that rasam was initially a medicinal broth prepared by blending tamarind, pepper, cumin, and other spices to aid digestion and boost immunity. Over time, it evolved into a flavorful soup integrated into everyday meals due to its delightful taste and health benefits.
There exist various types of rasam, each distinguished by its ingredients and preparation method. Some popular variations include Tomato Rasam, Vettalai Rasam (betel leaves Rasam), Pepper Rasam, Lemon Rasam, Garlic Rasam, Kollu Rasam (Horsegram rasam) , Poricha Rasam (Spiced lentil rasam) and Mysore Rasam. These versions differ in the primary ingredients used, such as tomatoes, lentils, or specific spices, resulting in diverse flavors and textures.
Whether coming back from a trip, or wanting to eat something light after several heavy meals or wanting a soothing broth for cough and cold, rasam has all the answers
Rasam is revered for its soothing and therapeutic properties. Its ingredients, including tamarind, spices like pepper and cumin, and herbs like curry leaves, offer numerous health benefits. It aids in digestion, helps in relieving colds and sore throats, and is often considered a comfort food due to its warming and calming effects.
In South Indian households, rasam is prepared with utmost care and adherence to traditional recipes passed down through generations. The emphasis lies in using fresh, high-quality ingredients and following precise cooking techniques to maintain authenticity and taste.
Rasam made in Brahminical households often includes subtle variations, often avoiding rajasic ingredients like garlic etc, reflecting the diversity in regional tastes and family recipes, but the essence of the dish remains deeply rooted in its cultural significance and healthful properties.
How to savour this Pepper Cumin rasam ?
You may also (like me) slurp this like a soup for that ultimate combo of comfort and light food! Both my grandmom and mom make this Jeera-Pepper Rasam in slightly different ways, but am presenting my mom's version here (as its less tangy – which suits me perfectly fine). Don't forget to temper this rasam with a dollop of ghee (clarified butter) for that heavenly taste that takes you many decades through my childhood days 🙂  
All of us love this at home (and my kid calls this Puli Rasam (Tamarind Rasam) and we love it best with hot steamed rice and a simple Healthy Potato Roast … Yummmm 🙂
Otther rasam varieties on the blog you may like:
Kollu Rasam Recipe | How to make Kollu Rasam | ಹುರಳಿ ಕಟ್ಟಿನ ಸಾರು | Horsegram spicy broth
Kollu Rasam is a flavourful spicy broth (rasam) made with soaked and cooked Horsegram and spices. Served as a soup or with steamed rice
Check out this recipe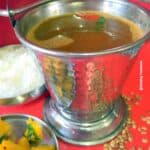 Instant Rasam Premix | How to make Rasam in 5 minutes
Learn how to make Instant Aromatic Rasam in 5 mins with this Premix and without cooked dal. Perfect for beginners or busy working people. Rasam is served with rice or as appetiser
Check out this recipe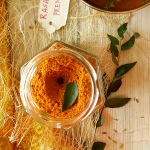 What is Rasam usually served with ?
Rasam is generally had as an appetiser / Soup at parties / gatherings. In an everyday South indian meal or at functions, rasam is usually served with rice (after sambar) and is best enjoyed with any kootu.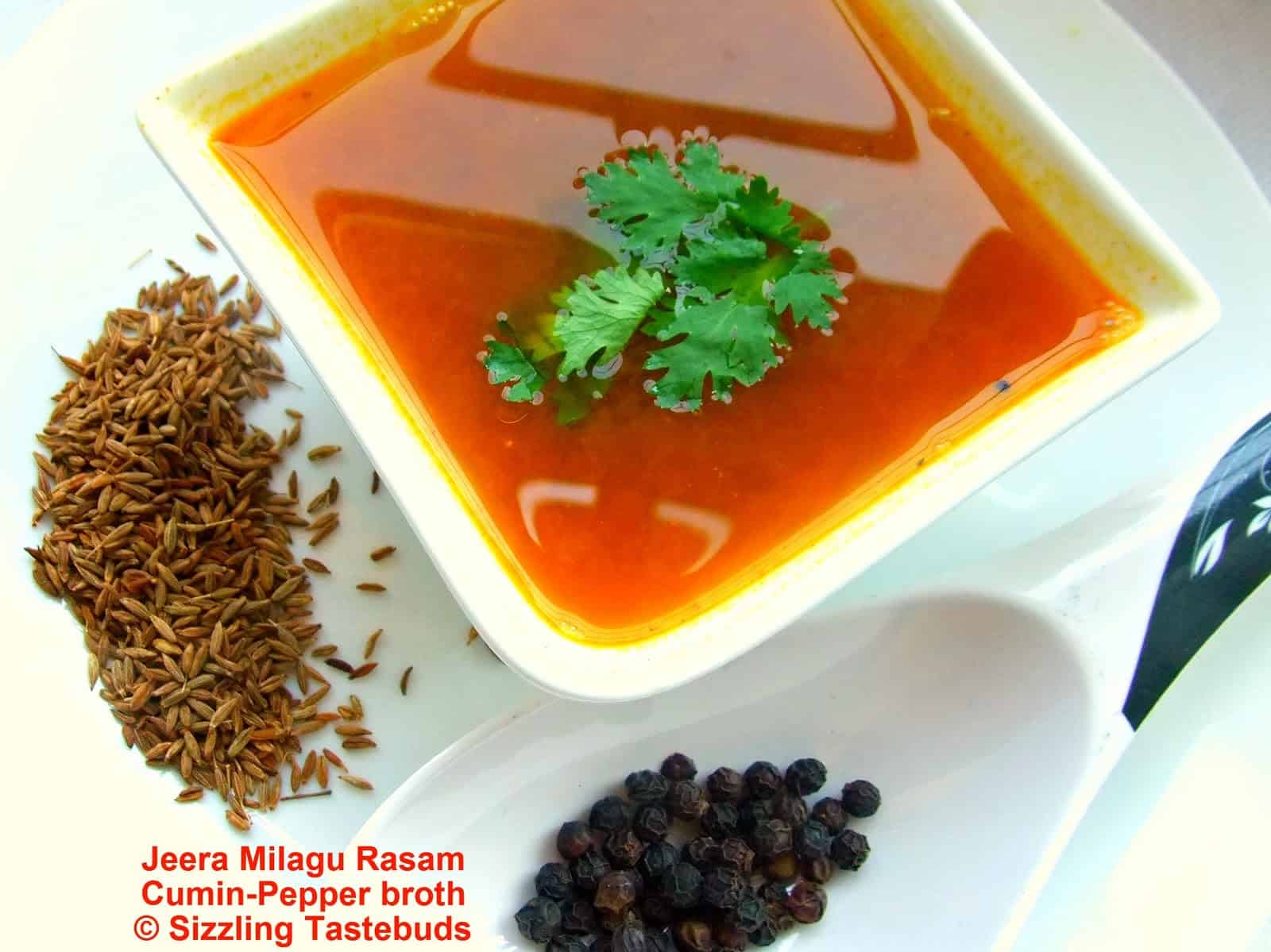 Prep time : 10 mins. Cooking time : 10 mins. Serves: 2
Ingredients to make Pepper Cumin rasam:
Tamarind – a lemon sized ball (or for a even quicker version use 1 TBSP of thick tamarind paste)
Salt – to taste
Instant Jeera-Milagu Rasam powder – 1 TBSP (See notes below)
Jaggery – 1 tsp grated
Hot water – 3 cups
Tempering:
Ghee – 1 tsp
Mustard Seeds
Curry leaves
Hing / Asafoetida – a generous pinch
Turmeric – 1/4 tsp
How to make Pepper Cumin Rasam
1) Bring 3 cups of water to a rolling boil. Add tamarind paste (or extract from tamarind pulp), salt, Rasam powder, jaggery.
2) Let it reduce to about 2/3 (cook covered for 8 – 9 mins)
3) Prepare tempering with ghee. Splutter mustard seeds, curry leaves, hing and turmeric and pour onto the boiling rasam. Cook for further 1 – 2 mins.
4) Delicious Rasam is ready to be served with Steamed rice, papad and any dry stir fry.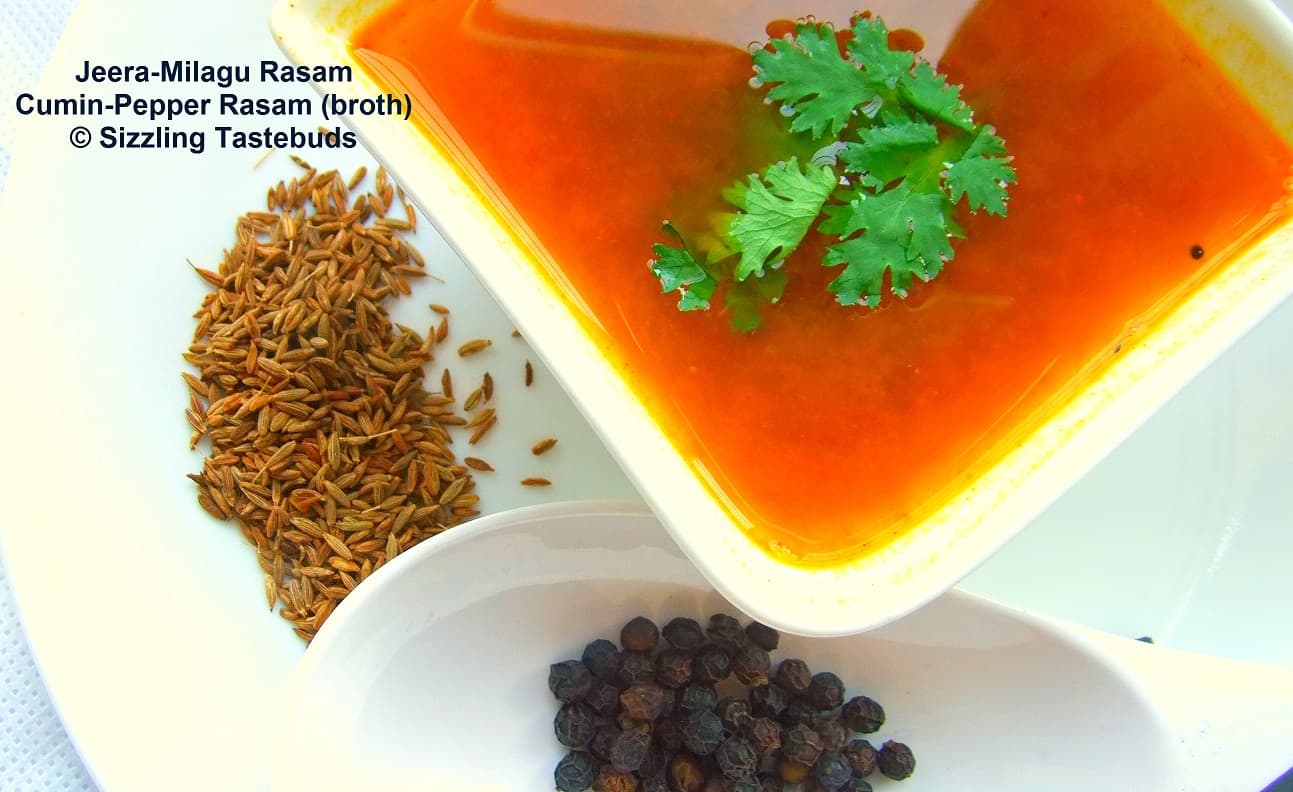 PinNotes for Instant Jeera-Milagu Rasam powder:
This is a prep that I make every 15- 20 days, and the quantity lasts me for 5 times of the above rasam. Each time I use 2 TBSP of the above rasam for the ingredients / proportion specified above. Feel free to adjust spices according to taste.
Ingredients for Instant jeera-Milagu Rasam Powder:
Toor Dal – 1/4 cup
Cumin / Jeera – 4 TBSP
Black Pepper / Milagu / Menasu – 2 TBSP
Red Chillies – 3 nos (hot variety)
Red chillies – 4 nos (kashmiri variety)
Curry leaves – 2 sprigs
Asafoetida – 1/2 TBSP
Oil – 1 TBSP
Method for Instant jeera-Milagu Rasam Powder:
1) In a pan, heat half the oil. Roast the Toor Dal till golden brown. Transfer
2) In the same pan, add remaining oil. Roast Red chillies (both varieties), Cumin, Pepper , Curry Leaves (one by one- and in the same order). Transfer and cool thoroughly
3) Grind the above along with asafoetida in a spice grinder. Cool slightly and store in an airtight container.
4) Use as required.