Who does Pancake originally belong to ? America, Britain and France have various claims to it, and with it various methods too  – both with leavened and unleavened batter. The Indian pancake – Dosa (and with all its versions – Ghavan (maharashtra), Cheela/ Chilla (North and Western India), Polo (Konkani / GSB Cuisine)) have all been immortalised as Pancakes across various states. 
Pancake has essential 3-4 major components – flour, leavening agent, salt (some use eggs and some dont !). Pancakes could be sweet or savoury. I already have a GF Chocochip Pancake which my little one loves, so I was all set to make a savoury one as she's the only one who likes anything sweet for breakfast.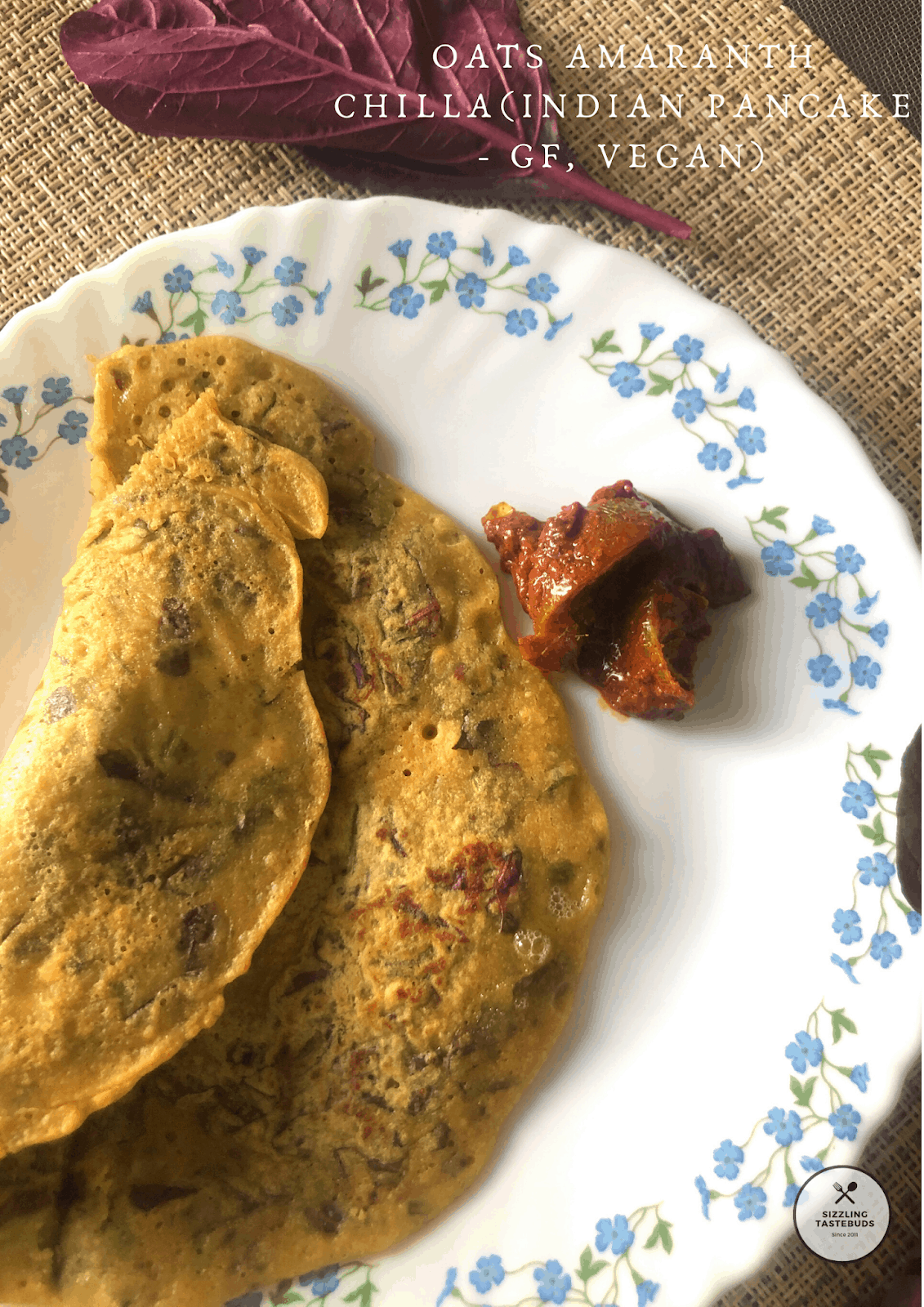 Pin

This Chila / Cheela today is inspired by Renu's recipe, and am very happy that most of her flours across bakes and recipes are GF (definitely no all purpose flour in any of her recipes). Archana has asked us to serve up Pancakes as the theme for Sshhh Cooking Secret Challengeand Narmada – my paired blogger gave me Oats and Ajwain (carrom seeds) as the secret ingredients.

I have used fresh Amaranth leaves as I had access to it. You may use Dill as I made in my Quick Besan Pudla or any other green like Palak (Spinach) or Methi (fresh fenugreek) too.  My elder one is now taking after my love for Cheela. I usually make it as a 4 pm snack too when the kids are back from school for a filling snack, and it helps me sneak in lesser liked veggies (and Oats) which otherwise the kids may not prefer in the Original form. You may also add onion, garlic, tomatoes for a different variant like my Vegan and GF Tomato Omelette. 



More pancake ideas below. For 20+ varieties of Dosa and Uttapams, click here.




All in all, a snack / breakfast pancake that you can make in a jiffy with less than 5 mins of prep time and almost nil standing time as well. Its a nutritious, filling for post-workout as well. 

Let's get to the recipe:

Gluten Free, Vegan Oats and Amaranth leaves Cheela (Jain style)

Prep time – 5 mins, Cook time – 10 mins, Makes – 4 to 5 servings

Spice level : medium, difficulty level : easy; cuisine :Indian

1 cup = 200 ml

What you need:

Oats Powdered – 1.5 cups (Dry roast the Oats for 30-40 seconds till just warm, cool and powder)

Besan / Gramflour – 0.5 cup

Salt – to taste

Amaranth leaves (washed and chopped fine) – 2/3 cup

Green chillies – 2 to 3

Red Chilli powder – 1/2 tsp (opt.)

Ginger crushed – 1/2 tsp (opt. I didnt use as this was a Jain version)

Ajwain (carrom seeds) – 1/2 tsp (crushed) – dont skip this for a unique flavour

Turmeric – 1/8 tsp

Oil – to make the cheelas (approx 1/2 tsp for each cheela)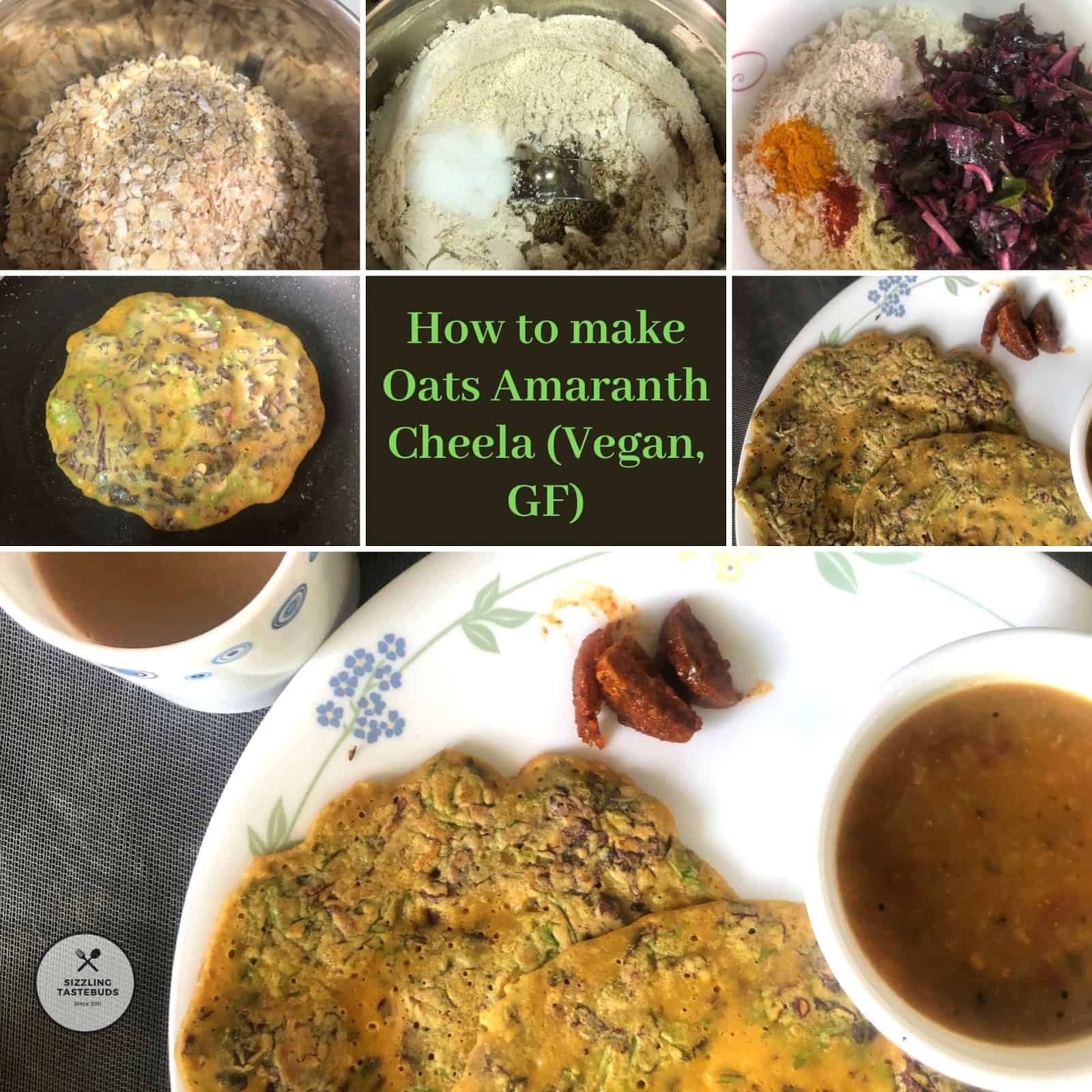 Pin
How to: 
In a large bowl, add both the flours, salt, spices and mix well. Add 3-4 TBSP of water to make a thickish batter. Add the leaves and 1 tsp of oil and 5-6 TBSP more water to make a flowing batter. Check for salt and spices and rest batter for 5 mins by which time the tava / skillet heats up. 
On a medium hot tava / skillet, pour 1 large ladle of the batter to a thickish pancake. Drizzle oil on and around it. Let it cook to golden brown, flip and cook again for 1/2 min till crisp. Serve hot with some pickle or chai (Indian Milky tea). It's spicy on its own, so really doesn't need a side. 
PIN FOR LATER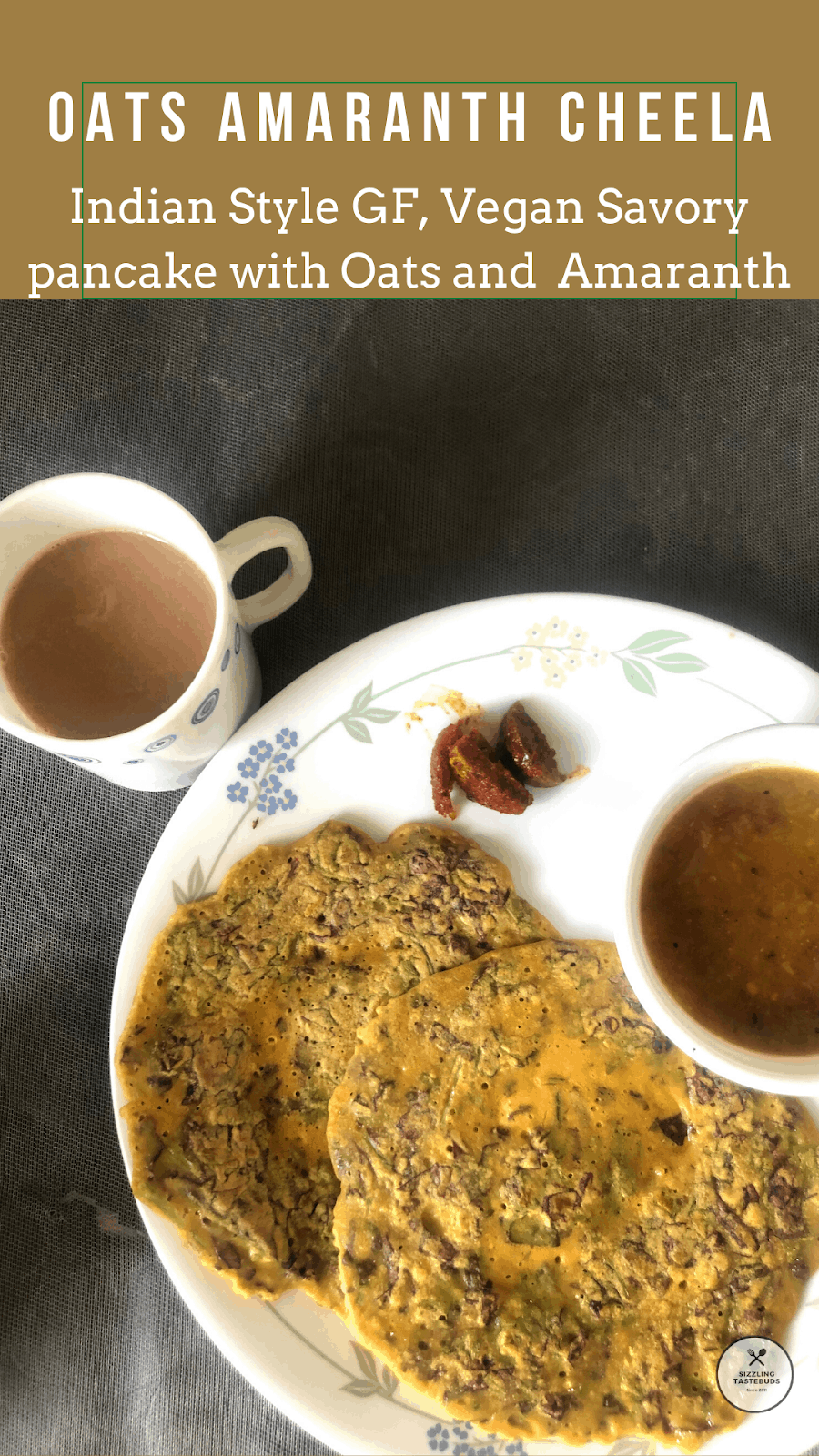 Pin


GF and vegan Chocochip Pancake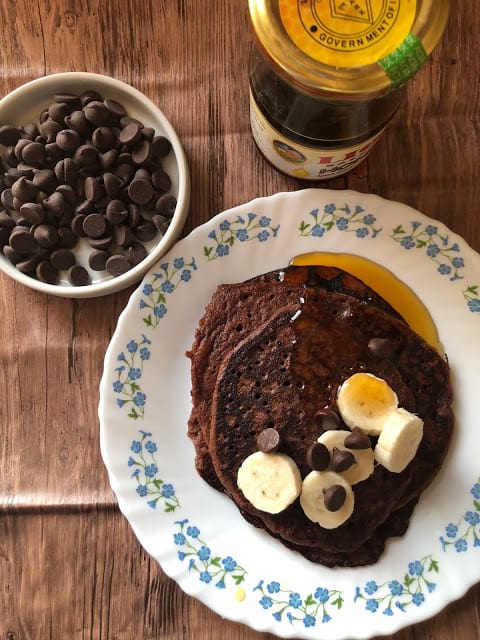 Pin
Quick Besan Pudla (GF and vegan)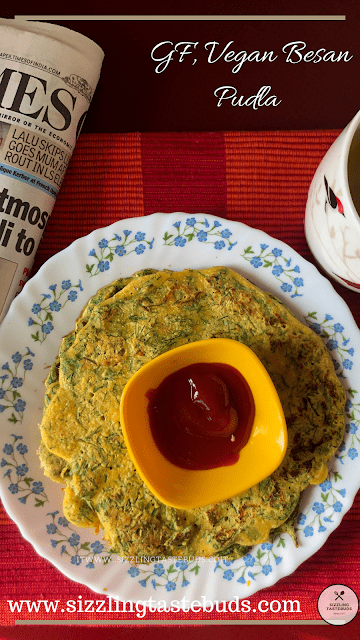 Pin
Pin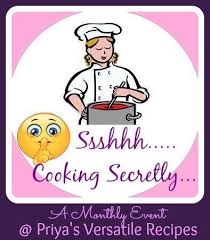 Pin