When Wendy Klik announced Pancakes for Feb edition of Bread Bakers, I was quite kicked for it allowed yeast free breads as well as the Indian pancakes / crepes a.k.a Dosa. I had bookmarked a couple of Pancakes that my kids would have loved, but didn't get to make this.


And then this Instant, no-ferment Multigrain Dosa fell into place. We are quite fond of savory stuff for breakfasts and so this got made for a rushed morning (pardon the pics, though). It goes well with any dip / chutney but delicious on its own as well. We had this with some lemon-fresh peppercorn-bittergourd pickle


Some more Dosa varieties (mostly Vegan and GF) on this blog :
Let's see how to make this. Hope you enjoy the pancake series dished out on #Breadbakers this month.


Instant Multigrain Dosa – Vegan and GF too !


Prep time : 15 mins, standing time : 20 mins, Makes : 6 Dosas


Ingredients:
Buckwheat flour – 1/4 cup
Wholewheat flour – 1/2 cup (skip for GF and increase the buckwheat by 3 TBSP)
Rice Flour – 1/2 cup
Roasted Semolina – 1/4 cup (skip for GF or replace with 1/2 cup more rice flour OR replace with Rice Rava)
Besan / Gramflour – 1 TBSP
Jowar flour (Sorghum flour) – 3 TBSP
Salt – to taste
Turmeric – 1/8 tsp
Water – approx 2 cups
Oil – 2 tsp + as needed to fry the dosas
Tempering : Mustard seeds 1/4 tsp, asafeotida (skip for GF), Chopped green chillies 1 tsp, Chopped cilantro / coriander leaves 2 tsp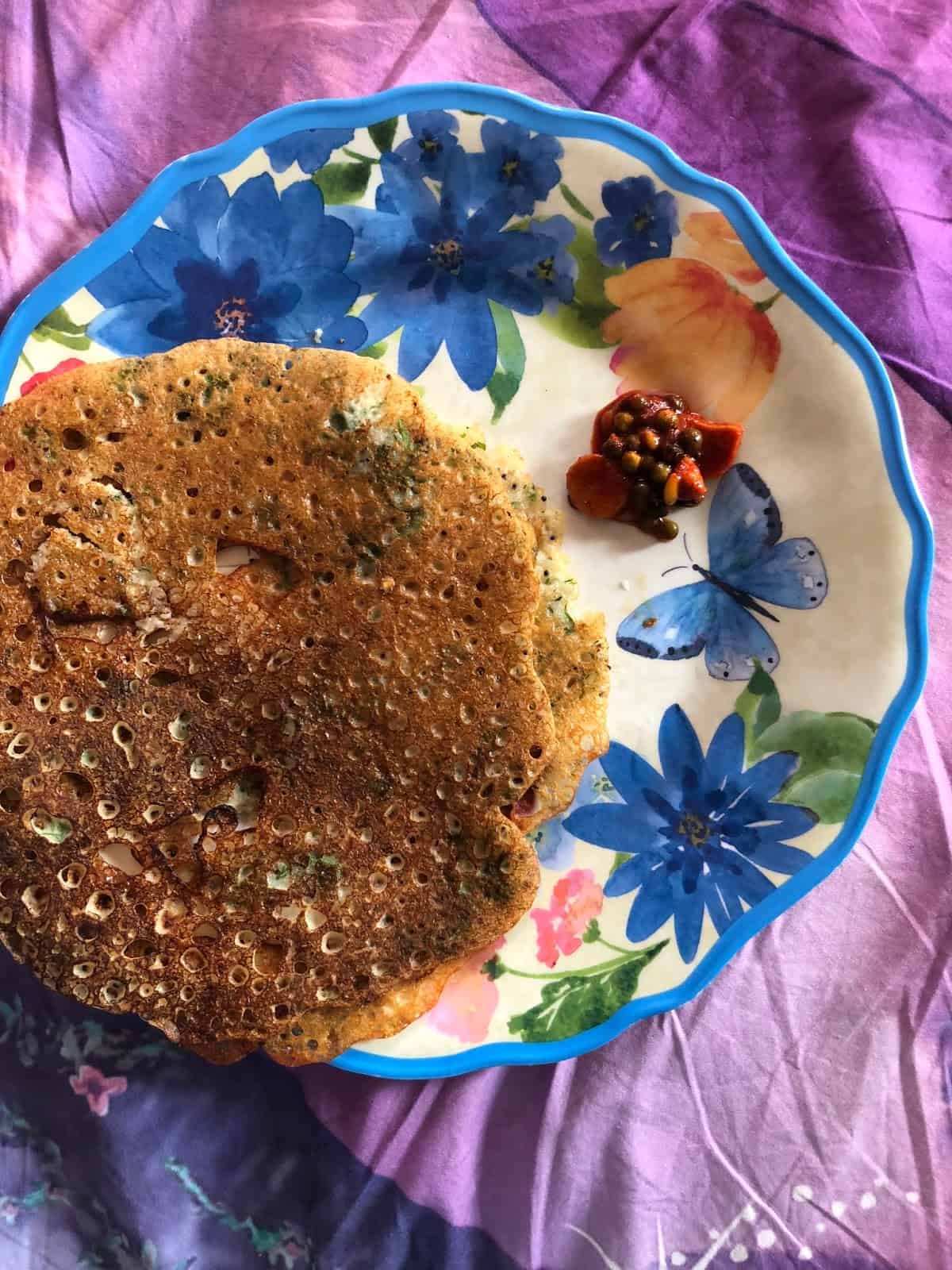 Pin


Tempering is optional, but does enhance the flavour of the dosas


Method:
Sift all flours, salt, turmeric thrice over in a large bowl. Add requisite water to make a flowing thinnish batter (not too thick nor too thin).
Cover and keep for 20 mins. After 20 mins, prepare the tempering – heat 2 tsp oil, splutter mustard seeds, add chillies, cilantro and asafoetida and add to the batter. Mix well.
Heat a skillet, Pour a ladle of the batter into a thinnish dosa/ crepe.
Drizzle 1 tsp oil – let it cook till crispy on one side (medium heat only – this should take about 2 mins)
Flip over, let it cook for 30 seconds and serve hot with any chutney or pickle or sauce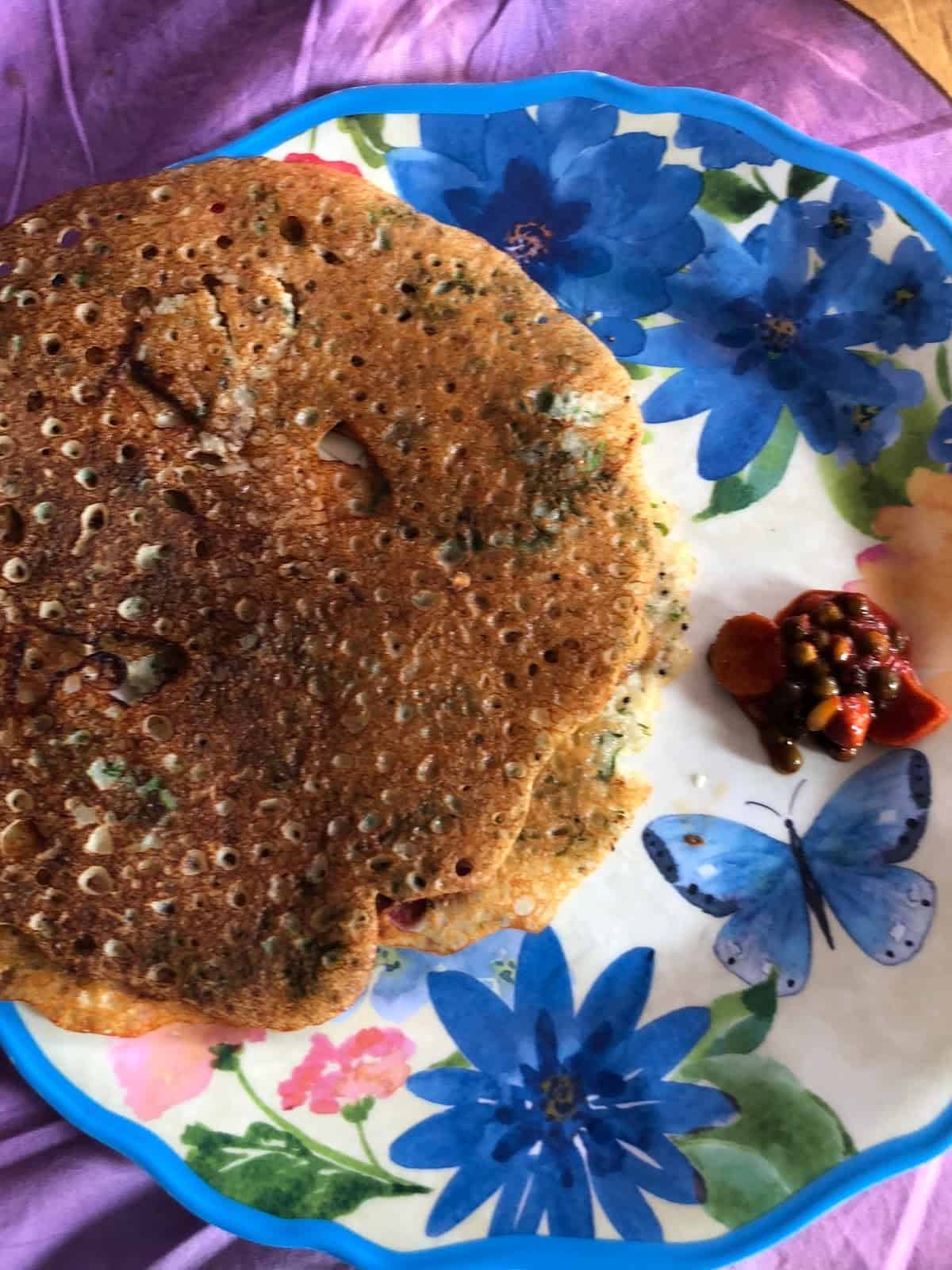 Pin


Notes:
If you are not tempering the batter, then serve with some spicy sauce. With the tempering, its good to be eaten on its own or with a mild pickle / sauce.
You wont be able to make the normal dosas by the smearing method – you need to drizzle the batter into a thinnish dosa leaving some pockets in between. Almost like a lacy crepe
This batter cannot be stored overnight. You may simply make it 30 mins prior to eating as its an instant version
Thank you Wendy for hosting this theme for #breadbakers. Let's have a look at other pancakes dished out this monthAebleskivers by All That's Left Are The Crumbs
Pin
#BreadBakers is a group of bread loving bakers who get together once a month to bake bread with a common ingredient or theme. Follow our Pinterest board right here. Links are also updated each month on this home page.
We take turns hosting each month and choosing the theme/ingredient.