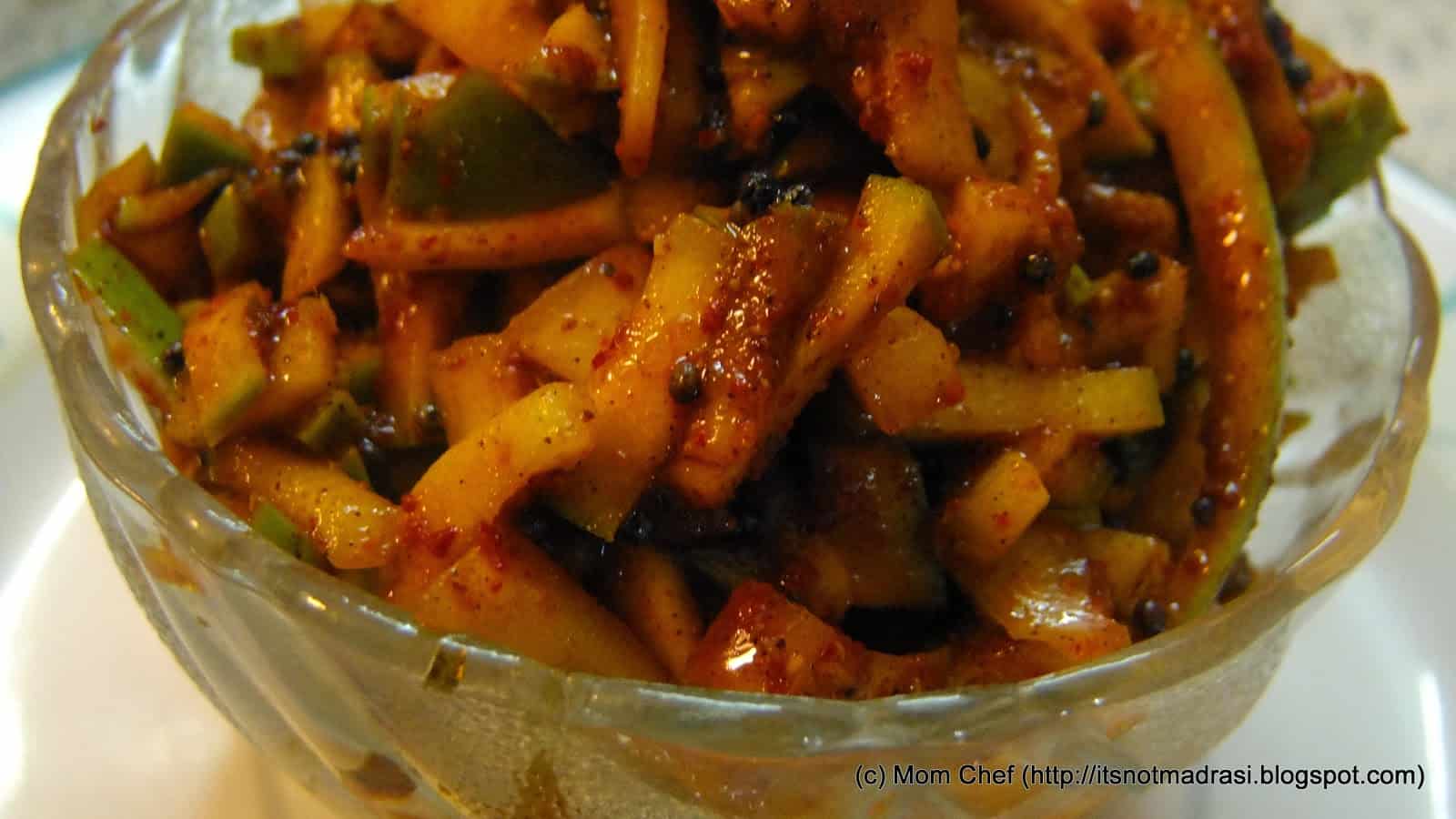 Pin
Pickles and Summer. A veritable combination ! From the days of grandmom and mom making an year's supply of pickles to buying commercially made ones (with the ma-ke haath ka-khana stamp), pickles are one accompaniment that can never go wrong .
With dal rice, parathas, curd rice, dosas etc, today's Instant Mango Pickle is easy on the palate and preparation too ! I have used the kairi (raw mango) calledTotapuri /Gini moothi(meaning raw mango shaped like a parrot's beak) for this pickle. I remember my school days where we drooled over slivers of quasi-ripened Totapuri mango served with a dash of red pepper bought at a vendor during lunch break or after school hours!! slurp !! 🙂
This pickle can be made with other varieties of raw mango too, but this one is the best, and can be served immediately too 🙂
Update: Sending this toValli'sCondiment Mela
Preparation Time: 20 mins, Cooking time : nil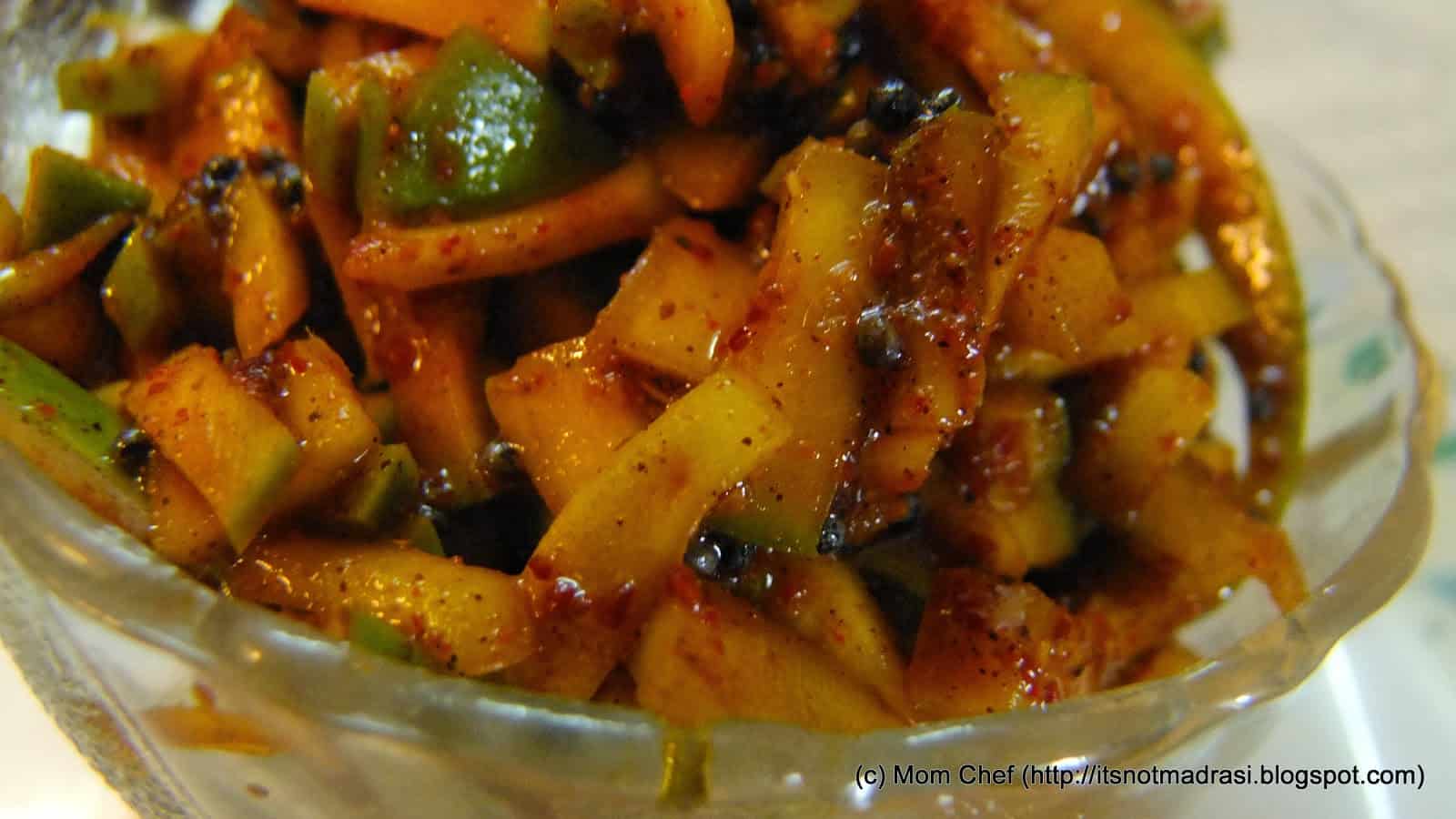 PinMakes : approx 100 gm of pickle
Keeps (with refrigeration) for a week or 10 days
Ingredients:
Raw mango -1 no
Salt – 2 tbsp
Red chilli Powder – 1 tbsp
Mustard seeds – 1 tbsp + 1 tbsp
Dry methi / fenugreek seeds – 1 tsbp
Dry red chillies – 3 (Kashmiri variety)
Lemon juice – from 1 lemon
Gingelly oil – 2 tbsp
Asafoetida – 3/4 tsp
Turmeric – 1.5 tsp
Method:
1) Wash, wipe the mango free of dust and water. Dice into very thin pieces (refer pic)
2) In a dry bowl, add the mango slivers, salt, red chilli powder, turmeric powder and mix
3) In a skillet, dry roast methi seeds and mustard seeds (1 tbsp) separately and transfer to a spice grinder.
4) Heat about 1/2 tsp of oil, and fry the red chillies till slightly roasted.
5) Grind the chillies, asafoetida, methi and mustard seeds into a fine powder.
6) Transfer this powder to the mango mixture. Stir well with a dry spoon.
7) Heat the remaining oil, splutter the mustard seeds (1 tbsp) and cool this tempering.
8) Pour the cooled tempering into the mango pickle mixture and add the lemon juice now and mix well.
9) Serve immediately !
Tips:
1) The salt and spice proportions are for one mango. In case you are working with more, adjust spice accordingly, and based on your family's habits too.
2) You may add extra lemon juice if the mango is not tarty enough.
3) Once served, store in an airtight glass container in the refrigerator. Please avoid plastic / tupperware containers for pickles !
4) You may also make the masala powder in advance and use it for pickles like mixed vegetables or even lime pickle. Do adjust the proportions accordingly.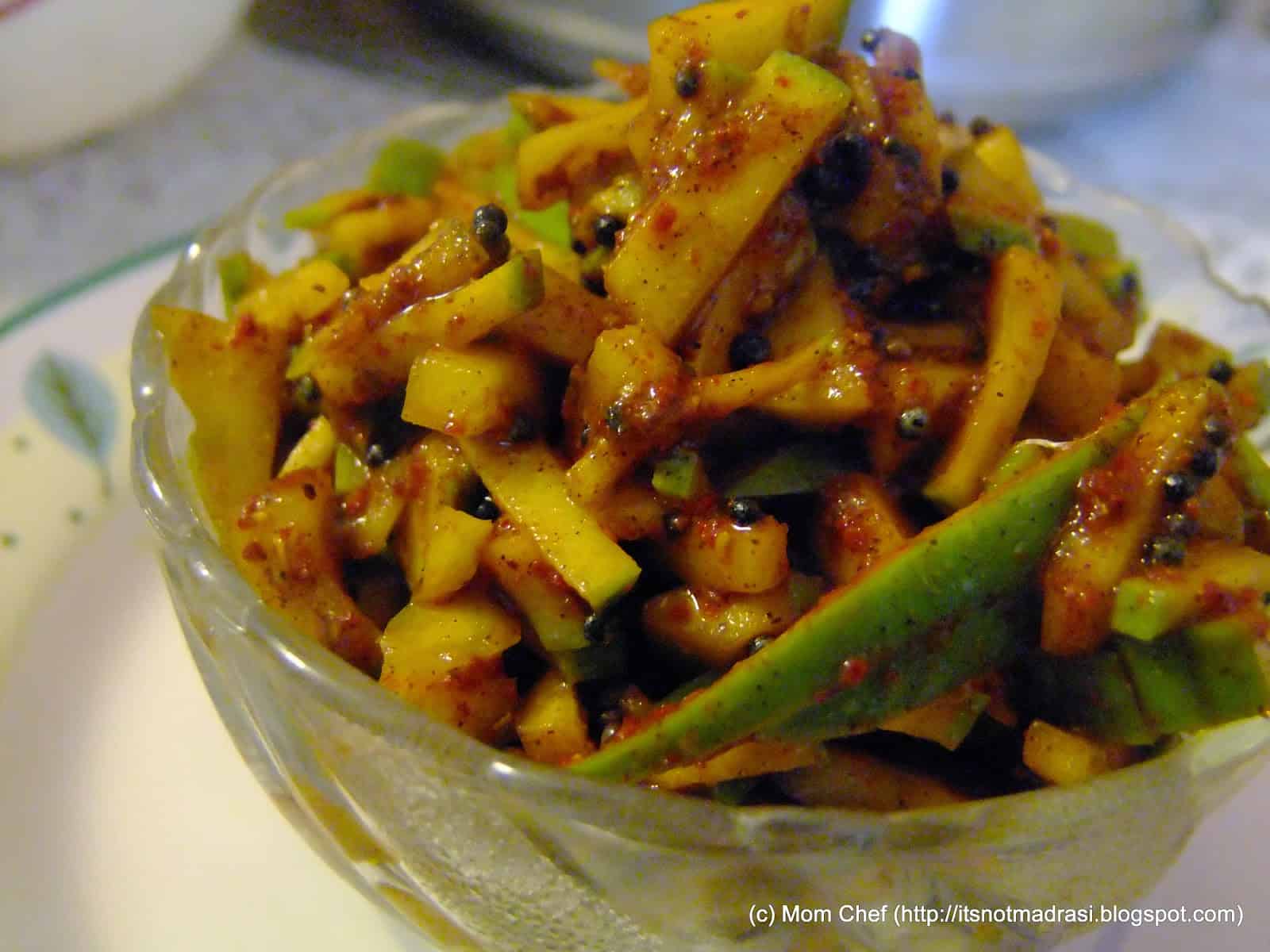 Pin