Menthe Hittu or Menthyada hittu (Menthya in Kannada means Fenugreek seeds / Methi dana and hittu means flour, here it refers to the spice powder) is a special, delicious and versatile condiment used in North Karnataka Cuisine. 
Filled with super healthy ingredients, primarily methi seeds (fenugreek seeds), its proteinicious and is eaten with hot rice+ghee , added to many curries (including making the very famous Menthe Gojju – tangy spicy dip – recipe soon!), and also eaten with rustic GF flatbreads like the following. I love this especially in this no-fry Bonda Soup
Pin
This powder also tastes amazing when topped on plain Upma / Pohaas well. 
Similar Spice powders that have been heirloom recipes that our family loves are:
Kakarakaya podi (bitter gourd/ bitter melon spicy powder)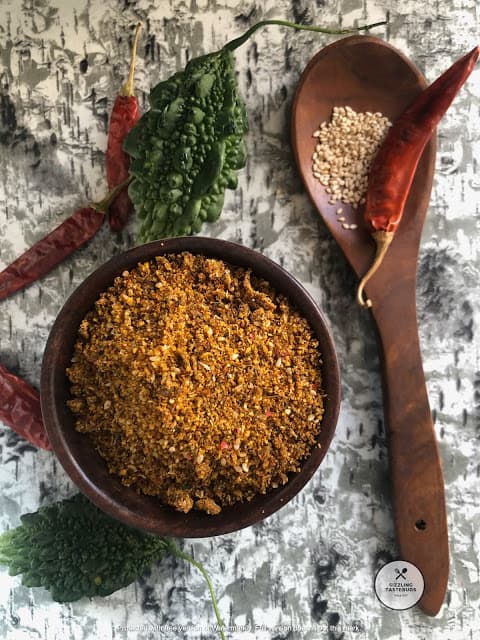 Pin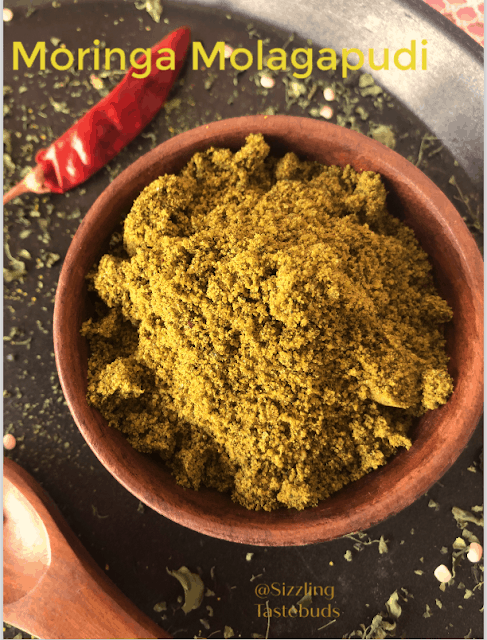 Pin
Bangalore special Chutneypudi*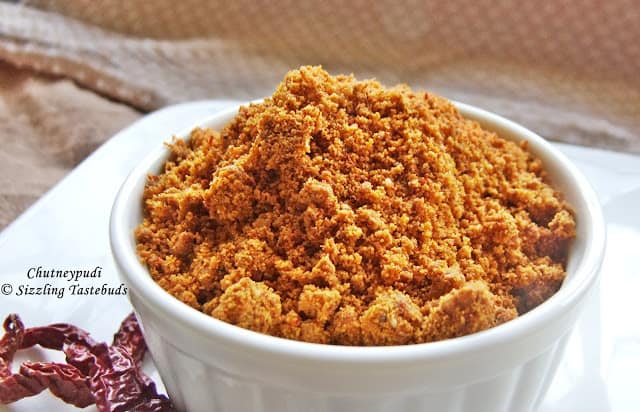 Pin
Godhi Chutneypudi (chutneypudi made with wheat kernels)*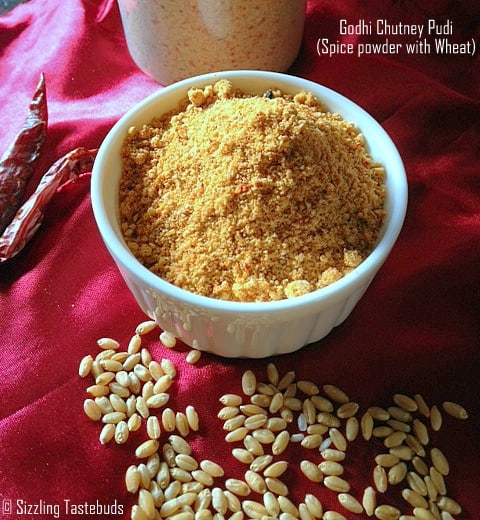 Pin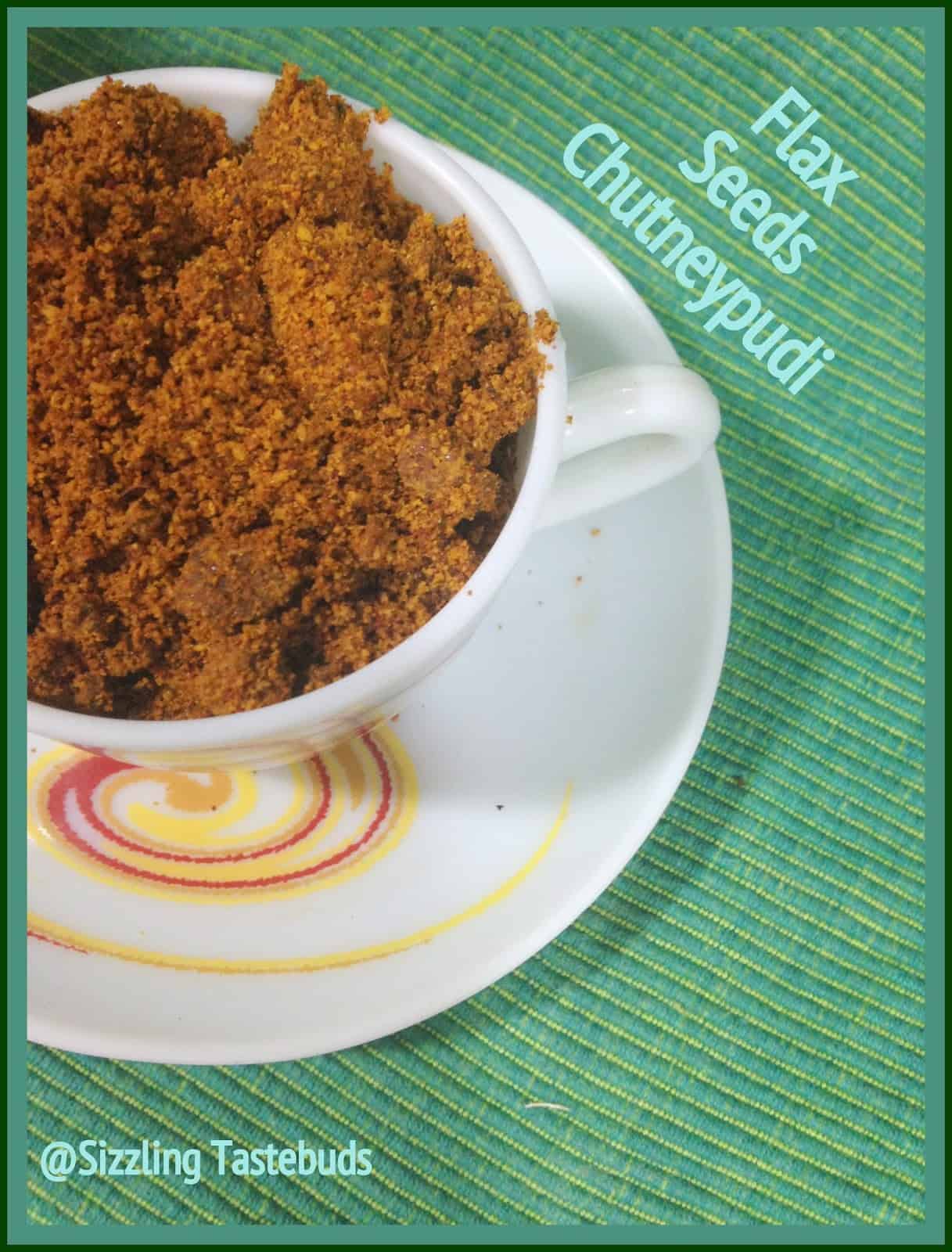 Pin

Poondu Podi (Garlic flavoured spice powder)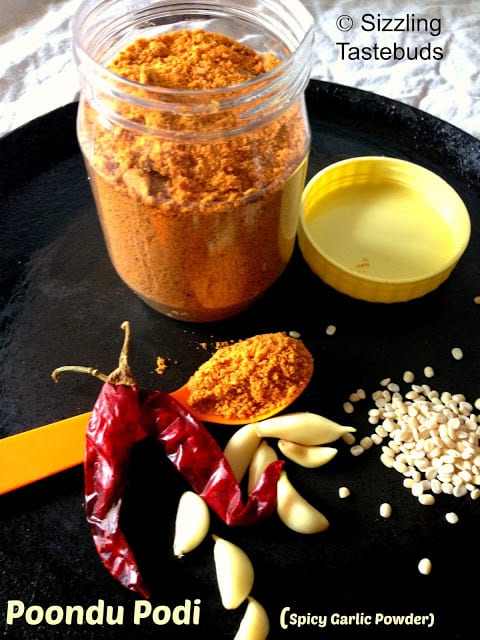 Pin
Let's get to today's recipe:
Prep time – 10 mins, Roasting time – 25 mins, Makes ~ 250-300 grams of the condiment
Shelf life – upto 2 months when refrigerated and used with sterile spoons
 PIN FOR LATER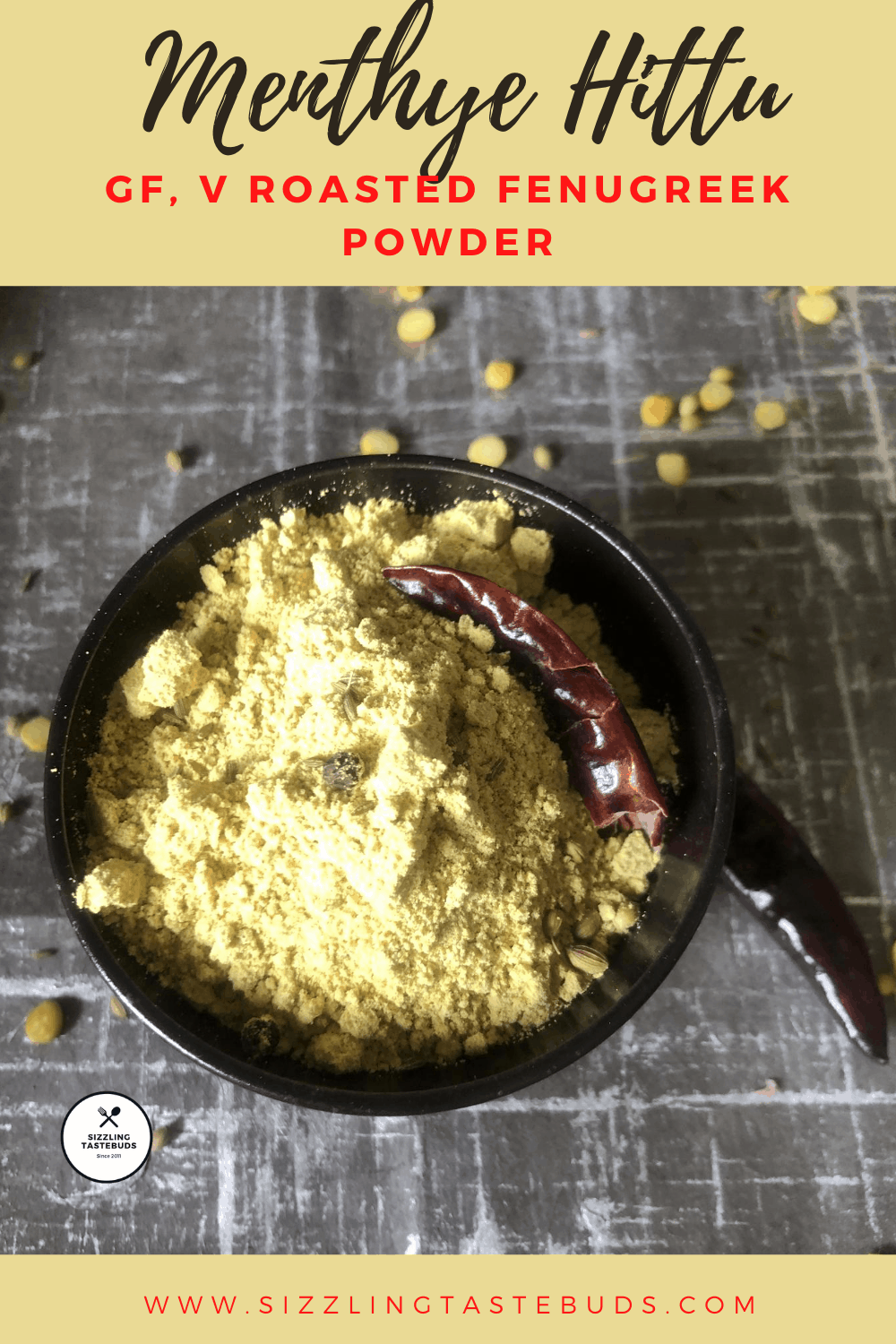 Pin
(1 cup=200 ml)
What you need:
Toor dal – 1/2 cup
Channa dal – 1/2 cup 
Moong dal – 1/2 cup
Urad dal – 1/4 cup
Dry Red chilli – 4to 5 (adjust spice) – **don't use kashmiri variety**
Dry Coriander seeds – 3 TBSP
Methi dana / Menthya / fenugreek seeds – 1/2 tsp (don't increase this quantity for this above proportion of dals, else the powder becomes too bitter)
Hing / asafoetida – 1/8 tsp (skip for GF)
Salt – to taste (approx 1.25 tsp)
Turmeric – 1/8 tsp
Jaggery – 1/2 tsp (optional but recommended)
Oil – 1/4 tsp
Pin
How to: (See step by step picture above for detailed steps)
Dry roast all the dals (ONE by ONE) till they turn golden brown. Take them to a plate. Let it cool. 
Similarly dry roast the coriander seeds and fenugreek too. Remove from plate  
Add the oil, roast the chillies on low flame for 15-30 seconds, remove. 
Cool all ingredients to room temperature. 
Pulse all dals together to a coarse powder. 
Now add coriander seeds + methi seeds and pulse just once. 
Add the chillies, salt, turmeric, hing(if using) , jaggery and pulse again.
You would get a semi coarse powder. 
Cool and store in an airtight container. 
Use dry and sterile spoons always to use any condiment