Its raining chutneys here ! After home made green chutney, I was tempted to make another quick-to-make using tomatoes. And this too is a no onion, no garlic version, although do feel free to add either or both of these (onion / garlic) to spice it up.
We make this atleast twice a month, in slightly large quantities, and it comes very handy during rushed mornings when scraping the coconut becomes a hassle for usual chutneys to go with most South Indian breakfasts. Its one of my favourite chutneys and is an amazing combo with curd rice. The bitterness from methi (fenugreek) combined with the tarty tomatoes is sure to pep up any meal. Be sure to use fully ripe tomatoes, which are slightly tangy if you prefer it that way. Too sweet tomatoes may taste bland for this dish.
We make this chutney in 3 – 4 different ways, but today's is my mom's version for you – slightly laborious, but worth all the effort 🙂 This keeps max for a week under refrigeration.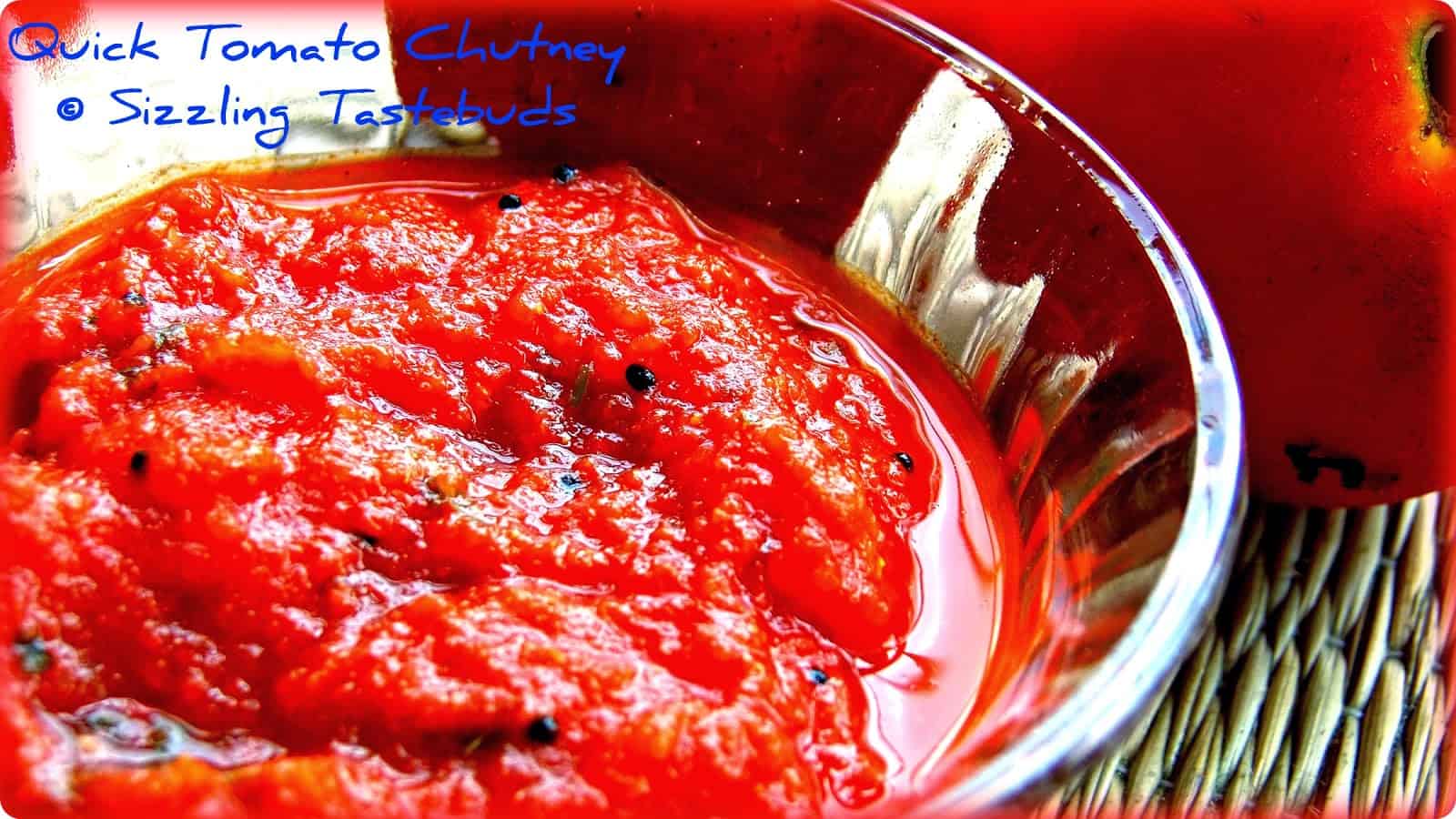 Pin
This dish goes straight to Siri's back to basics – Chutneys, event by Jaya, Sreevalli's My favourite dish and Nayna's South Indian flavours
Check out other Chutneys and similar condiments here
Prep time : 20 mins. Cooking time : 20 mins. makes : approx 100 gm of chutney
Ingredients:
Ripe red and firm tomatoes – 750 gms
Salt – to taste
Oil – 1 TBSP
Sugar – 1 tsp
Turmeric – a dash
Red chilli powder – 1/4 tsp (use Kashmiri variety)
Tempering:
Mustard seeds, coriander leaves & curry leaves.
Spice powder mix
Methi /fenugreek – 1 tsp
Red chillies – 2 – 3 (adjust to taste)
Asafoetida – a generous pinch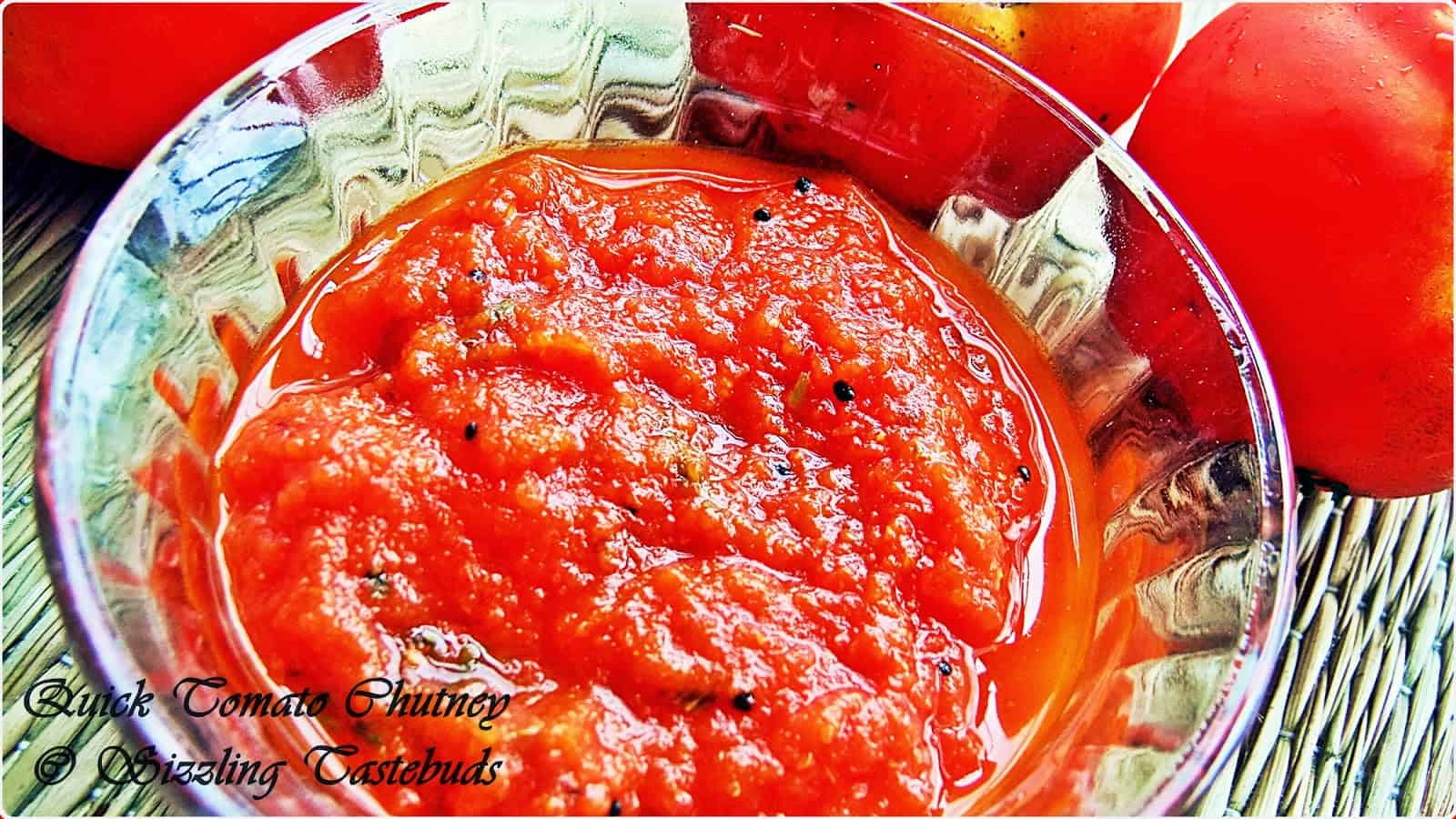 Pin
Method:
1) Wash and blanch tomatoes in boiling water for 8 – 9 minutes.
2) Cool, peel and mash them up lightly.
3) Depending on how watery your tomatoes are, add 1/2 – 3/4 cup of water and puree these blanched tomatoes. I needed about 1 cup
4) Strain the juice and discard the seeds.
5) Meanwhile, roast methi and red chillies in 1 tsp of oil separately. Cool and powder them along with asafoetida.
6) In a deep pan, add the remaining oil. Splutter the tempering ingredients. Then add the strained tomato puree. Now add turmeric, red chillipowder, salt and the prepared spice powder. Mix well. Cover and cook for 10- 15 minutes till all the water evaporates, stirring the mixture on low heat from time to time. Add sugar and mix again till you get a ketchup like consistency for the chutney.
7) Cool thoroughly and store in a glass container / airtight glass jar.
8) Use with Parathas / Poori / phulkas or any breakfast.