Aren't there umpteen times that as a homemaker or a
parent, you wished that plate of Pav Bhaji eaten at a restaurant to be a lot
less buttery or to bake potato wafers rather than deep fry then ? If you are
one of those food enthusiasts who love experimenting with Fast Food the healthy way, this is the right opportunity for you to send in your delicious
entries to the event "FAST FOOD NOT FAT FOOD" guest hosted right
here. Thanks to Priya (of Priya's Now Serving) for this opportunity, this wonderful
event now stops by this blog – Sizzling Tastebuds.
Convert any vegetarian meal into a healthy one – using less oil / sugar / fats and send in your entries
What's more, this event runs from May 1st – June
15th. Here's how you get to participate: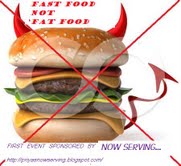 Pin

Event Rules

· Only vegetarian &
eggless entries

·
A healthy version does
NOT mean a less appealing version

·
Up to 3 entries are
allowed and must be blogged during this period (May 1st – June 15th)

·
Recipe can be your new
innovative concoction or it could be a recipe that you have been meaning to try
out or have bookmarked One sentence at least to explain how your recipe is
healthier is a MUST

·
Use the Logo on your
blog and link back to my both Priya's announcementas well as this
announcement

·
Please use Linky tool
below to submit your entry

Look forward to all
your healthy eats,

Cheers

Kalyani