When Srivalli announced cooking bookmarked recipes as one of the
themes for BM # 25, I was thrilled. For I had to make this Hara Bhara Kabab that I had
bookmarked from Sanjeev Kapoor with some minor variations. Both the author and
the dish appeal to me. My family loves it a lot and we order this kebab everytime we go to a
restaurant. Somehow Tandoori dishes appeal to me & S a lot – be it Naan / Kulcha /
Kebabs etc. The earthy smokiness of the dish may not be replicable in a
household kitchen, but nevertheless this dish was a must try and I loved it to
bits 🙂 Try it out and you would love it too. You may also pan fry this but I
grilled this in an Oven and got a slightly crispy crust which we loved. This
makes a great appetiser for parties. Check out how to make this.
Prep time : 20 mins | Cook / bake time
: 20 mins | Makes : 8 to 10 medium sized kebabs
Difficulty level : Medium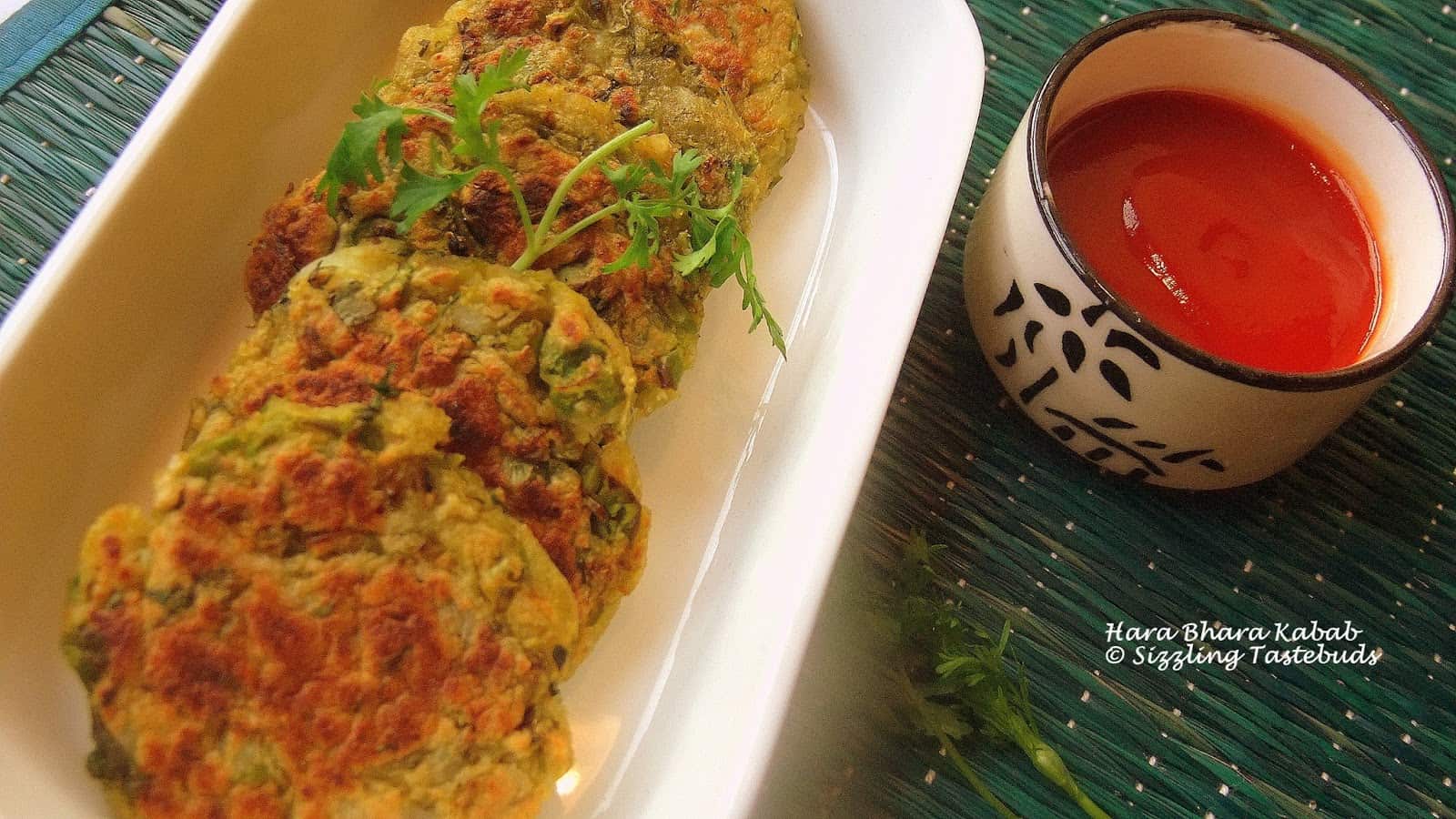 Pin
Ingredients:
Spinach leaves / Palak – 1 cup
(tightly packed)
Green peas – 1/2 cup
Potatoes – boiled and mashed – 3/4 cup
Corn flour – 4 – 5 TBSP
Chopped ginger – 1 tsp
Green chillies – minced – 1 tsp (you
may skip this if making for kids)
Jeera / Cumin powder – 1/2 TBSP
Coriander / Dhaniya Powder – 1/2 TBSP
Garam Masala powder – 1/2 tsp
Bread Crumbs – 1/2 cup
Kasuri Methi – 1 tsp
Red chilli powder – 1/2 TBSP (adjust
spice if already using green chillies)
Roasted chana powder – 1/2 TBSP
Salt – to taste
Oil – to grease the baking pan or fry
pan – about 1/5 cup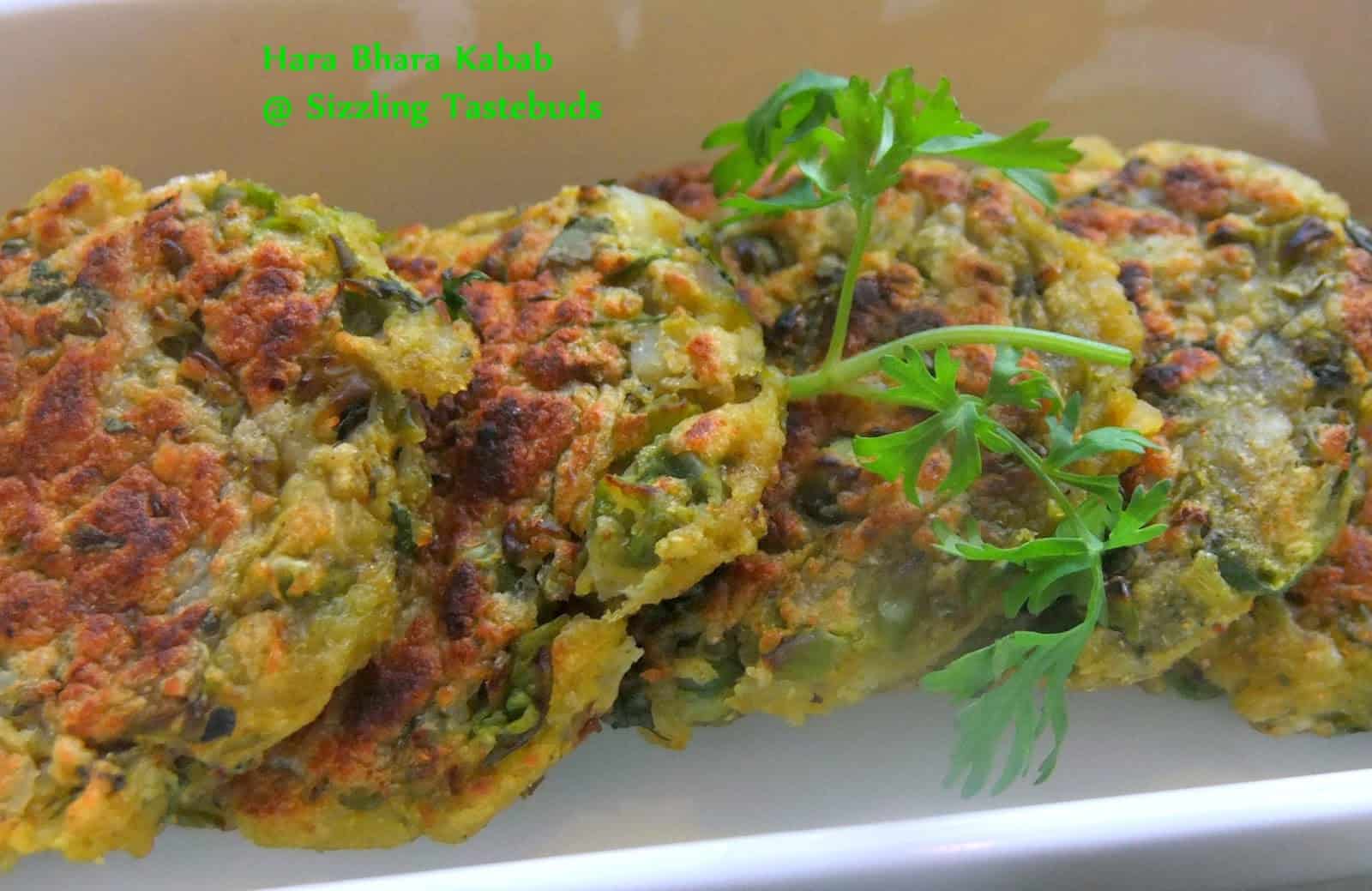 Pin
Method:
Preps –
1) Boil potatoes, peel and mash well.
Dry roast bread on a medium hot tava and mince in a spice grinder (unless
you are using store bought bread crumbs)
2) Powder the fried gram. Keep aside
3) Blanch spinach for 3-4 mins. Rinse
in cold water. Drain and puree without any water.
4) Blanch the green peas for 10 mins
in slightly salted water. Drain and mash slightly
Meanwhile preheat oven to 160C and
slightly grease a baking tray. Line with foil.
For the kebabs:
In a large bowl, add the mashed
potatoes. Tip in the spinach puree, blanched peas paste. Add salt, dry masala
powders, corn flour, greeen chillies and all other ingredients except bread
crumbs and oil to make a dough.
Then add bread crumbs little by little
to bind the dough. Cover in plastic foil and refrigerate for 20 mins. Keep a
little bread crumbs aside for topping
Divide the dough into equal parts.
Flatten into slightly thickish patties. Roll in the remaining bread crumbs.
Bake for 12 – 15 mins on both sides
till golden brown.
Cool slightly and serve immediately
with green chutney and tomato ketchup
This goes to BM # 25. Also linking to BAKE FEST # 16, Lets Cook/Bake for Valentines. Also Linking this to PJ's event Only Vegan, event by Pari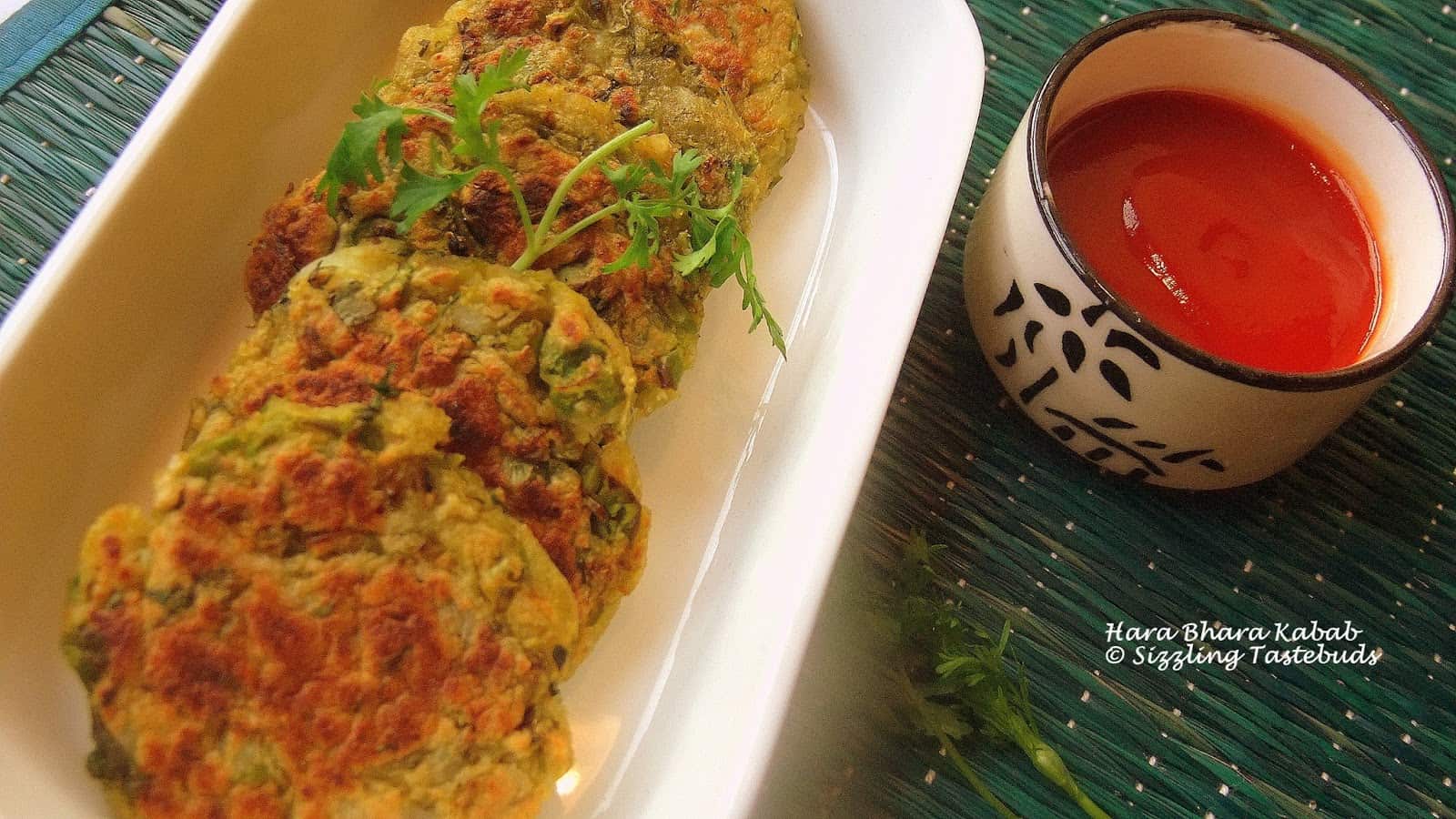 Pin